Explore adorable All About Me Books for kids as you kick off the new school year.
As the school year begins a popular theme used in many classrooms is "All About Me". It's the perfect time to learn about self-awareness and self-reflection as we transition into a new classroom surrounded by new classmates.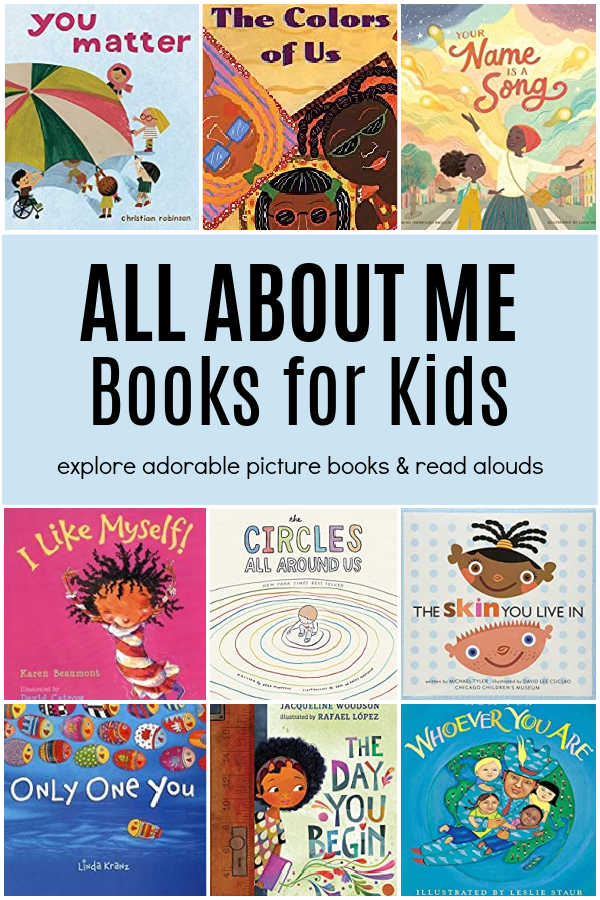 Disclosure: This post contains Amazon affiliate links.
Weither it's your First Day of School or you're heading Back to School these hand-picked All About Me Books are a must on your reading list.
All About Me Books for Kids
This is a collection of All About Me Books including topics that help to build character in your child and learn to appreciate the diversity that surrounds them in the world and celebrate what makes each of us unique. You can read them to go along with these All About Me activities and Name Activities.
Many of these award winning books even are on the New York Times Bestseller list! Take a look at this All About Me Book List and tell me in the comments which is your child's favorite or you have your own recommendation to add.
High on energy and imagination, this ode to self-esteem encourages kids to appreciate everything about themselves–inside and out. Messy hair? Beaver breath? So what! Here's a little girl who knows what really matters.
You Matter by Christian Robinson
In this full, bright, and beautiful picture book, many different perspectives around the world are deftly and empathetically explored—from a pair of bird-watchers to the pigeons they're feeding. Young readers are drawn to the inviting illustrations encouraging them to engage with the world in a new way and see how everyone is connected, and that everyone matters.
A special book about finding the courage to connect, even when you feel scared and alone.
There will be times when you walk into a room
and no one there is quite like you.
There are many reasons to feel different. Maybe it's how you look or talk, or where you're from; maybe it's what you eat, or something just as random. It's not easy to take those first steps into a place where nobody really knows you yet, but somehow you do it.
There's only one you in this great big world. Make it a better place. Adri's mama and papa share some of the wisdom they have gained through the years with their eager son. Their words, simple and powerful, are meant to comfort and guide him as he goes about exploring the world. This exquisitely illustrated book explodes with color and honest insights.
This fun-loving book proves to kids that, in a world where fitting in is the norm, being different is what makes us special.
The kids in What I Like About Me! are as different as night and day. And, guess what? They love it. Some adore the fact that their braces dazzle and gleam, others feel distinguished when they wear their glasses. Still others wouldn't trade their big feet for a lifetime of free video games. A mylar mirror embedded in the last page let kids take a look at themselves and decide what they like best about themselves.
Meet Nancy Carlson's peppy pig—a character who is full of good feelings about herself. Her story will leave little ones feeling good about themselves, too!
There is no one else quite like Alex. With his special laugh, his grizzly hugs, and his own interesting thoughts, Alex is one of a kind. Presenting similarities and differences Alex has with others, this book will encourage children to embrace the things that make them unique.
Every day all over the world, children are laughing and crying, playing and learning, eating and sleeping. They may not look the same. They may not speak the same language. Their lives may be quite different. But inside, they are all alike. Stirring words and bold paintings weave their way around our earth, across cultures and generations.
Seven-year-old Lena is going to paint a picture of herself. She wants to use brown paint for her skin. But when she and her mother take a walk through the neighborhood, Lena learns that brown comes in many different shades. Through the eyes of a little girl who begins to see her familiar world in a new way, this book celebrates the differences and similarities that connect all people.
This delightful picture book offers a wonderful venue through which parents and teachers can discuss important social concepts with their children. With the ease and simplicity of a nursery rhyme, this lively story delivers an important message of social acceptance to young readers. Colorful illustrations of children's activities for all cultures, such as swimming in the ocean, hugging, catching butterflies, and eating birthday cake are included in this book.
Introduce diversity and acceptance in a colorful way that highlights the beauty in our differences
Kids recognize differences from a very early age. Follow along as kids are introduced to many multicultural differences, highlighting why they make us unique. Through creative rhymes and colorful illustrations, children will delight in finding ways to honor how being human brings us together.
"In all the world over, this much is true:
You're somebody special. There's only one YOU."
This feel-good book reassures kids that, whoever and whatever they are, it's awesome being YOU! Expertly written to include all kinds of children and families, this story embraces the beauty in a range of physical types, personalities, and abilities. Kids will love discovering and recognizing themselves in these pages—and they'll feel proud to see their special qualities acknowledged.
It's okay to need some help.
It's okay to be a different color.
It's okay to talk about your feelings.
From the bestselling author Todd Parr comes a reassuring book about being who you are. You might also want to check out Be Who You Are by Todd Parr
We use our feet all the time! With her trademark simple words and delightful pictures, Aliki explains the many ways our feet are important to us. Our feet hold us up, help us balance, and most importantly, take us wherever we want to go.
Clapping, waving, pushing, pulling, scratching, digging, tickling–how many ways do you use your hands every day? Find out how important your hands are!
Sight, smell, taste, hearing, and touch—our five senses teach us about our world. Beloved author-illustrator Aliki's simple, engaging text and colorful artwork show young readers how they use their senses to smell a rose or play with a puppy.
The main character has feelings so big that they glow from his cheeks, spill out of his eyes, and jump up and down on his chest. When he hears a joke, he bursts with joy. When a loud truck drives by, he cries. When his loved ones are having a hard day, he feels their emotions as if they were his own.
The boy tries to cope by stuffing down his feelings, but with a little help and artistic inspiration, the boy realizes his feelings are something to be celebrated.
The Boy with Big, Big Feelings is relatable for any child — especially for a child experiencing anxiety, extreme emotions, a child identified as a Highly Sensitive Person, or a child on the autism spectrum. Beautifully illustrated and written in rhyming verse, children and adults explore the whole spectrum of feelings and readers navigate the emotional challenges they face throughout the day.
In this imaginative, evocative story, a girl named Keyana discovers the beauty and magic of her special hair, encouraging black children to be proud of their heritage and enhancing self-confidence. I Love My Hair! has been a staple in African-American picture books for 20 years, and now has a fresh, updated cover that shines on the shelves!
Through playful, charming rhyme and vivid, fantastical illustrations, When God Made You inspires young readers to learn about their own special gifts and how they fit into God's divine plan as they grow, explore, and begin to create for themselves.
This delightful picture book from Ashley Spires, bestselling author of The Most Magnificent Thing, perfectly depicts what children go through when confronted with something difficult. With humor and endearing artwork, Spires sensitively portrays Lou procrastinating, making excuses, imagining alternatives and denying she cares. Ultimately, Lou faces her fear, and although she fails, the effort empowers her, encouraging a growth mindset. All the while, Lou's friends model compassionate friendship by offering to teach her how to climb and then moving the game.
Frustrated by a day full of teachers and classmates mispronouncing her beautiful name, a little girl tells her mother she never wants to come back to school. In response, the girl's mother teaches her about the musicality of African, Asian, Black-American, Latinx, and Middle Eastern names on their lyrical walk home through the city. Empowered by this newfound understanding, the young girl is ready to return the next day to share her knowledge with her class. Your Name is a Song is a celebration to remind all of us about the beauty, history, and magic behind names.
What's in a name? For one little girl, her very long name tells the vibrant story of where she came from — and who she may one day be.
If you ask her, Alma Sofia Esperanza José Pura Candela has way too many names: six! How did such a small person wind up with such a large name? Alma turns to Daddy for an answer and learns of Sofia, the grandmother who loved books and flowers; Esperanza, the great-grandmother who longed to travel; José, the grandfather who was an artist; and other namesakes, too. As she hears the story of her name, Alma starts to think it might be a perfect fit after all — and realizes that she will one day have her own story to tell.
Being the new kid in school is hard enough, but what about when nobody can pronounce your name? Having just moved from Korea, Unhei is anxious that American kids will like her. So instead of introducing herself on the first day of school, she tells the class that she will choose a name by the following week. Her new classmates are fascinated by this no-name girl and decide to help out by filling a glass jar with names for her to pick from. But while Unhei practices being a Suzy, Laura, or Amanda, one of her classmates comes to her neighborhood and discovers her real name and its special meaning. On the day of her name choosing, the name jar has mysteriously disappeared. Encouraged by her new friends, Unhei chooses her own Korean name and helps everyone pronounce it—Yoon-Hey.
Chrysanthemum is a funny and honest school story about teasing, self-esteem, and acceptance to share all year round. She thinks her name is absolutely perfect—until her first day of school. "You're named after a flower!" teases Victoria. "Let's smell her," says Jo. Chrysanthemum wilts. What will it take to make her blossom again?
In asking her parents to tell her again about the night of her birth, a young girl relives a cherished tale she knows by heart. Focusing on the significance of family and love, this a unique and beautiful story about adoption and the importance of a loving family.
A beautiful adoption story, Tell Me Again About the Night I Was Born also speaks to the universal childhood desire to know more about the excitement, awe, love, and sleeplessness that a new baby brings to a family.
On the night you were born,
the moon smiled with such wonder
that the stars peeked in to see you
and the night wind whispered.
"Life will never be the same."
On the night you were born you brought wonder and magic to the world. Here is a book that celebrates you. It is meant to be carried wherever life takes you, over all the roads, through all the years.
From a wiggle of their shoulders to a stomp of their feet, a group of lovable toddlers joyfully explores the many ways to use their bodies. Lips can be made small for kissing, while arms can go up and down or reach out to hug those we love.
Mercer Mayer's Little Critter wants to show you all the things he can do for himself in this classic, funny, and heartwarming book. Whether he's tying his shoes, coloring a picture, or riding his bike, both parents and children alike will relate to this beloved story. A perfect way to teach children about independence!
With its heartfelt message and colorfully whimsical illustrations, "Our Class is a Family" is a book that will help build and strengthen that class community. Kids learn that their classroom is a place where it's safe to be themselves, it's okay to make mistakes, and it's important to be a friend to others.
In the circles all around us, everywhere that we all go, there's a difference we can make and a love we can all show.
This is the story of a circle. When we're first born, our circle is very small, but as we grow and build relationships, our circle keeps getting bigger and bigger to include family, friends, neighbors, community, and beyond. This book is the perfect way to start a conversation about how to expand our worlds with kindness and inclusivity—even if it seems scary or uncomfortable.
Listen to Read Aloud (This one is SO CUTE!)
All About Me Activities
Here are a few All About Me Poster Ideas to do with your child or your child's class.
We'd also recommend exploring these All About Me activities, Name Activities OR All About my Name Printable Pack with your child.
Be sure to join us for our Virtual Book Club for Kids!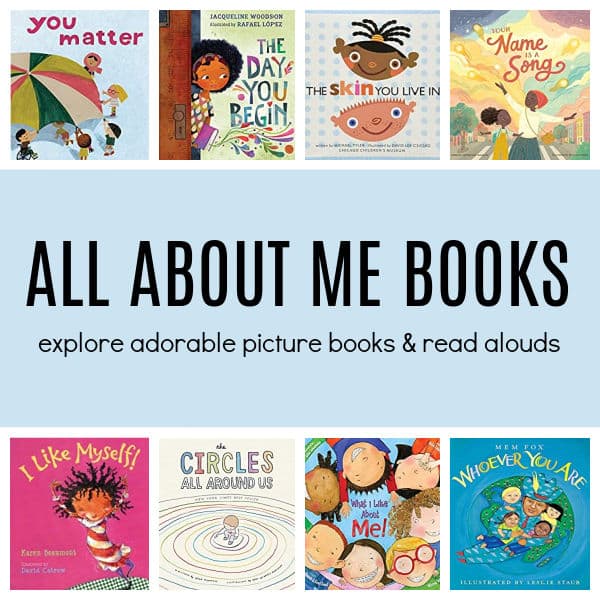 Here are some additional activities you may also enjoy…