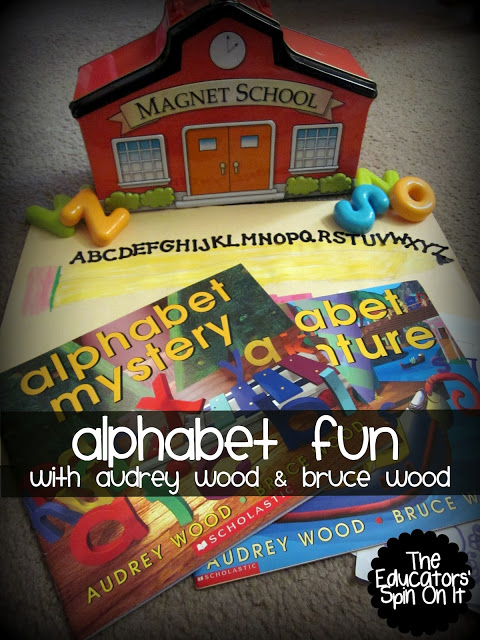 As a mom and a teacher I'm always looking for ways for my children to learn their letters in a fun and creative way. Audrey Wood and her son Bruce Wood created these adorable stories that do just that and inspire our minds to go on even more alphabet adventures. Imagine if your child is playing with letters and creating stories with them how easily it will be for them to remember which ones are which and how they are formed. Trust me they will even remember the difference between b,d, p and q while they manipulate and create with letters from these stories.
Sometimes it's fun to see how a book got it's inspiration. I found on Audrey Wood's website this quote about Alphabet Adventure…
In the first book, Alphabet Adventure, the "little letters" worked together to create their first word. I kept wondering what it would be like if, with the help of a couple of capital letters, they created a sentence. But what would their first sentence be? The first sentence that my son wrote was on a birthday card to me. I recalled the emotional impact of that card when he simply wrote, " I love you mom," and then added some circles for hugs, and a few x's for kisses. That's where the idea began.
Do you remember your child's first word they made?
Alphabet Mystery and Alphabet Adventure
by Audrey Wood and Bruce Wood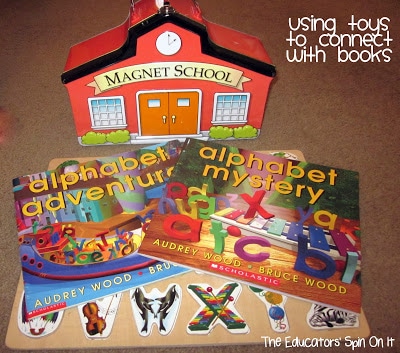 Here's a fun activity to go along with the book. Look for alphabet stickers or alphabet stamps to create this first activity. It's great practice for alphabetical order too.
ALPHABET PENCILS
In the stories the letters are always traveling on pencils. I love it, encouraging children to write! We created our own pencil by taking stickers and drawing a pencils for them to sit upon on their journey. Once she created her pencil and letters in order we cut it out and created a magnet out of it. Now every time my daughter finishes a writing project she can go hand it up at our pencil.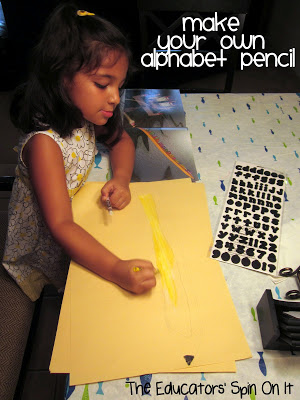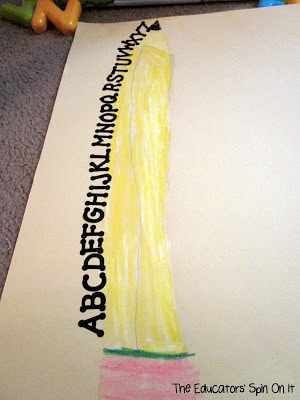 ALPHABET STORY
Create your own alphabet story. Discuss story elements and have them come up with the problem and illustrate it If they are able have them write the words if they aren't quite ready you can always dictate for them to create their very own story book.
ALPHABET SORTING
Using letters have your child line up the letters in alphabetical order just like the story.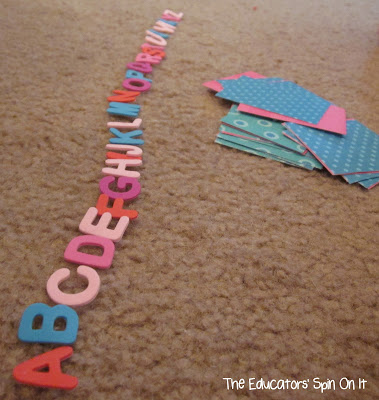 ALPHABET CARDS
Using the foam letters create your own alphabet cards. You can practice forming your own words or putting the letters in alphabet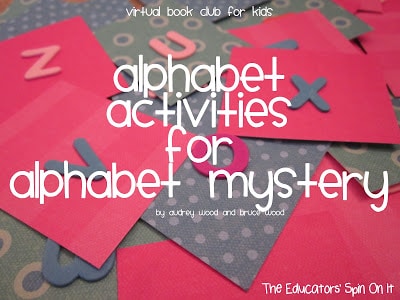 ALPHABET MATCHING
Using the Upper Case Letters and the Lower Case Letters have your create the letter cards and then work on finding a match. They can line them up on pencils to reinact the story.
ALPHABET LETTERS WITH PICTURES
Have your child select items just like the letters did in the story that go with their letter sound. Then draw the letters or trace the letters and have them illustrate each letter.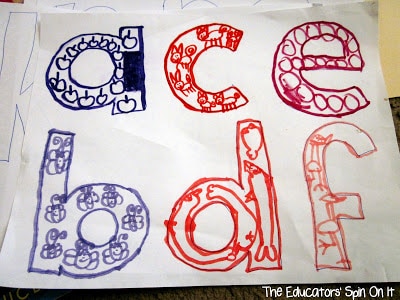 ALPHABET SOUNDS
Using toys that represent each letter have your child sort them onto a letter strip or letter cards that match each letter sound.
MISSING LETTER
Using the letters try to hide a letter and see if they can figure out which one is missing. Using the letter cards they can match them up to see which one is missing or give them clues with beginning sounds.
MAKE YOUR OWN ALPHABET ISLAND or CASTLE
Using Materials around the house you can recreate alphabet island for your letters to live at and create their own stories.
Resources for Audrey Wood, Don Wood and Bruce Wood
Audrey Wood Blog
Audrey Wood Activities Clubhouse
Printable Retelling of The Napping House
Activities
Printables Audrey Wood on FACEBOOK
Here are some of our Favorite Books by Audrey Wood, Don Wood and even Bruce Wood
Can't wait to read their books? Here are a few video clips
Now's where the fun begins! It's time for you to share your favorite book by Audrey and/or Don Wood on our blog hop linky below!
There are a few rules for this blog hop that we ask you to follow, so make sure to read them:
Link up only posts inspired by Don and/or Audrey Wood that share children's book inspired crafts, activities, recipes, etc. Any other posts will be deleted.

Visit other blog posts on the linky and comment on or share the ones you love!

Add our Virtual Book Club to your post if you'd like.