A collection of Strega Nona activities, books, and videos for kids to explore! Inspired by author and illustrator Tomie dePaola explore the world of Strega Nona Books with your child.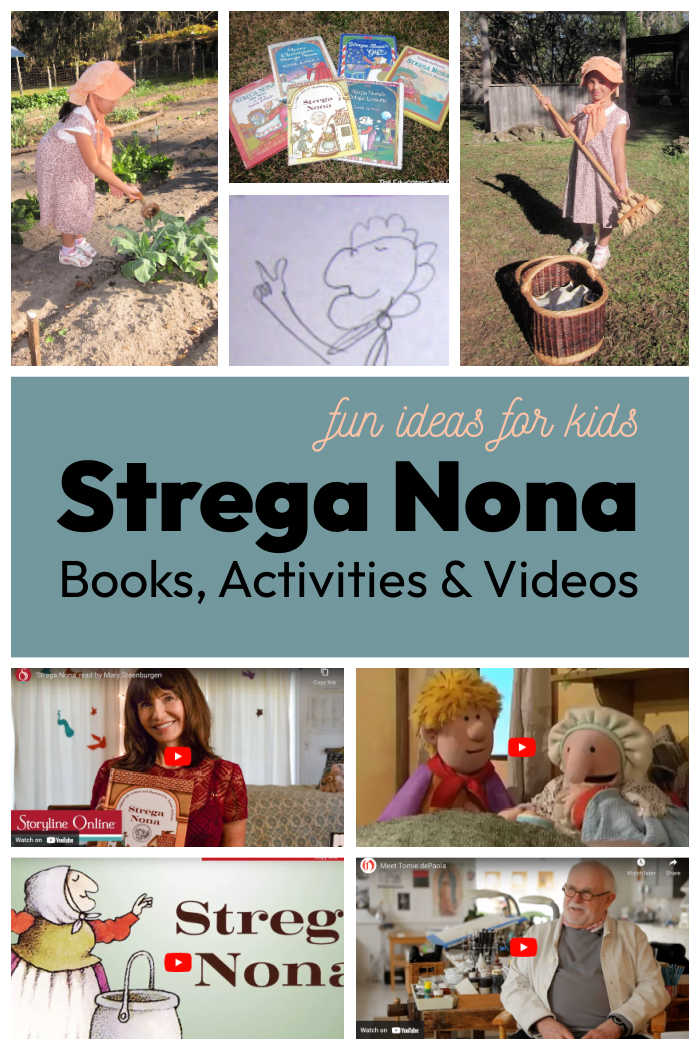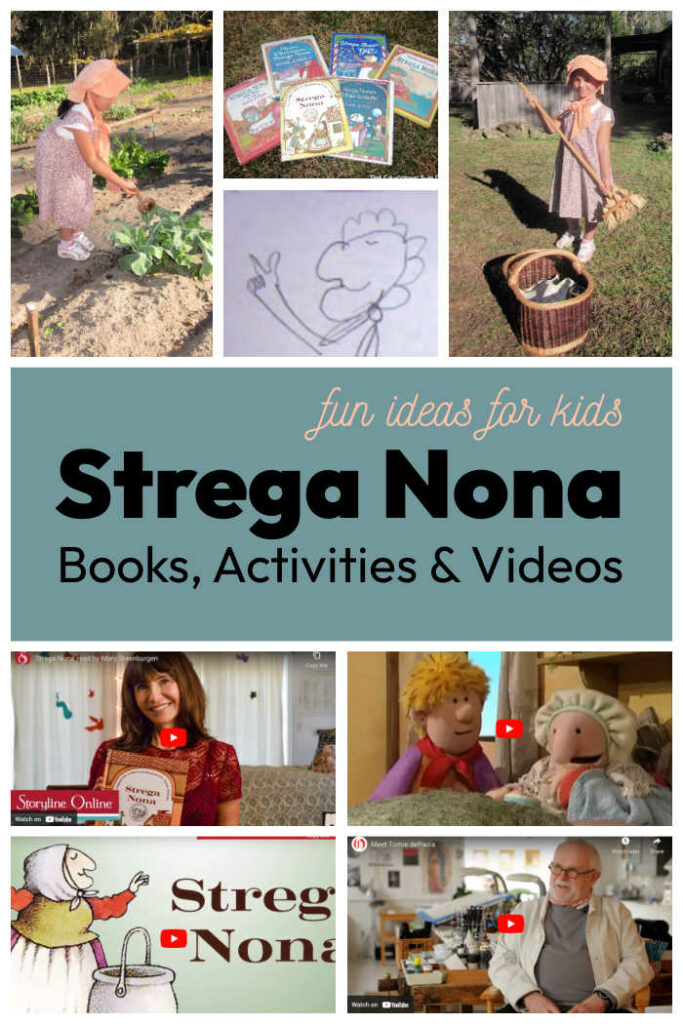 Strega Nona Activities for Kids
November's Virtual Book Club is about the author Tomie dePaola! He is best known for his books for children: over 270 written and/or illustrated, twenty-five million, or so, sold, and numerous awards and recognitions. There were so many to choose from but we decided to select his books about Strega Nona first.
We had so much fun the past few weeks reading all of Tomie's books about Strega Nona.
Who is Strega Nona?
Strega Nona is a beloved children's book character created by author and illustrator Tomie dePaola. Strega Nona, or Grandmother Witch, is a witch doctor who helps the people in her village with her remedies. Her new apprentice, Big Anthony, doesn't watch how to stop production of her magic pasta. Strega Nona arrives just in time to save the village from disaster. She then gives him a punishment that suits the crime.
Fun Facts About Strega Nona
Here are some fun facts about the Strega Nona books:
Strega Nona's first appearance: Strega Nona made her debut in 1975 in the book titled "Strega Nona: An Old Tale Retold." The character quickly captured the hearts of readers, leading to the creation of more books featuring her.
The inspiration behind Strega Nona: Tomie dePaola was inspired to create Strega Nona based on his own Italian heritage and the stories he heard as a child. Strega Nona, which means "Grandma Witch" in Italian, draws from Italian folklore and traditions.
Strega Nona's magic pasta pot: One of the central elements in the Strega Nona books is the magic pasta pot that she uses to cook endless amounts of pasta. However, she must be careful to say the right words to stop the pot from overflowing.
Big Anthony's mischief: Big Anthony is Strega Nona's bumbling assistant who often gets into trouble due to his inability to follow instructions. His mischief and misadventures provide humorous moments in the books.
Lessons on responsibility: The Strega Nona books often teach valuable lessons about responsibility, consequences, and the importance of following instructions. These themes are subtly woven into the entertaining stories, making them educational as well.
Awards and recognition: The Strega Nona series has received numerous awards and accolades, including the prestigious Caldecott Honor in 1976 for the original "Strega Nona" book. The books have been highly praised for their storytelling, illustrations, and cultural authenticity. Strega Nona also has the distinction of being a challenged and banned book.
Spin-off books and adaptations: Besides the original Strega Nona books, Tomie dePaola also wrote spin-off books featuring other characters from the series, such as "Big Anthony and the Magic Ring." In addition, Strega Nona has been adapted into a musical play and an animated television special.
Strega Nona's enduring popularity: Even though Tomie dePaola passed away in 2020, Strega Nona continues to be a beloved character in children's literature. Her stories remain popular and continue to captivate young readers around the world.
These fun facts highlight the charm and enduring appeal of the Strega Nona books, making them cherished classics in children's literature. We'd love to share with you a few activities to go along with the Strega Nona books.
If you aren't familiar with the book Strega Nona here's a video clip about it to view.
Dress up like Strega Nona
Using a bonnet and apron you can recreate the story by dressing up like Strega Nona and Big Anthony.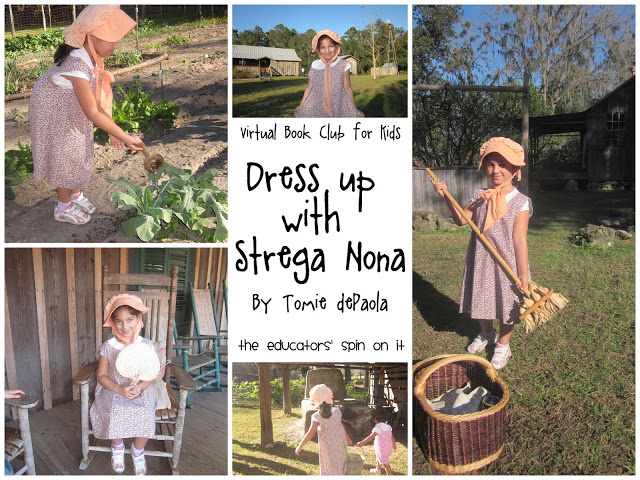 Do Household Chores Like Strega Nona Big Anthony
Think about the things that Strega Nona does in her stories around the house and the things that Big Anthony helps her with. Reenact them as you retell the stories.
Write your own story about Strega Nona
Using the printable you can write about something that Strega Nona could make from her magic pot or how she prepares for a holiday or a magic spell she knows. We used his Coloring Sheet of Stega Nona.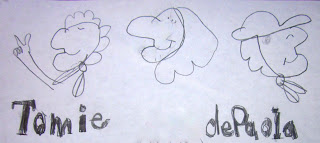 Draw the Many Faces of Strega Nona: Learning Emotions
Look through the images in the stories. Notice how you can tell how she's feeling by the faces that Tomie dePaola has drawn.
See if you can create at home with your own pencil and paper.
Resources for Strega Nona Activities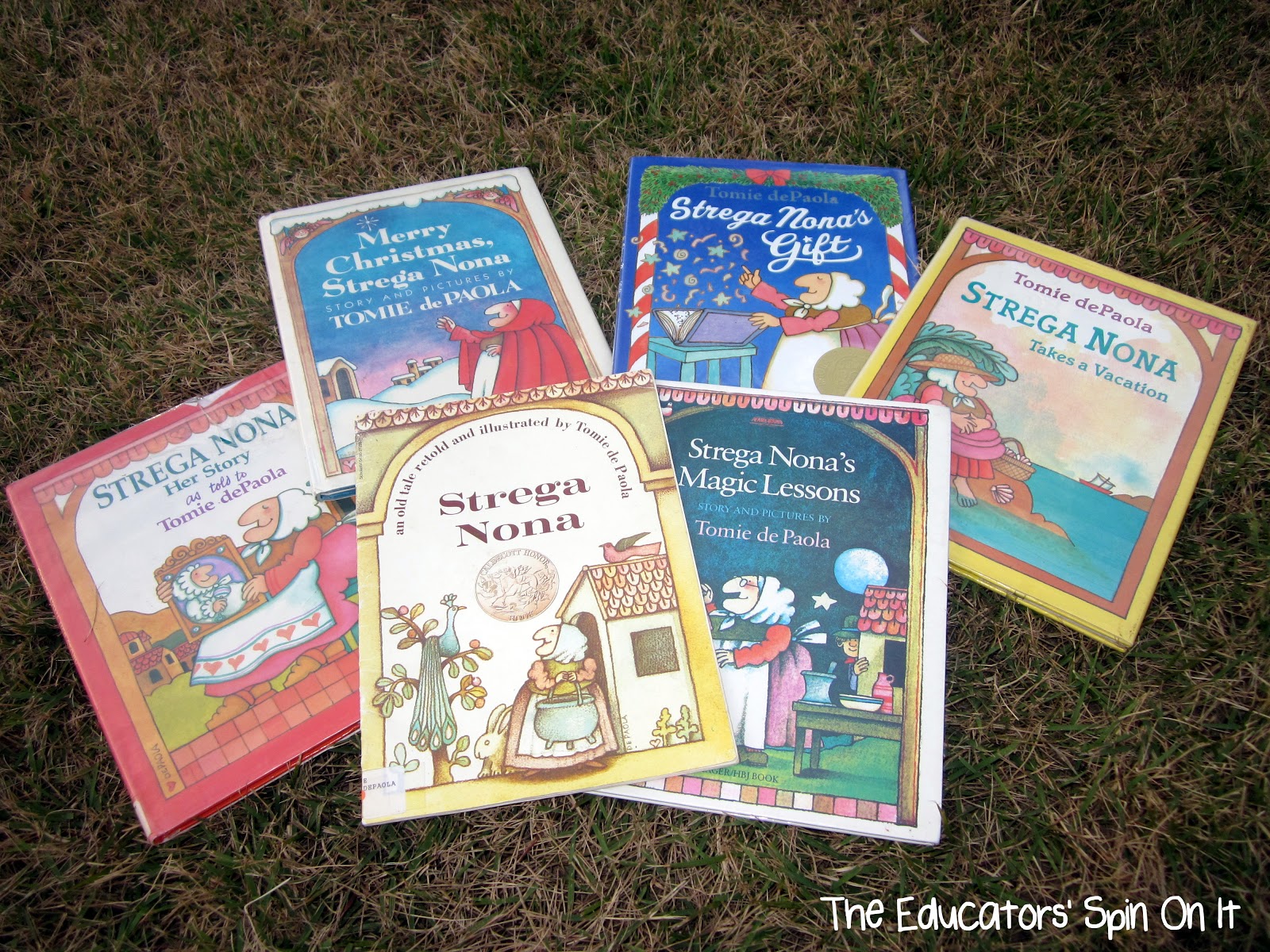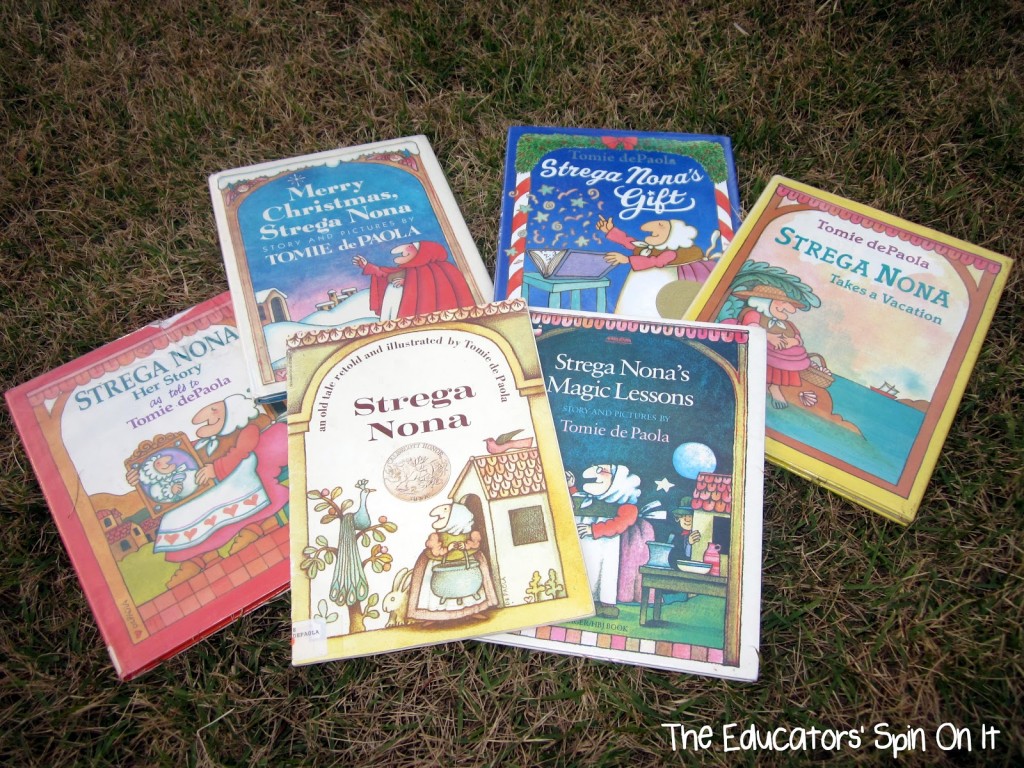 Strega Nona Books by Tomie dePaola
Giving Back with Strega Nona
As we approach the holiday season think of ways that you can encourage your children to reach out to others and help. In the video above it shows how love and humor can sometimes be the best medicine.
In the book, Merry Christmas Strega Nona Big Anthony has a special gift for her at the end that could inspire other thoughtful acts of kindness with your family.
It might be a fun way to involve your children in teaching Gratitude and Giving.
Watch Videos About Strega Nona
We'd love for you to join along with more books inspired activities in our Virtual Book Club for Kids.
We've teamed up with some of our favorite kig bloggers to share their own creative ideas about Tomie dePaola. We invite you to join the fun! You can join the Virtual Book Club for Kids Facebook Group and share your own Crafts and Activities that are based on Books by Tomie dePaola.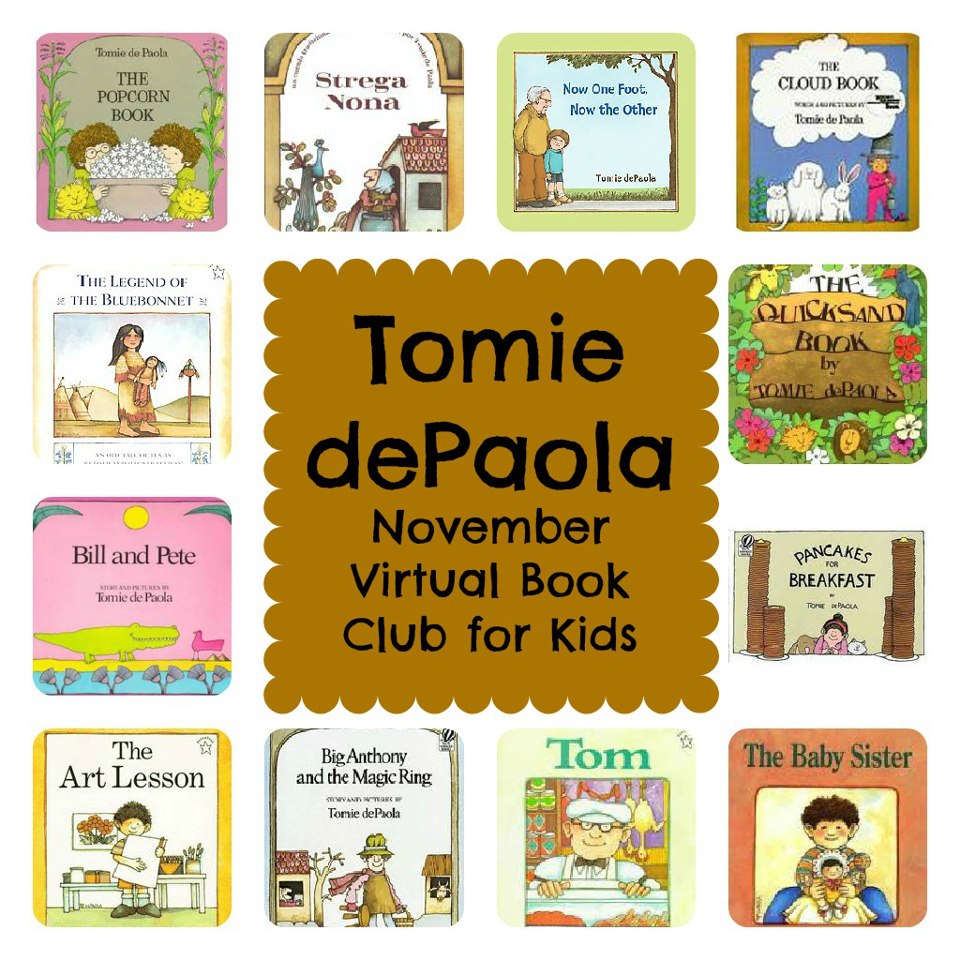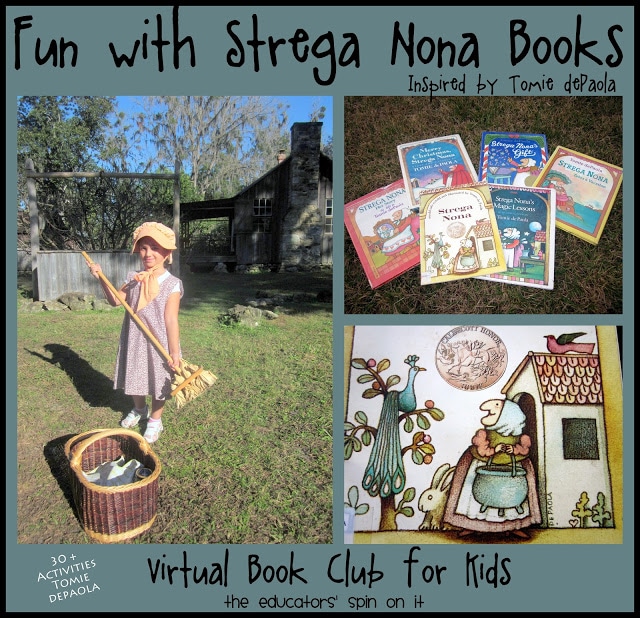 You may also enjoy these activities with your child…