Beat boredom with this easy to make rope ornament craft. The kids can make it on their own in 30 minutes using materials from their craft closet. A bonus: it connects creativity and fine motor skills. There are educational spins to it too (read on!).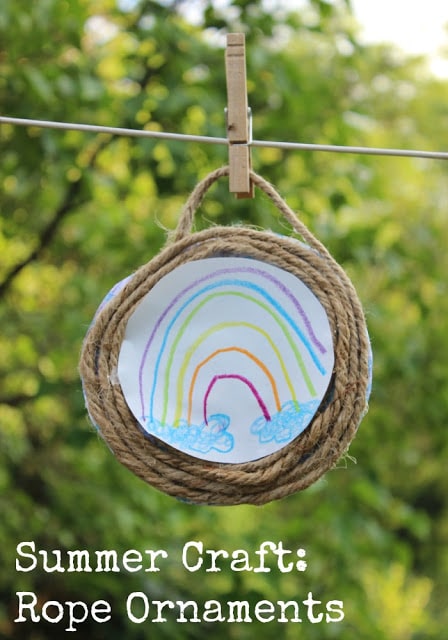 Learning objectives: Explore crafting with a variety of materials.
Ages: 2 and up
Time Needed: 30 minutes plus another 30 or more to dry (depending on the amount of glue used.)
Rope Craft Ornament for Kids
Materials Needed
Cereal box

Paper
Glue

Crayons
Rope
Directions:
Cut a circle out of the cereal box and paper.

Color a picture on the paper circle.

Glue the paper on the cardboard.

Put glue on the edge of the circle. Place the rope on the very edge and wind inward, creating a rope frame. Leave a section of the rope off the circle to hang.

We just pulled a little bit on the outside when the kids were done.
Put an Educational Spin on this craft:
Write a word on your drawing.
Decorate a single letter and make a rope frame around it.
Draw a specific number of one object in the circle and include the number.
Observe an object in nature. Draw it, frame it, and hang it.
More Rope Activities from the #PlayfulPreschool Education Team:
Learning Letters with a Rope Pulley by Mom Inspired Life
Alphabet Activities: Grab and Pull Letters by Growing Book by Book
Rope Balance Game for Kids by Capri + 3
Outdoor Number Sorting Game for Preschool! by The Preschool Toolbox Blog
Preschool Number Games: Rope and Shell Connect-the-Dots by Fun-A-Day
Craft Rope Ornaments for Kids by The Educators' Spin On It (Here)
You may also enjoy these summer activities…