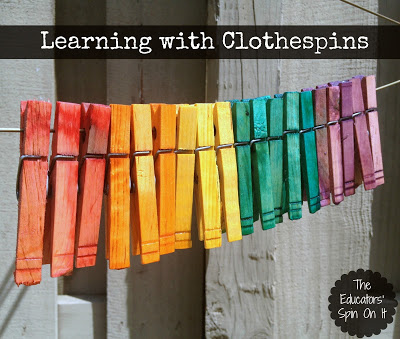 Using simple items around the house with your child can be a budget friendly way to build imagination in your child.  Using clothespins this week we discovered there are a variety of ways to use them that help foster imagination and creativity.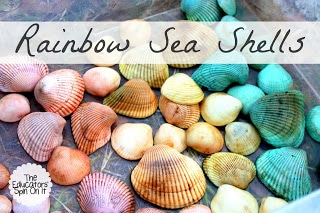 This past week we
Reused our Egg Dye to create Rainbow Seashells
which have been a big hit in our sand box and our fairy garden.  After finishing the shells we still have some leftover dye so we decided to find additional materials to experiment with.  On pinterest from
Mothering in a Shoe
I found had colored her clothespins so we gave it a try.  They turned out beautiful!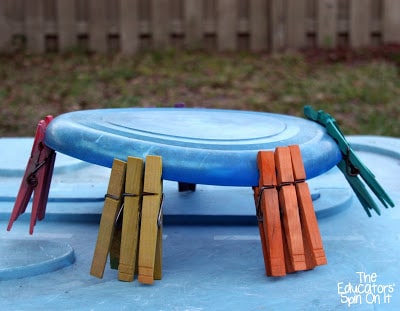 My daughter used them in a variety of ways in her outdoor adventures this week.  I'm sure there are many ways indoors too but we focused on outdoors in their beautiful spring weather we've been having. We discussed how different surfaces absorb water more than others.
She used the colorful clothespins to sort and put in rainbow order. Created a planter out of them on a plastic container. She used them to hold sheets to create forts. And then she discovered they can be used to build things with.  Here is the beginning of the rocket that she built using the colorful clothespin. I'm sure there are a million other uses for clothespin and I can't wait to see what she creates next. I love using simple materials to see how it can help inspire their imagination.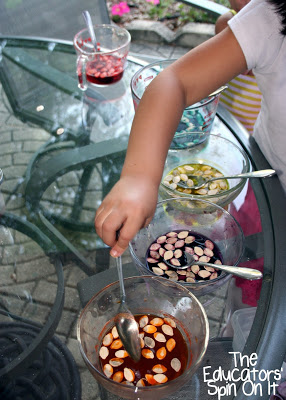 If you can believe it, after coloring both the shells and clothespin, we still had some egg dye left so we also dyed some leftover dried cantaloupe seeds and pumpkin seeds for a future art project.  Finding numerous ways to reuse items to create something new is so much fun and teaching our children to love our Earth.  Next week we'll be sharing Ideas for Celebrating Earth Day with your kids.
This week I've discovered the power of a clothespin and how many things that you can do with it.  I thought it might inspire us for the next few weeks with a variety of activities.  I'm gather them all in one spot for a resource for many of us wanted to create activities at home with our child or for teachers at school creating activities and crafts for kids.
Here are a few Clothespin Activities we plan to explore the next few months for both learning ideas and crafting ideas.
Activities with Clothespins 
Learning with Clothespins
Numerical Order & Counting
Crafting with Clothespins
What can you learn or create with a clothespin?