Learn about Diwali by making your very own diya crafts for kids. Pick from a variety of designs of handmade diyas to make with your child this festival season including ideas with paper, clay, playdough, and more!
Explore these Diya decoration ideas to illuminate your home for Diwali season.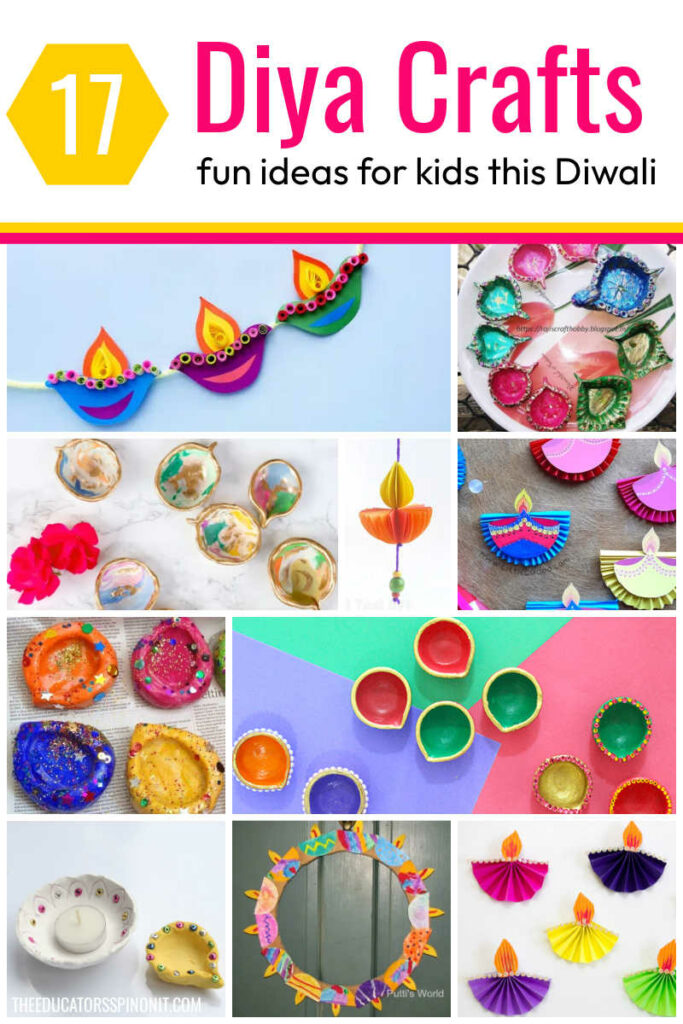 DIY Diya Crafts for Kids
Exploring the world through festivals is a fun way to learn about other cultures with your child. In this post, we're sharing with you various ways that your child can create a diya craft and learn more about the festival of lights, which is also known as Diwali.
Are you ready to make your own decorative diyas this Diwali?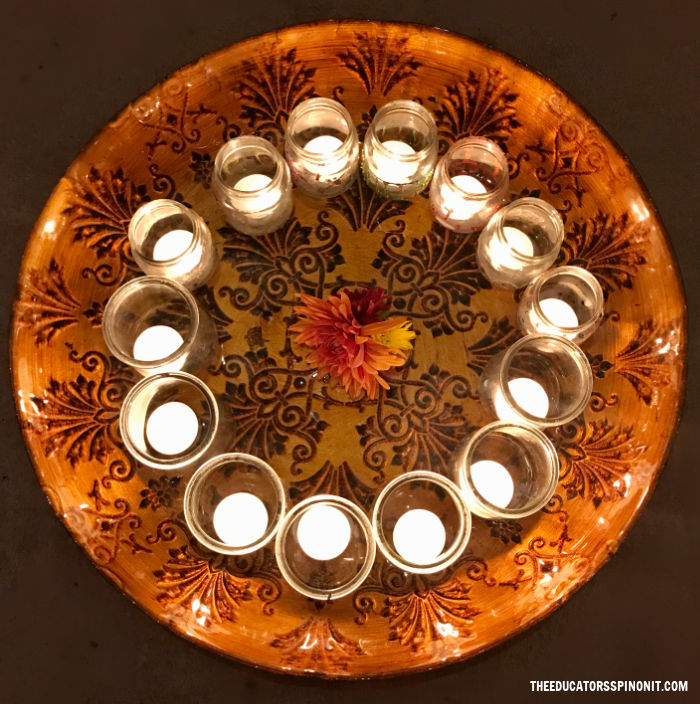 What is a diya?
Traditionally a diya is an oil lamp made from clay or mud with a cotton wick dipped in ghee.
Diyas are a small type of lamp, lit on Diwali for worship and decorative purposes. In more modern times, diyas now come in a variety of options: they can be plain, colorful, simple, fancy, big or small!
They are lined up on building edges and windowsills and illuminated during Diwali.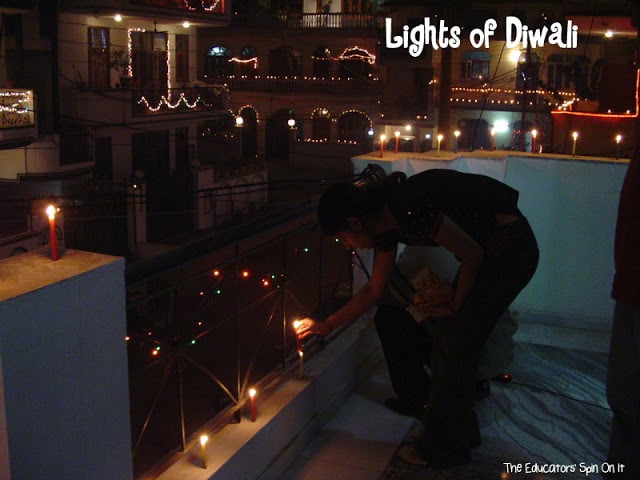 Why are diya lamps used in Diwali?
On the night of Diwali, people around the world light millions of diyas. In fact, the name 'Diwali' is derived from the Sanskrit word 'Deepavali', which means rows of diyas/ lights ("deep" means Diya and "avali" means row).
A diya signifies purity, goodness, good luck and power. The presence of light means the non-existence of darkness and evil forces.
You can learn more about the significance of diyas here.
Here are a few fun ideas for your little one to create your own handmade diya for Diwali.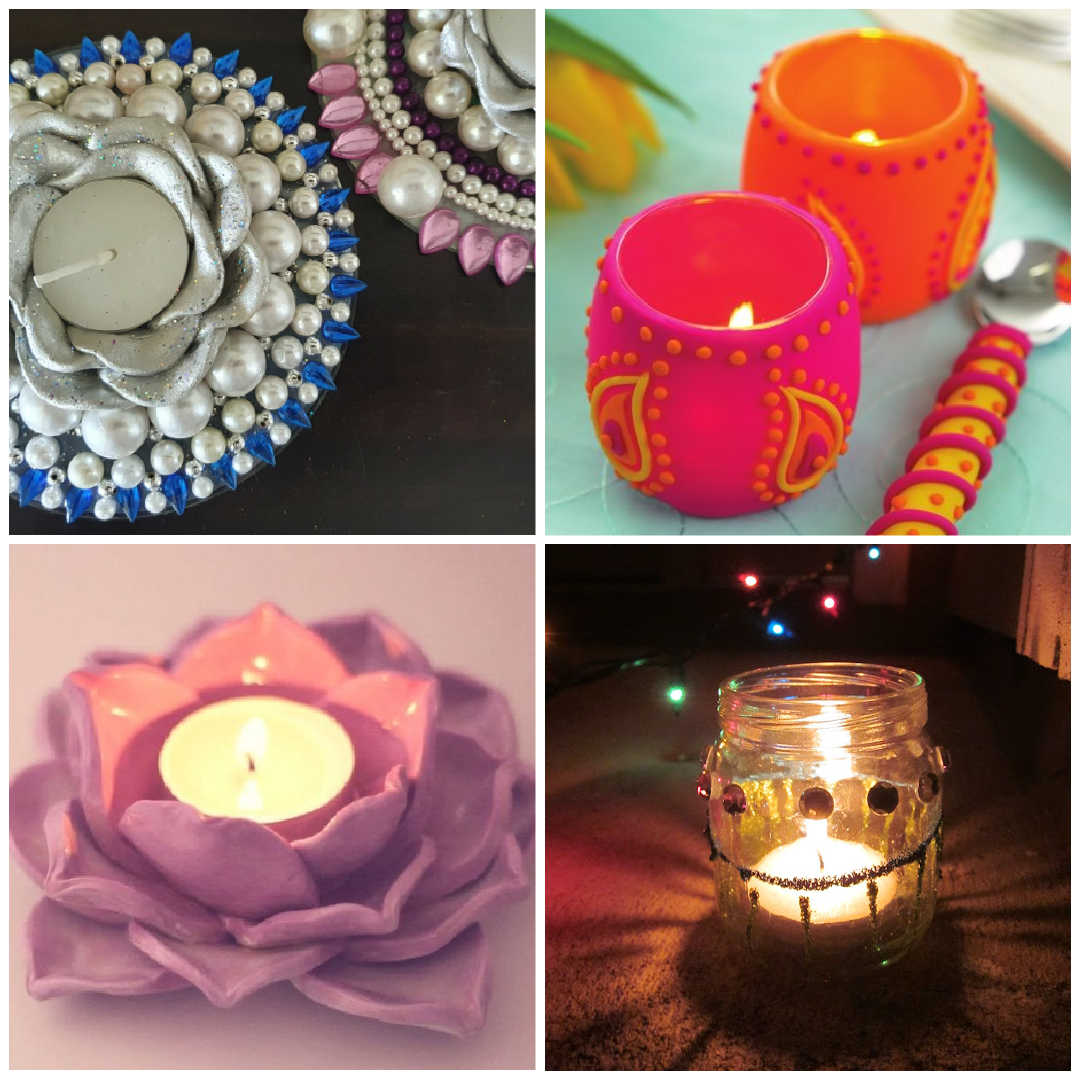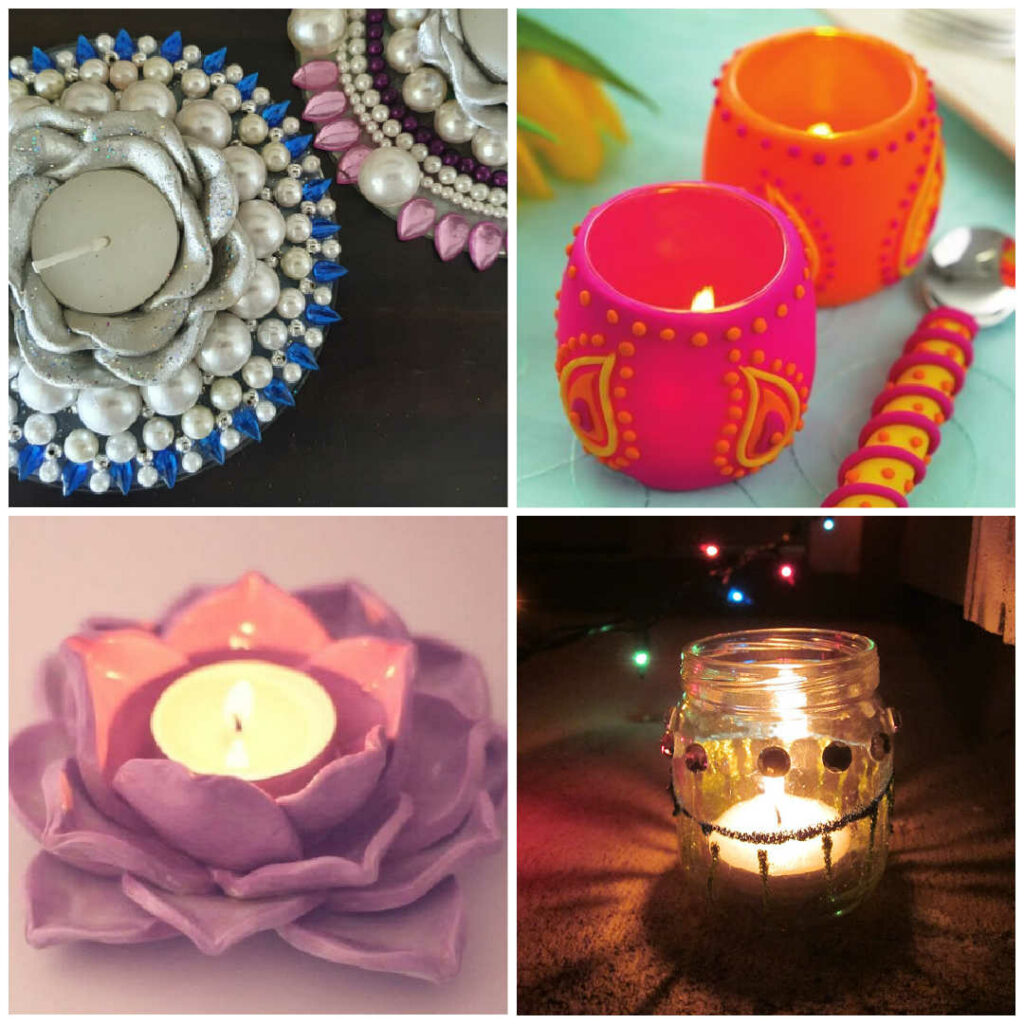 DIY diyas for kids
Learn how to make your own DIY Diya on a CD. For the kids, it's all about finding the best combination of beads and craft jewels for a special design
DIY Diwali Diya Decoration ideas in 10 mins! This design is extremely simple to make for the kids.
Simply use a recycled jar to create this handpainted glass diya. Add glitter paint and sequins with adhesive.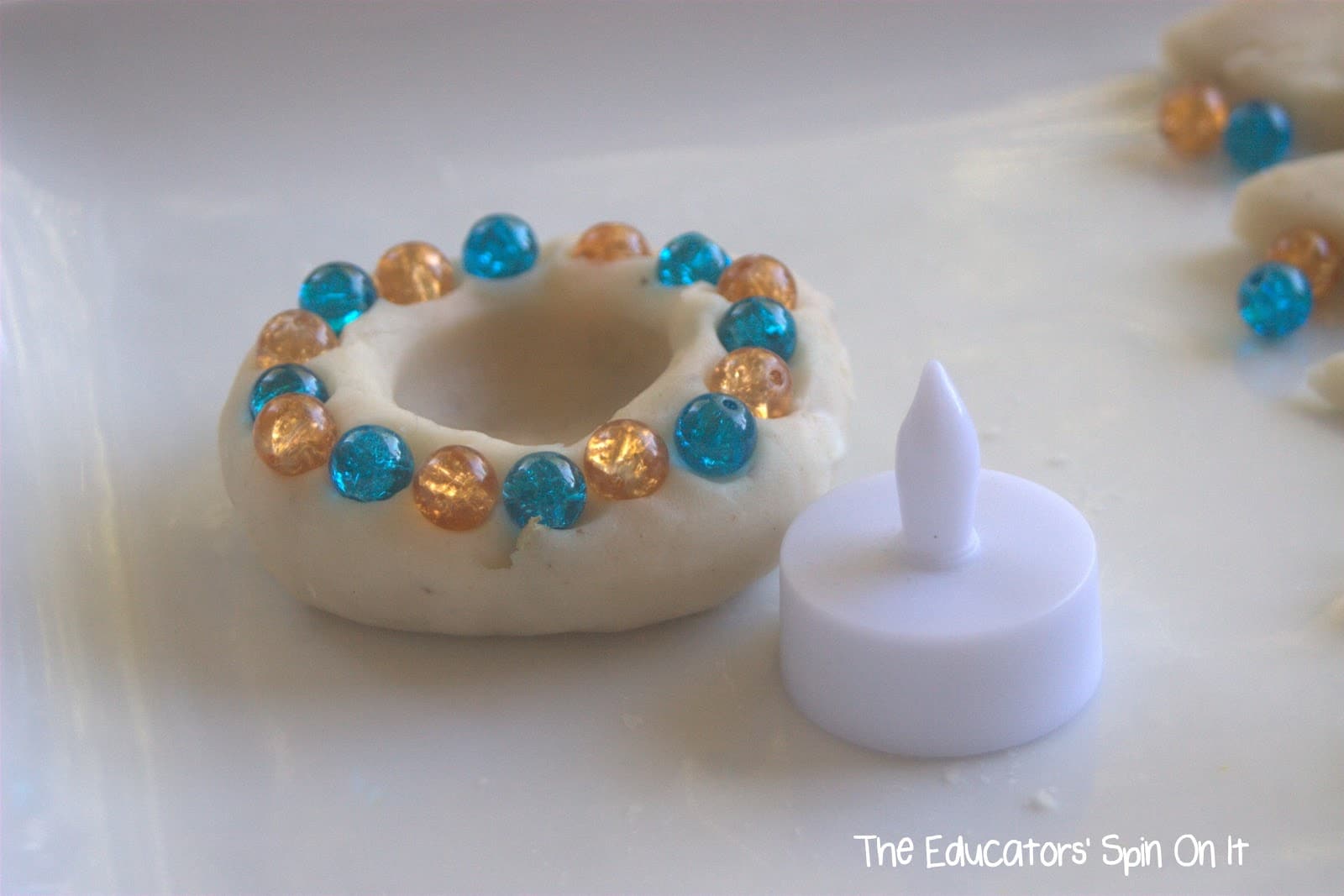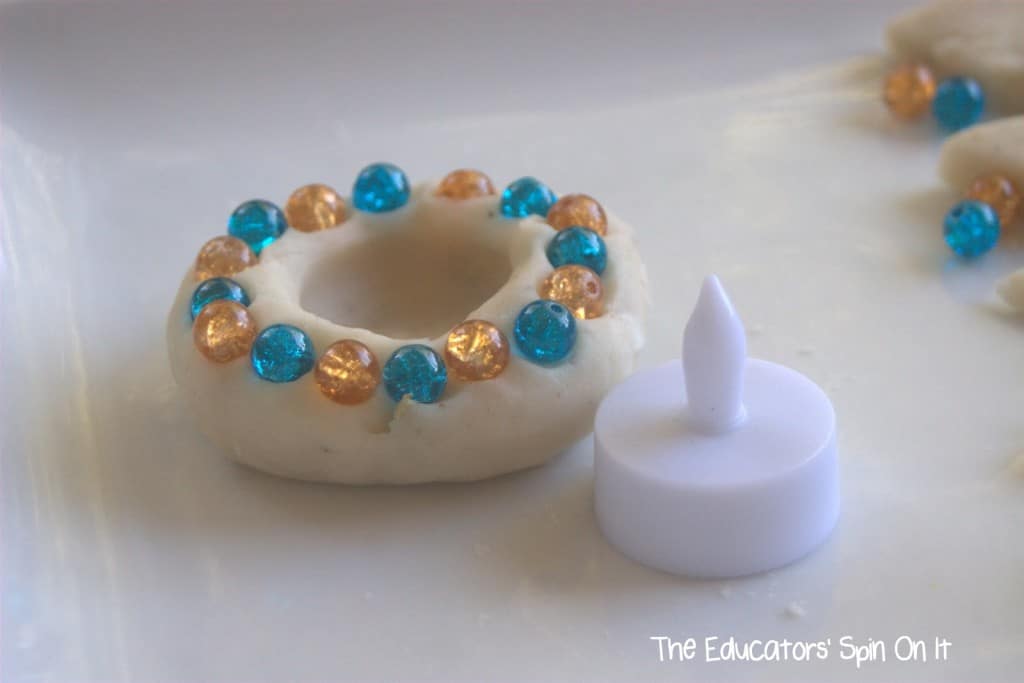 Create your own Diya again and again with this cardamom playdough diya with beads for kids. Add some beads and a voice tea light for little ones to have fun creating their own designs with playdough.
Get a little creative with your glass diya by creating a Clay Polymer Candle Holder. So many color and design possibilities.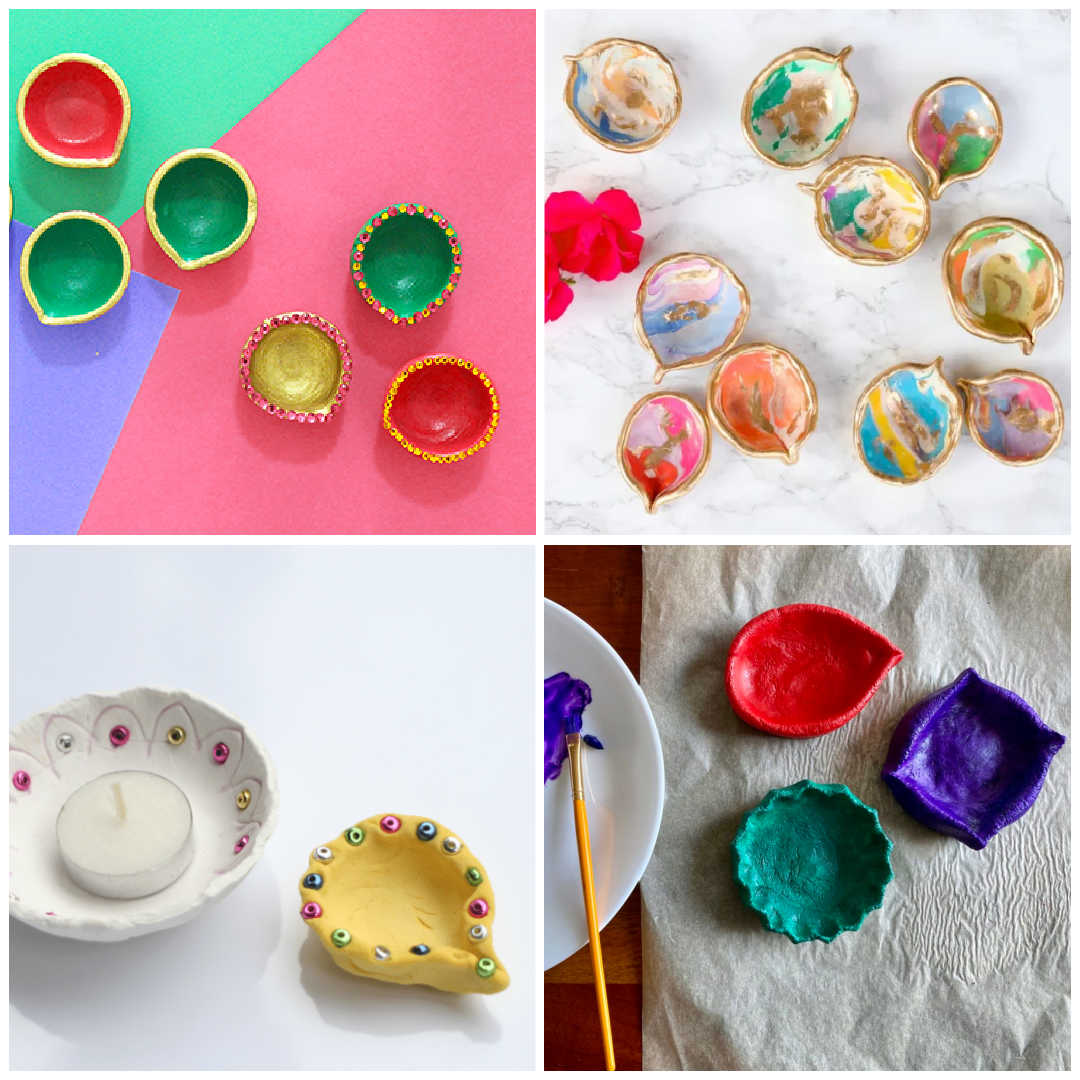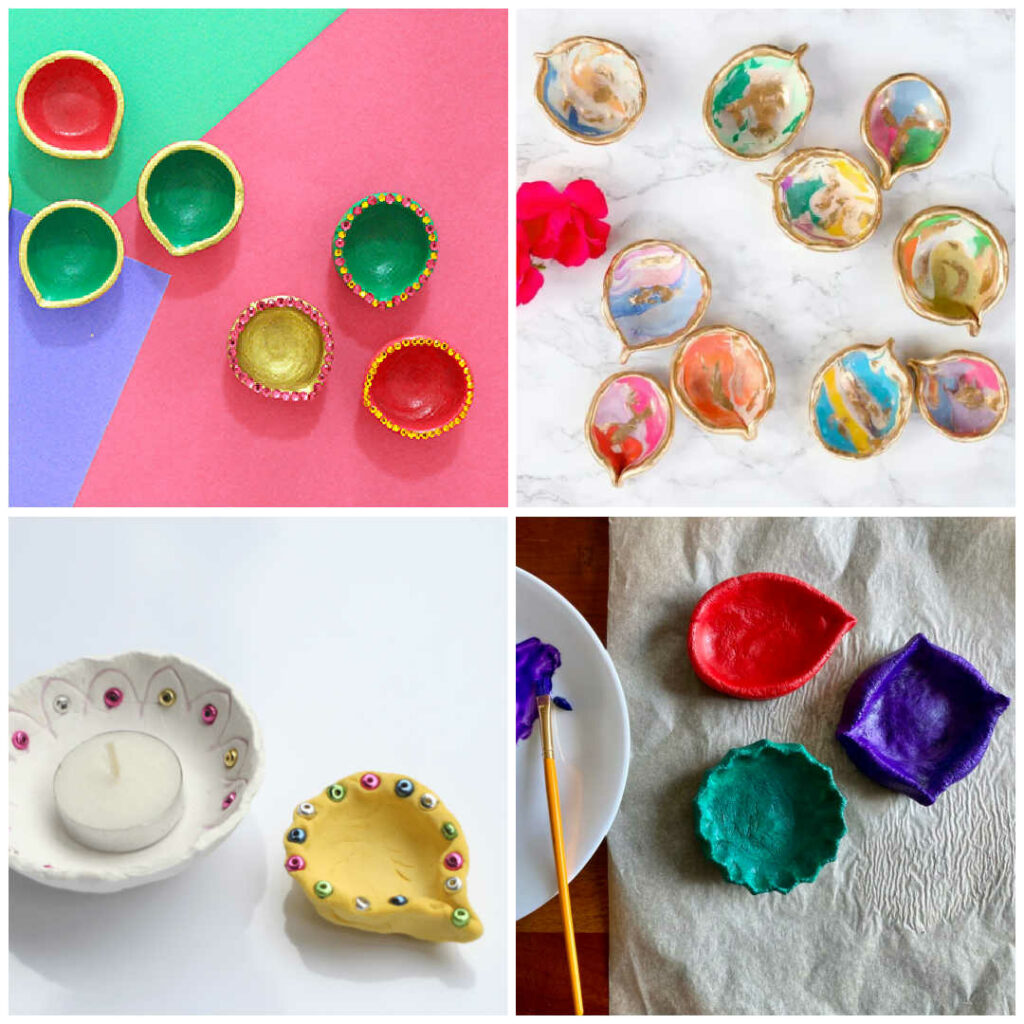 Air-Dry Clay Diyas
These DIY Rainbow Diwali Diyas are simply gorgeous! The kids can follow this step-by-step diya tutorial for how to make these colorful diyas.
Using Terra Cotta Air-dry Clay you can make lines…….poke tiny dots….pinch…..and give the lamps a beautiful character of their own. Here's how gorgeous these diyas look!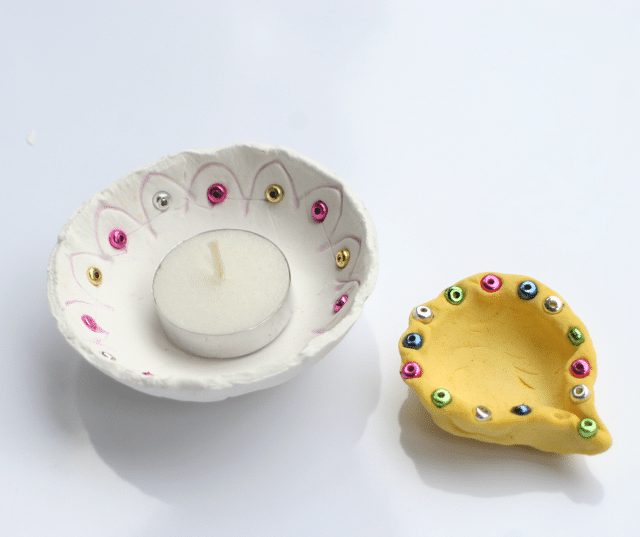 Create your own shape and design with this Diwali Diya Craft with Air Clay or Model Magic. What colors will you choose?
Make a lotus-inspired candle holder out of oven-bake polymer or air dry clay!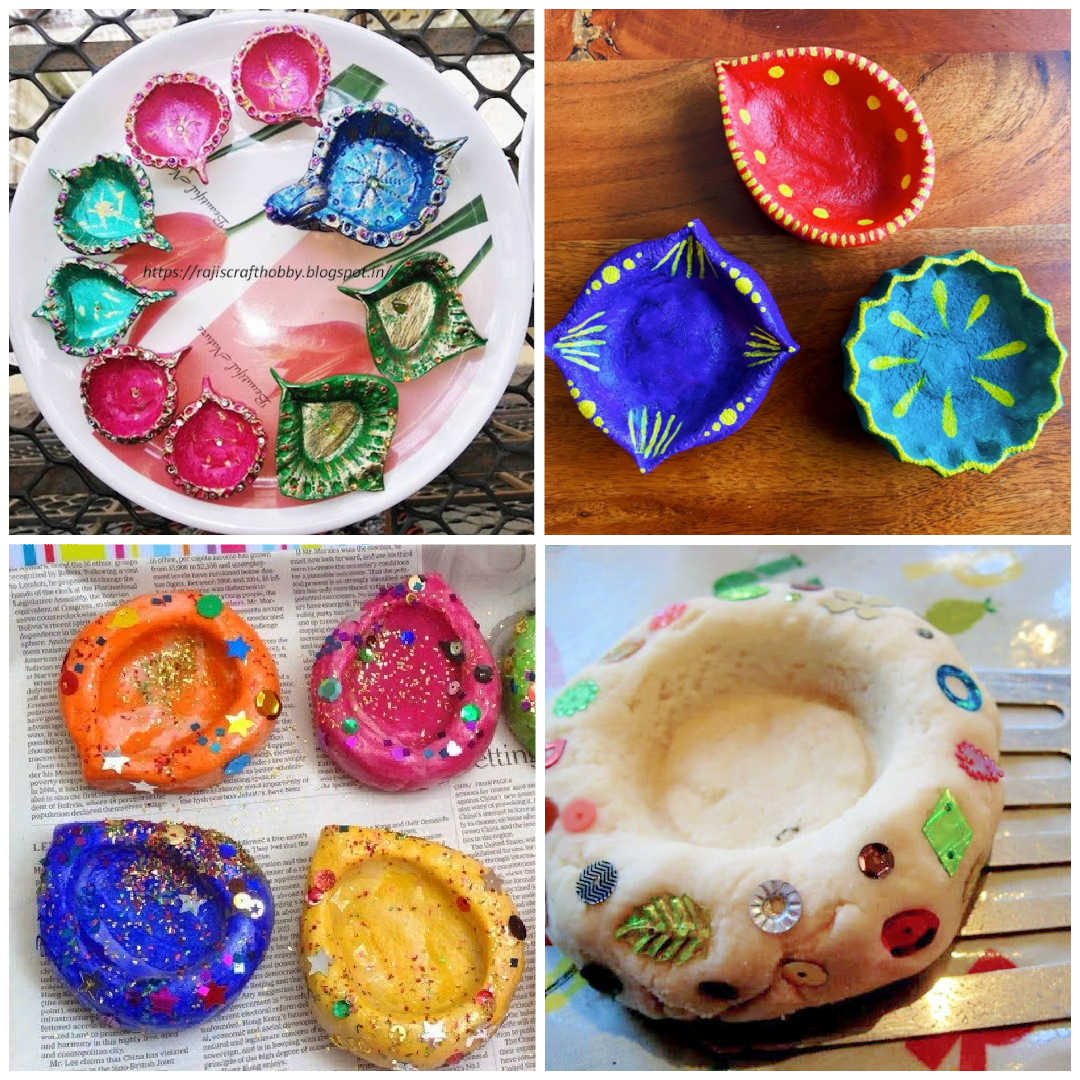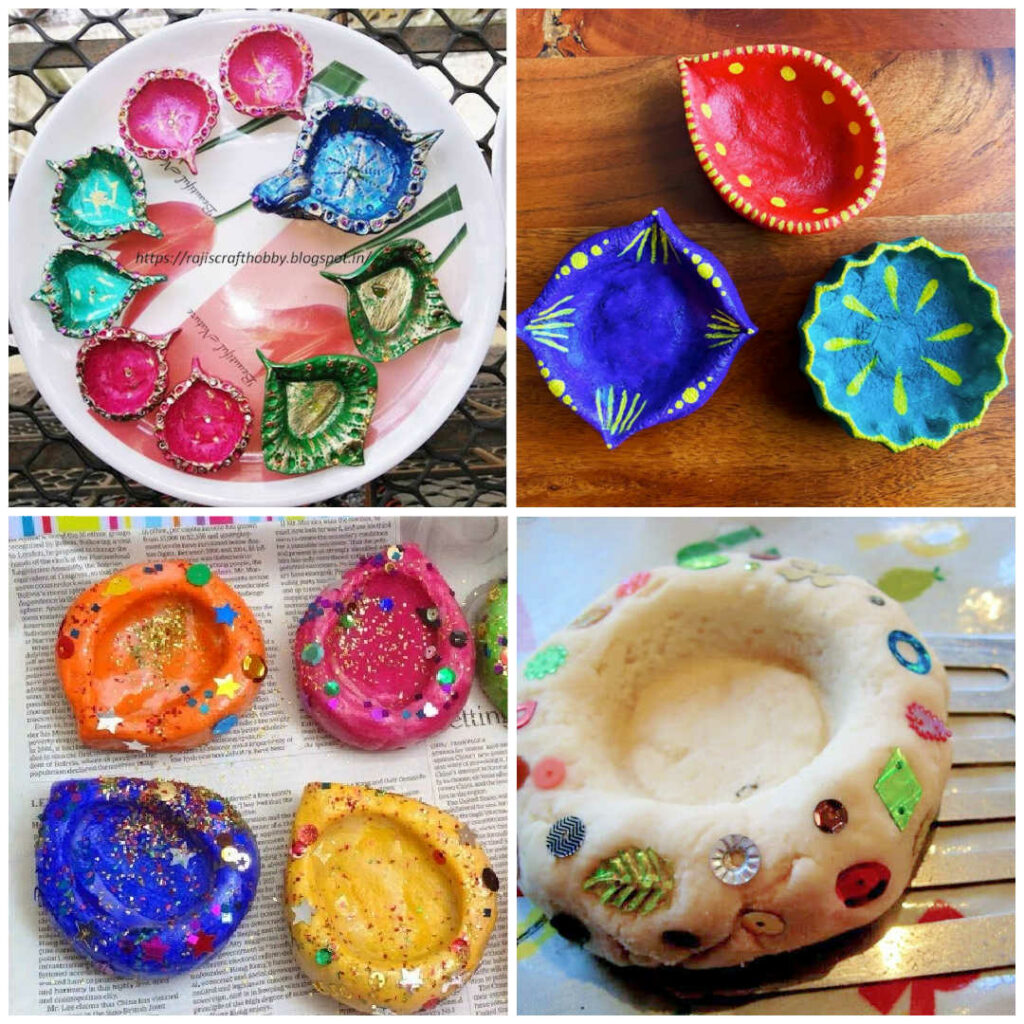 Salt Dough Diyas
You can use this microwavable quickest ever salt dough recipe to create your very own diya at home!
Salt dough Diya Lamps are Perfect for children of any age. It allows them the freedom to be creative and express themselves, making a piece of art.
You can shape your salt dough diya in a variety of design options. Here's a few diya design examples with salt dough.
If you have some extra sequins around, these sequin salt dough diyas would be a perfect fit for your little one to make.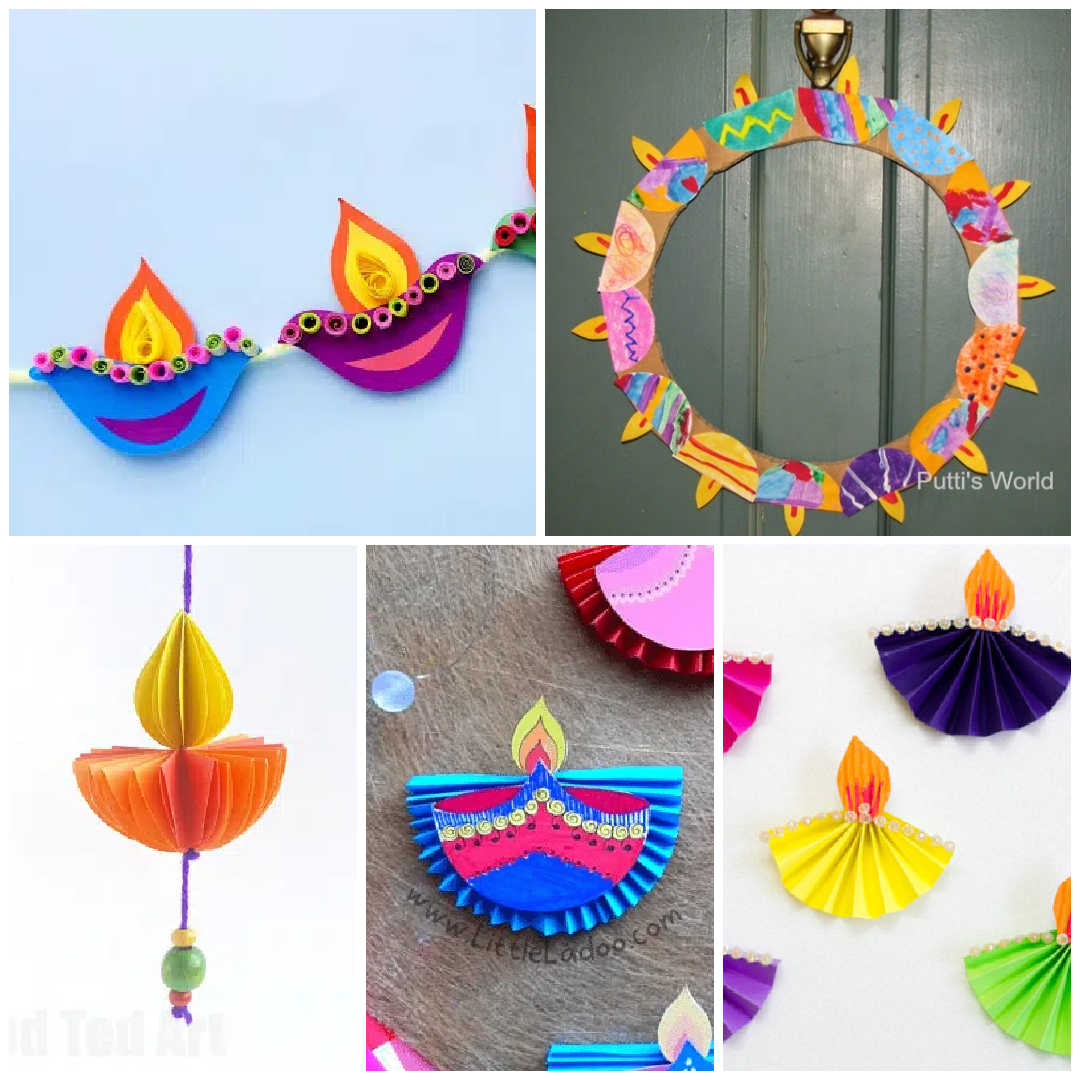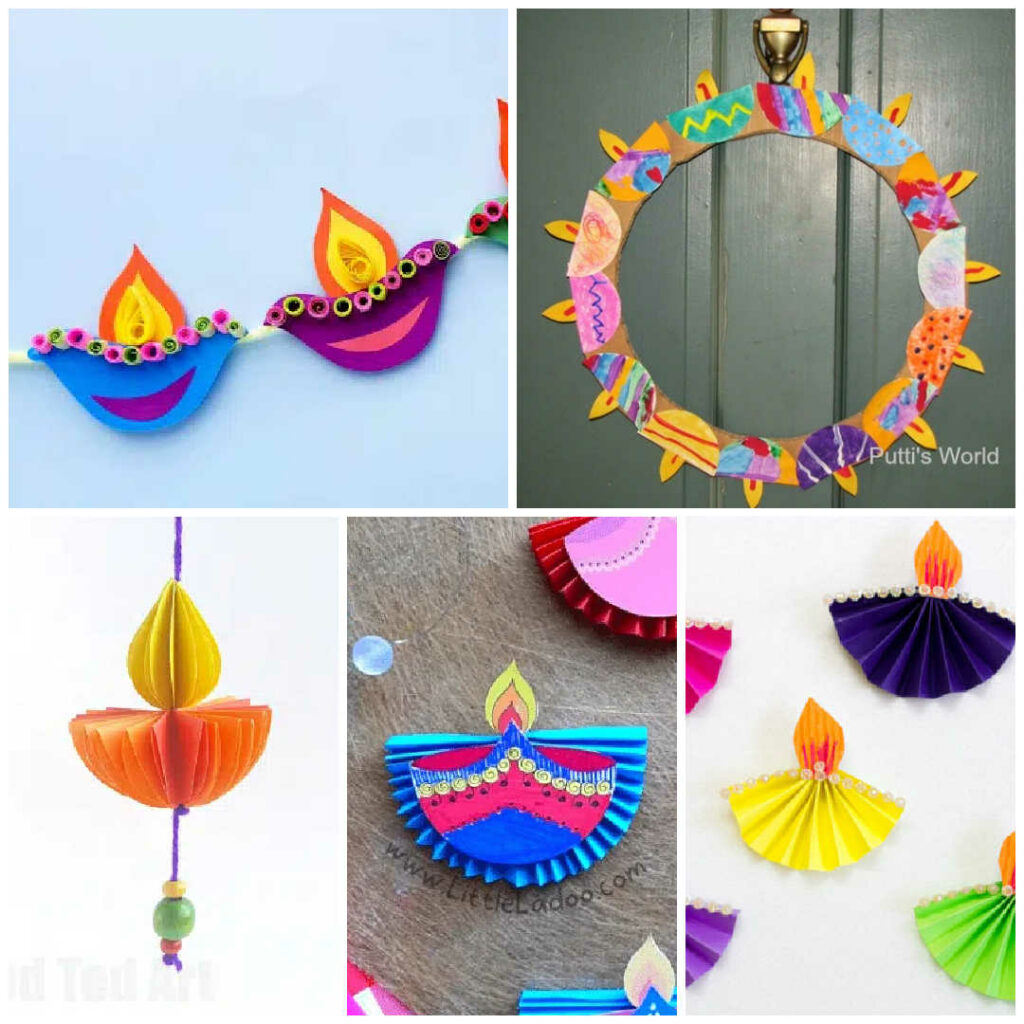 Paper Diya Crafts
With some simple paper folding you can make this Accordion Fold Diwali Paper Diya Craft These are so easy to setup and can pretty up any home or classroom. Use them as a gift tag, paste them on a wreath or just simply hang them in your rooms.
Want to decorate with diyas? Make this Paper Diya Diwali Garland. Not only is it made from one of our favorite craft materials – PAPER but also introduces the art of paper quilling. Would make for an adorable Diwali card too.
Create your own Diwali Paper Diya craft. These vibrant diyas are easy to make and are perfect to decorate our house! Plus they have templates to use.
Decorate your home with this Paper DIY Diya ornament. It would look lovely as a set of paper diyas strung up or simply on its own.
Hang this Paper Diya Lamps Garland on your door or even place them on the table like a centerpiece on the day of the Diwali festival.
Disclosure: This post contains Amazon affiliate links.
Books about Diyas
For more books about Diwali, take a look at this collection of Diwali Books for Kids.
Diyas on Amazon
If possible shopping local and supporting your local artists is best, but sometimes we are limted. So I put together some options for buying diyas online to make with your child or to decorate your home with. Your child may be inspired by many of these designs for how to paint their own diya.
You could also host a Diwali playdate or do it with your child's class and paint diyas together.
I love some of the paint color combinations and the rhinestones that have been used.
Just click on the image and it will take you to buy it on Amazon!
How Traditional Diyas are Made in India
One thing that I enjoy learning about are traditions around festival time. Here are a few videos showing how traditional handmade clay pots are made in India.
Traditionally you use Pure Cow Ghee Wicks to light the diya but you could use either a votive candle or even a battery-operated votive candle when you are around young children.
Diya Coloring Sheet
DIY Craft Ideas for Diyas for Kids
These DIY diyas are ideal to make with your preschooler or Kindergarten child. Honestly, it's perfect for all ages, I enjoy making them too. It's one of our Diwali traditions in our family to make a diya with the kids each year.
Which diya craft will you make this year with your child?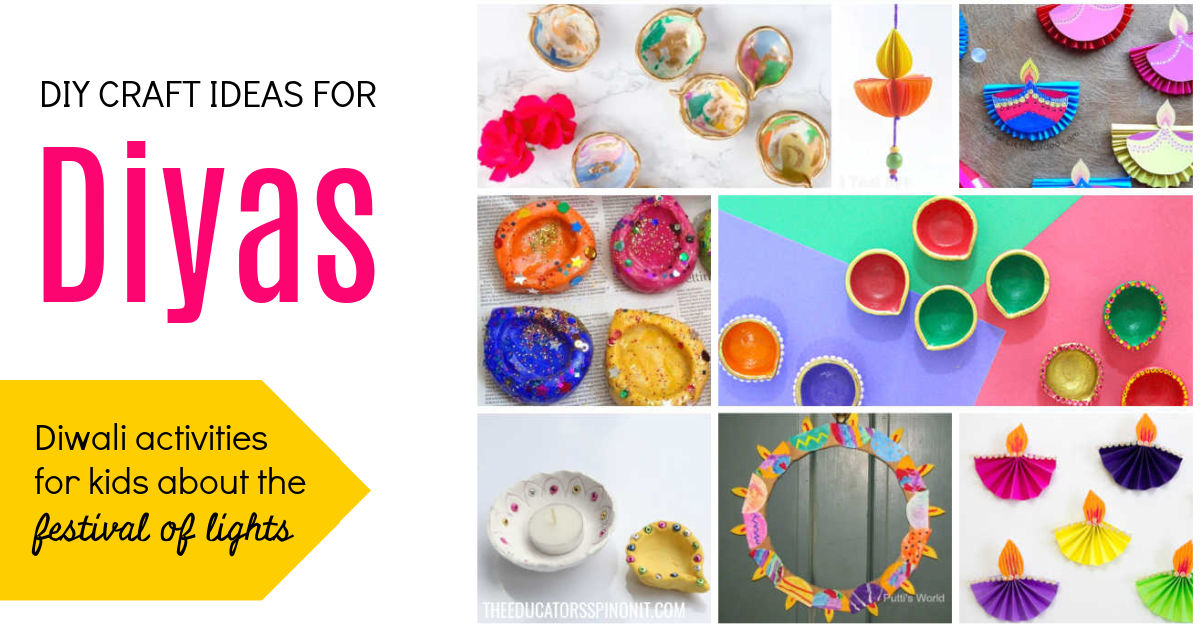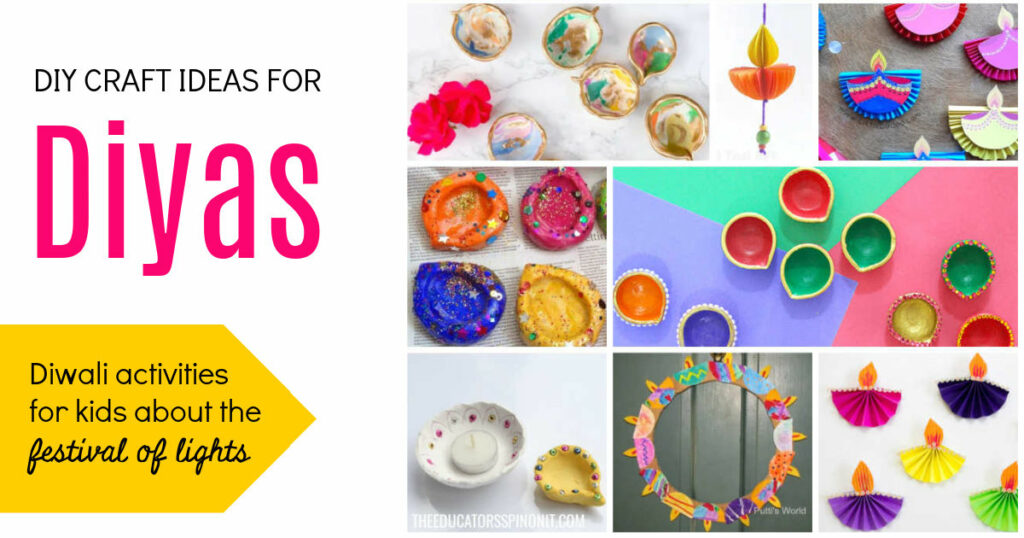 You may also enjoy these Diwali Activities for Kids…