Celebrate the festival of lights this Diwali by getting them involved in a few easy Diwali crafts for kids. We're sharing 8 easy craft ideas with symbols of Diwali including diyas, rangolis, garlands, firecrackers, and more!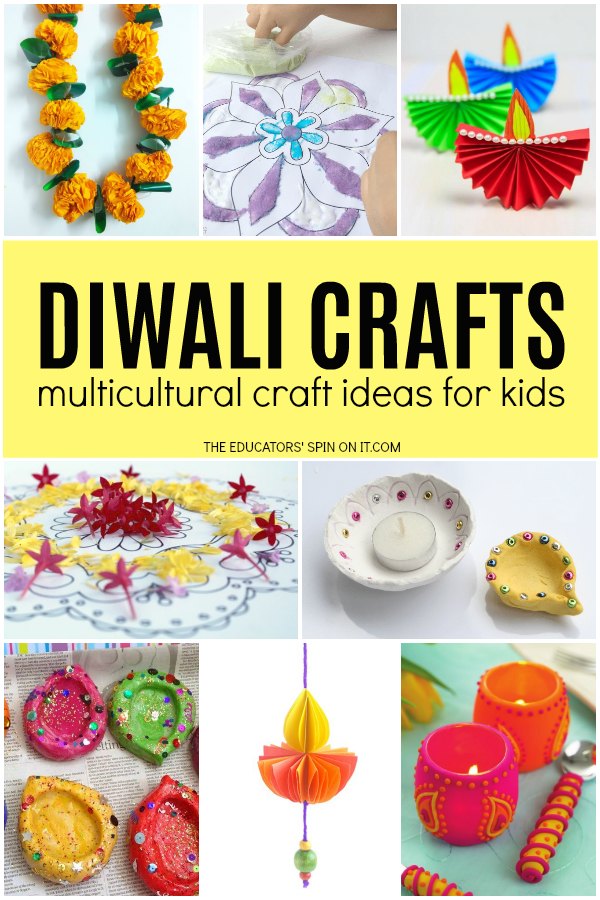 Disclosure: Amazon Affiliate links are used in this post.
What is Diwali? Why is Diwali celebrated? The Festival of Lights is a holiday celebrated around the world.
Diwali is a five-day festival of lights, celebrated by millions of Hindus, Sikhs, and Jains across the world. The festival, which coincides with the Hindu New Year, celebrates new beginnings and the triumph of good over evil and light over darkness
These featured Diwali Crafts will help your child learn about the holiday and are perfect for home or for Diwali crafts for school. We use them as multicultural craft ideas as I teach my children about different cultures, including my Husband who's from India.
Easy Diwali Crafts for Kids
There are several symbols of Diwali that have become a traditional image for learning about with young children. Diyas are clay lamps filled with oil that are lit up on the night of Diwali.
Families decorate the doorways of their homes with garlands hung around doors and rangoli designs on the floor.
At the end of the festival of lights, there are fireworks and sparklers to celebrate Diwali with a big bang!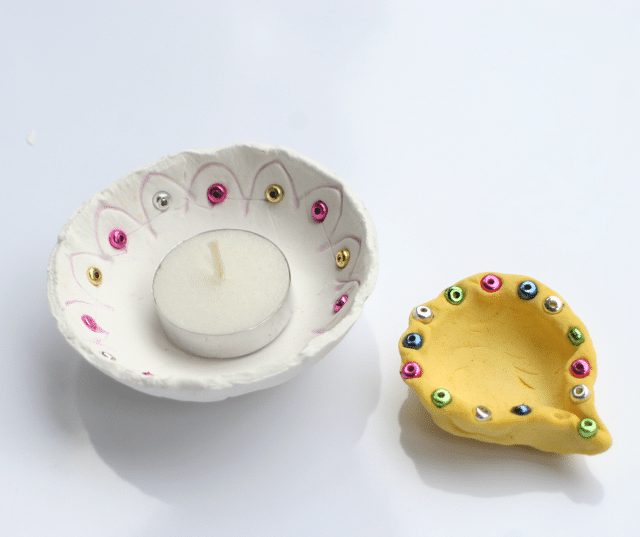 Diya Crafts for Diwali
For Diwali families set out Diyas around their homes for Diwali. Create a colorful Diya and light oil by making a Diwali Paper Diya Craft.
With just a few ingredients you can create your own Glitter Salt Dough Diya Lamp.
Get a little creative with your glass diya by creating a Clay Polymer Candle Holder. So many color and design possibilities.
Create your own shape and design with this Diwali Diya Craft with Air Clay or Model Magic. What colors will you choose?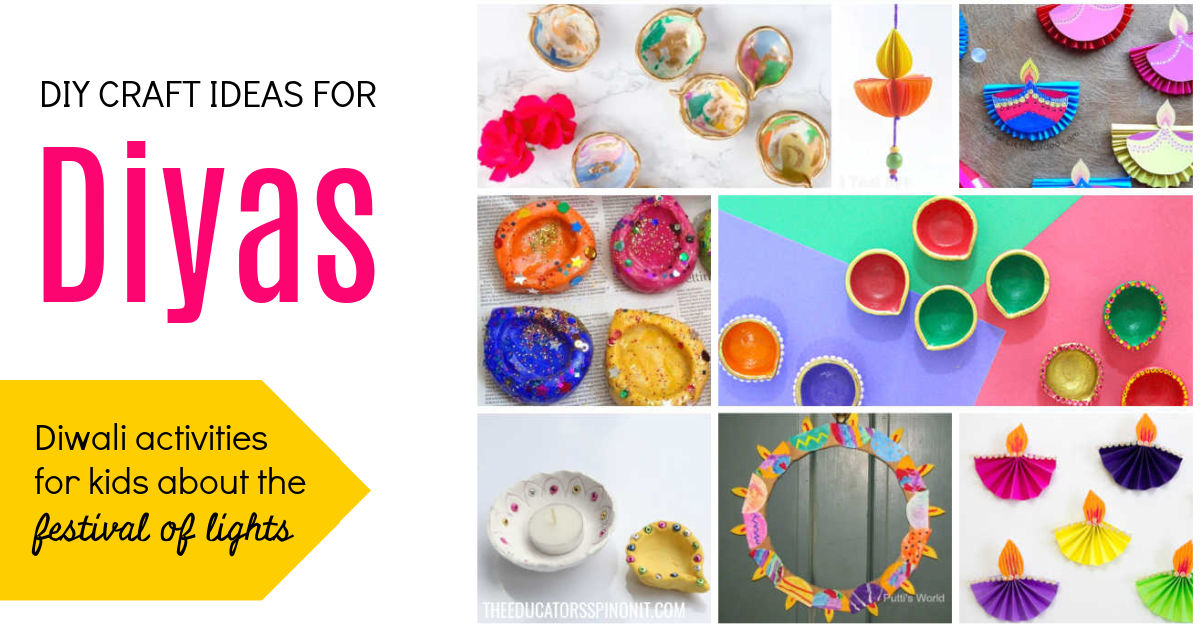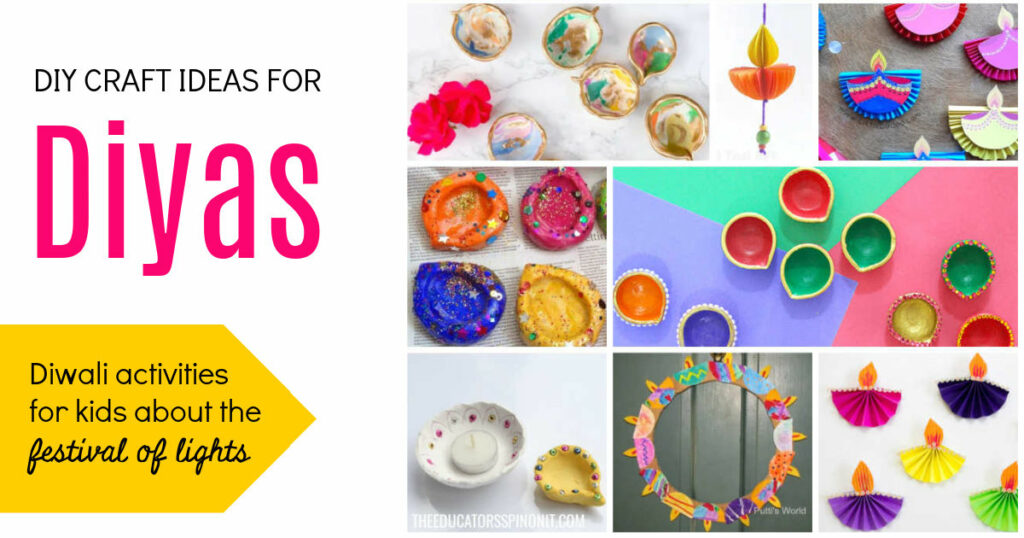 Looking for more ideas? Try these 17 Diya Craft Ideas for Kids!
Door Decorations for Diwali
Indian Families also hang decorations around their doors for Diwali. With just a few easy folds you can make your own Paper Diya Diwali Craft or this paper Diya Diwali garland.
One traditional element is to hang the golden marigold flower in garlands around your home, temple, and even front gate in India. Here's how to make your own Marigold Flower Garland with paper.
Rangoli Crafts for Diwali
With just salt and food coloring learn how you can make a Diwali Rangoli Craft for Kids.
One of my children's favorites is to make a natural Flower Rangoli Craft with flowers they've picked from the yard.
You can watch these videos on how real rangolis are made with sand.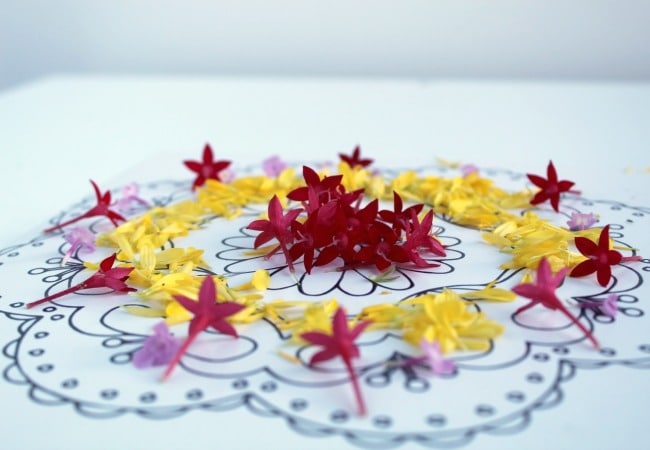 Click to see how to make this Flower Rangoli
Firework Crafts for Diwali
End the fun with this handmade Sparkler Craft for Kids for Diwali . Be sure to watch these videos about Diwali so you can see what the sights and sounds are like on Diwali.
Diwali Books for Kids
One of my favorite things to do with kids is to read a book and do a book craft with them inspired by a topic that we're learning about. With these featured Diwali Crafts, you can select one of these Diwali books to read with your child. Once you've read the Diwali book you can create a special Diwali Craft.
Here's a few colorful and fun Diwali Books for Kids:
Shubh Diwali! by Chitra Soundar (Listen to Read Aloud)
Amma, Tell Me About Diwali! by Bhakti Mathur (Listen to Read Aloud)
Let's Celebrate 5 Days of Diwali! by Ajanta Chakraborty (Listen to Read Aloud)
Archie Celebrates Diwali by Mitali Banerjee Ruths (Listen to Read Aloud)
It's Diwali! by Kabir & Surishtha Sehgal (Listen to Read Aloud)
Reena and the Diwali Star by Ushma Multani
Click here for our top picks of Diwali Books for Kids!
Diwali Activity Ideas from Amazon
Watch and sing along to Mira, Royal Detective from Disney Junior sharing about Diwali. Head over to this Diwali guide for more Diwali Videos for Kids.
Let us know which Diwali Crafts you'll be making this year with your child! SHARE a PHOTO on Pinterest HERE!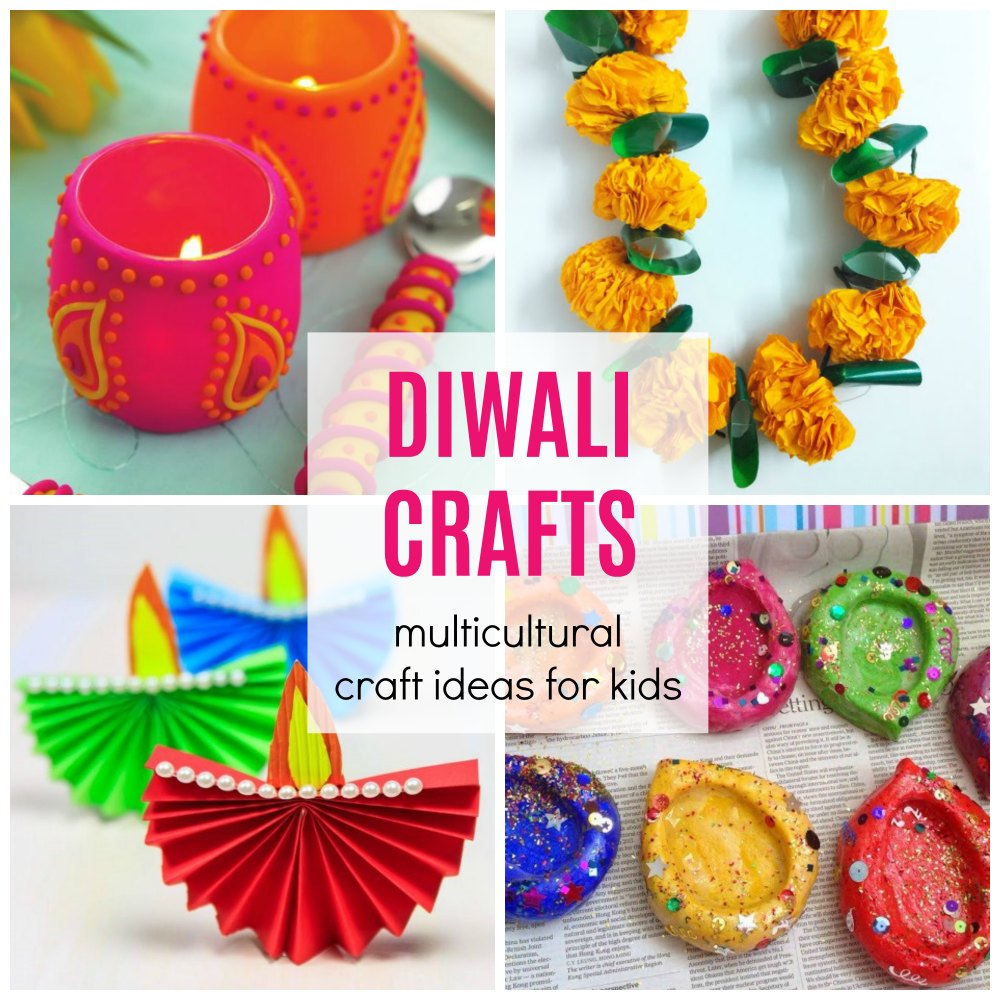 Additional Diwali Crafts for School
If you liked these easy Diwali Crafts you might also enjoy our collection of Diwali Activities for Kids.
You may also enjoy these global activities for kids…