Here are some fun and easy fall crafts for toddlers for Tot School this week! We're spending some time focused on various elements of fall through Fall Math, Science, Arts and even a fun adventure to a Pumpkin Patch.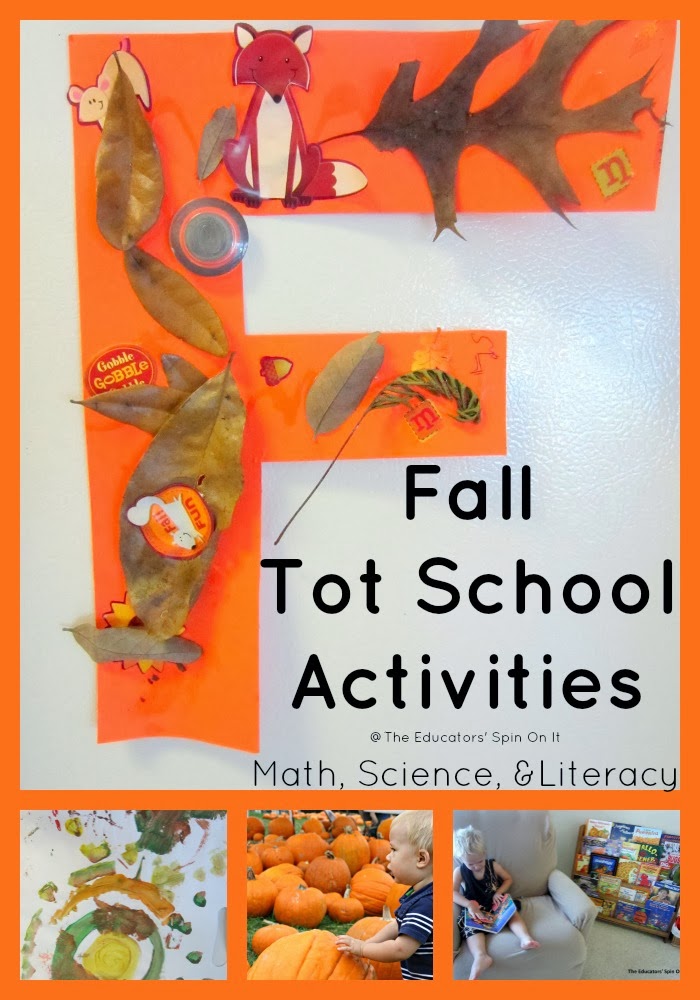 Fall Tot School Weekly Plan
Here's what we did for our Fall Tot School Activities.
Monday – Fall Music Focus
So it is a little cheesy, and I am sure someone else can claim they "created" this song, but we sang "All the Leaves are Falling Down," to the tune of My Fair lady.
All the leaves are falling down,
falling down, falling down.
All the leaves are falling down.
It is Autumn!
What is great about this song is that you can add and change the verses for what ever you want.
All the squirrels are collecting nuts,
collecting nuts,
collecting nuts.
All the squirrels are collecting nuts.
It is Autumn.

All the monarchs are flying south,
flying south,
flying south.
All the monarchs are flying south.
It is Autumn.

This gives our tots some control and power (they LOVE this) over the song. After reading books about the fall, you can help them change the song to reflect what they have learned! If the book you are reading talks about the birds flying south – put that into the tune and sing it!
I LOVE these simple, catchy tunes! It is a great way to include more repetition for learning too. The more kids hear and interact with language and concepts, the more it becomes familiar.
Here are some additional fall songs for infants and toddlers.
Looking for more Music Ideas? Check out this article.
**These books are Amazon Affiliate links.
Fall Books for Toddlers
Animals in Fall: Preparing for Winter (Cloverleaf Books ™ ― Fall's Here!)
Count Down to Fall (Arbordale Collection)
Animals in the Fall (Preparing for Winter)
I realized that we have an enormous amount of fall and Halloween books that I have amassed over the years. Our collection fills up our front shelves and another basket next to the chair! (this isn't including the ones we checked out from the library!)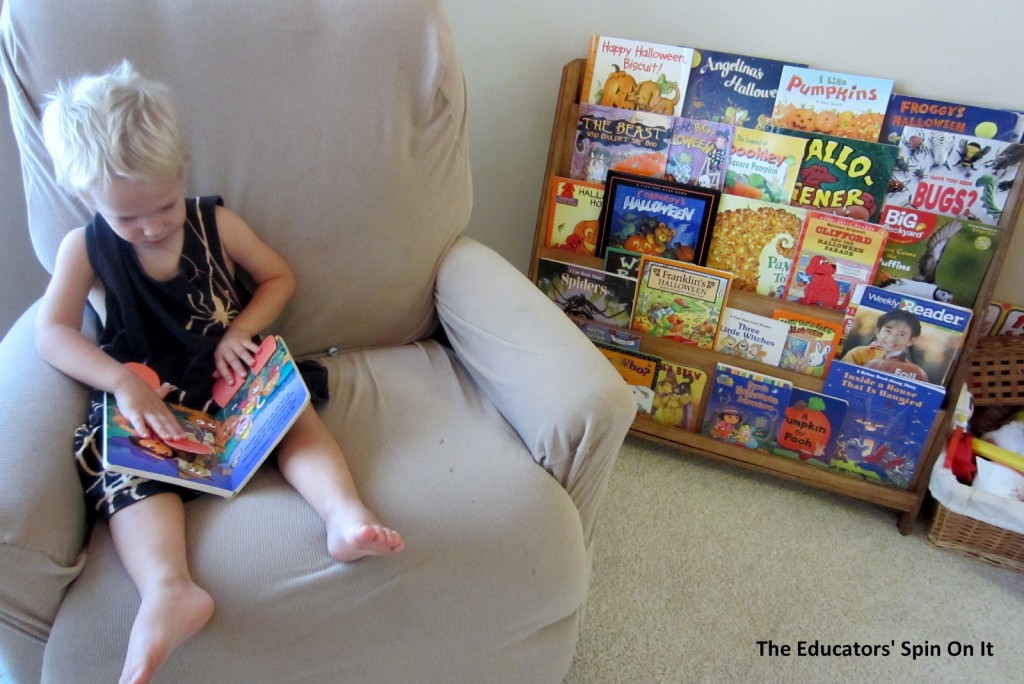 Thankfully my tot LOVES reading and spends over an hour reading or being read to each day!
***He found my spider shirt that I made last year and didn't want to take it off!*** It made him look very festive!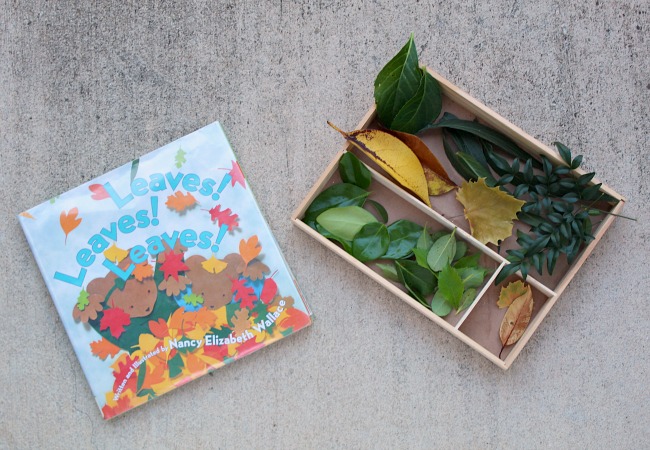 Tuesday – Fall Science Experiments
A Leaf Collection – Comparing and Contrasting leaves. So this combines a bit of math and science, but we went on a leaf hunt and compared and contrasted leaves.
This concept is hard for my 35 month old, but with adult prompting we were able to come up with ways leaves were the same and different.
We focused on shape, size, and color.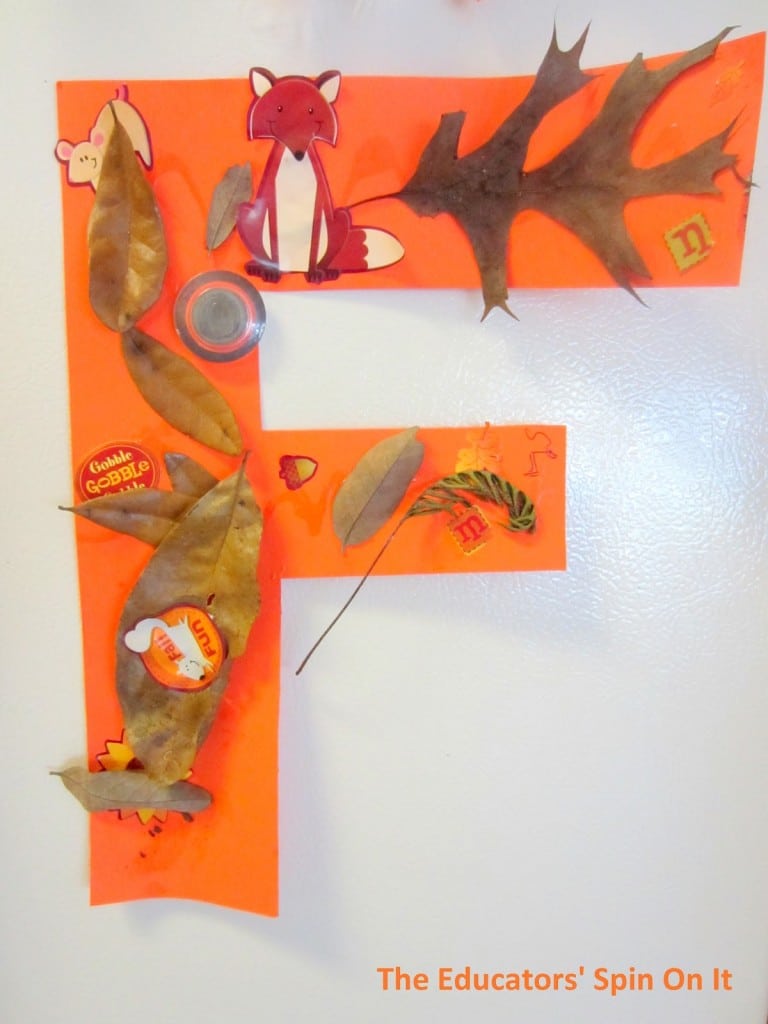 My son also identified that some of the leaves we had gathered in our collection were from trees and some of them were from plants. I was pretty impressed that he was able to remember which leaves were from where!
Guess our moments gardening and playing outside have increased his awareness of the natural world!!!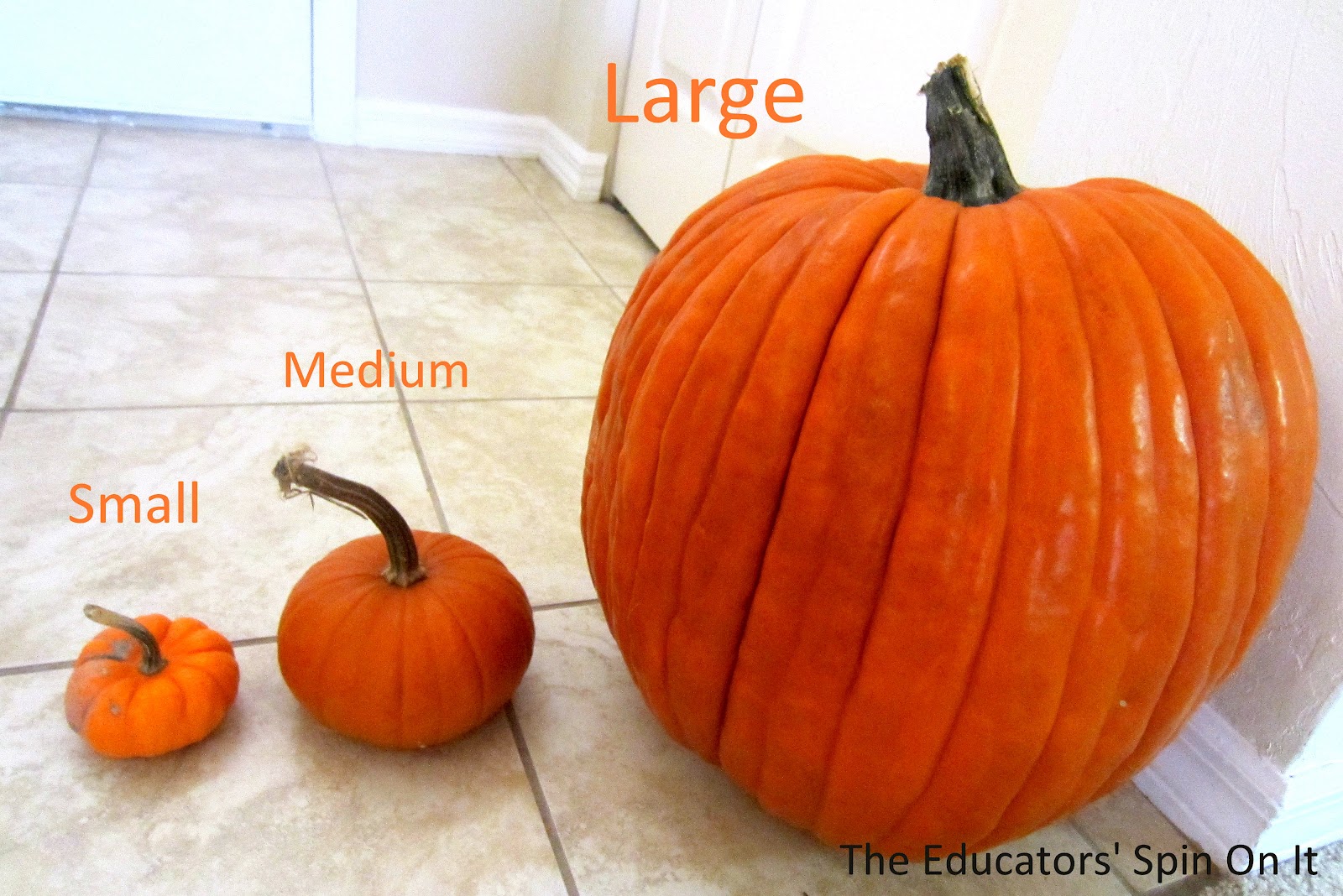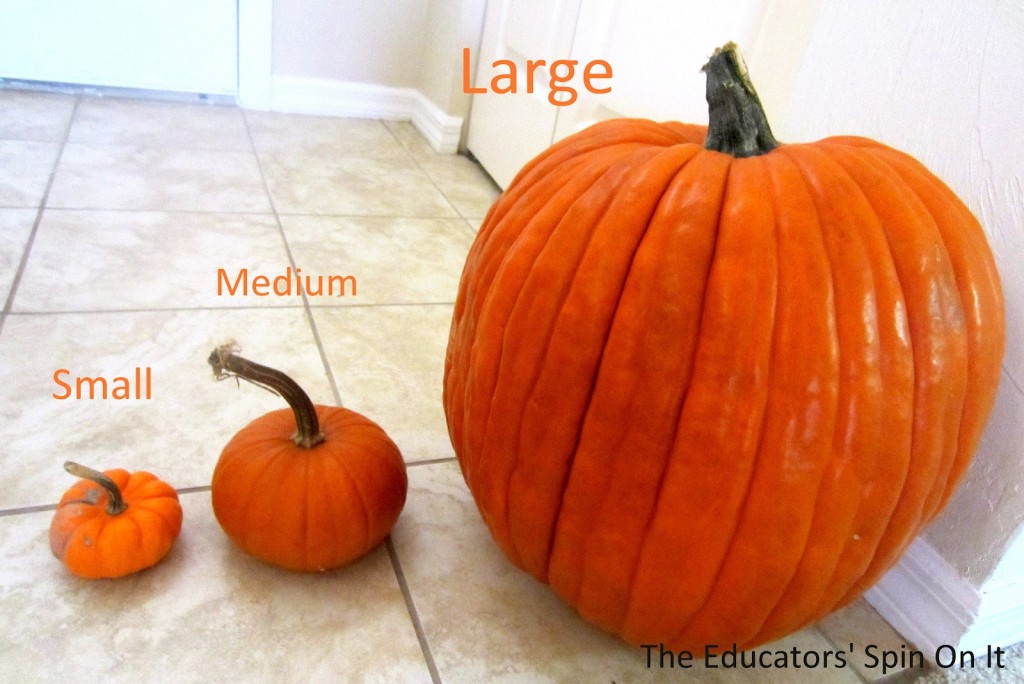 Wednesday – Fall Math
Continuing with the concepts of sorting by shape, size, and color that we worked with on Tuesday – we worked on putting our pumpkins in order by size. Small, medium, and large.
We have also been talking about other words that mean similar things to small like; tiny, little, itty bitty and other words that mean big; gigantic and enormous.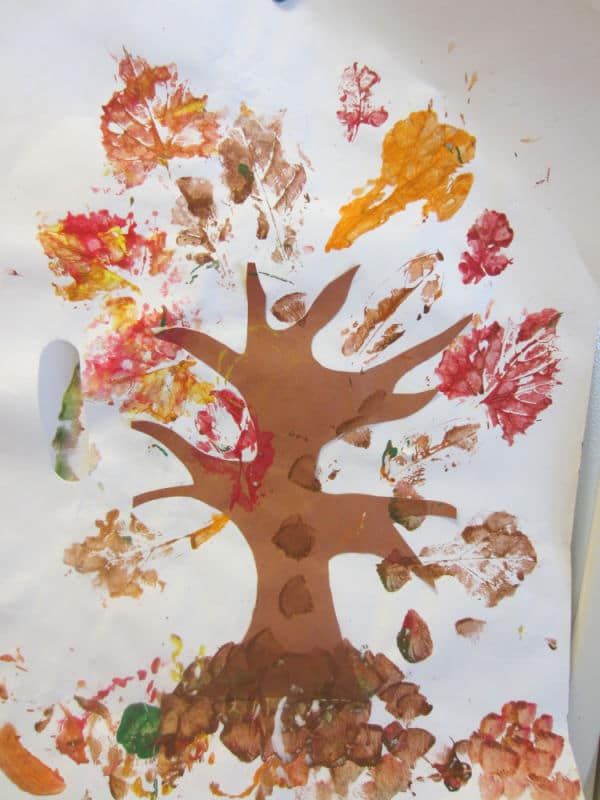 Thursday – Art Exploration
This week we did some basic printing with leaves, an F collage and some free painting. My tot is in the phase of "you do it," meaning, he wants ME to do the project. So, we end up doing it together (I painted the circles in the free painting).
Sometimes I will say, "Ok, I enjoy painting. I am going to make a circle (then I make a circle) What will you paint?" Then, I give him some time to do something / anything on his own.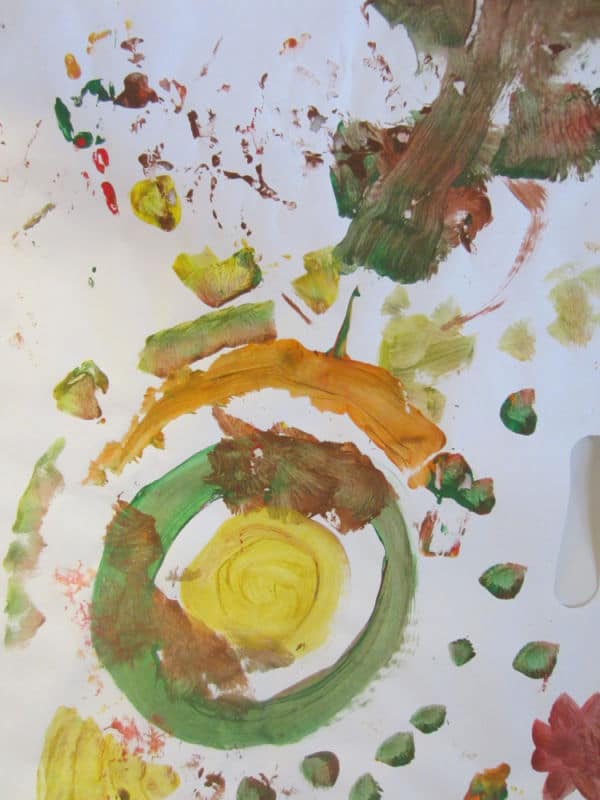 Some days, he needs a little more encouragement then others!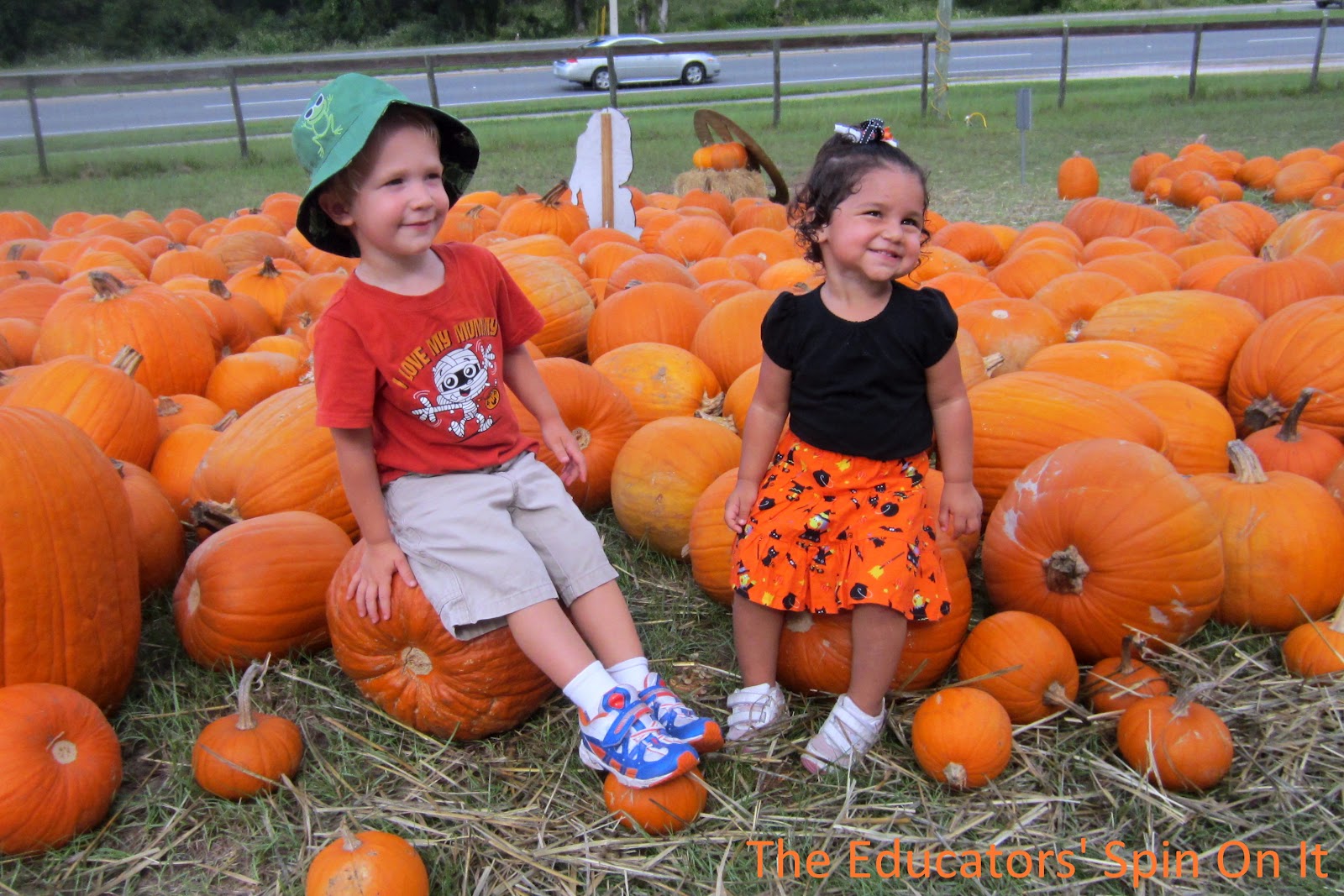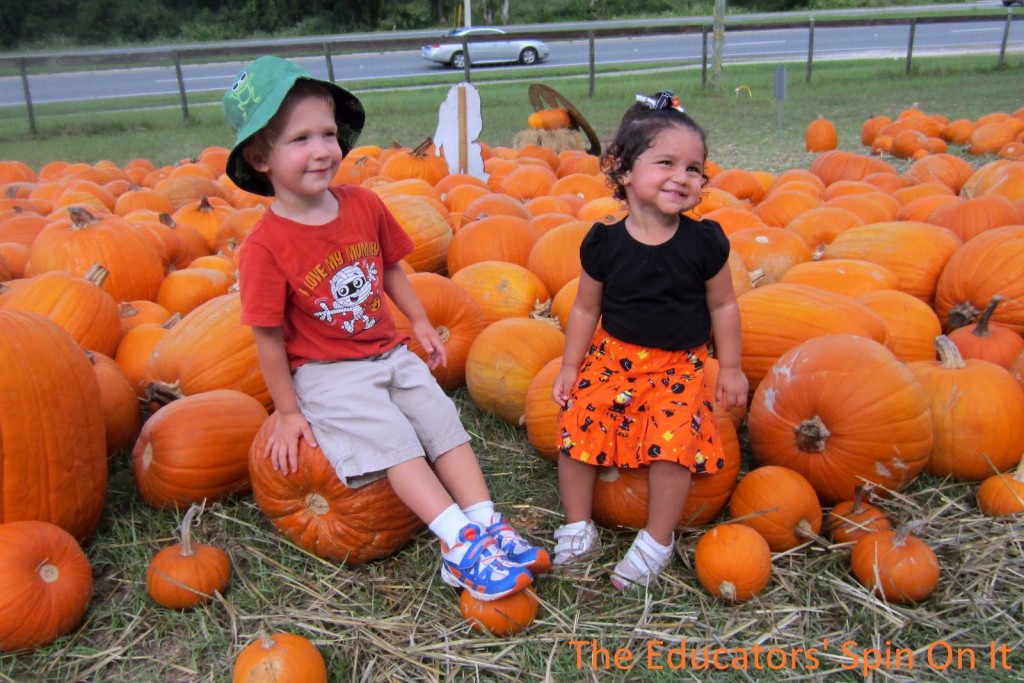 Friday – Fall Field Trip
In addition to our neighborhood leaf walks, we were fortunate to be able to head to the pumpkin patch with our best buds! We don't have any local farms that grow their own pumpkins, so the pumpkin patch (with shipped pumpkins) is the closest thing we have locally to the real deal!
The kids had a hayride, maze to run through, a delightful puppet show story time, and lots of pumpkins to chosse from!
Fall Activities for Toddlers
Here is a collection of more craft ideas for leaves and fall fun.
Looking for more ideas for your Toddler?
Visit our Toddler Activity Resources!