It's fun to make cute holiday shirts for your kids. As soon as I set my eyes on this DIY project, I knew I needed to this Spider Web Shirt for my daughter. She is fascinated by spiders and the webs that they make.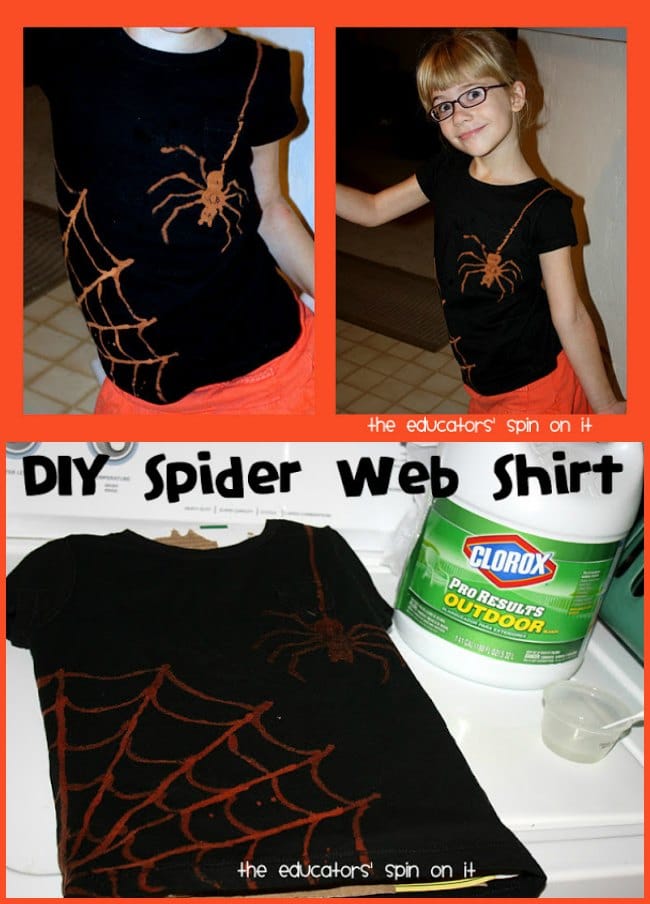 Spider Web Shirt Inspiration
If you haven't stopped by to see
Pink and Green Mama's
art projects for littles, I highly recommend it!  Her art projects are fantastic and the pictures are beautiful.  I was so inspired by her yesterday post 
Spider Web Halloween Shirt
  that I went to work right away!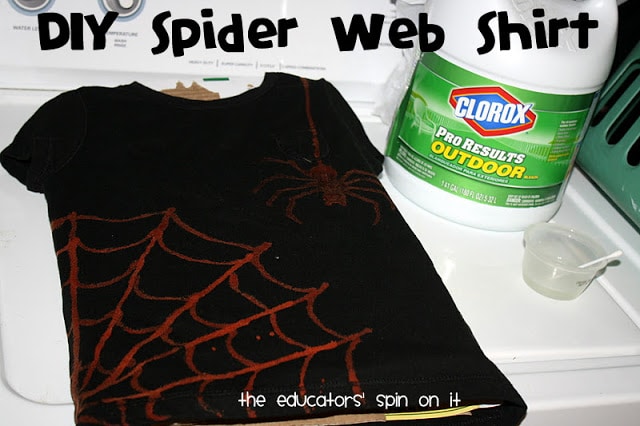 NOTE: this is NOT a kid project! Adult made – FOR kids. Always exercise common safety rules when working with bleach.
Making the Spider Web Shirt
Last week I had bought some inexpensive solid color shirts for making holiday outfits, but hadn't decided what to do for October.  This looked easy, creative, and something I could make for less than $2.00! It also connected really well with this weeks
cooking class at Kim's house with Spider Meatballs
.
Am I going to have another unplanned amazingly c
onnected learning week this month??
? I didn't have a bleach pen like she did.  Hmmmm… would outdoor bleach work applying it with a q-tip?  It is the only thing I had available.  Sure enough, in just seconds, I could see the colors changing.  I let it sit for about a minute and rinsed it out several times with soapy water and hung it up to dry.
Then, only because when I looked at the time I realized that 7 minutes after reading her post I had a cute Spider Web Shirt for my 5 year old, I just had to message her and thank her for inspiring a project.  I was so excited that she responded back!
"@ Loving Mama — How funny are you? I love it, I do that all the time, see a fun project, drop everything I'm doing and make it right away. The Q-Tip is a great idea! xoxo Fondly, Pink and Green Mama MaryLea"
Save