When the acorns start falling from the trees – it's time to make Acorn Activities for your toddler to create and play with. It makes a great learning theme for fall.
Amazon Affiliate links
Acorn Activities: Acorn Counting and Number Recognition
This week was Acorns Everywhere.  Both my kids thought this book was funny. They both just laugh out loud when the little squirrel cannot find his very obviously hidden acorns in the book and the of course have to point them out for him! 
Start with an acorn sensory bin with water for hands on fun!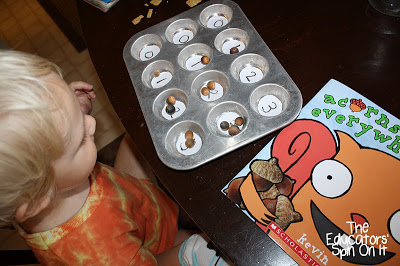 I made some activities to spin off this book for each kid. We are working on counting with my 23 month old and I thought he may like to help me put acorns in these numbered muffin tins, but I guess the numbers were not important to him, because he really just wanted 1 acorn in each muffin place.
I would say, "This is the number three, so I put 3 acorns in here. 1. 2. 3." He would say. "No no" and take 2 out. I found it a little humorous =)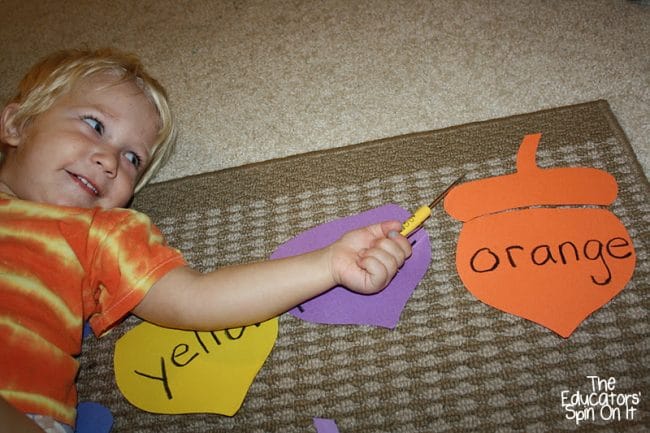 Acorn Activities: Color Word Matching Acorns
We also tried to match the caps to the acorns. He was in a tool mood, so I asked if he would be willing to help me "fix" the acorns. And if you haven't seen any of my past tot-school posts like this one or this one about using a sensory bin, he is a big fan of dumping.
We use the sensory fin to talk about vocabulary words such as color and texture words.
As my little one loves to dump – my bin has big things like feathers, leaves, and fabric squares that are easy to pick up.
Acorn Activities: Marble Painting with Acorns
And, since marble painting is SO much fun. We did it with acorns. Dip the acorn in paint and roll to make a painting.
If you haven't done this one yet, I recommend heading outside and gathering up some acorns =) It is a blast!
Here are some additional acorn themed activities to do with your child… Save
Click now for more ideas for your Toddler or Preschooler.
Save