Red, orange and yellow. Bring out the fall colors with this fall painting project for toddlers.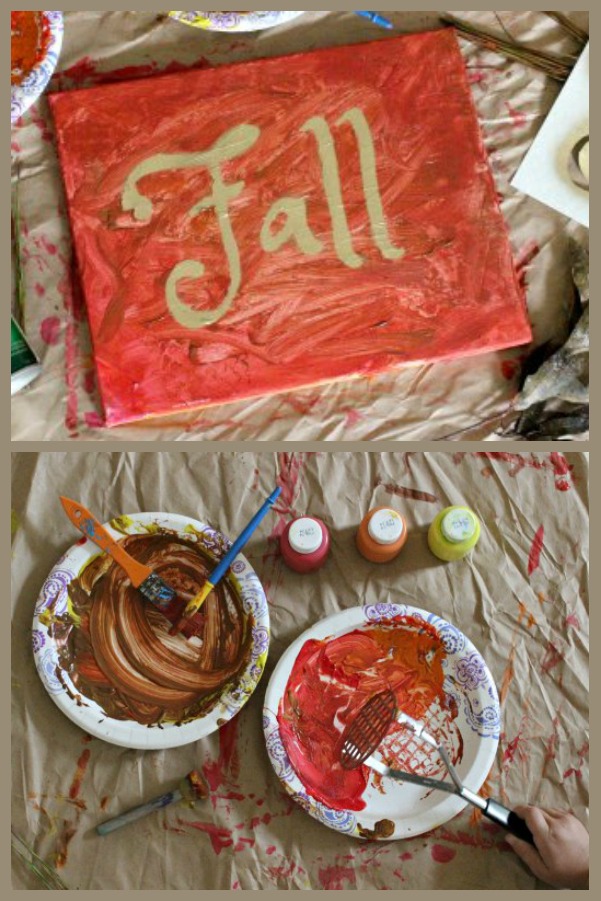 Best for children 2 years and older
Learning Objectives: Explores a variety of materials. Names the colors.
Affiliate links
Make a Fall Painting with Your Toddler
Toddlers are great at running and climbing. They love to explore the world and find out how things move. They need to make and create things with their hands, but are not quite ready for "crafts" in the traditional sense.
1 and 2 year olds needs open ended art projects that allow them to experiment with different colors and textures. The focus on art at this age should really be on the process and not the product. But, if you are like me and like to display your child's art, there are only so many pages of scribbles that one refrigerator door can hold.
So, we have begun creating Toddler Masterpieces to display above our fireplace!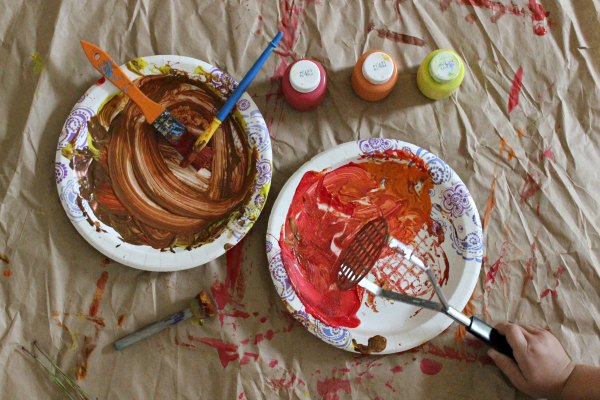 Materials Needed for fall painting project
Scroll down for the directions for the word Fall (adult portion of the fall painting project)
How to set up the fall painting project for toddlers.
First, create your workstation. If the weather is nice, bring this fall painting project outside. It's sometimes easier to get messy close to an outside water faucet. Indoors, set up a large area with a drop cloth. Newspapers or a tablecloth work as a floor protector… Wait? Floor protector? YES. When painting with toddlers and younger children, bring the projects to the floor. This lets kids move around the painting and work from all sides. The packing papers inside our Amazon Prime deliveries work well for us.
Set the paint on paper plates next to the canvas. Place the brushes and other painting materials next to the paint. You may use a potato masher, stampers, or lids for a variety of shapes and textures.
Put your child in a paint shirt or have them don a paint apron. No matter how neat your child may be, paint can and will be a messy activity for most young children.
A container of wipes or a pre-moistened wash cloth nearby can quickly wipe any paint mess up before it dries.
How to Paint with Your Toddler.
This is the easy part. You just let your painter paint. WHATEVER THEY WANT. My little one painted it all different colors and stamped with the dot stamp.
Then swirled it around and grabbed the potato masher. It was all lovely and textured like fall leavers.
He saw the pine needles and dipped them into the paint and began whacking them onto the canvas, which led to pine needles flying all over the room (he thought that was very funny)
Finally, the whole painting got a coat of paint. He said the thick paintbrush worked the fastest. And he announced his painting done.
If they want, they can use the rest of the paint for another painting, or paint the paper plates!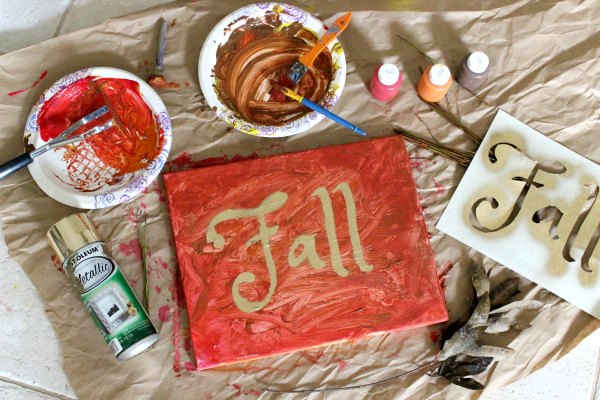 How to Finish the Fall Painting
If you have a circuit or other paper cutter – they you are in luck. Print a cut out of your favorite fall word and glue it on.
However, I do not have one of these awesome machines and must resort to the old ways of making do with what I have, which is a few drops left of my gold spray paint. (I had to cross my fingers it would even cover all 4 letters!)
I used PicMonkey to select a font. Then printed it out as big as I could on a piece of card stock. I used scissors to cut it out, layed the template on the painting and sprayed.
NOTE: Spray paint is for ADULTS ONLY. USE and store out of reach of children.
While you are waiting for everything to dry, snuggle in with a fall book.
Finally, when it is dry, I proudly displayed his toddler masterpiece above the fireplace. My tot saw it as soon as he got up from nap and pointed at it said, "mine" with a smile.
For MORE fall learning activities here at The Educator's Spin On It, we recommend
Save
Save
Save
Save
Save