Add a little sensory fun to Halloween for your preschooler with this fine motor spider web activity. With a black marker, a recycled jar, and a spider ring you can create a spooky activity your child will love!
Here's how to make your own Spider Web Fine Motor Sensory Bottle…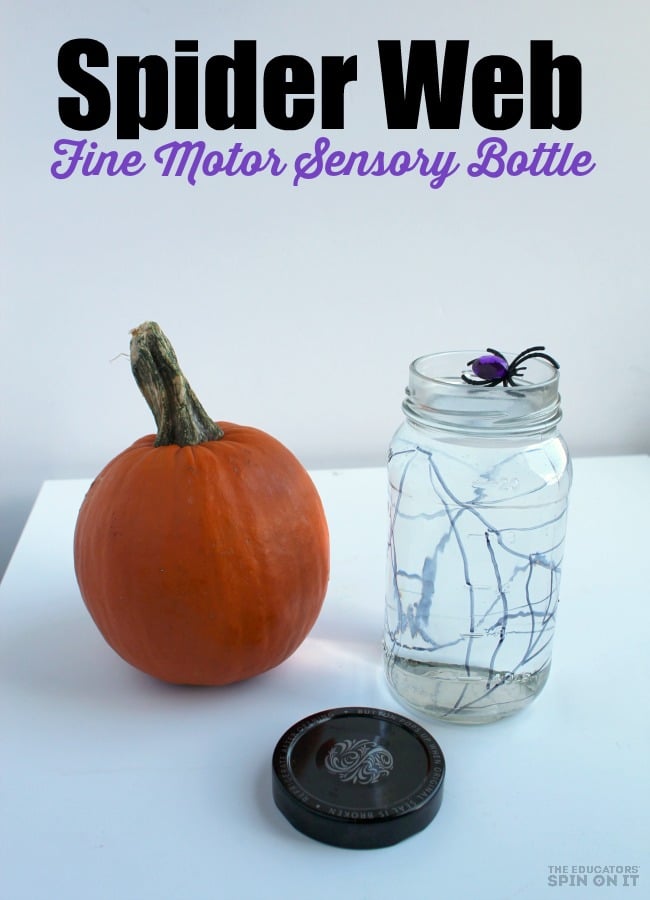 This post contains affiliate links.
We have quite a few spider resources that we've shared at The Educators' Spin On It. So we thought it would be a fun week to featured spiders as our theme of the week. You can choose between the following spider activities to get started…
Be sure to check out at the end of the post even more spider themed activities for preschoolers after you see the tutorial for how to make your own fine motor spider web sensory jar.
Want the latest Book Themed Activities from The Educators' Spin On it?
SIGN UP HERE for our NEWSLETTER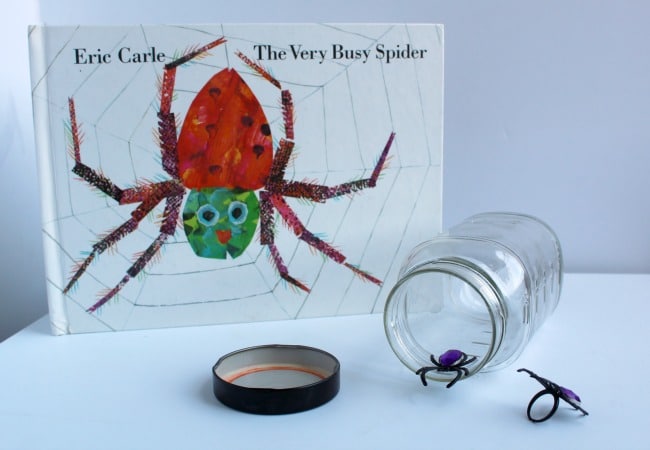 Our featured story of the week is The Very Busy Spider by Eric Carle for our Virtual Book Club for Kids.  Eric Carle happens to be one of our favorite authors at our here.  Here's a few more Eric Carle Activity ideas available on our site.  In the story The Very Busy Spider, one early morning a spider spins her web on a farm. One by one, the animals of the farm try to distract her, yet the busy little spider keeps working on her spider web. When she is done, she is able to show everyone that not only is her creation quite beautiful, it is also quite useful! A fun science lesson wrapped into this story for the kids too.  I adore that it's a multi-sensory book that allows children to feel the pictures as well as see them. Grab your book below.
The Very Busy Spider by Eric Carle 
Once you read the story there are a few songs that the kids might enjoy seeing too as part of our Virtual Book Club Activity. Here's a few of our favorite spider songs.
Spider Songs for Preschoolers
Itsy Bitsy Spider by Super Simple Songs
Itsy Bitsy Spider by Kids TV
There's a Spider on the Floor by Raffi
Five Creepy Spiders by Super Simple Songs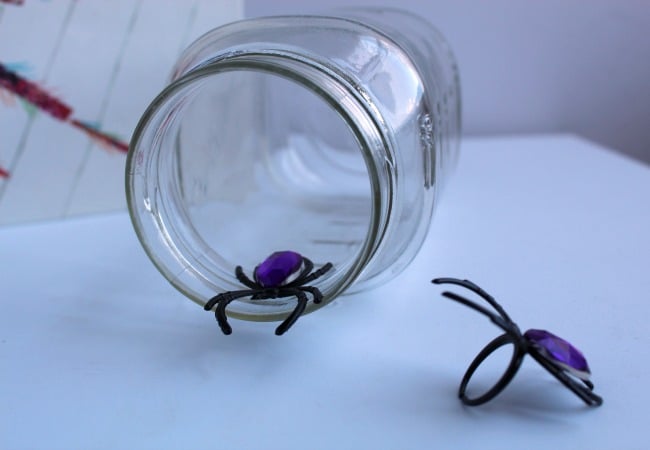 Spider Web Sensory Bottle Activity
This activity takes two things that you most likely have around the house to repurpose them in a sensory activity for Halloween.
Materials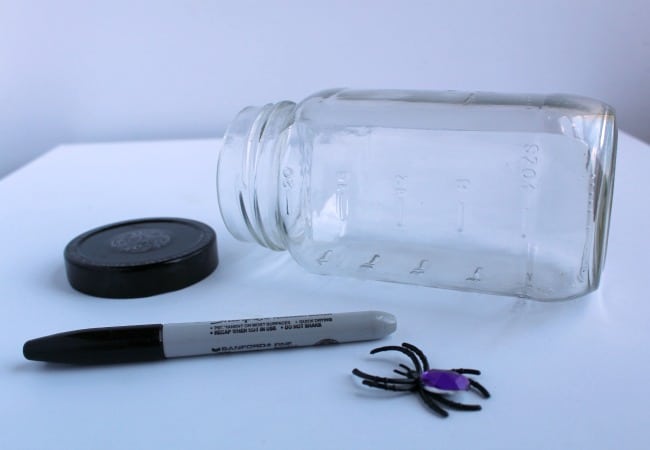 Directions for Fine Motor Spider Web Sensory Bottle
Use an empty recycled jar or a clear water bottle for this activity. Have your child create with you a spider web using the black permanent marker. If you're having trouble with the design you can insert a printed copy of a spider web and simply trace it.
To make our web we started from the right corner and drew a diagonal line to the left corner and the opposite from right to left and then several others.
The next step was to connect the lines with the smaller more intricate lines of the spider web.  This is a great time to talk about how a spider makes their web with sticky threads and nonsticky threads to allow her to move around.  
Drawing the web also gives your child some prewriting skills to work on their eye-hand coordination and fine motor skills.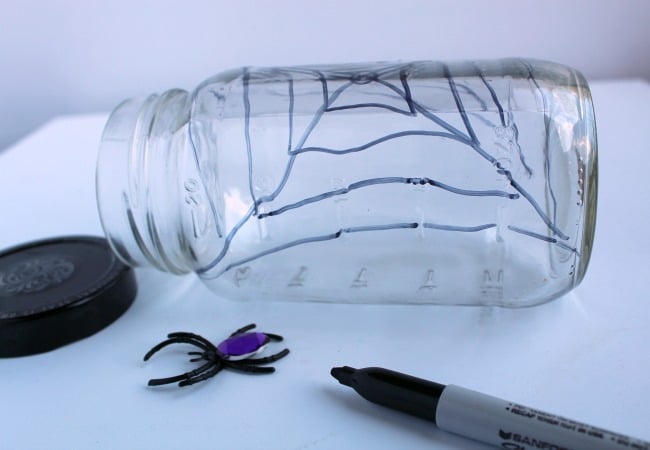 Once you've created the special spider web for the sensory bottle, it's time to add the spider. We just used a spider ring we had around the house and cut off the back side of it to make it lay flat in the bottle.
Once the spider is added we then filled up the container with water and added the spider to the water.  Be sure to screw the lid on tightly to avoid any spills or you can hot glue it.  (Use caution with glass jars around young children, if in doubt just use a clear plastic bottle, We prefer Voss Water Bottles )
Now it's a spider to see if you can make your spider walk on the spider web.  
To play the game you challenge your child to make the spider follow along inside the jar in the water along the spider web lines that you have created.  Little tip, I would allow them to play around with the jar first and see how the spider moves in the water. Then once they've figured out how to control the movement of the spider, see how they can make the spider move along the lines of the web by moving the spider web sensory bottle ever to slightly. Take patience and focus, perfect for preschoolers and some eye hand coordination.
I have another spider sensory jar activity I'm sharing with you tomorrow too, don't forget to come back to see!
Have fun making your fine motor Spider Web Sensory Jar! Now go take a peek below to see the other spider them activities you can do with our book this week The Very Busy Spider. Here are a few more spider books that your child may enjoy as well. Click below to take a peek at each book.
Spider Themed Books for Preschoolers
Miss Spider's Tea Party
by David Kirk
The Itsy Bitsy Spider by Iza Tripanai

Spiders – by Gail Gibbons

Aaaarrgghh! Spider!
– by Lydia Monks
Be Nice to Spiders – Margaret Bloy Graham

Spider on the Floor by Raffi
Charlotte's Web
– by E.B. White

JOIN OUR WEEKLY VIRTUAL BOOK CLUB FOR KIDS
We're excited to be in our 6th week of Virtual Book Club for Kids for 2016-2017. This season we're hosting weekly themes and books. You can check out what's next week here .
YOU'RE INVITED. We're inviting you to join along and share your own spider themed ideas with your child or students using the featured story The Very Busy Spider or one of the other Spider Books mentioned above. You can share on our facebook page or join our VBC Facebook Group.
VIRTUAL BOOK CLUB HOSTS: Plus we're inviting you to visit our Virtual Book Club for Kids cohosts sites for additional activity ideas all about Spiders. I'm featuring below here for you to go check out and get ideas for your preschooler ages 2-5.
I invite you to go check out our Virtual book Club for Kids cohosts below and the activities that they are sharing below for you and your child that are all spider themed.
Spider Themed Activities for Preschoolers
Alphabet activities
Printable Spider Web Letter Match Activity – Artsy Momma
Spider Writing Tray – Adventures of Adam
Alphabet spider sticky wall- Toddler Approved
Name activities
Numbers activities
Spider Web Fingerprint Counting (FREE PRINTABLE)
Hands-on Spider Counting Activity— School Time Snippets
Sensory activities
Spider Web Sensory Bin + Counting Activity – My Storytime Corner
Spider Sensory Bin – Sugar, Spice & Glitter
Science activities
A Very Busy Climbing Spider: DIY Toy and STEM Activity
Spider Types Matching Cards – Kori at Home
Colors activities
Feed the Spider Color Catapulting – Preschool Powol Packets
How to Make a Rainbow Spider Web – Powerful Mothering
Pre-writing activities
Spider Web Sensory Bottle Activity – The Educators' Spin On It
Movement activities
Spider Web Obstacle Course – Mama Smiles
Shape activities
Creepy-Crawly Pattern Block Mats and 12 Spider Books for Kids—Chickadee Lit
Spider Shape Craft– JDaniel4's Mom
Spider Counting Puzzles – Sea of Knowledge
Which Spider Activity will you try first? Be sure to share in our VBC Facebook Group.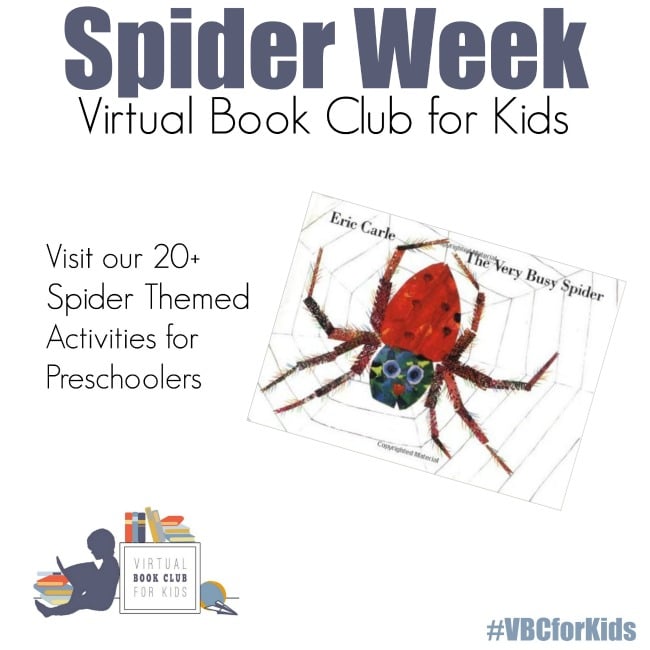 Are you ready to make your Spider Web Sensory Bottle?