Preparing your child for college as a parent can be quite a challenge. Where do you send them? How to support their studies to prepare? What test scores do they need to get accepted? One of the biggest worries is how will they pay for it? My son recently graduated from college this spring and I have to say we're thrilled he is a college graduate who is debt free from tuition.

Here's how you can do it too.

Disclosure: This post is sponsored by the Florida Prepaid College Board, through my role as a Believer Blogger. All thoughts are my own. #StartingisBelieving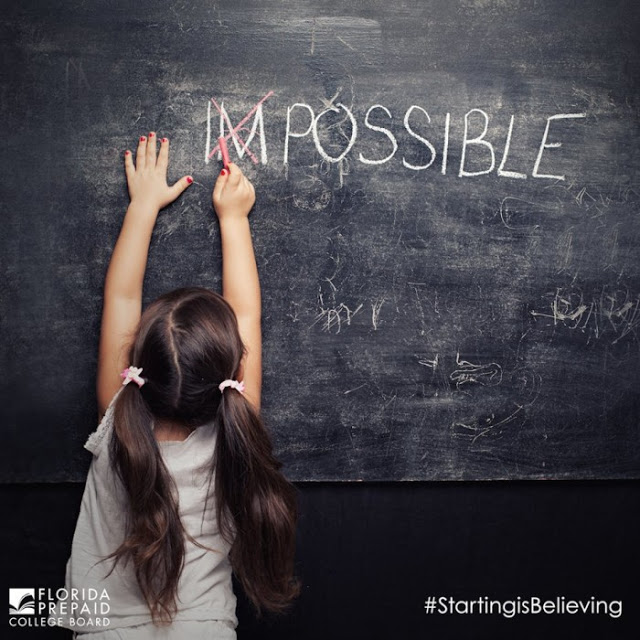 Prepaid Plans will be available for purchase during Open Enrollment, Oct. 15, 2015 – Feb. 29, 2016. For more information, visit www.myfloridaprepaid.com.

What is Florida PrePaid?
A Florida Prepaid College Plan allows families to prepay the cost of college tuition, required fees and dormitory housing based upon projected future costs. When your child is ready for college, the plan pays the tuition and registration fees covered under the plan at any Florida College or State University. If your child attends an out-of-state college or private college, the plan will pay the same amount as it would pay at a public college or university in Florida.
With 28 Florida Colleges and 12 State Universities in Florida, your choices are wide open!
From one end of the peninsula to the other, Florida is bursting with great educational institutions, and all of them accept Florida Prepaid College Plans. We were able to use Florida Prepaid with my son who just graduated from the University of Florida and I really would highly recommend if you are a Florida Resident researching about it for your child. When my son was 9 we decided that we would invest in his college future by researching about the Florida Prepaid program and finding a plan that fit our family's budget. I'm so glad we did. When my 2nd child was born we created a plan for her. Now it's time for our 3rd child to decide what we're going to plan for her college. It's a big decision to make, I'm so glad that there is so much available on Florida Prepaid's website to help you make the right choice for your family budget and family plan.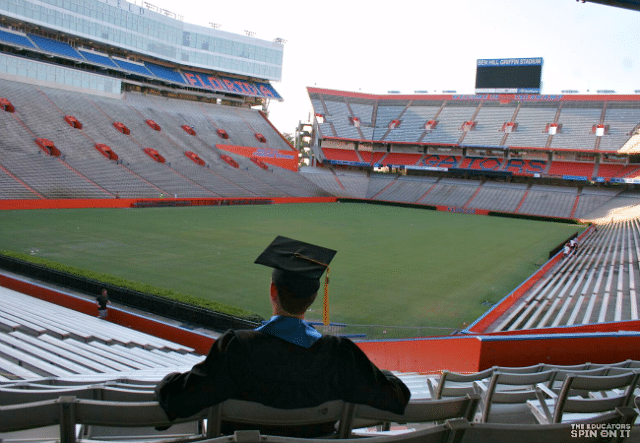 We chose the 4 Year Plan but the Board also now offers the 1-Year Florida University Plan, which allows families to purchase up to four years at a state university in one-year increments as their budgets afford them. The 1-Year Florida University Plan starts as low as $46 per month and covers 30 university credits. Here's more info as to why they new option is available.
"Families have told us they want more flexible options for saving, and the 1-Year Florida
University Plan is a great example of how Florida Prepaid reflects the evolving needs of
families," said Board Executive Director Kevin Thompson. "We encourage families in the weeks ahead to research our Prepaid Plan options to determine what's best for them. Saving early really is the best way to save for college."
Florida Prepaid Prices have just been announced! Click here to calculate for your child's age.

I'm really excited to be working with Florida Prepaid. They are just about to start the Open Enrollment period for families who want to start new plans for their children's college savings (it begins on October 15, 2015), so it's a great time to look into the different options:
Let's jump start their future together.
4-Year Florida College Plan
There are 28 Florida colleges and they've expanded their capabilities far beyond the two-year programs. In fact, most now offer four-year bachelor's degree programs in growth industries like nursing and teaching, and continue to grow their degree programs year after year.

And since they're typically less expensive than a university education, the 4-Year Florida College Plan provides a practical, affordable path to a bachelor's degree

Like all of our plans, every cent of the value of this plan can be applied at any university or college nationwide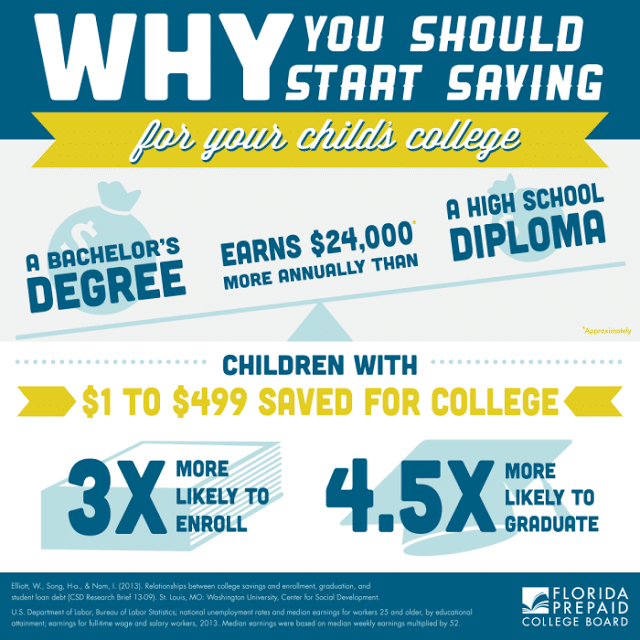 What's NEW with Florida Prepaid
The Florida Prepaid College Board set Prepaid Plan prices for the 2015-16 Open Enrollment period that begins Oct. 15, 2015

Plans to be offered starting at $46 per month, providing options for a variety of family budget needs

1-Year Florida University Plan is Florida Prepaid College Board's newest offering, allowing families to share in a child's college costs
Whether you're already familiar with Florida Prepaid and still need some guidance or you're just getting started, this Interactive Conversation will help you learn even more about the Florida 529 Savings Plan and Florida Prepaid College Plans. Click Here.
Prepaid Plans are designed to be used at a Florida College or State University, the plan can also be applied at other schools nationwide. Saving for college is a bit stressful, right? Having a plan can help. That's why I'm hoping that our Florida friends will take a look at Myfloridaprepaid.com NOW. The open enrollment period is the only time you can LOCK in the lowest prices and start a new plan.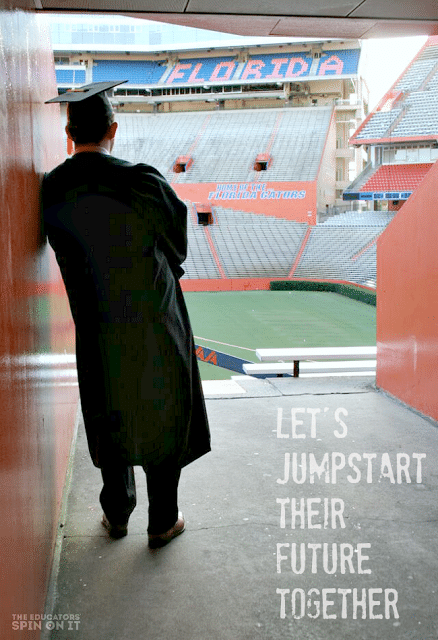 Plan Options for Every Family
4-year Florida University Plan
1-year Florida University Plan
2 + 2 Florida Plan
4-year College Plan
2-year College Plan
There's quite a bit of flexibility. Questions? Remember to head to
myfloridaprepaid.com.
Use the promo code
BLOG1516
to receive a gift from Florida Prepaid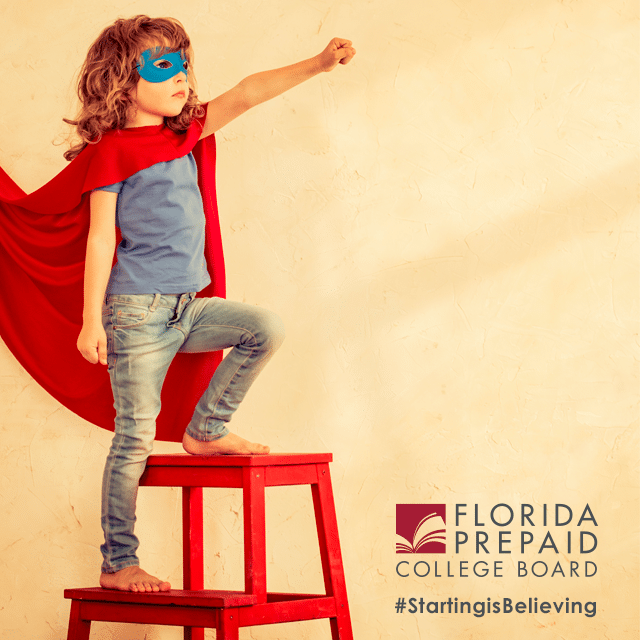 About the Florida Prepaid College Board
The Florida Prepaid College Board manages the Stanley G. Tate Florida Prepaid College Program and the Florida 529 Savings Plan. Both are tax-favored 529 college savings plans authorized by Section 529 of the Internal Revenue Code. In 1987 the Florida Prepaid College Program was created by the Florida Legislature and the commitment and dedication of Mr. Stanley G. Tate to provide Florida families with an affordable means to save for their children's future college education. The first Florida Prepaid College Plans were sold in 1988, and were augmented with the addition of the Florida 529 Savings Plan in 2002. Florida Prepaid is the largest, longest running and most successful prepaid plan in the nation with more than 1.6 million Florida Prepaid College Plans purchased and mor

e than $6.7 billion invested in Prepaid Plans by Florida families. The 529 Savings Plan has more than 35,000 active accounts with a market value of more than $375 million.