Use color words and lids for a hands-on rainbow activity for kids. Here's how to play.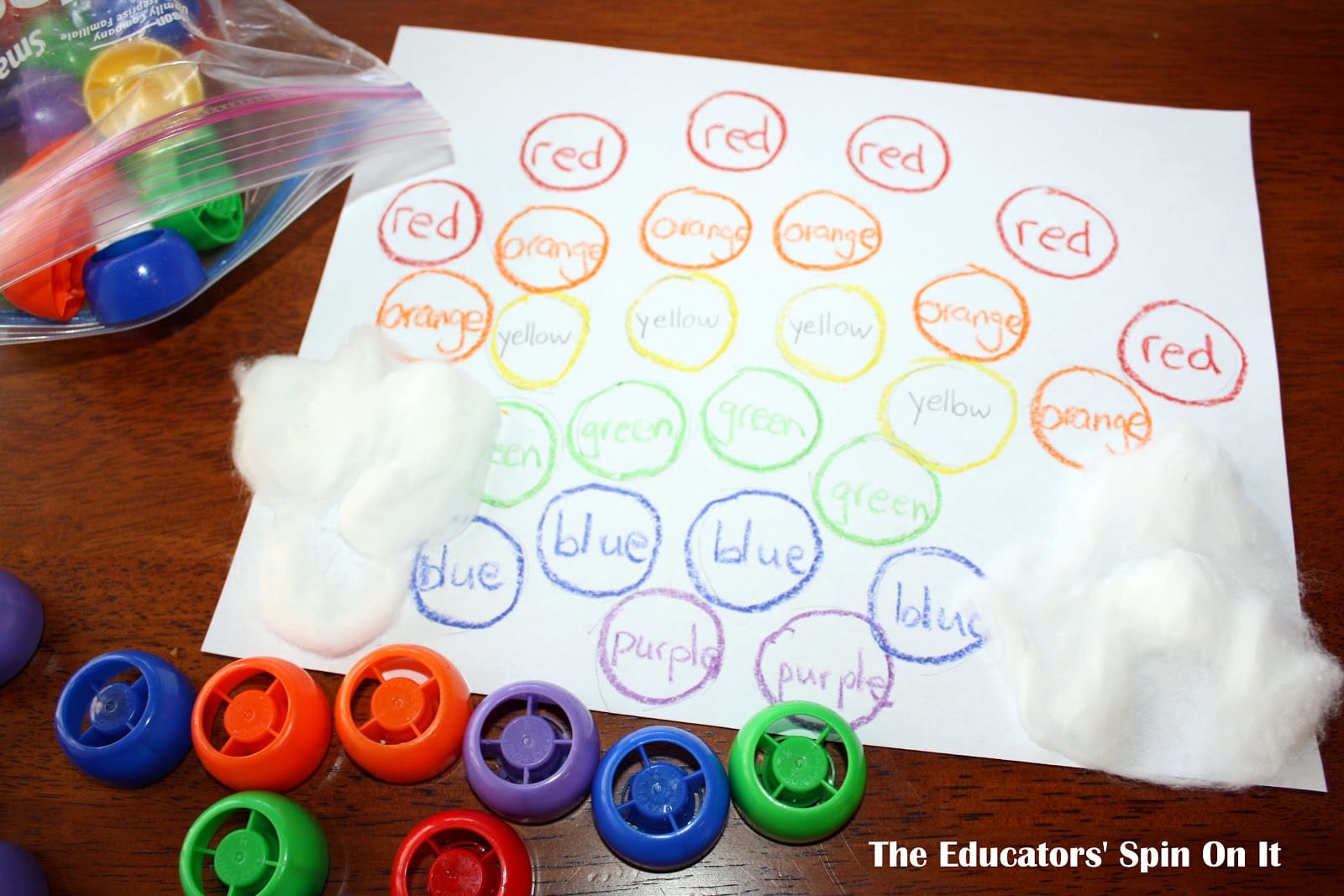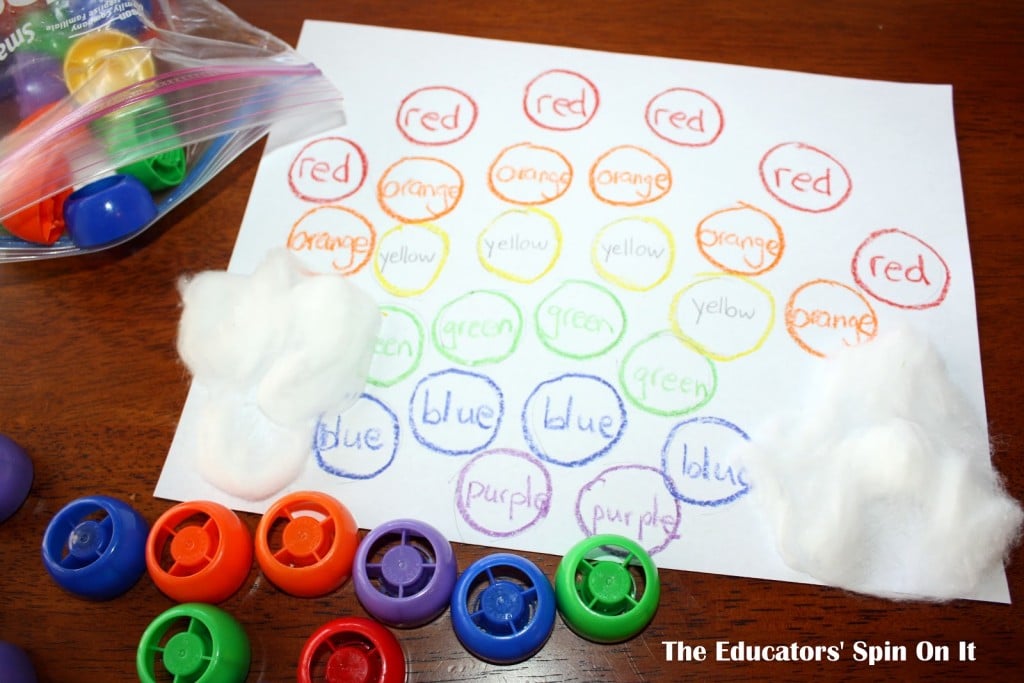 Rainbows are so much fun to make, eat, play, find, and learn with. We had a tot-school with a theme of rainbows and I was trying to decide what to bring when I thought of my Baby Food Pouch
lids. These things are amazing and so colorful that I knew my rainbow activity must make use of them!!! ( I will never buy Counting Bears
manipulatives again)
Learning to Read Color Words with the RAINBOW!
The lids are
Free
Stackable
Eco-friendly
Plentiful
Easy to come by and
Colorful
Using my bag of lids, I quick traced around a cap and made a bunch of circles in the shape of a rainbow. If you look closely at the pictures you can see these pencil lines. (I've learned that kids don't need perfection to have fun and have stopped stressing about having everything look "pinterstingly" perfect – life is just too short)
Then, I traced each pencil circle with the color and wrote the color word in the circle. I wanted this activity to be about matching AND learning to read the color words!
I may introduce this to my three year old like this…
"Today we are going to make a rainbow on this paper. There are some words inside of each circle that will help us figure out which color circle to put here. Each word is a color word. Look at this one, (point to the red one) I see a short word inside of the circle and it is in the color red. I bet this is the word red. (place a red cap on the circle.) Can you find another red word to put a cap on?"
This is more of the "whole language" approach
to this activity. Since I am part of the teaching crowd that believes in a mixed approach to teaching reading, I would also encourage him this way…
"Another way you can figure out or read the color word is by looking at the first letter in each word. The letters and the sounds they make will give us clues. This word starts with a "b." (point to the word red again) I think of the sound that b makes, [b] and I get my lips ready with that sound [b]. What color word do you know that begins with the [b] sound?"
We then continued reading the color words and placing the caps on our rainbow until it looked like this.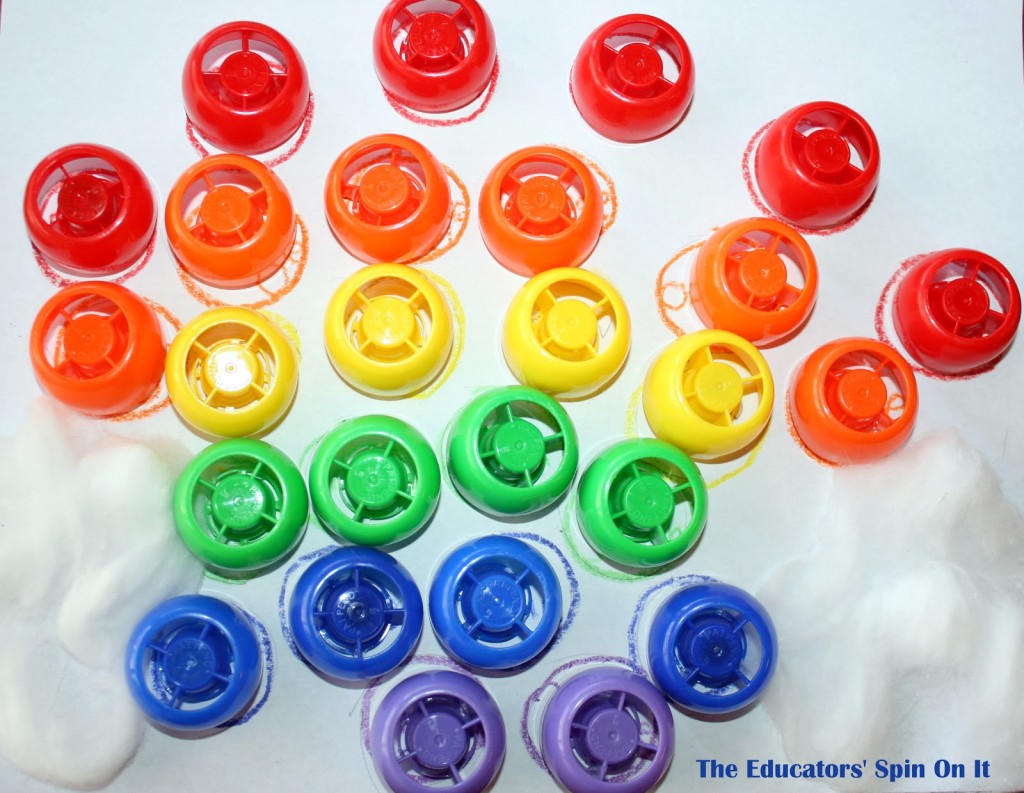 After we were done, I had my 3 year old put away the colored caps and read all the color words to me. He was very proud!!! ( After the kids did it, I realized there are white caps too and should have made circles for them too. The kids just put the white caps ON the cotton balls and asked why they didn't have circles.)
Then we moved onto a more creative activity in which I just provided him with the cut papers in the Muffin Pan
and let him make what ever he wanted. 
***Remember, mixing up your activities lets your kids experience different kinds of learning.
Need some more ideas on how to play + learn + make rainbows???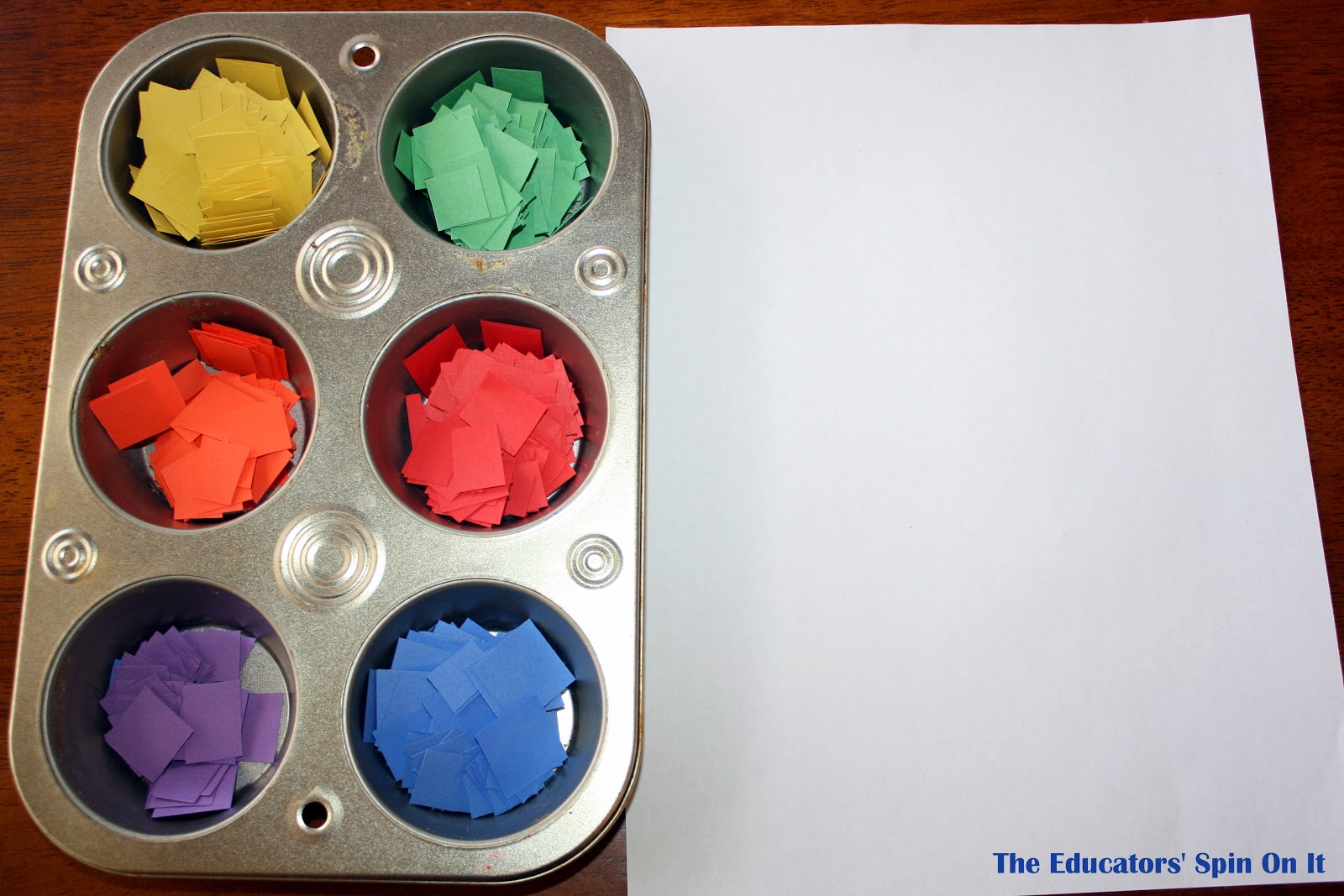 Additional Rainbow Activities
*** This post contains affiliate links. When you purchase items on Amazon, we receive a small percentage of the sales.