Create your own turkey t-shirt with ribbons or leftover fabric! A fun keepsake for Thanksgiving with your child.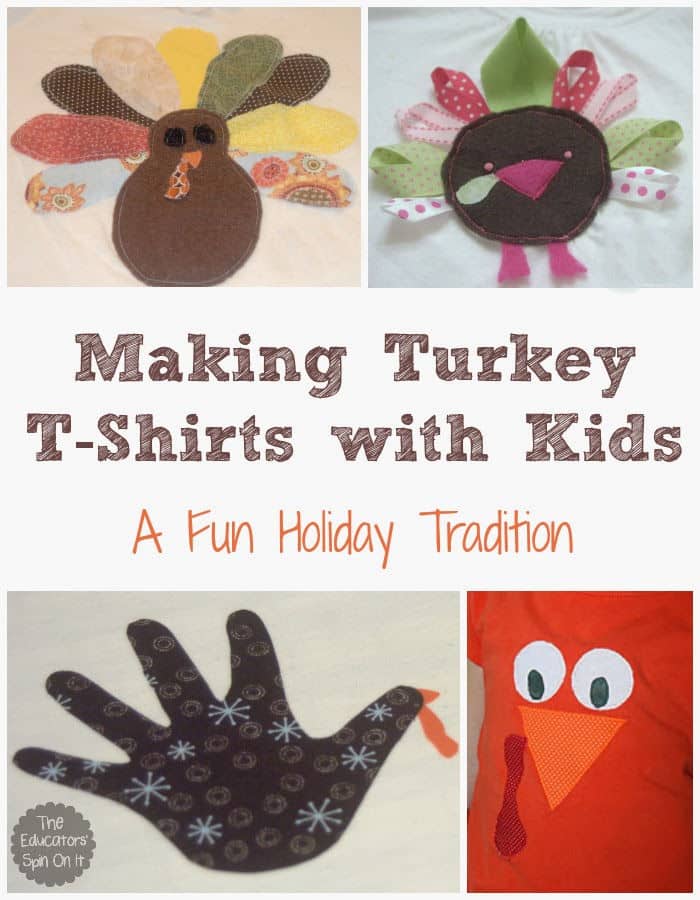 Here's a simple activity to do after school with your kids for Thanksgiving. It's hard to believe that Thanksgiving is just a few days away. We've been so busy with our schedules and school and a new baby this year that it feels like it just snuck up on us.
Here's a simple craft to prepare you for fun this Thanksgiving week.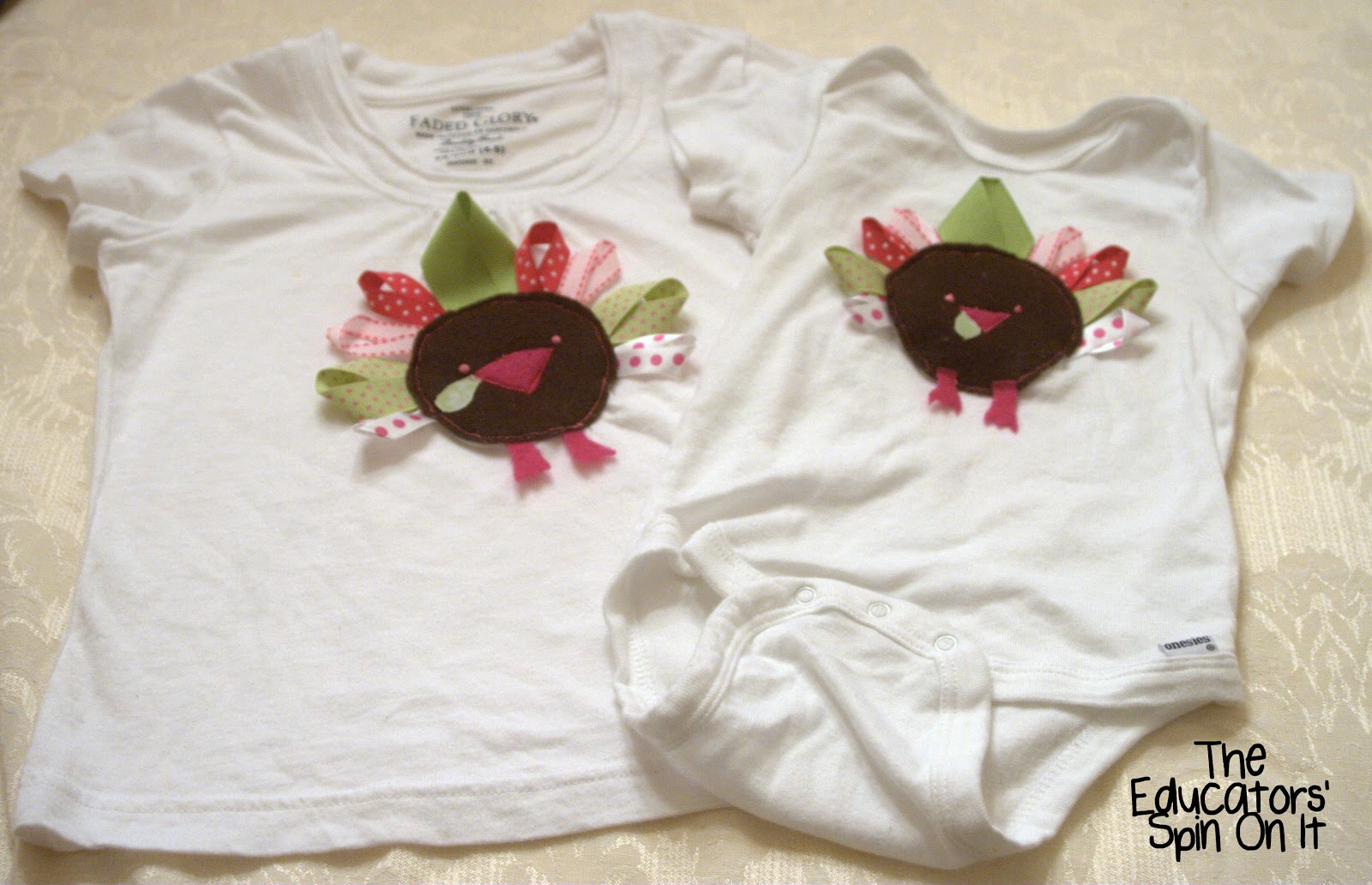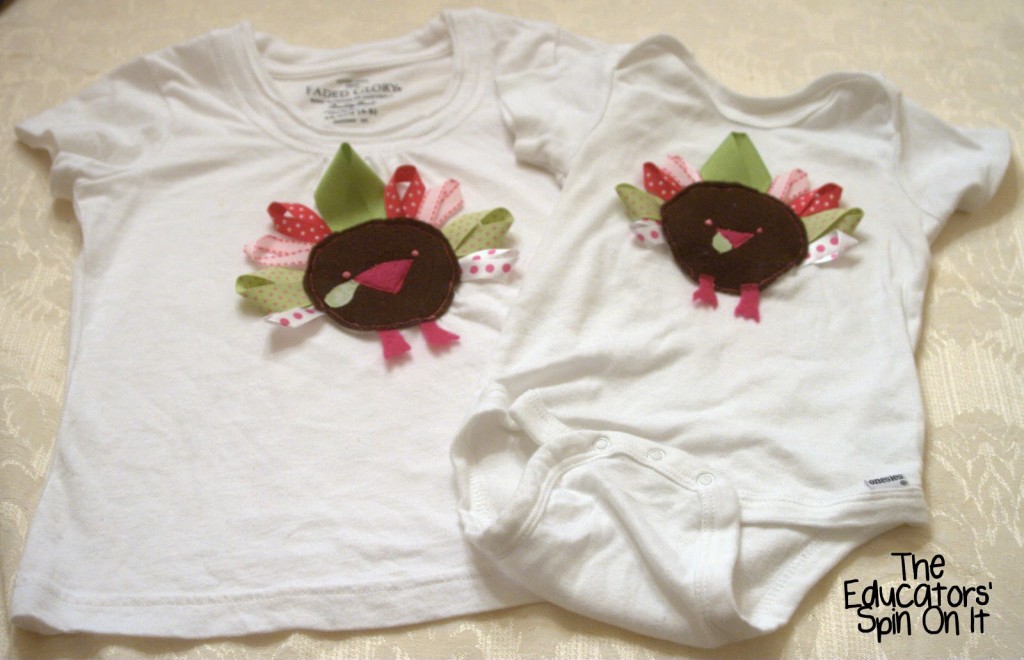 Whenever I see solid t-shirts on clearance I also grab a few for crafting for the holidays. It's something my daughter and I enjoy doing together and creates a keepsake from each holiday. Our Snapshot of Parenting with Purpose this week reminded all of us of the importance of capturing moments with our kids during busy times.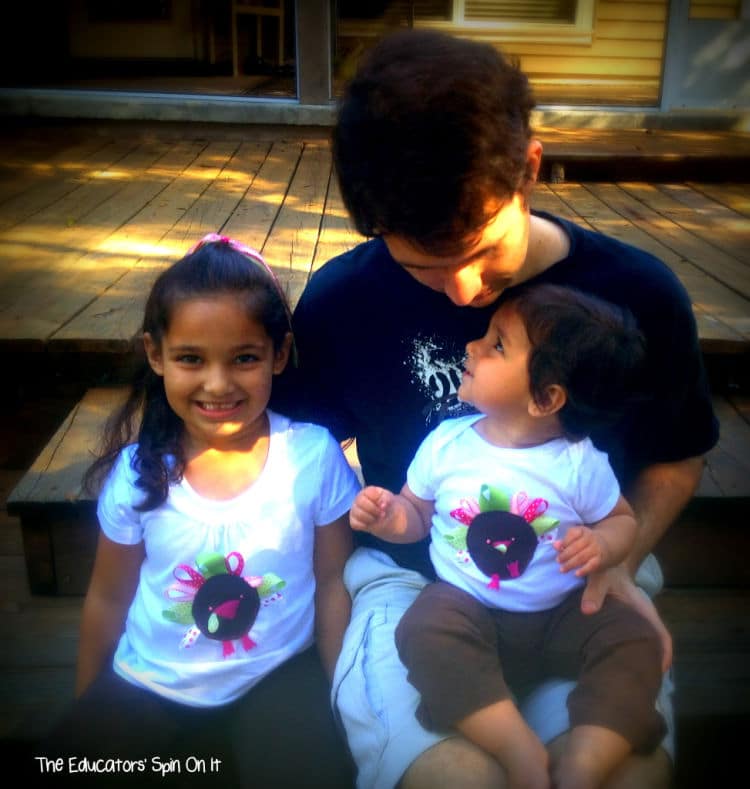 The picture above and below of turkeys from years past, still remember how much fun they were to make together, so hopefully they'll inspire you too.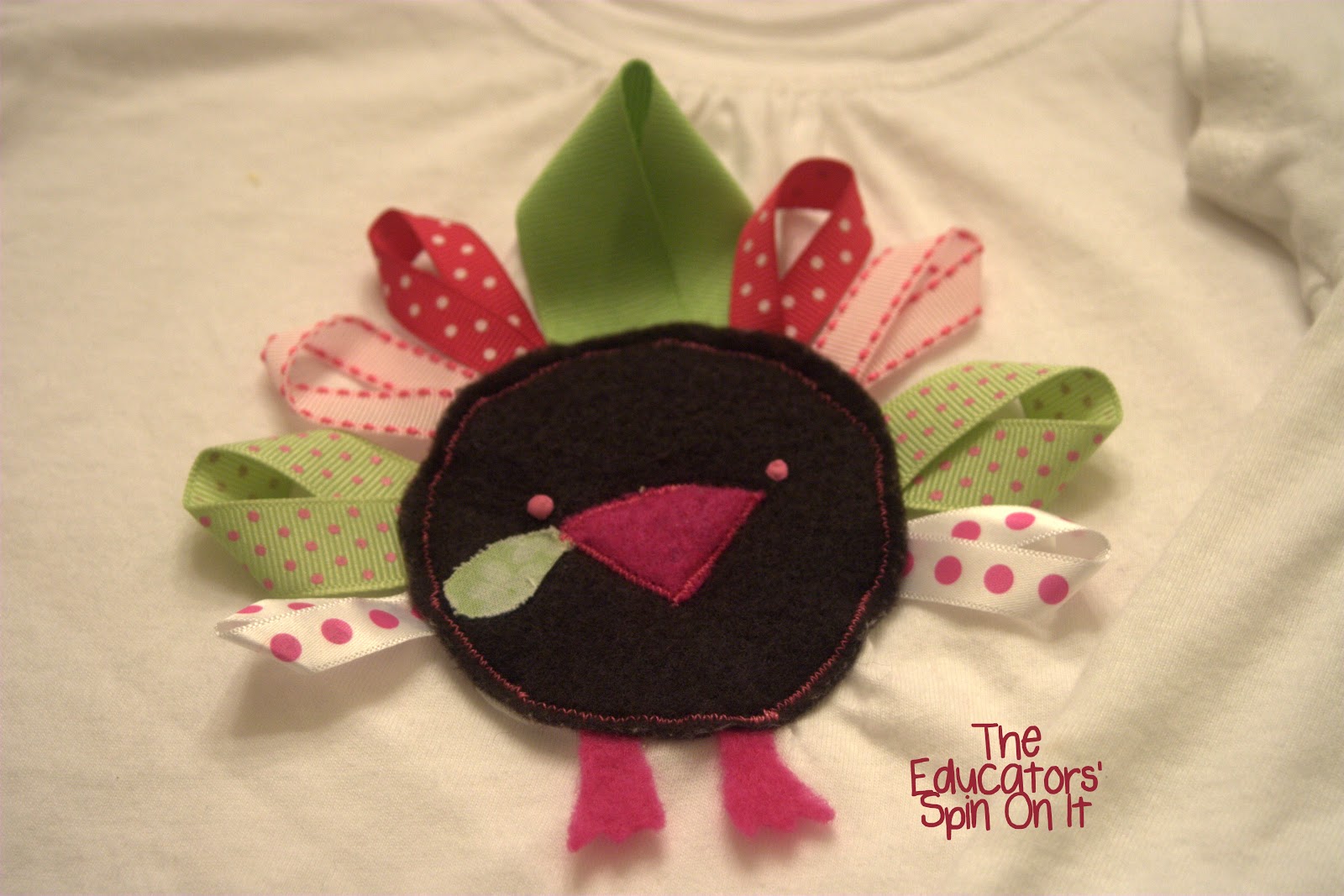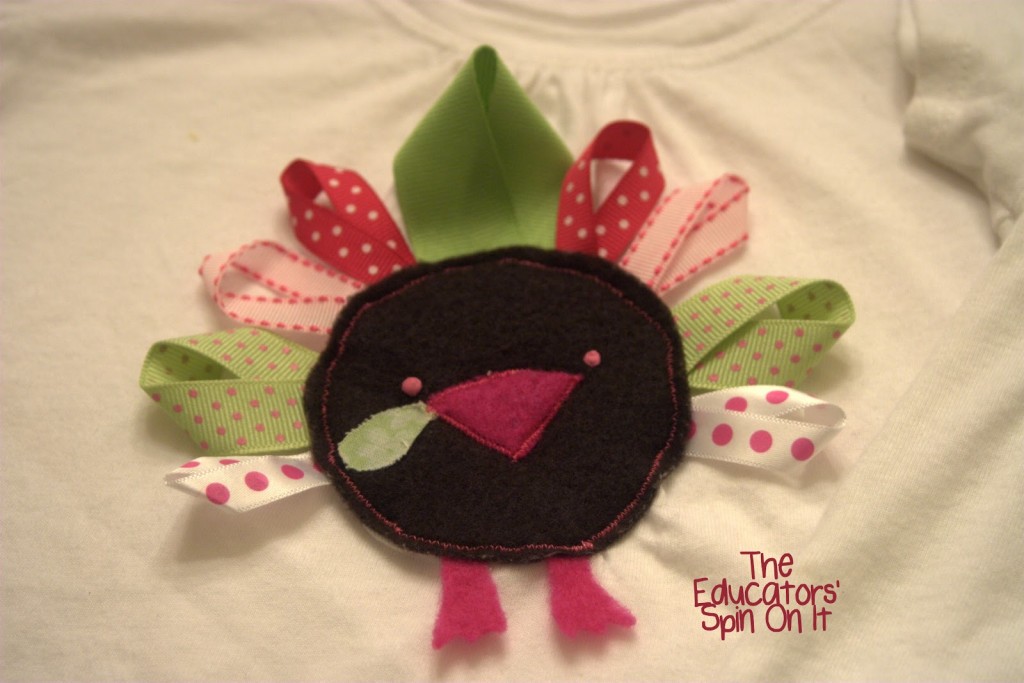 Here's my picture from last year's Turkey shirts with bows. Using quite a few inspirations, I love putting my own "spin on things". We have a few turkey shirt designs pinned on our Sewing Pinterest Board. Here are some more adorable Turkey with Bows or Applique Iron On Turkeys on Pinterest to choose from too.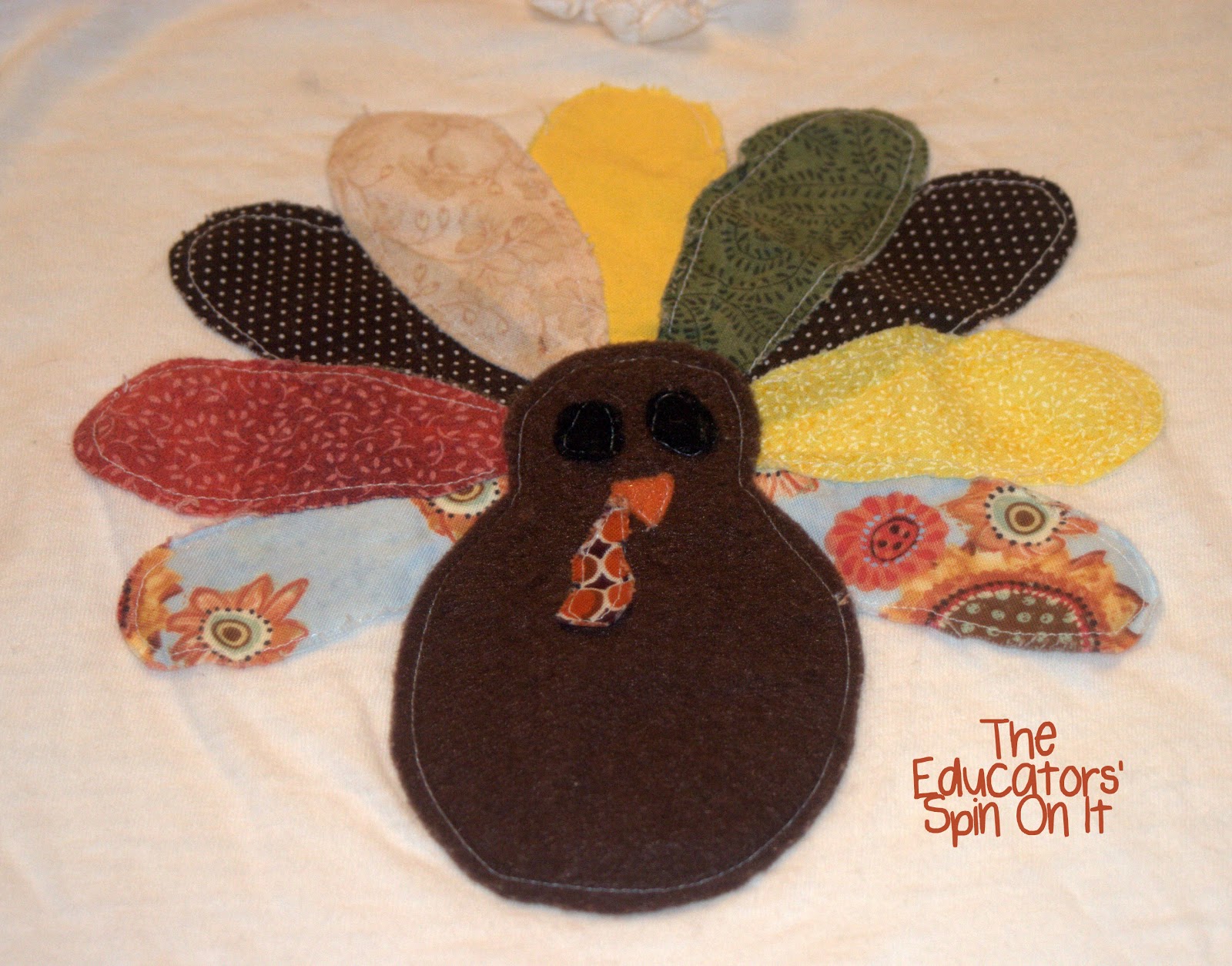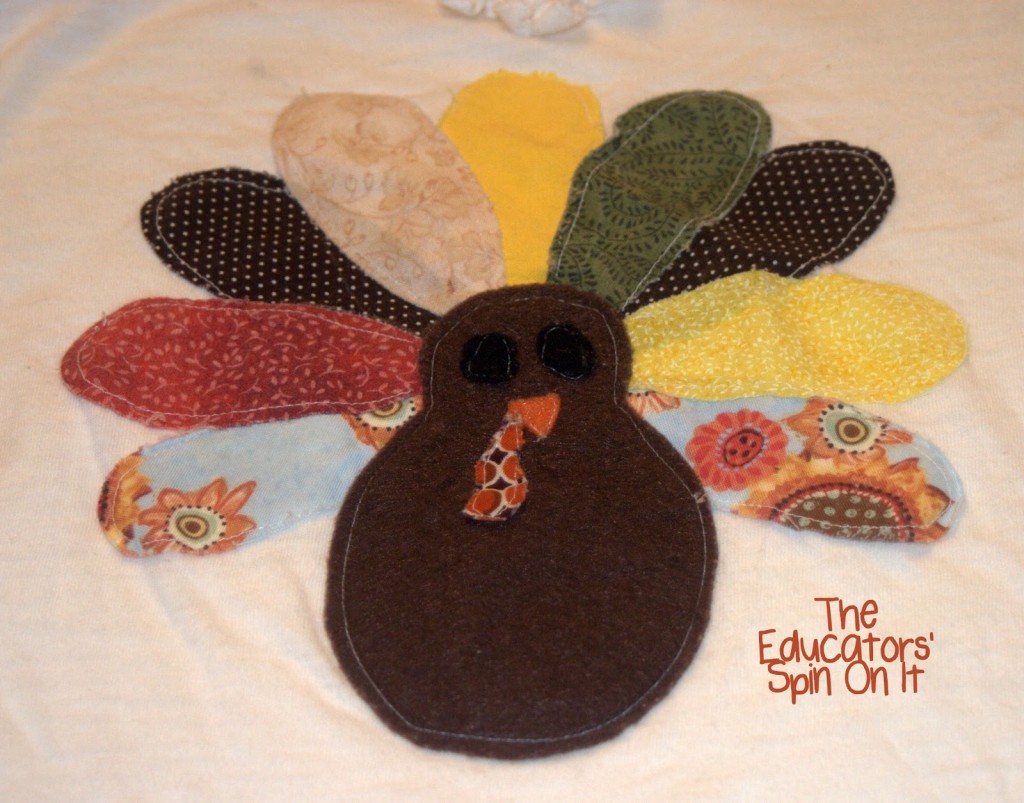 On The Educators' Spin On It through images we've shared our turkey t-shirts, bunny t-shirts and Alligator t-shirts, spider t-shirts, Holi t-shirts, and even Owl t-shirts over the past year.
To be honest my friend is my inspiration for making holiday-themed shirts and skirts, she's far more talented when it comes to sewing, a peek at her recent Owl Quilt will confirm her creativity and skills. So I'm here to tell you this is so simple ANYONE can do it and at the LAST MINUTE!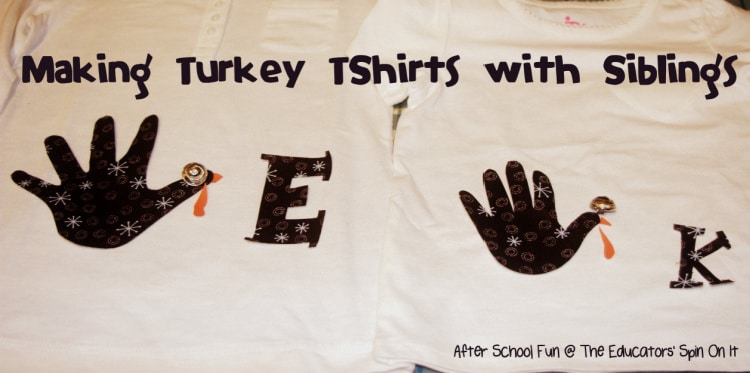 Create your own fabric turkey handprint t-shirt
Grab fabric and Iron-On Fusible Interfacing to go on the back of your t-shirt. Iron on the interfacing onto a small square big enough to big a handprint or however many hands you're tracing. Plus leave some space for initials if you want to include them.
I learned the hard way once and cut out my shapes first and then tried to iron on the webbing, not a pretty picture. Once you're ironed on the webbed you can trace and cut out the handprint.
Then cut it out and peel the white paper off the back, again another important step that I'll confess I've forgotten once or twice with tiny parts. Once the paper backing is removed you can iron the fabric onto your T-shirt.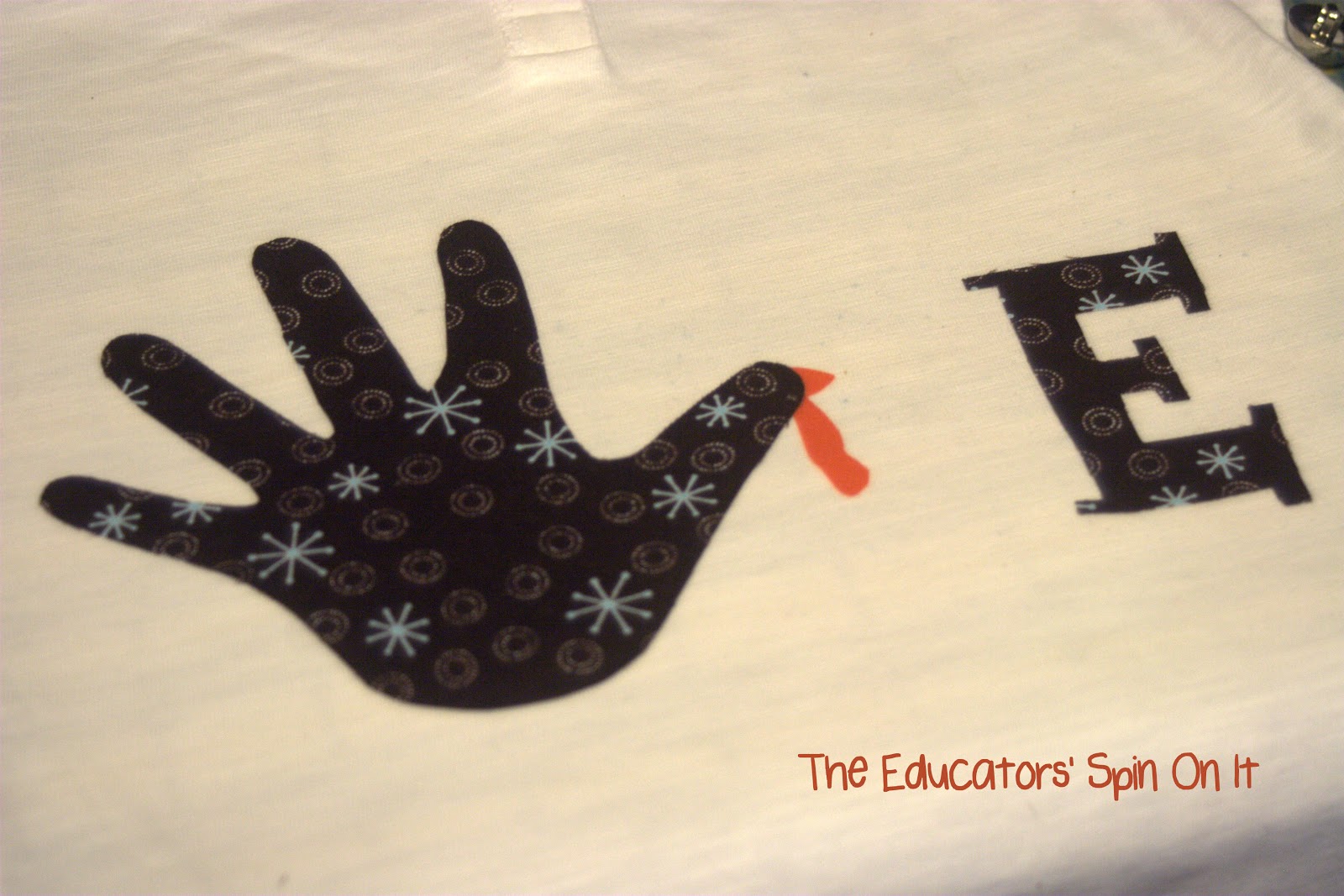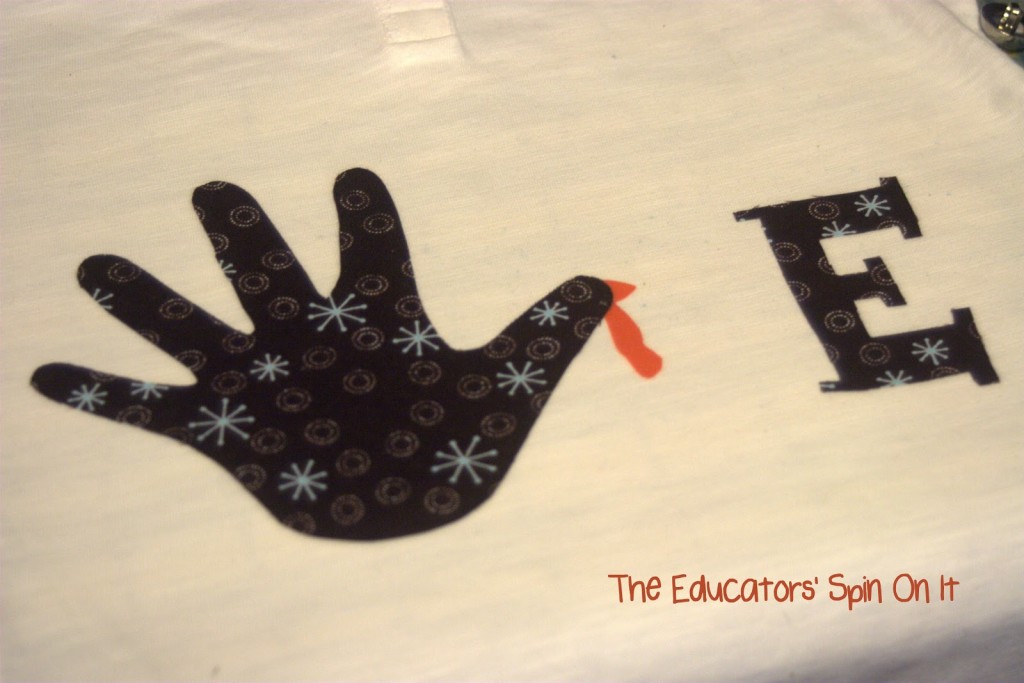 I allowed my daughter to help me with selecting the fabric, tracing the hand, the buttons, cutting the fabric, and the placement on the shirt. That way she feels like this is her project too and it's great fun to do it together. I don't allow her near the iron, that's a grownup job for now at our house. Now here's where you can decide what to do. If you know you're going to wear and wash the shirt again and again you can then sew around the handprint with your sewing machine or by hand.
If you think you're going to wear it a few times and be done with it you can choose a light stitching or none at all and then remove it when you're done. I think our turkeys are actually going to become snowmen with the same fabric for the winter season. We shall see! I'll keep you posted. It's just fun to have something special to wear for the holidays.
The orange handprint are becoming a table runner for Thanksgiving day too!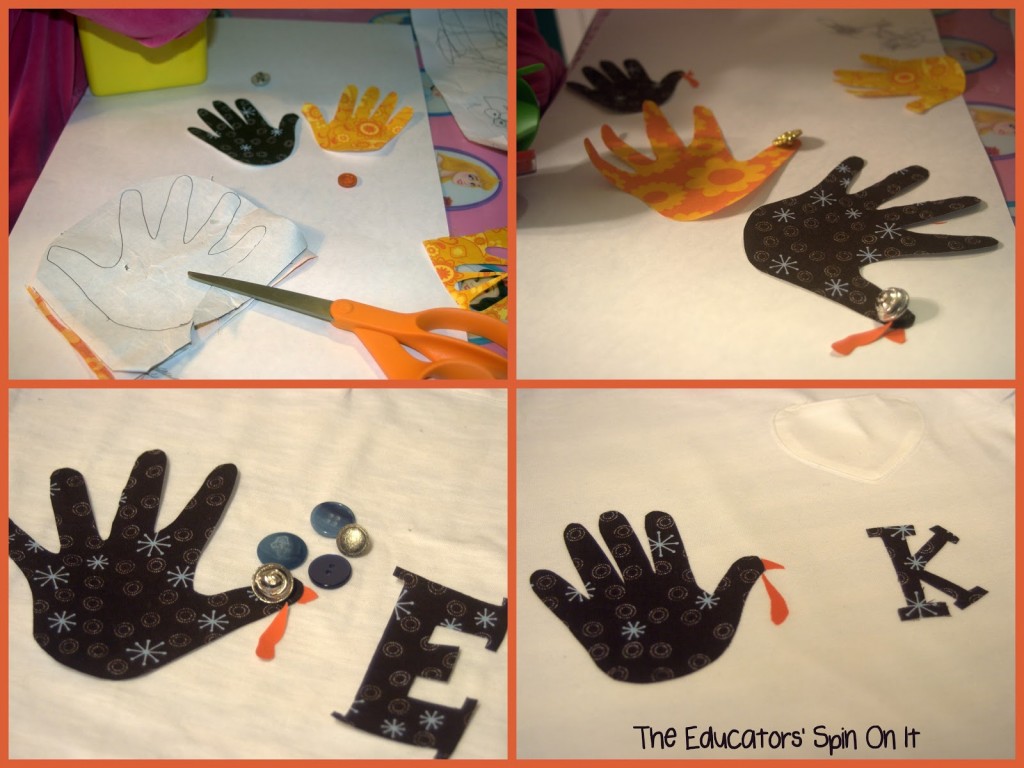 We can't wait to hear how everyone's week goes this week afterschool… which really means a few days of school and lots of days at home with family. Just because they're not in school doesn't mean learning ends. You can learn so much as a family together with games, cooking, chores and even shopping, you just have to look for the teachable moments.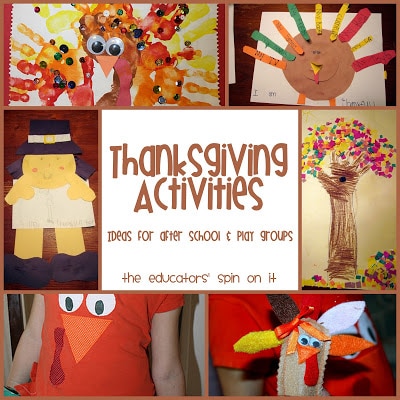 If you're looking for some last-minute Thanksgiving Crafts and Learning Fun visit our Thanksgiving Crafts from last year or our Fall Pinterest Board, we've saved quite a few on there just for you to save you time.
Don't forget to make a little Turkey Casserole with your leftover turkey, here's our recipe & lesson with kids.
Happy Thanksgiving!