Grab some blueberries, green grapes and let's create the water and land with an Earth Day Snack! This kid made recipe can be made into individual Earth for each child or you can make one large Earth!
Here's how to make a yummy Earth Shaped Snack!
To get ready for this Earth Day Snack begin by reading about Earth Day from some of our favorite characters. Through the eyes of a child when one of their favorite characters talks about something it can make an even bigger impact.
We found Sid the Science Kid, Biscuit, Fancy Nancy, the Lorax along with many others all had stories about Earth Day.
Book List for Earth Day
(Affiliate links included to Amazon with each image for easy shopping.)
Here are some more of our favorite Earth day Books for Kids
Now it's time for a special Earth Day Snack. You could even make this for a very special treat to share with your friends! They get to make their very own Earth!
Here's a simple recipe that you and your child can create together at home, in a classroom or on a picnic!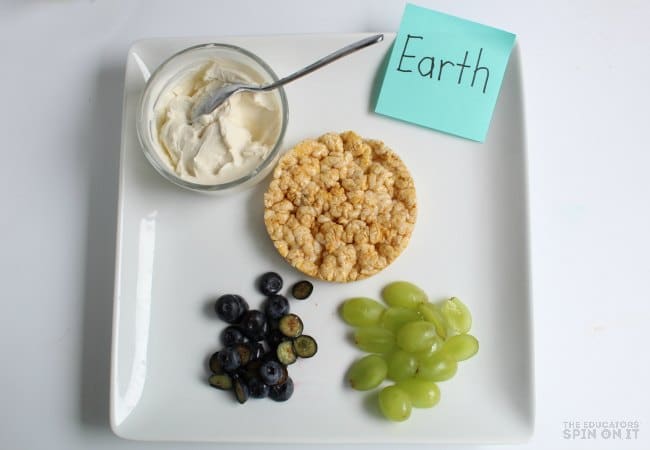 Earth Day Snack Recipe with Fruit
This yummy treat is so much fun to make as you learn about the water and land that make up our planet Earth. With just a few ingredients you'll have a delicious earth day snack the kids can make.
Ingredients for Earth Day Snack
1 cup blueberries cut in half
1 cup green grapes cut in half
1 package cream cheese
1 tsp vanilla
1 Tb sugar
Package of flavored rice cakes (or one large cookie base)
Directions for Earth Day Snack
1. Cut the grapes and blueberries, if desired in half.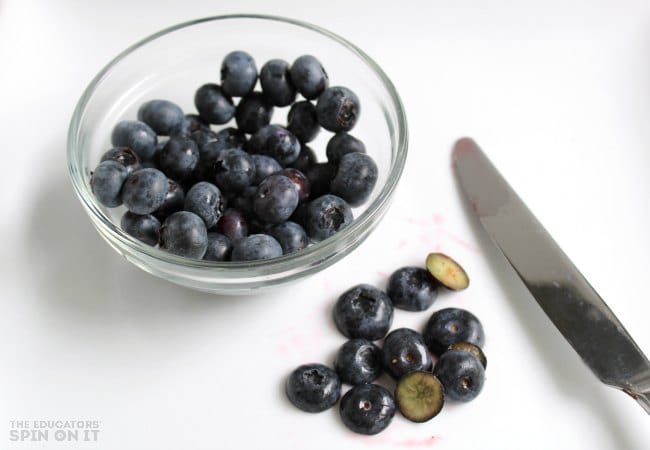 This is a great opportunity to talk about knife skills with your child. Please use caution during this activity. We used our butter knife to do this task. Both grapes and blueberries are easy to cut through without having to use too much force.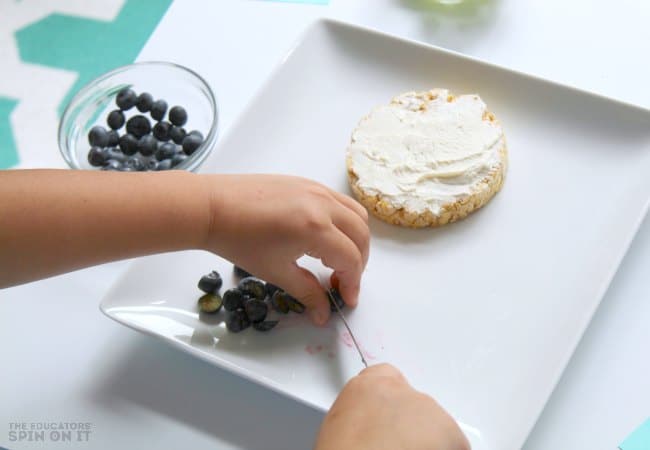 You'll find most kids are surprised at what the inside of a blueberry looks like. Take a moment to discuss.
2. Then have your child mix the sugar, vanilla and cream cheese in a small bowl.
This is the perfect chance to measure out 1 Tablespoon of sugar and 1 teaspoon of vanilla and discuss different types of measurement spoons.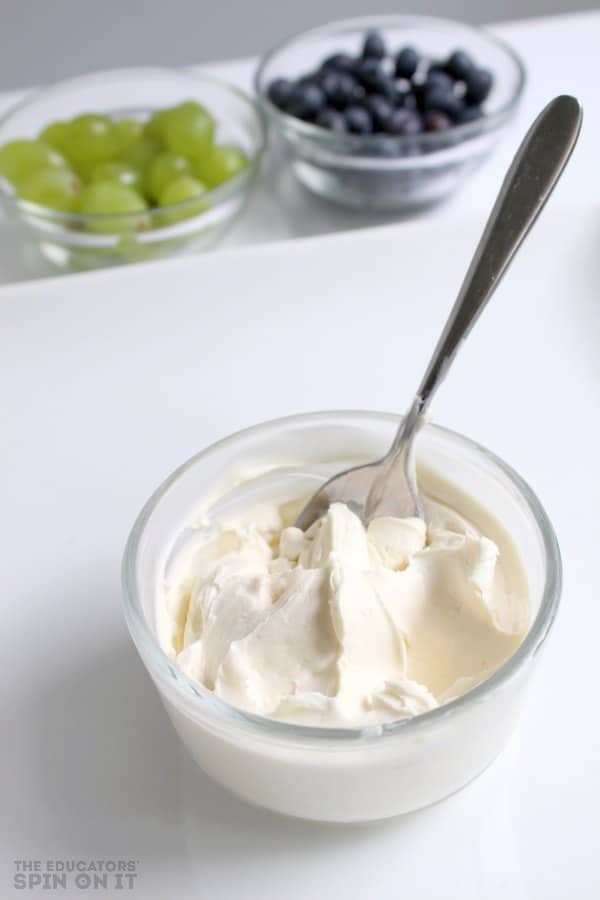 A quick mix with a normal teaspoon from your kitchen drawer works perfect for mixing this cream cheese spread for your earth day snack.
3. Now it's time to spread the sweetened cream cheese mixture onto the rice cake which is now going to become your Earth.
This take a little practice with fine motor skills for your child to do this task in the Earth Day Snack recipe. They are going to LOVE IT!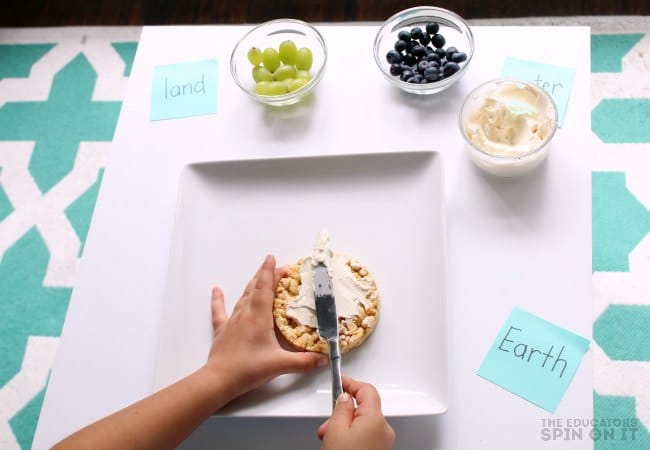 4. The last step is to tell them to create the earth by placing the blueberries for the water and the grapes for the land. You might want to pull out a globe like one of these to really talk about the Earth and what it looks like with the land areas and the water areas.
You could even talk a little bit about the 7 continents as you encourage your child to decided where to put the grapes for the lands and the blueberries for the water.
* We used caramel rice cakes to make the Earth treat a little sweeter but you could always do a simple rice cake.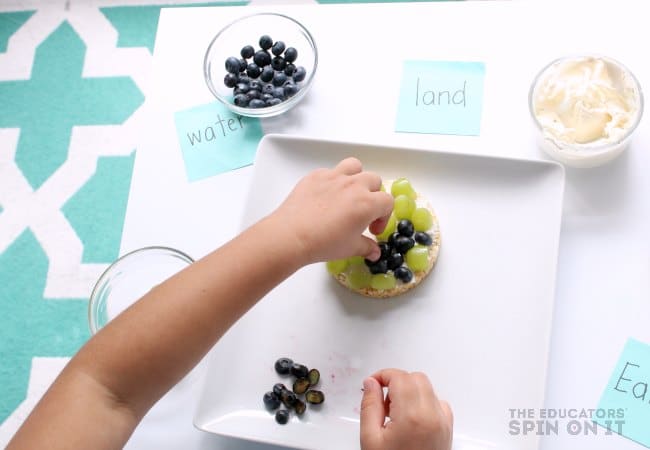 Here's a peek at how my daughters Earth Day Snack turned out. She tried to include the 7 continents but you'll notice she also wanted to add the North Pole.
Have fun exploring the Earth with your child for Earth Day with this earth day day.
These are my Top 10 Reason I Love Watching My Kids Learn about the Earth. What are yours?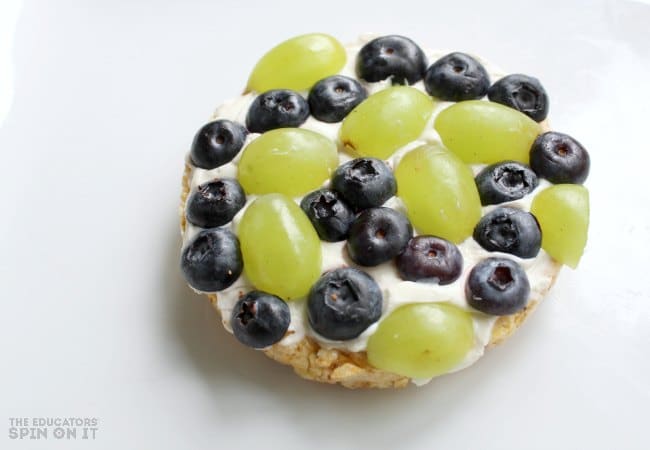 Have fun at your Earth Day Celebration!
Earth Day: Little Hands that Cook with Books Bonus Lesson
How do you teach your child about the Earth in the Kitchen? Let's help our children to learn how simple choices today in the kitchen can help to change their future and help our Earth.
Grab this free printable about how to Make your Kitchen Eco Friendly with your children.
Additional Earth Day Activities for Kids