Help make your family's beach vacation memories last a little bit longer! Make an exquisite bejeweled keepsake of your summer beach adventure. A mermaid shell necklace is a perfect accessory for any occasion. GREAT for siblings to make together!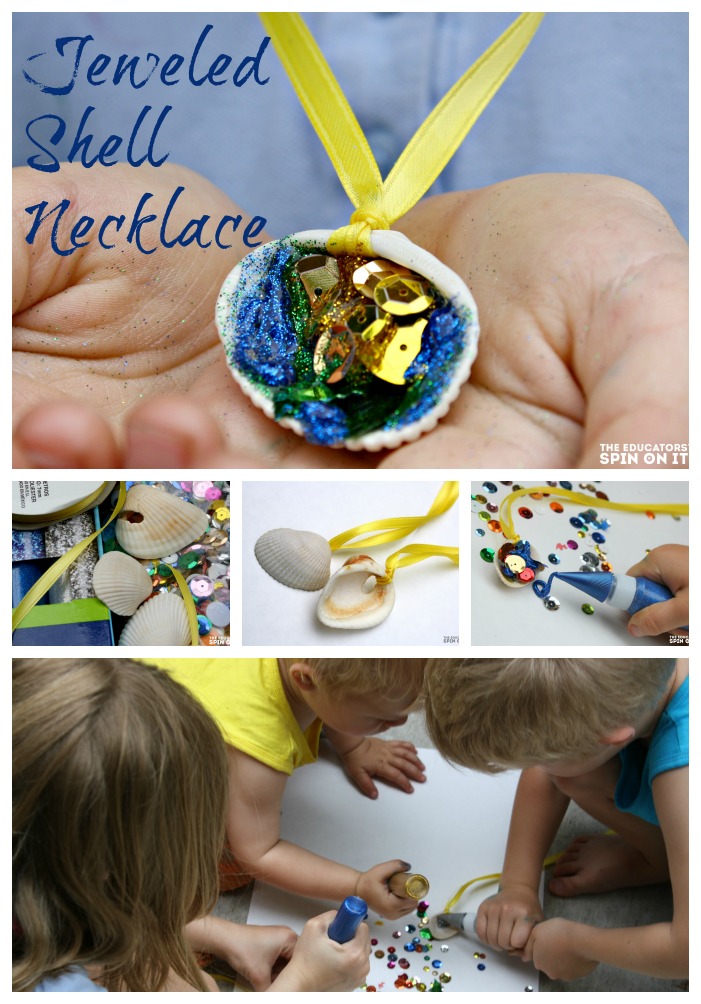 Disclosure: This post contains Amazon affiliate links.
Make a Jeweled Shell Necklace A.K.A. Mermaid Necklace
Supplies –
• Ribbon or cording
• Scissors
• Glitter glue and other sparkly objects
• Scissors
• A shell with a hole at the top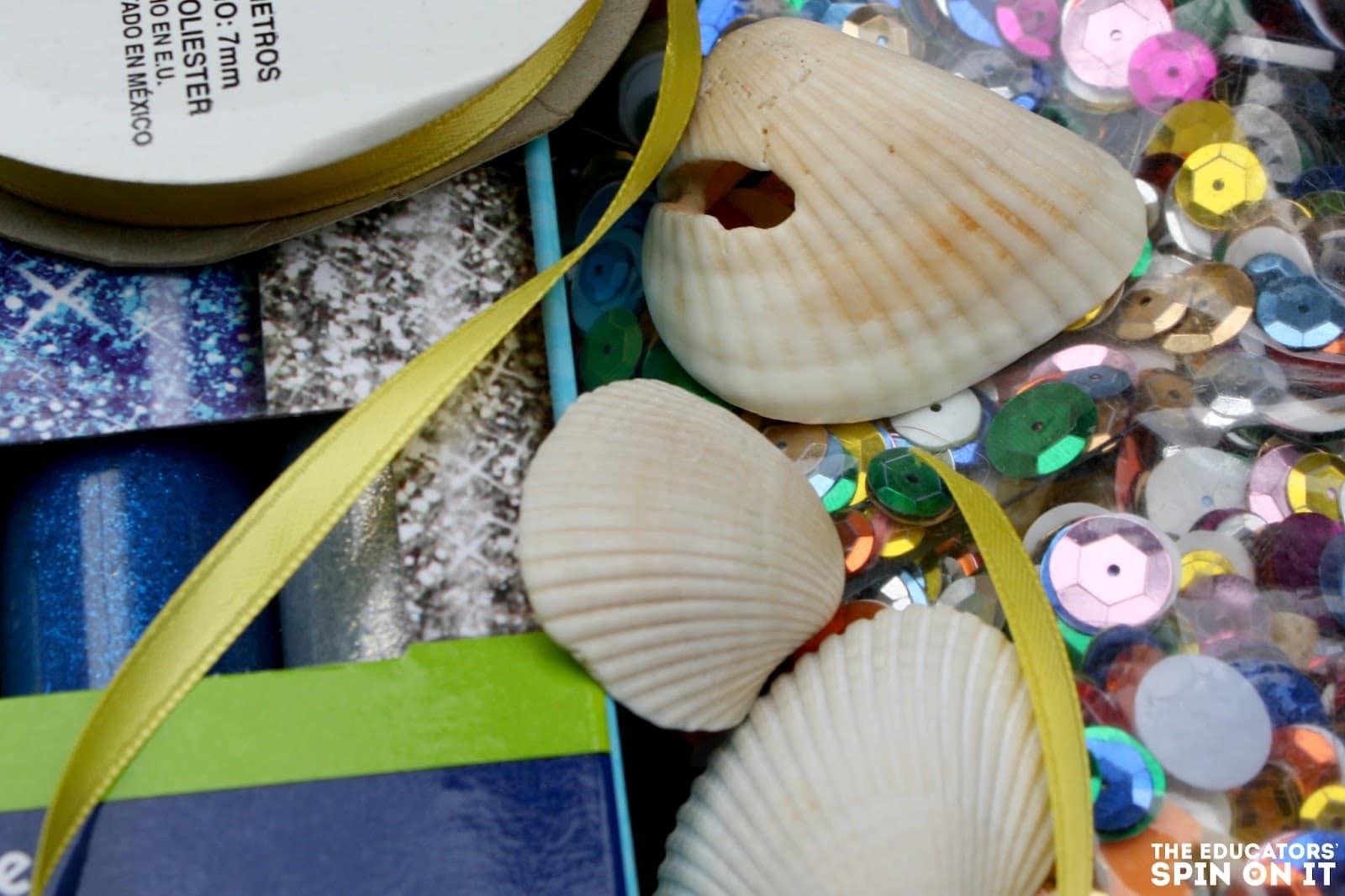 Prep Work –
This craft project will require the use of a small to medium size shell with a hole at the top. Take a walk along the beach with your child and look for the best shell for this project. If for any reason, you are not able to find one with a hole, wrap the shell with a thin jewelry wire so that it can easily attach to the ribbon.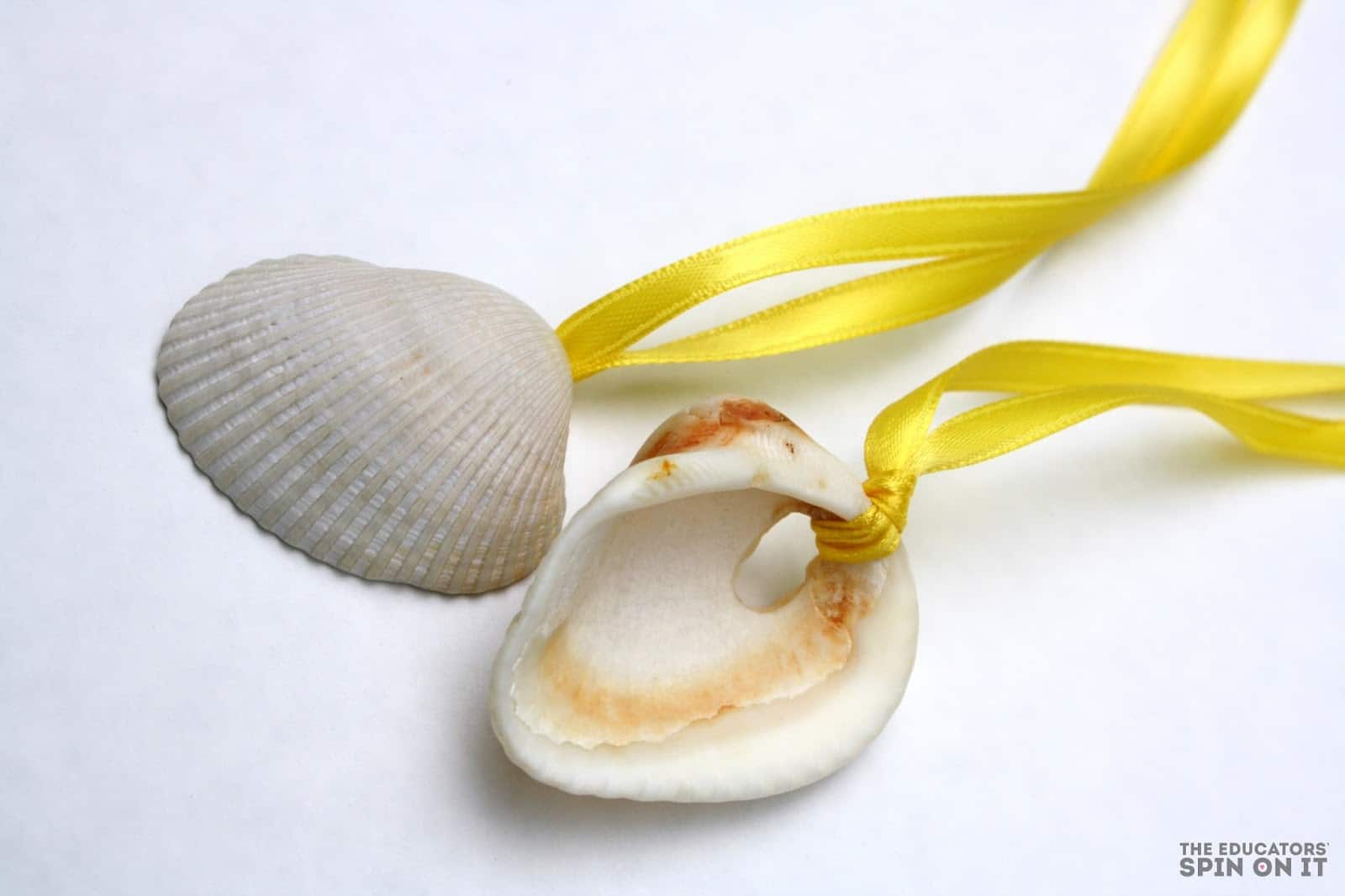 Directions –
1. Wash the shell with warm soapy water and gently towel dry it.
2. Measure and cut a ribbon or cording 30 inches long.
3. Thread the ribbon through the hole in the shell. Tie the ends together to make a complete circle.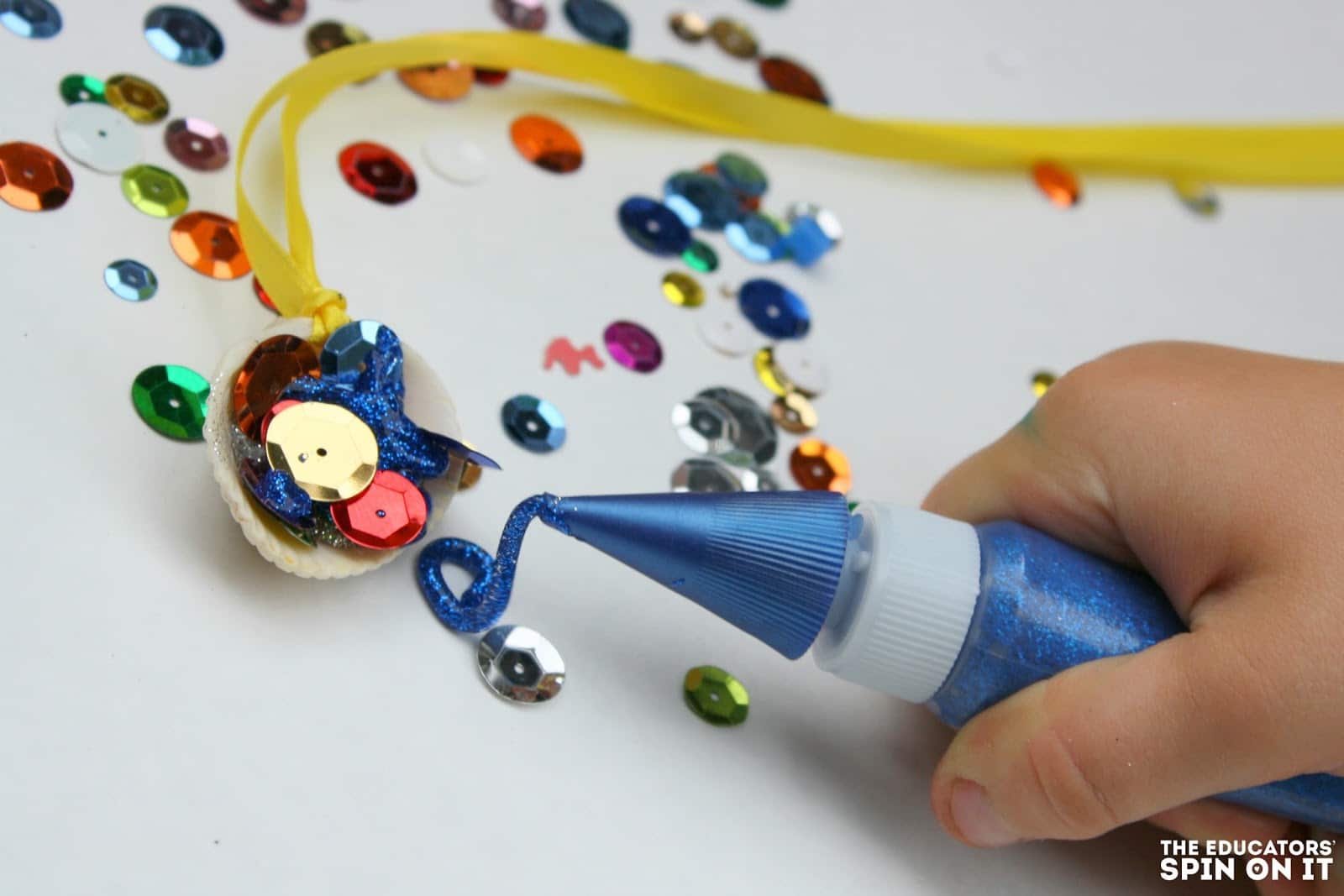 4. Using your favorite color of glitter glue, fill up the inside of the shell. While the glue is still wet, add any other small sparkly objects such as sequins or beads to the inside portion. Set the shell upright in a safe place. Allow the glue to dry overnight.
5. When the glitter glue has dried, put the necklace on and admire your creation.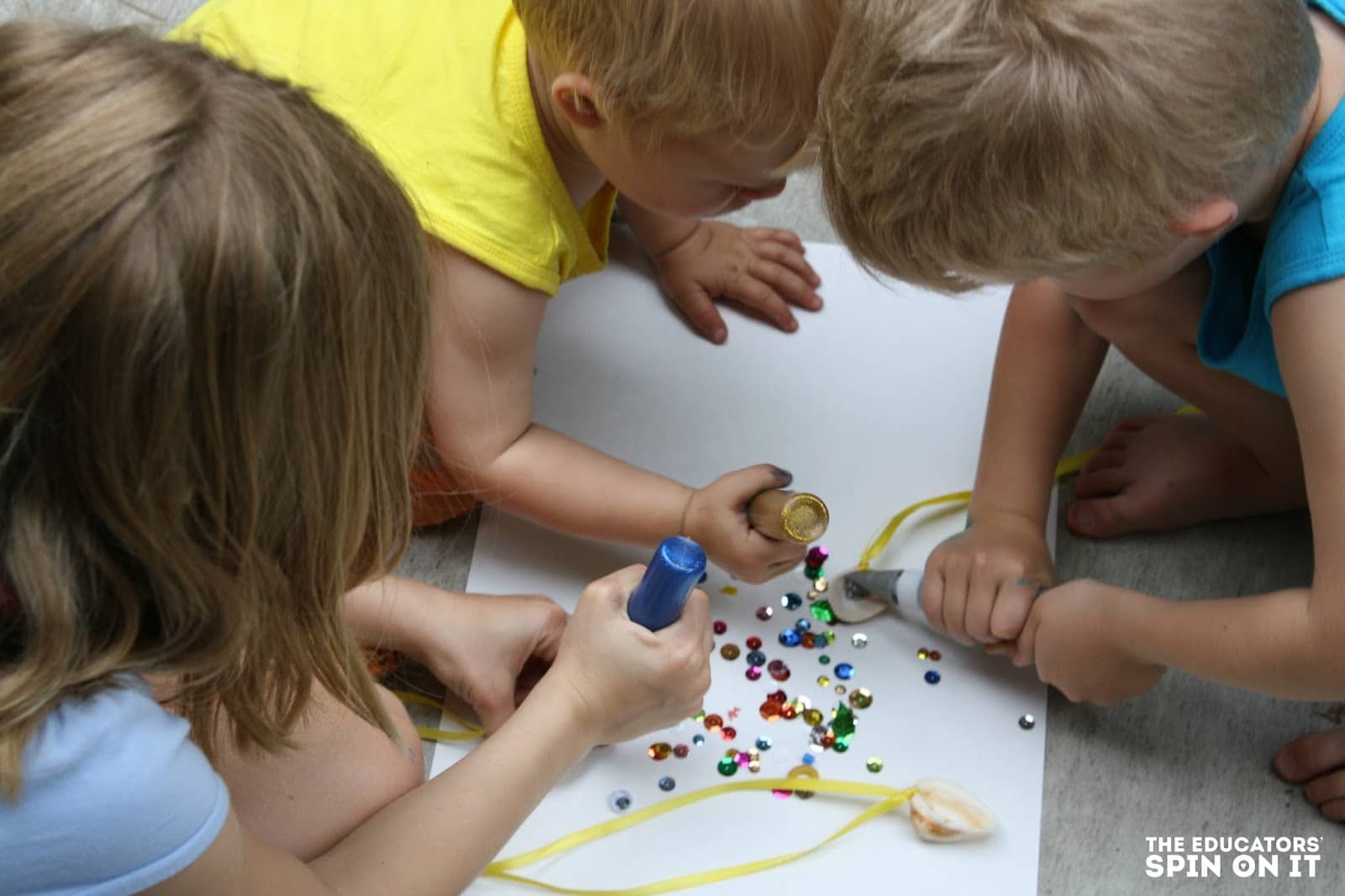 Extensions –
Gift for Family Member: When the glitter glue has dried, put the necklace on and admire your creation. This jeweled necklace would also be a great gift for a friend or family member that came with you on your beach walk adventure. Consider making several jeweled shell necklaces and wrapping them in a special paper for a lucky recipient.
Seashell Books
What Lives in a Shell? by Kathleen Weidner Zoehfeld
Seashells: More Than a Home by Melissa Stewart
It's a Seashell Day by Dianne Ochiltree
The Beachcomber's Companion by Anna Marlis Burgard
A Shell Is Cozy by Dianna Hutts Aston
The Mother's Day Shell by Amelia Grantham
Writing Connection: Since this necklace is also a keepsake of a special adventure, you may want to write a little note to keep with it. Include the date and name of the beach you visited, who you went with, and anything special you observed that day.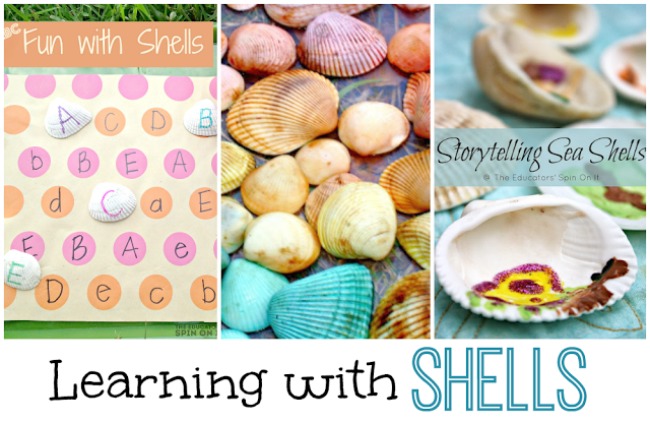 You may also enjoy these activities with seashells…