Summer is here. Now is the perfect time to play and learn oceans with your kids!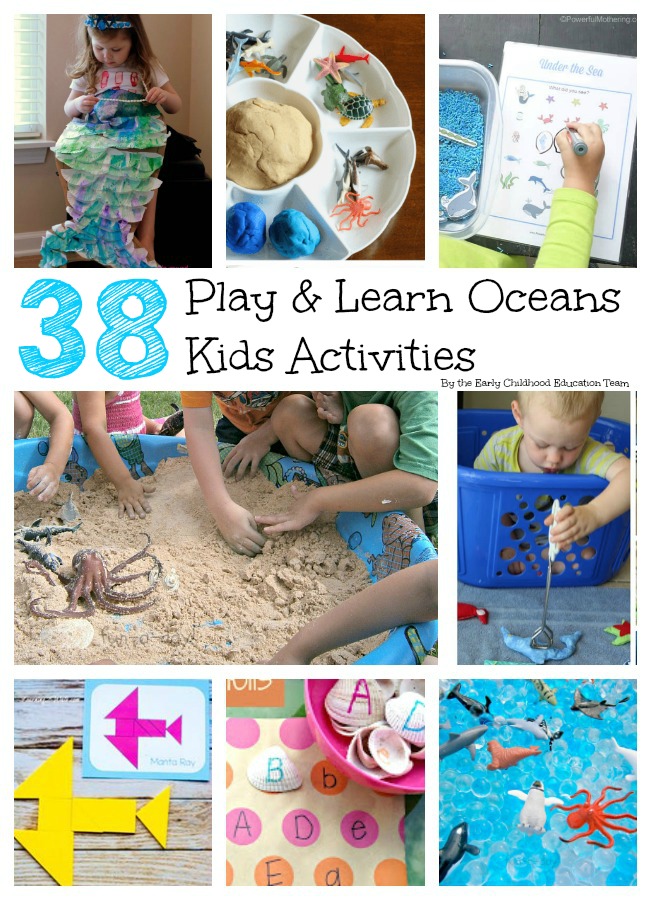 You Can Play and Learn Oceans By:
Hosting an ocean themed play date for your friends
Using oceans as your weekly thematic unit in your classroom.
Turn your playroom at home into an undersea learning adventure!
Head to the beach this summer and bring along a few activities for on-the-go learning
Make a few crafts and activities when you have a moment.
Here's a quick and easy ocean theme activity to get you started! Affiliate links to products
Play and Learn Oceans with an Ocean in a Tub

Materials Needed:
Large container
Beach towel
Cups
Directions:
Fill the large container with water. Set on flooring that will be ok if wet. Put a towel underneath.
Set cups and ocean animals in the tub of water.
Let children splash, pour, and play with their ocean tub.
For another 38 Play and Learn Oceans ideas….
the Early Childhood Education Team has gathered their top ocean activities for kids.
From crafting to exploring small world play, there is an activity for everyone! Click the activity name to be taken to the article. These articles will have directions on how to make and play the activity named. Stop back and let us know which one was your child's favorite!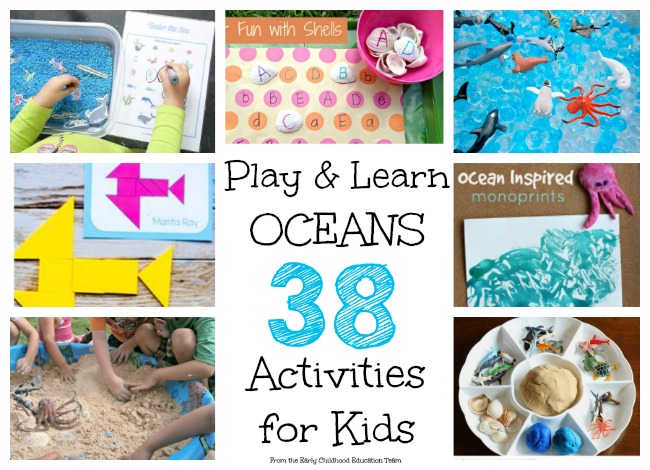 There's a Shark in the Sea Beginning Sounds Song
Ocean Play Dough Invitation to Play and Learn
Small World Ocean Play (Without Water)
There are 5 Oceans Children's Song
Jello Ocean Exploration on the Light Table
Find the Hidden Numbers Ocean Clip Cards
Fishbowl Counting Mats and Fishy Letters
Ocean I Spy Counting Printable
Under the Sea Play Plus Search and Find
Free Ocean Matching Pack Printable
Sea Turtle Life Cycle and Sensory Bag
Ocean Color Sorting and Threading
Super Simple Ocean Sensory Bin
Top 10 Ocean and Beach Theme Activities
Under the Sea Painting with Pout Pout Fish
Commotion in the Ocean Book and Activity
I'm the Biggest Thing in the Ocean Story Book and Activity
A House For Hermit Crab Activities
DIY Mermaid Tiara to Make and Wear
Hunting for Sharks Teeth with Kids
Water Color and Salt Coral Reef
You may also enjoy these activities for your child…