Are you following The Educators' Spin On It on Pinterest?  Join 1.6 Million followers,
we're pinning awesome ideas from our favorite sites to save you time online.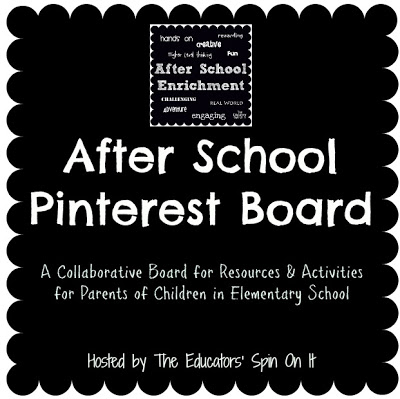 We're excited that our After School Enrichment Pinterest Board has added a few new members!  It's a great place to stop to find ideas for what to do with your children after school and over the holiday break.  Plus we're working to create a board that you can turn to for additional resources when you feel your child need more support in certain subject areas. 


Contributors to our After School Enrichment Board on Pinterest 

UPDATE JUNE 2013….WE'RE EXCITED WE'VE INVITED A FEW MORE OF OUR FAVORITE KID BLOGGERS TO OUR COLLABORATE ON OUR AFTER SCHOOL BOARD, COME CHECK THEM OUT AND SEE WHO'S PINNING!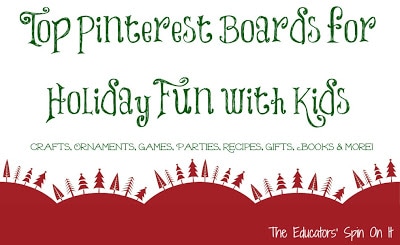 Yesterday we shared our Top Picks for Holiday Boards to Follow and look to for last minute ideas.  As for our big plans this holiday season we're spending it at home with family and creating memories together.  My daughter and I will be participating in the Christmas Around the World and Cooking Around the World  over the holiday break.  It's finally a time where I get to have her at home with be and do all sorts of fun things together.  We'll be participating in the Virtual Book Club for Kids featuring Jan Brett this month. We've built our Gingerbread House and can't wait to share.  She's already started to have fun with our recycled lids to decorate and create Christmas Trees.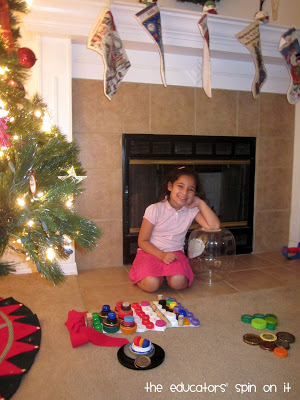 Here's a little teacher moment….Just in case you want to fit in some LEARNING during the Holiday Break here are some helpful boards to check out!  I've tried to find a few Holiday Activities for each so that you can sneak in some learning and still include holiday themes!