Create this easy and colorful painted flower craft for kids uses a few recycled items around your home to create a keepsake hanging flower for someone special. This book activity was inspired by the popular Eric Carle book The Tiny Seed.
Here's how to make your own Hanging Painted Flower Craft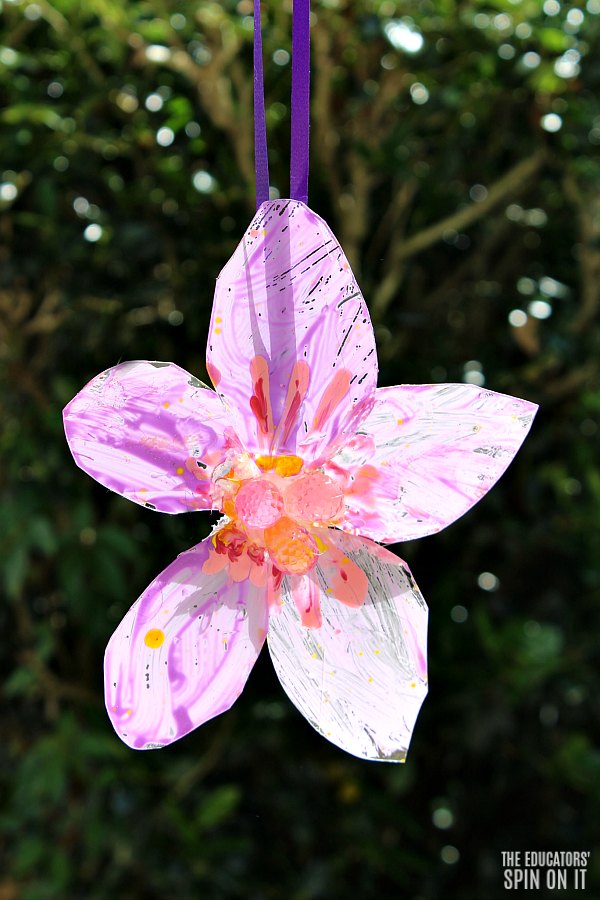 This post contains affiliate links to Amazon where we get a small commission when you make a purchase. All opinions expressed are my own.
This week's featured book activity is focused on the book The Tiny Seed by Eric Carle. This story focuses on the life cycle of a flower told through the adventures of a tiny seed. Readers follow along the seed's progress as it floats across the sky, nestles in the ground, and finally grows into the giant flower it was always meant to be. It's a classic Eric Carle story with beautiful illustrations and a story line the kids will enjoy telling again and again. BUY IT NOW
Painted Flower Craft for Kids Inspired by The Tiny Seed
We thought it might be fun to create a flower craft to go along with the gigantic flower from the story The Tiny Seed. You can print out our The Tiny Seed Math Activities for a learning activity to go along with the story too. At the bottom there are additional The Tiny Seed Themed activity to create a fun week of garden themed activities to go along with this popular book. Here's how to make your very own flower using recycled plastic to hang in your window or to give to someone special.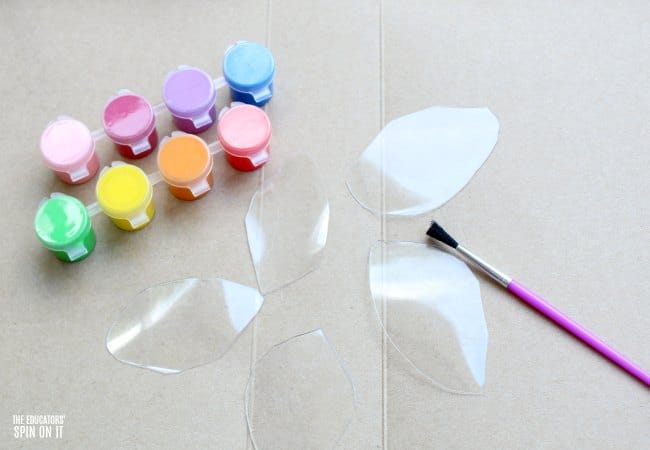 Materials for Painted Flower Craft
Scissors
Paint Brush
Hot Glue Gun
Beads
Recycled Plastic Container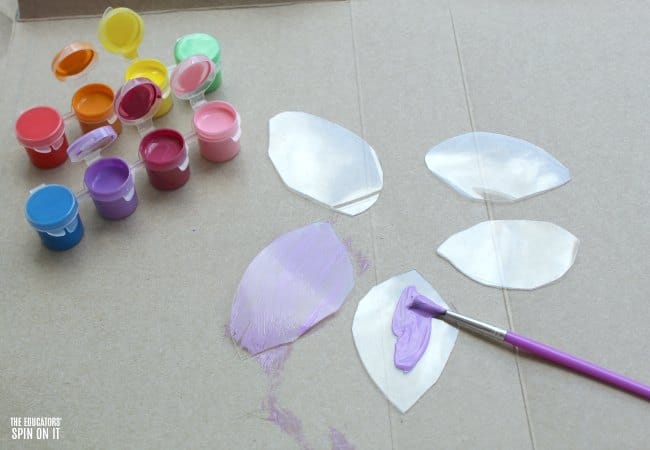 Instructions for Painted Flower Craft
1. To start this flower craft you will need to find a clear plastic container to reuse by cutting out 5 flower petals from it. This is an adult activity for safety reasons.
2. Then place the 5 plastic flower petals on a surface that you can paint on and get messy. We used a recycled cardboard box so that it could dry on there too.
3. Time to pain your plastic flower petals with paint. We used an acrylic paint set. Like this one.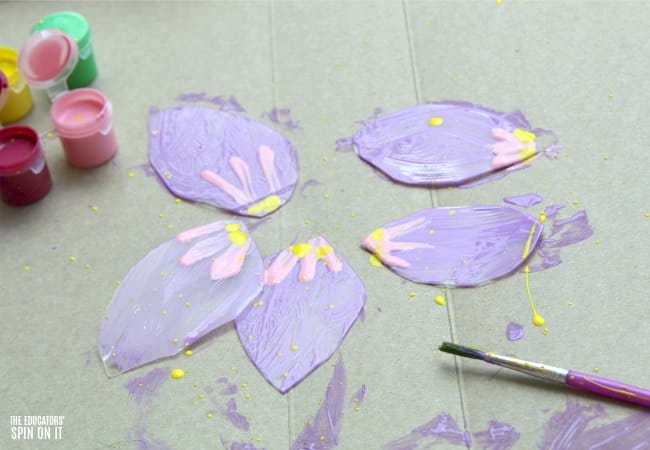 Encourage your child to get creative with the details on their flower. Eric Carle's artwork with tissue paper and how he paints and blends colors in the images can be a fun inspiration. We even used a little splatter technique to add a few more pops of color.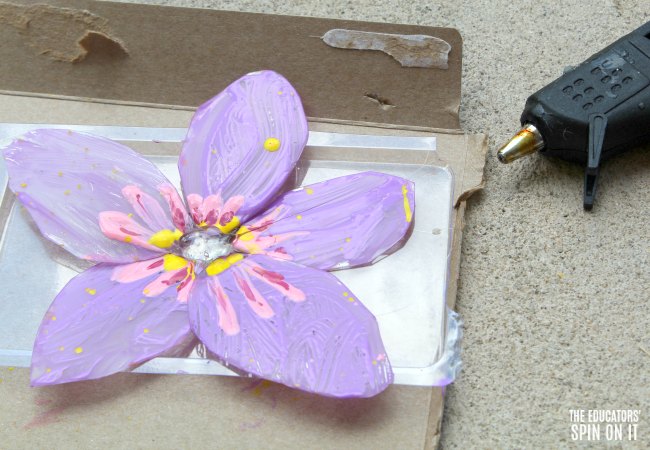 4. Now it's time to put the painted flower craft together. Have your child set up the flower the way that they designed it and then use a hot glue gun to attach all of the petals together. I used a plastic tray below while glueing so that it would come off easily after it cooled down. This is an adult task for safety reasons.
**An alternative could be to use fast drying air clay or salt dough that your child could stick the dried flower petals into.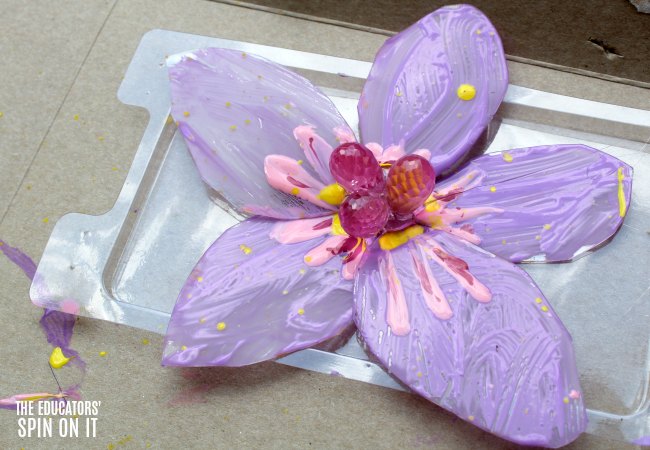 5. After we attached the flower petals I had my daughter select some beads to stick in the middle for her flower center. I just added more hot glue and then had her tell me where to place them due to the hot glue. If you're using air clay or salt dough they could do this portion themselves as well.
This is a fun lesson in talking about flower seeds similar to what is featured in The Tiny Seed book.
6. At the end you can attach a ribbon so that you can hang your colorful painted flower craft in a window and allow the light to shine through it.
SHARE how your painted flowers turn out in our Weekly Virtual Book Club for Kids Facebook group!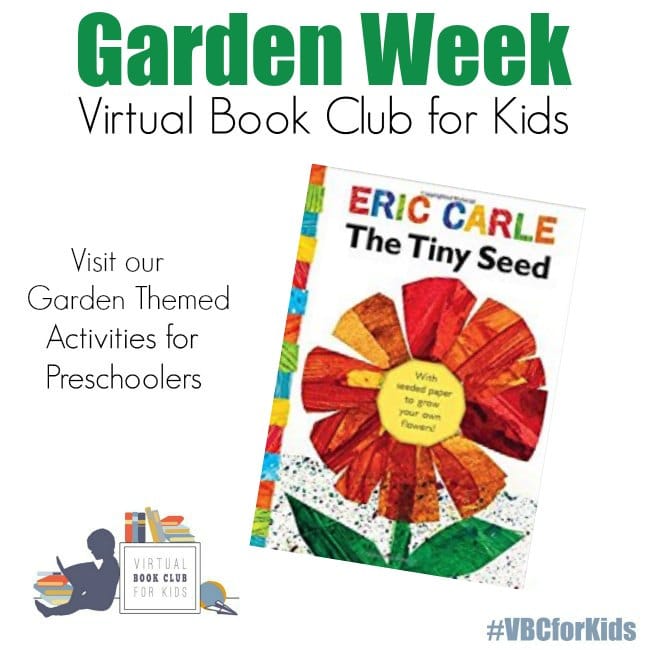 Garden Themed Activities for Preschoolers
You may also enjoy these activities with your child…