Penguins can be a fun topic to learn about with your preschooler. They're fun, playful and make for great characters in these adorable books about penguins.

This list of the best penguin books for preschoolers is full of fiction, non-fiction, and even penguin book series with tons of adorable penguins.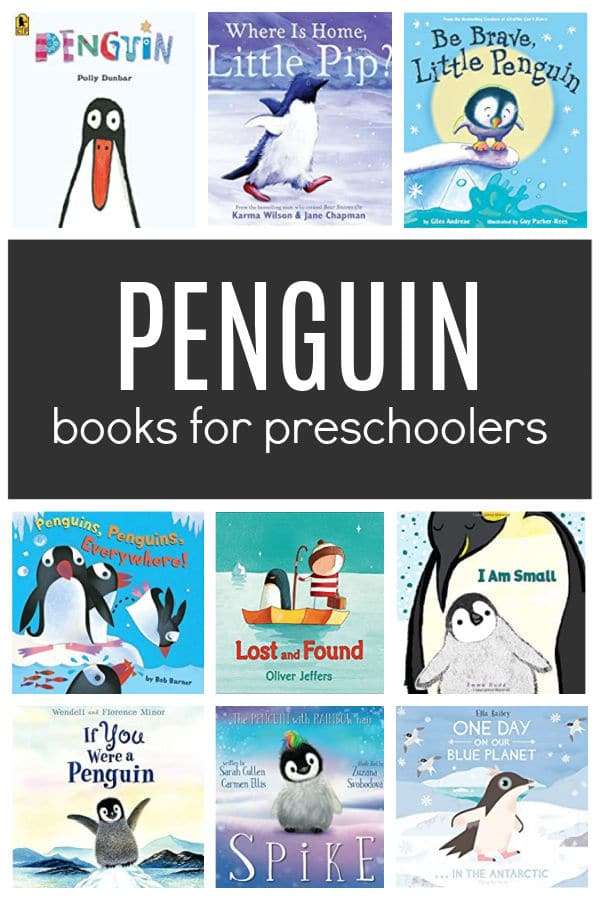 Penguin Books for Preschoolers
Did you know that Penguins are only found in the Southern Hemisphere? In fact, the greatest concentrations are on Antarctic coasts and sub-Antarctic islands.
There are 18 species of penguins, 5 of which live in Antarctica. Another 4 species live on sub-Antarctic islands. Penguins usually inhabit desertic regions and rocky islands where there are not a large number of land predators, so their incapacity to fly is not an issue.
Once you start reading these penguin books with your child, they may have some questions. You can learn more about where penguins are from Penguins World.com
Disclosure: This post contains Amazon affiliate links. All opinions expressed are my own.
Fiction Books About Penguins
There are so many adorable picture books about penguins for your child. I put together a collection of over 45 Penguin Books to choose from. They are a perfect fit to go along with our collection of 101+ Penguin Learning Activities and Crafts to make fun book extension activities.
What's your favorite penguin book? If I missed your favorite please let me know in the comments below so we can add it to our ultimate list of penguin books for preschoolers.
If You Were a Penguin by Florence Minor
Penguin Problems (Animal Problems) by Jory John
Penguinaut! by Marcie Colleen
Penguins, Penguins, Everywhere! by Bob Barner
And Tango Makes Three by Justin Richardson
Be Brave, Little Penguin by Giles Andreae
Penguin by Polly Dunbar
How Do Penguins Play? by Diane Muldrow
Spike: The Penguin With Rainbow Hair by Sarah Cullen
I Am Small by Emma Dodd
Penguins Love Colors by Sarah Aspinall
365 Penguins by Jean-Luc Fromental
Baby Penguins Everywhere by Melissa Guion
Sergio Makes a Splash by Edel Rodrigue
Baby Penguins Love their Mama by Melissa Guion
Little Penguin: The Emperor of Antarctica by Jonathan London
Polar Bear Island by Lindsay Bonilla
Go Jojo Go! A Little Penguin on a Big Swim by Tessa Bickford and Jennifer Castles
One Day On Our Blue Planet: In The Antarctic by Ella Bailey
Life in a Frozen World: Wildlife of Antarctica by Mary Batten
The Penguin Lady by Carol A. Cole
Penguin Themed Book Series
For some reason, penguins make the best for a book series. Here are 5 different books series where the main character is a penguin.
Why should kids read series? It can be easier for your child to read when they have an idea and understanding of the setting, characters, and plot of a book series. Kids have more comprehension support in book series: each new book in the series follows and builds on the first, making it easier for kids' comprehension.
Penguin and the Pinecone by Salina Yoon
Penguin on Vacation by Salina Yoon
Penguin in Love by Salina Yoon
Penguins Christmas Wish by Salina Yoon
Penguin and Pumpkin by Salina Yoon
Penguin's Big Adventure by Salina Yoon
Tacky and the Emperor by Helen Lester
Tacky the Penguin by Helen Lester
Tacky and the Winter Games (Tacky the Penguin) by Helen Lester
Where is Home Little Pip by Karma Wilson
Don't Be Afraid, Little Pip by Karma Wilson
What's in the Egg, Little Pip by Karma Wilson
Lost and Found by Oliver Jeffers
Up and Down by Oliver Jeffers
Penguin Journey by Angela Burke Kunkel
Penguin Pete, Ahoy! by Marcus Pfister
Penguin Pete by Marcus Pfister
Penguin Pete's New Friends by Marcus Pfister
Penguin Pete and Little Tim by Marcus Pfister
Penguin Pete and Pat by Marcus Pfister
Explore these adorable Penguin Virtual Field Trips for Kids
Non-Fiction Books about Penguins
Here is a collection of non-fiction Penguin books for your child.
Did you know that Non-fiction books can help your child develop critical thinking, and analytical skills, as well as the ability to read and understand complex texts?
Non-fiction books can help a child develop knowledge of their environment and society –crucial in later grades your child begins reading more content-specific textbooks.
Penguins! by Gail Gibbons
A Mother's Journey by Sanda Markle
Penguin Chick by Betty Tathem
National Geographic Readers: Penguins! by Anne Schreiber
All About Penguins: Discover Life on Land and in the Sea by Dyan deNapoli
Penguins by Jill Esbaum
Baby Penguin Slips and Slides by Michael Teitelbaum
Pierre the Penguin by Jean Marzollo
Safari Readers: Penguins (Safari Readers – Wildlife Books for Kids) by Tristan Walters
Learning about the Artic with your preschooler too? Explore these Polar Bear Books and Activities.
Penguin Book Extension Activities
Here are several fun ideas to do with these adorable penguin books with your preschooler.