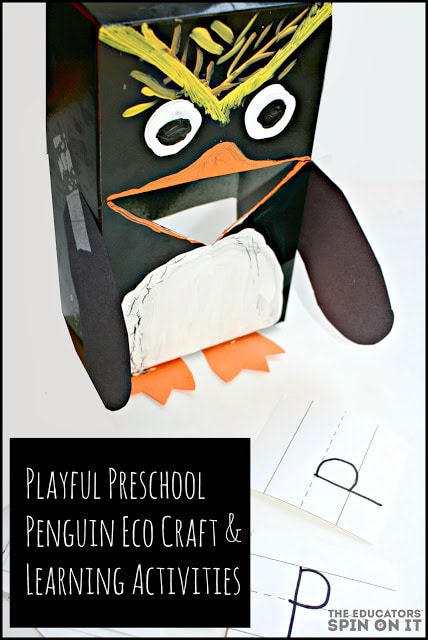 Is one of your goals this year to be a more hands-on parent this year?  Here are a few learning activities and crafts for you to try out this year.  The big hit in our house this week (for all kids, ages 1, 4, and 7) was Patricia the Penguin.  My kids designed and made her (not me) so she does look a little silly =), but kid made is so much more meaningful for learning.  The kids take ownership over their learning when adults step back and let them create. Here are some learning activities that we have done this week. Affiliate links
Activity: Patricia (the Macaroni) the Penguin ECO Craft and Reading Activity
Materials:
Carboard Box (I used a cracker box)
Paint
Paintbrushes
Construction
PaperScissors (I don't let kids cut cardboard, just paper – BE SAFE always!)
Tape or gluePen or Marker
I love this activity because there are so many ways to use it.  I am focusing on teaching the letter and sound for Pp.  Your focus will be different depending on your child. One year olds can use pom poms to feed the penguin for a fine motor activity. Seven year olds can read a set of sentences and feed the penguin the facts (not the opinions.)
Directions to Make the Penguin:
Parent cuts the beak hole and a rectangle in the lower back for easy removal of the cards or pom poms.
Paint the box black.  While drying, cut oval wings and webbed feet.
When the black paint is dry, paint the eyes, body and beak on.
Tape the wings and feet on.
Directions for Reading Activity.
Make small squares with different letters written on them such as; N, O, L, S, P, making more P's than other letters.
Introduce the letter P and the sound it makes.  This is the letter P. It makes the sound /p/ like the beginning of the word penguin. /p/ penguin.
Explain that Patricia the Penguin (or whatever your kids name their penguin) only likes the letter P's, and they can "feed" the P's to her, saying the sound /p/ every time they put one in her mouth.
Let your child "feed" the penguin.  Check for mastery by looking through all the cards in the box.
Repeat until no longer fun.  Then change it up a bit.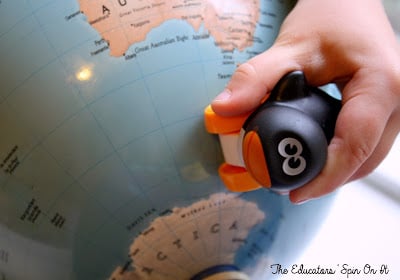 Activity: Zoom the globe to find the places where Penguins live
Materials:A penguin (homemade or a pre-made one you already have on hand)
globe
Parent tip: Did you know penguins live in Antartica AND South Africa, Australia, New Zeland, South America, and the Galapagos Islands?  Here are a few webpages to read up on some penguin facts: 
Mother Nature Network Article, Discovery Kids, and Wikipedia.

Directions:
Explain that penguins live in special climates in the southern hemisphere.  Show them the differences between the North and the South on the globe.  Tell them that today you are going to find the places on the globe where they live.
Take your little penguin and zoom around the globe.  Get silly, have them go to where you live and ask, "Do penguins live in ___?"
Then, let them zoom the penguin around. Call out the place where penguins live and see if they can find it on the globe.
When another family member comes home or a friend comes over – have them show their new globe skills and teach what they have just learned.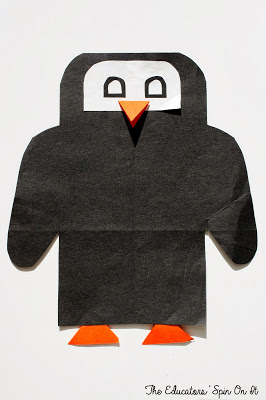 Activity: Penguin Paper Craft
This craft is a simple, but cute little project that preschoolers can cut to practice their fine motor skills.  It can also be pre-cut and assembled in a learning to follow sequential steps activity.  This would be great combined with a writing prompt and displayed on a fridge.

Directions: This can be found at Sassy Dealz, Winter Penguin Craft