Create this adorable holiday gift idea with your child's handprints. This Reindeer Craft Frame is sure to be a keepsake for years with loved ones!
Sleigh bells ring and children craft! Parenting during the holiday season is a must in my opinion. With all the hustle and bustle of the holiday preparations, children still need their daily routine, creative outlets and learning opportunities.
We must make time to interact with our children a priority. No time for activities during the week? Prepare a bunch of activities to do together on the weekend.
What is great about December is that most of these holiday crafts can also double as hand-made gifts for family members! Who wouldn't want a collection of your child's cute crafts?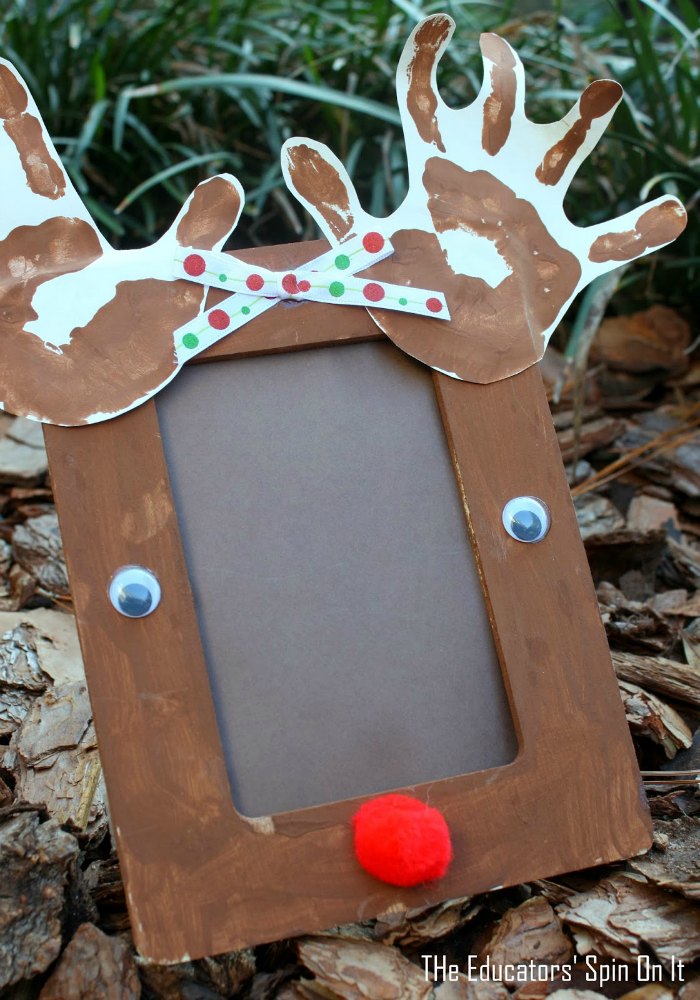 Disclosure: Amazon Associate Links included in this post.
I often find that we take traditional holiday crafts and put our own spin on them, making those every day parenting moments, learning opportunities.
Reindeer Craft Frame
This one is a twist of the hand print reindeer. The original creator – unknown. As teachers, we do a lot of sharing great ideas. This is one of them. Whomever you are that thought of this – you rock! Thank you!
Materials for Reindeer Frame:
Directions for Handprint Reindeer Frame:
Paint your kids hands and press them on white paper.
Cut their hand prints out when dry
Have them paint the wooden frame
When the wooden frame is dry, glue on bow, eyes, and nose.
Activity: Reindeer Reading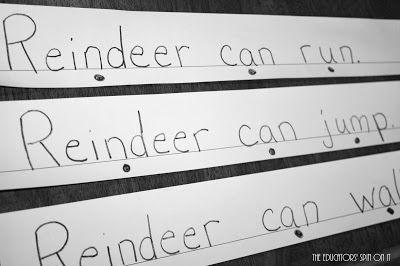 Materials:
Directions:
I love this activity because there are so many ways to use it. I am focusing on teaching the sight word can, that words can be different sizes, and the action words. Your focus will be different depending on your child.
1. Introduce the word reindeer. We counted how many letters were in the word and what it looks like; one tall, capital letter followed by 3 short letters, another tall letter and 3 more short letters. Some kids respond well to learning to read by the shapes of words.
I also reviewed the [r] sound and that it is found at the beginning of the word reindeer.
2. Then I showed my preschooler the word can. This is a sight word that also is a cvc word (consonant vowel consonant) that can be sounded out. We are just memorizing this one. So now our sentence looked like this…
Reindeer can _________.
3.Fill in what reindeer can do. I let him tell me what words to write.
He chose run, jump, and walk.
4. Then I read each sentence. Afterward, we read them together. He did NOT want to read them on his own, but that would be the next step. (maybe tomorrow) You could have your child read them to another family member or teddy bear as well. (the more you read the better you get!)
5. If you want, you can cut the sentence apart into words and have your child re-build them.
Activity: Reindeer Habitat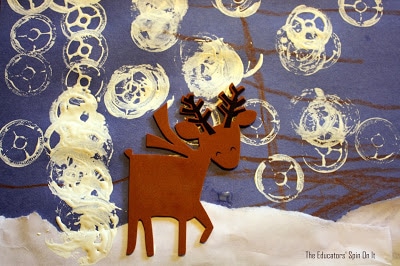 Materials
White Paper
Brown crayon
White paint
Empty spool of thread
Glue
A reindeer sticker (you can draw it too)
Directions:
Talk about a reindeer's habitat (where they live) with your child and then have them do the following. Let them do as much of it on their own as possible. If you want to make one – go ahead and sit beside them and start another one. (this can be lots of fun for both of you!)
Draw a tree on the blue paper.
Rip white paper and glue it to make the snow on the ground.
Stamp a bunch of snow flakes (this is great for fine motor)
Add the deer!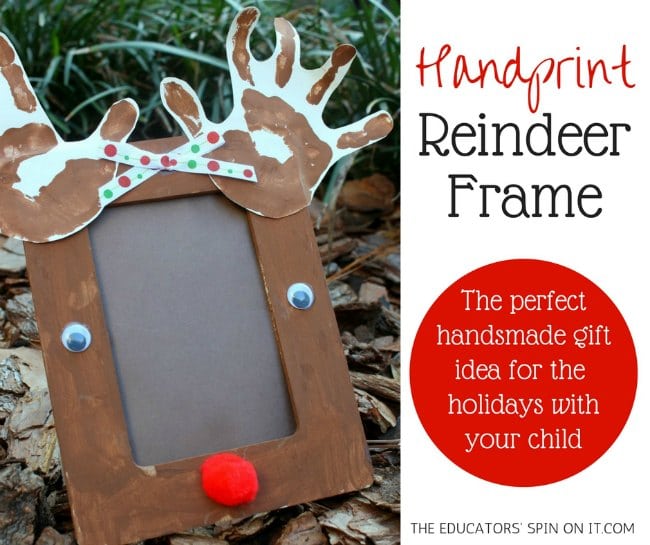 Activity: Reindeer Handprint Pillow
Materials:
Directions:
This one is an oldie, but a goodie
1. Paint your kids foot and press it on the fabric.
2. Paint their hands and stamp it on the fabric.
3. Add details!
Educator's Tip: Honestly, we do cute little crafts too that don't always have a "learning goal" rather are ways that we can positively interact with our kids. This is a pillow that my daughter and I made a while back. Every year she pulls it out and gives it a hug. It is a great reminder that she will always be my little fawn!
If you enjoyed these Reindeer Ideas you might also enjoy one of these Reindeer Posts…