This adorable fingerprint reindeer ornament is so easy to make for your Christmas Tree this holiday season. Inspired by our favorite Christmas character, Rudolph the Red Nose Reindeer.
Plus this thumbprint reindeer ornament makes a keepsake ornament gift idea or ornament topper for loves ones from your child.
Here's how to make this holiday ornament…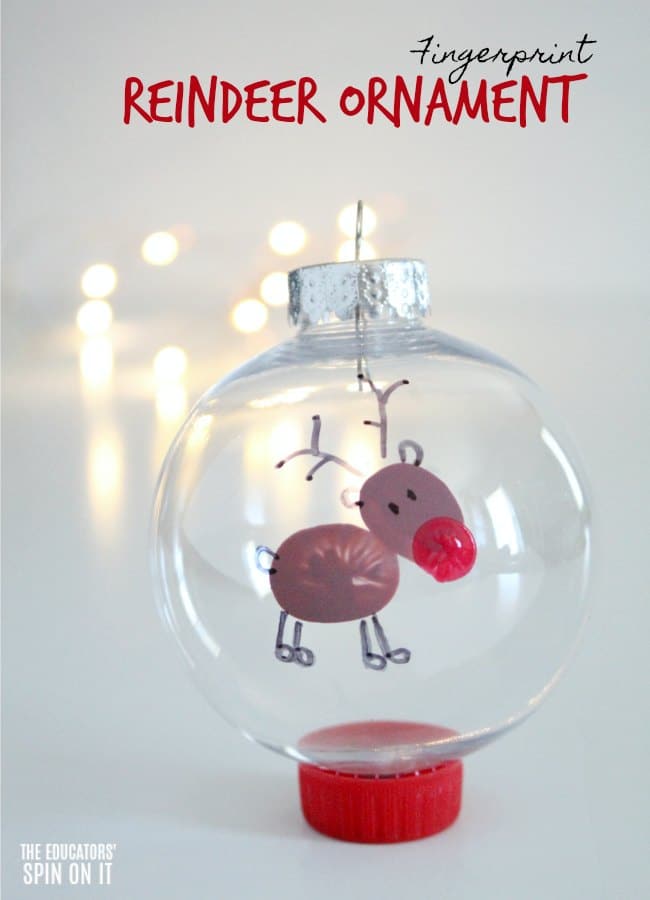 The Educators' Spin On It is a participant in the Amazon Services LLC Associates Program, an affiliate advertising program designed to provide a means for sites to earn advertising fees by advertising and linking to Amazon.com
Thumbprint Reindeer Ornament
This week's featured book for the Weekly Virtual Book Club for Kids is the classic Christmas story Rudolph the Red-Nosed Reindeer
. There are many version available, even from Golden books.
We choose to read this original story of Rudolph the Red-Nosed Reindeer—written in verse by his creator, Robert L. May—now with beautifully illustrated pages! You can also buy and watch it here on Amazon for years to come!

Rudolph the Red-Nosed Reindeer
Take a special story time with Rudolph the Red Nose Reindeer and create a special keepsake from this classic story together with our thumbprint reindeer ornament.

Fingerprint Reindeer Ornament
What can be more precious than your very own Rudolph ornament! With just a few items you can create a fingerprint reindeer ornament is less than 15 minutes! Here's what you'll need…
MATERIALS FOR REINDEER ORNAMENT
paper plate or plastic lid
Baby Wipes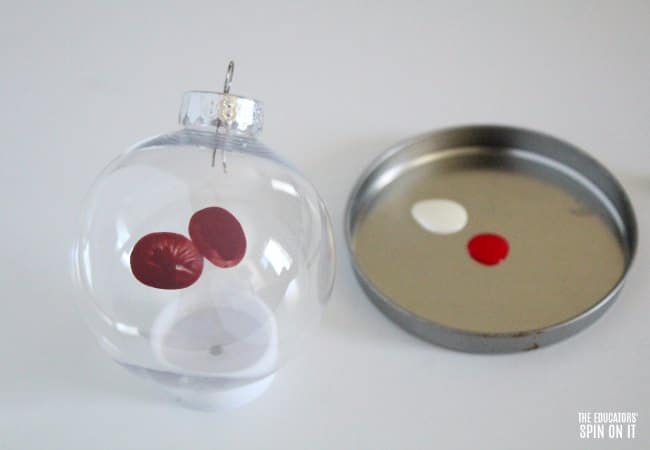 DIRECTIONS FOR FINGERPRINT REINDEER ORNAMENT
1. Take your brown acrylic paint and place into a lid or paper plate. Then have your child use their thumb to make two thumbprints. One for the reindeer body and one for the reindeer head. Allow to dry.
2. Ask your child to add the details to the reindeer using a Black Permanent marker. Add four legs, two ears, a tail and two antlers to your reindeer. TIP We practice first on a sheet of paper to be sure we had a plan for where we wanted everything to do.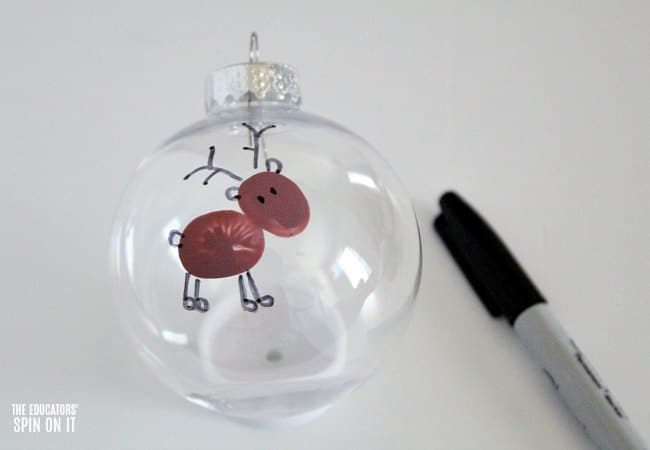 3. Now it's time to turn your reindeer into the classic Christmas story character Rudolph the red nose reindeer by adding red paint onto the end of the head to make Rudolph's nose. Allow to dry.
4. You could also use the white paint to make snow flakes on the ornament or snow for the reindeer to stand on. My daughter just wanted the reindeer but I imagine with the blizzard that Rudolph had to guide Santa's sleigh with creating a few snowflakes might add a little winter fun to your Christmas ornament too!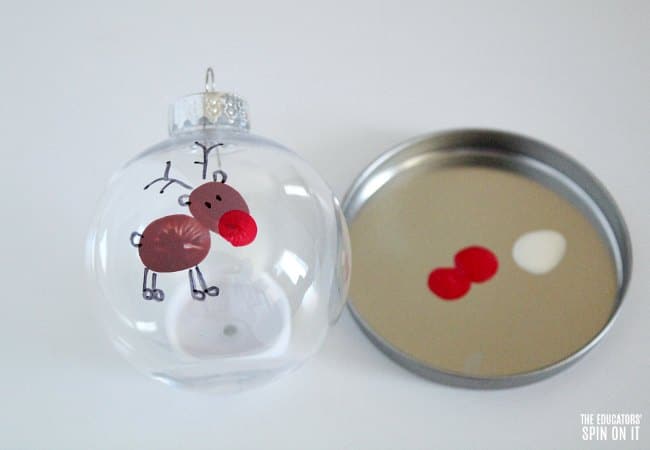 Now it's time to have it on your Christmas tree. This Fingerprint Reindeer ornament makes a great handmade gift idea too for the holidays or even a Christmas gift topper from someone special.
You can even make this fingerprint reindeer on Christmas cards too to give to someone special this Christmas.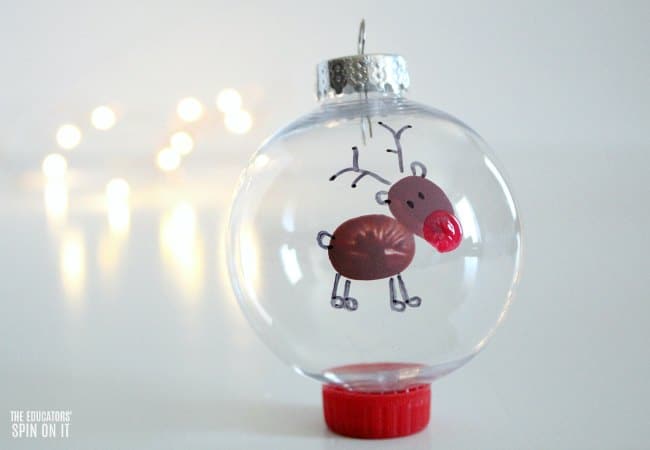 We have some additional reindeer ideas for gift giving this holiday season like these Reindeer Candy Wrappers  and Handprint Reindeer Frame. Don't forget to make this reindeer food recipe for Christmas Eve!
You could spend your holiday break having tons of reindeer themed FUN!
Reindeer Activities and Crafts for Kids
Click here for more Fingerprint Ornament Ideas for Kids
Reindeer Books for Kids
Here are few more of our favorite Reindeer themed books to read with your child as you get ready for Christmas! Have you check out our 100 Christmas Books every child should read before the turn 10. Books make a great Christmas gift!
Take a moment once your make your fingerprint reindeer ornament to check out these activities shared below from my Weekly Virtual Book Club for Kids Cohosts. Have fun with letters, shapes, colors and more all with a reindeer theme!
Reindeer Activities for Preschoolers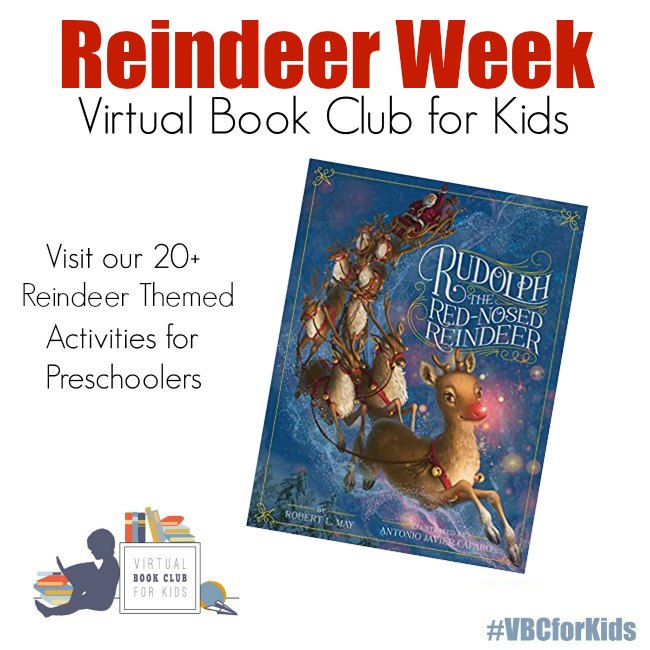 Hope you have a very special holiday season with your child! Please share with us how your Reindeer Ornament turns out! You can share in our Virtual Book Cub for Kids Facebook Group or on social media with the hashtag #vbcforkids.
Looking for more fingerprint ornament ideas? Try these…