This is a sponsored post written by me on behalf of Miracle-Gro Gro-ables for IZEA. All opinions are 100% mine.
Summer is almost here which means for families all over its gardening season. This year I really wanted to get my kids involved in growing our garden. The best news is that I've discovered a little trick to help my children and me succeed in our garden is to make sure they know what we've planted.
Plus we're using Miracle-Gro Gro-ables. It's so simple, everything you need to grow a vegetable, fruit or herb can be found in these seed pods.  

Here's how we planted our garden and even made some special garden labels together.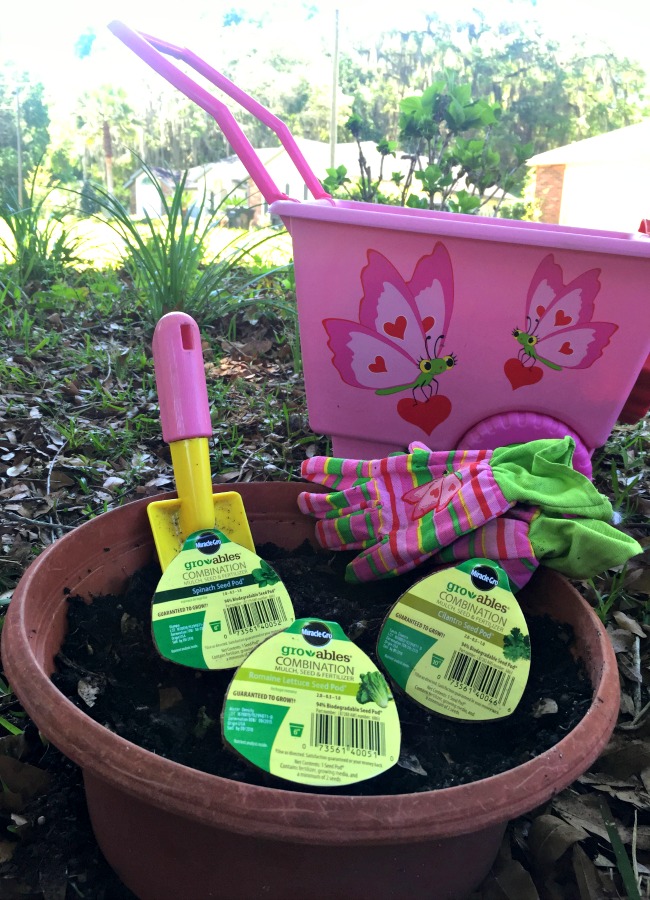 Garden Ideas with Kids
Learning about how things grow and the fact that we get our food from the earth is such an important skill that we teach our kids. I'll admit as much as I try I don't have the greenest thumb which is why I'm really excited about our new garden and trying out this new product. With Gro-ables you simply plant, water and watch the seed pod grow in your garden. Each one is guaranteed to grow!
I took the kids outside and found a special sunny spot for the garden. We actually choose a couple of pots, for container gardening, so that the kids could have a little ownership over their own gardens this year.  Then we just loosened up the potting mix and then just pushed the seed pod into the potting mix until the top was level with the surface. We added plant labels to each one so we knew what was growing there too, see our directions below on how to make your own.
 Now our job is to water daily and after 1-2 weeks the seed will sprout. Several months after planting, flowers will appear which means your vegetable is close to being picked!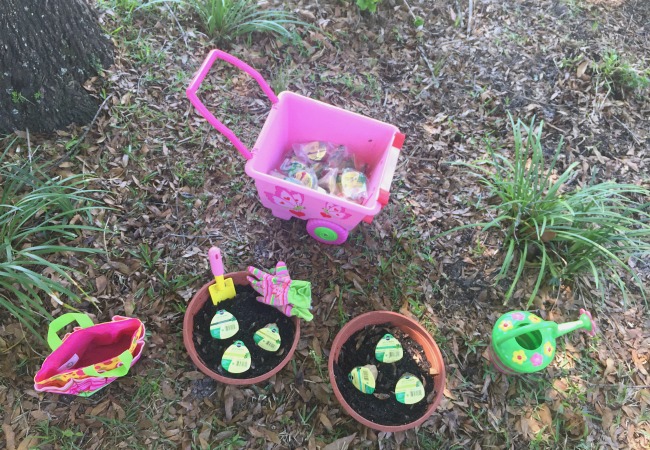 I'm excited that I didn't have to worry about picking the proper way to start my seeds, what to use to feed our plants or have to bring potting mix home in my trunk from the store. It's all set for me in a biodegradable container. This planting season I feel like I'm set for success with my kids. Now I can focus on the fun stuff of planting a vegetable garden with my kids as we explore how nature and food work together.
Making Simple Garden Markers with Kids
You know me it wouldn't be gardening without an extra "spin on it". This garden needed a little print to help with my littlest readers. We had super fun making plant labels for our vegetable garden with just a few supplies. Plus it gave us a chance to make a game out of it too.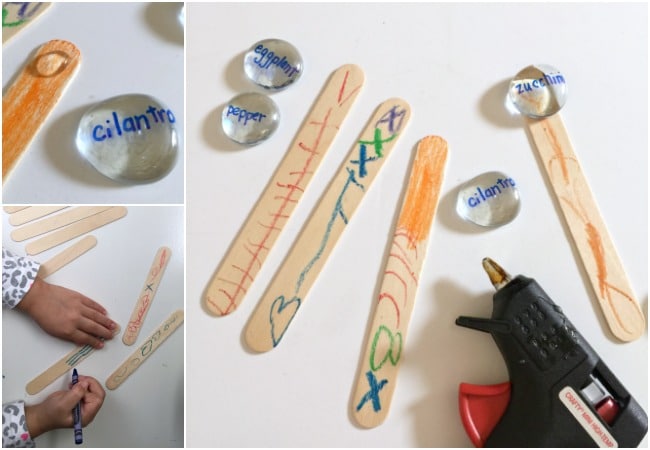 Supplies Needed
Glass Gems

Permanent Marker

Hot Glue Gun

Hot Glue Sticks

Popsicle Stick

crayons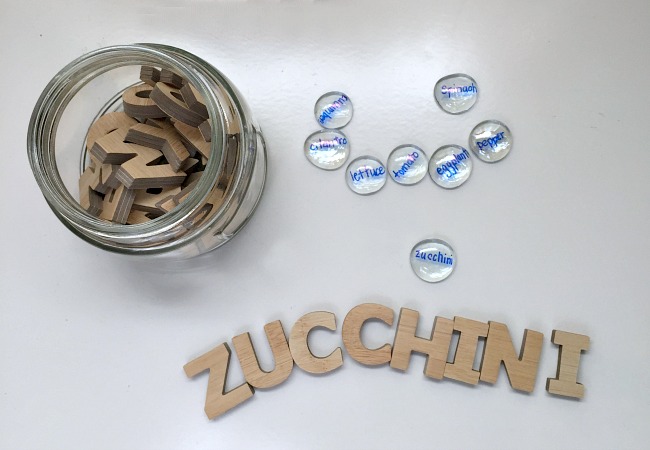 Directions for Simple Garden Labels
We used the Gro-ables containers to help create our garden labels by copying the text on each of the seed containers. The we grabbed our bamboo letter but you could also use alphabet gems or plastic letters to practice spelling the words on the garden labels. The older kids will be able to spell out the words but for younger children you could have them make beginning sounds with pictures from the seed Gro-ables top labels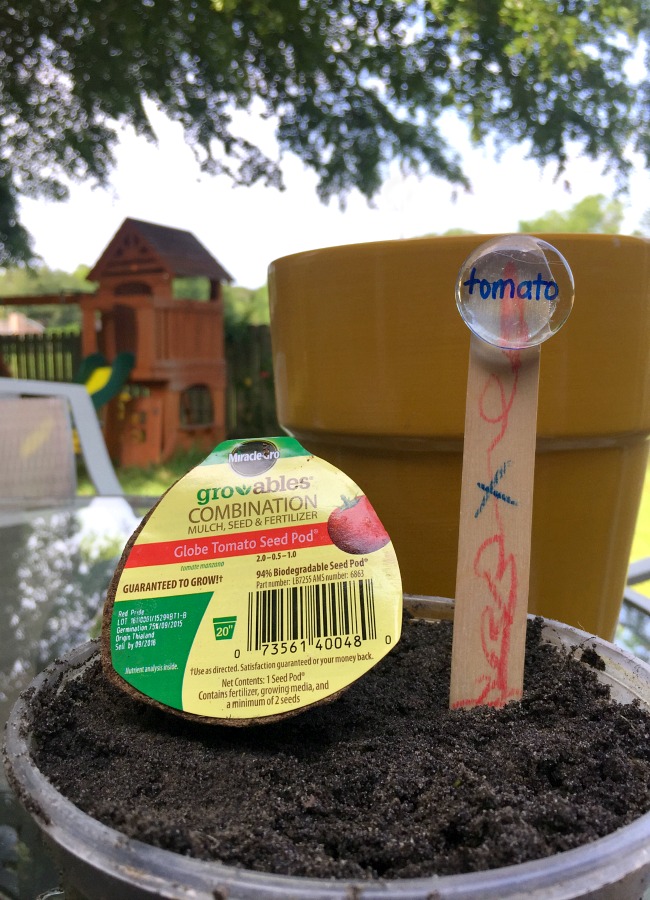 Then we used crayons to decorate the popsicle sticks for each of the garden labels. Once complete the adult hot glued the glass gems onto the popsicle sticks. I recommend once dry also gluing from behind to get a good seal on the stick since they will be outdoors. Now it's time to label the plants and watch them grow!
Take a peek at this video to learn more about Gro-ables


I can't wait to see how our garden grow this year with the kids learning about where food comes from. Many thanks to The Gro-ables Project for letting us try them out!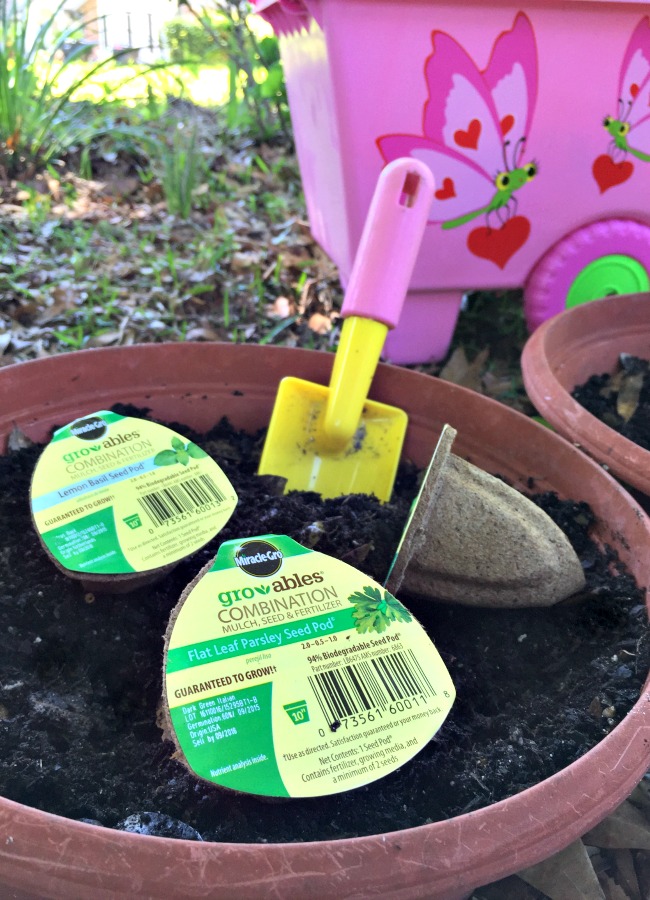 "Miracle-Gro believes that there's a lot to learn from even the smallest plants. They started The Gro-ables Project : a movement to share the joy of growing herbs and veggies while giving kids truly hands-on learning experiences. Join them by planting your own Gro-ables today!
What are your tips for growing plants with your kids?