Get your kids excited and motivated to READ more this summer with the  2016 SCHOLASTIC SUMMER READING CHALLENGE . Our family participates in the Scholastic Summer Reading program every year.  It's free, well organized, and packed with reading resources for kids of all ages.
Note:  I did not receive compensation in any form for this article. It is a program I use with my own kids to help them stay motivated. I've included Amazon Affiliate links in this article if you wanted to purchase some books for your summer reading adventures!
2016 SCHOLASTIC SUMMER READING CHALLENGE AND NATIONWIDE READING ROAD TRIP
In 2015, Scholastic inspired more than 267,000 kids from 6,229 schools in all 50 States and 28 countries to read a total of 286,611,349 minutes!
With Scholastic's summer reading program children can
log minutes online
download and print free reading resources
get book lists
watch inspirational videos
meet your favorite authors and illustrators
earn rewards
enter for a chance to win Klutz books!
log on to see how many minutes your school has
Register your Children for the 2016 SCHOLASTIC SUMMER READING CHALLENGE 
Starting today, educators can begin pre-registering their students (grades K–8) in the Scholastic Summer Reading Challenge, the free online summer reading program that has generated more than 1 billion reading minutes from kids around the world since 2009. Once a class is registered, teachers are set to track their students' reading progress all summer and access free reading resources including: a reading pledge, letters to parents, and free summer book lists for pre-K through Young Adult, including Spanish and bilingual titles.
Key Dates for the 2016 SCHOLASTIC SUMMER READING CHALLENGE 
March 21, 2016 – Educators can pre-register their students/classes
May 9, 2016 – Kids can begin logging their reading minutes and parents can access free resources and daily reading tips
September 9, 2016 – Scholastic Summer Reading Challenge closes
Bestselling author Dav Pilkey (Captain Underpants and the new Dog Man series), has signed on as the Scholastic Summer Reading Global Ambassador.
DAV PILKEY "BE A READING SUPERHERO" CONTEST:
In support of this year's theme, "Be a Reading Superhero," author Dav Pilkey has pledged to be a real-life superhero and help get books into the hands of kids across the country before the summer break. Starting today, teachers can enter the Dav Pilkey 'Be a Reading Superhero' Educator Contest for a chance to win a free summer reading book for every child in their school. One school in each U.S. state, territory and in the District of Columbia will be selected to win an array of popular, age-appropriate Scholastic titles. The contest ends April 11, 2016. For more details and rules, please click here.
SCHOLASTIC SUMMER READING ROAD TRIP:
Starting May 2, 2016, Scholastic is hitting the road with two Scholastic Summer Reading Road Trip RVs that will visit bookstores, schools and libraries across the country. Kids and families can visit the "pop-up" reading community events, meet some of their favorite authors and illustrators, and engage in fun reading activities. The RVs will visit cities nationwide throughout the summer, including: Atlanta, Boston, Chicago, Cincinnati, Denver, Los Angeles, Miami, New York City, Orlando, Salt Lake City, San Francisco, San Jose, and Seattle. Parents and educators can follow the progress of the Scholastic Summer Reading Road Trip on social media @Scholastic and #SummerReading, and on the Summer Reading Challenge website (scholastic.com/summer).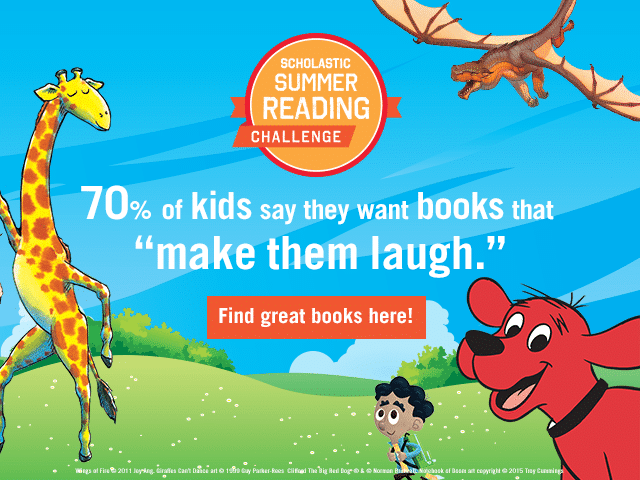 Get Started Reading with Some of our Book Lists here at The Educators' Spin On It: