Create a little winter fun focused on learning your ABC's with this fun pretend snow themed alphabet sensory bin.
This hands on snow experience will be a winter hit in your home. Plus discover tons of snow themed activities featured in our virtual book club activities below!
Here's how to make this snow activity including a recipe for pretend snow…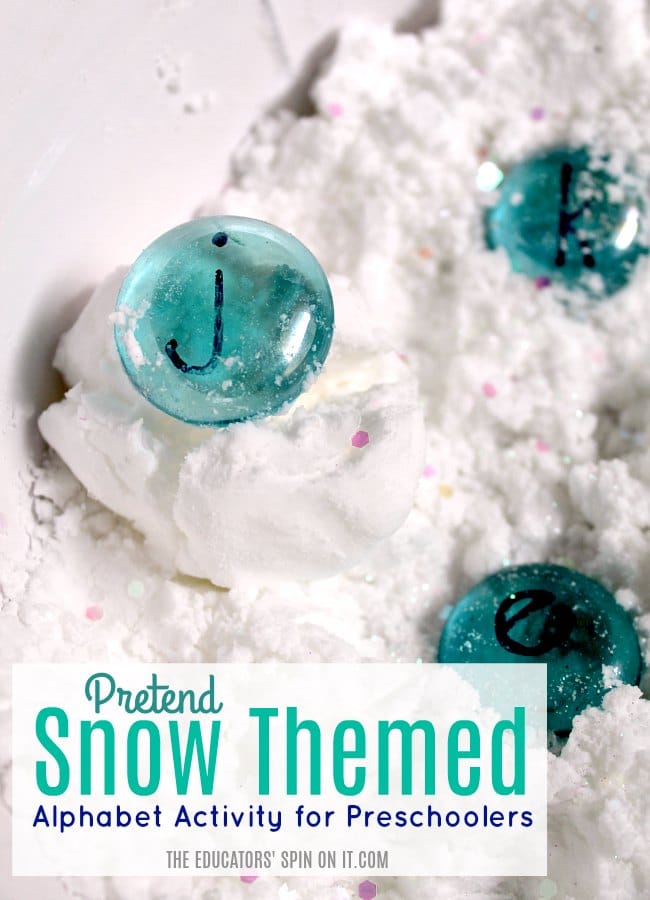 Disclosure: This post contains Amazon affiliate links.
We're slightly obsessed with snow after our recent trip to Colorado. Did you see my photo of the beautiful snowflake on instagram?
My girls got to make a snowman, we drove up into the snowy rocky mountains and got to go sledding too, which is pretty special for our Florida born girls. The morning the woke up with snow covering our car and the roads was quite magical! Click here for a peek on instagram!
This activity for snow week was inspired by all of these snow and finding a way to bring it home with us. Unfortunately, even with the latest snow storm that took over the nation it didn't come far enough south to where we live in Florida, just a few hours away. We wanted to have some more fun with snow.
Below I'm sharing a recipe on how to make your own pretend snow. However, you can also just order instant snow which I highly recommend trying out with your child at least once. It's quite magical!
What I like about this pretend snow recipes is that you can make it on-demand with a few items from around the house. Keep reading below to see how to make your own pretend snow turned out!
How to Make Pretend Snow
The Snowy Day by Ezra Jack Keats
Materials Needed for Snowy Themed Alphabet Sensory Bin
Ingredients for Pretend Snow Recipe
3 cups baking soda
1/2 cup conditioner
measuring cup
For a little more fun you could add snowflake beads or snowflake sequins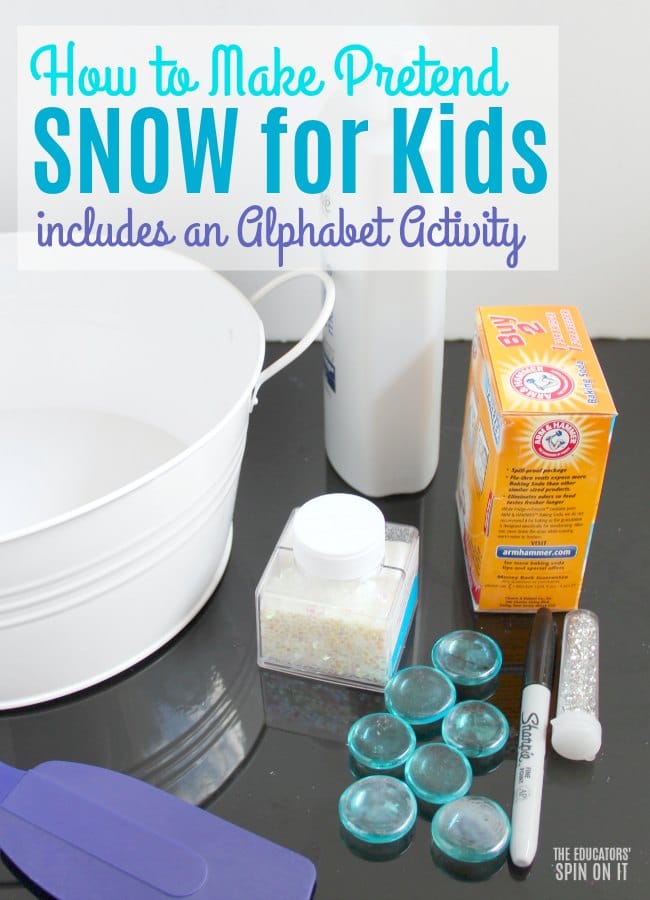 Recipe for Pretend Snow
1. Grab your dish pan or container to create the snow in. Set up the ingredients and then read the story The Snowy Day.
Ask your child what they would do on their own snowy day?
Find a place in your house or outside that you can make a mess and get started making your own snow.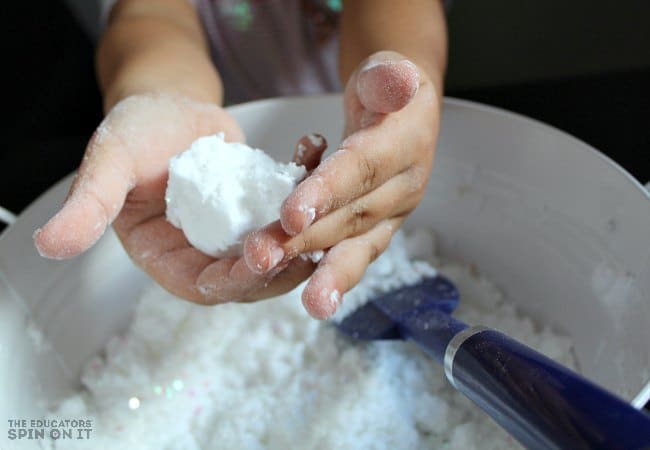 2. Measure out 3 cups of baking soda and 1/2 cup conditioner. You can do this to consistency as you mix the two ingredients together. You want it to still feel flaky like powder snow.
If you add too much conditioner it turns into a paste (lessoned learned the hard way)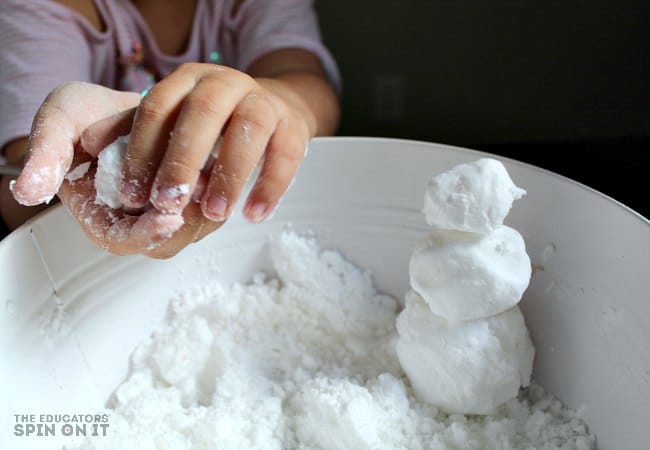 4. Add some glitter to the pretend snow for a little extra fun. Let your child play with it for a bit as a sensory experience.
We had fun making a few snowmen as we played with this pretend snow.
Snow Themed Alphabet Sensory Bin
Once you've created the pretend snow then add some letters onto the glass gems with a permanent marker. I recommend doing this writing with your child and talking about the letter and talking about the letter sound that it makes as they learn their alphabet.
Add the letters to the pretend snow. Challenge your child to find the letters in the snow. Then set up a sheet of paper with the letters written on it next to the big one so they can take them out and match them onto the letter sheet.
LETTER CHALLENGE: You could also add the spelling of their name or any sight word that they are beginning to learn.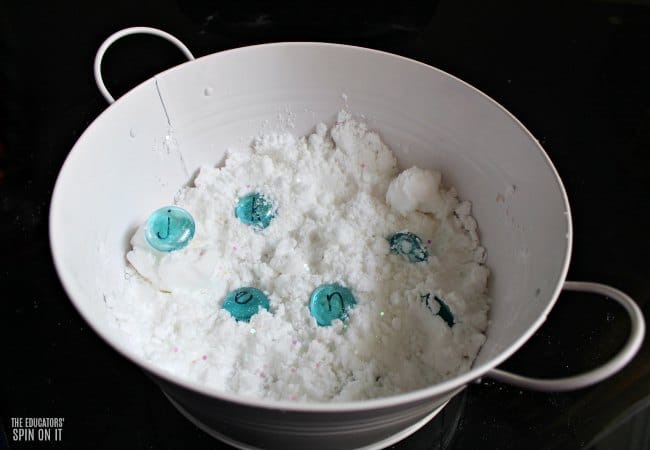 HAVE FUN and let your child PLAY! You could also change this to numbers, sight words or even math facts that your child can match it onto a sheet of paper with the answer.
Snowy Day Themed Activities for Preschoolers
Take a moment after you create our snow themed alphabet activity to check out below the other snow themed activities to go along with the popular children's book The Snowy Day.

Snow Themed Activities for Preschoolers and Toddlers
Snow Themed Alphabet Sensory Bin – YOU'RE HERE
Snowball Name Fight – Rainy Day Mum
Snowball Number Recognition Game – School Time Snippets
Bring In the Snow! – Mama Smiles
Snowstorm in a Bag– JDaniel4's Mom
Snowy Day Sticky Table for Toddlers– Toddler Approved
Easy Winter Toddler Art – Messy Little Monster
Snow Science Explorations – Inspiration Laboratories
Winter Science: Fizzing Snowmen- Teach Beside Me
Painting in the Snow with 3 Ingredient Snow Paint- Views From a Step Stool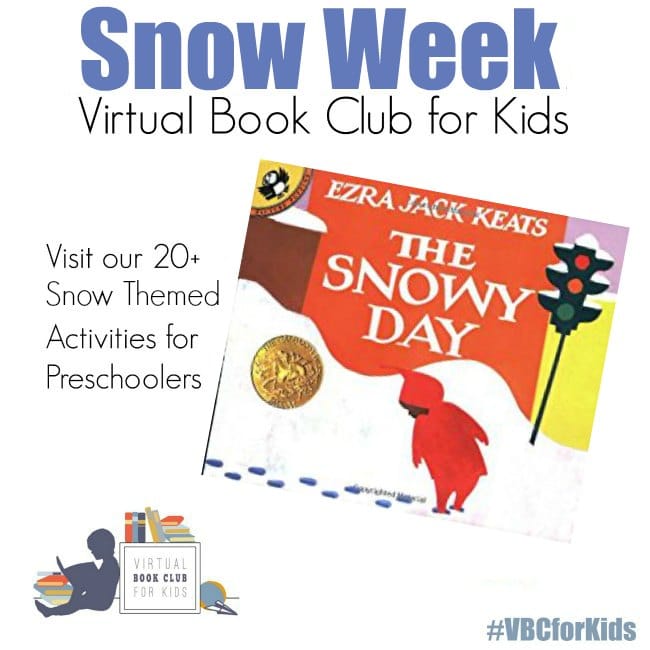 Snow Themed Activities for Kids from The Educators' Spin On It
Come share your snow themed activities for Preschoolers and Toddlers in our Virtual Book Club for Kids Facebook group nearly 10,000 moms, teachers and grandparents!
Looking for more Winter fun? Try these Winter Themed Activities for Kids!