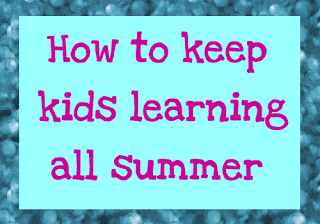 Summer break is quickly approaching. We know that kids have the potential to make learning gains over the summer if provided with an enriching home or childcare environment. It is so important to make sure that learning happens in the summer months. Here at The Educators' Spin On It we try to incorporate fun, hands-on learning activities, field trips, and the more traditional academics into our daily summer routines.
Summer Curriculum & Books Reviews
If you are looking for inspiration, there are some great summer programs out there to help your child continue learning throughout the summer months.
Here are just a few that we have collected, purchased, and/or had the opportunity to review.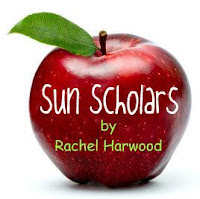 SUN Scholar Summer Program:
The Sun Scholar Summer Program is simple and fun way to keep your child engaged and having fun all summer long! Created by a Rachel a teacher and a Mom of 3, she has found a way for families to easily incorporate educational curriculum into our daily summer schedules. The program has 12 weeks of program activities just for you for just $30. It includes over 240 activities. That means that each week consists of approximately 20 activities, four for each day, centered around a particular theme.
The program has printable ½ page activity cards, each explaining the activities and suggestions on how to adapt them to your child's needs. They are very easy to follow, even your children will enjoy reading them.
The best part is she's done all the planning and organizing for you so that you have more time to spend with your children making memorable moments and fun while secretly working on reading, writing, math, social studies, science, art, music and more!
We love that it includes Themes that will get any child interested in Learning this Summer!
:: Getting Started :: Mail Mania :: Animal Fun :: Mice, Cookies & More ::
:: The Great Outdoors :: Beach Party :: Secret Agents in Training :: Fun With Fairy tales ::
:: Space Explorers :: Back to School :: Hocus Pocus :: Incredible ME ::
I think one of my favorite units is Mail Mania. There are so many ways it is connecting into our lives this summer. First and most important we enjoy traveling during the summer.
Summer Camp Activity Ideas for Home
Then we've been learning about World in our Around the World in 12 Dishes
Plus we are getting ready to host the Love Books: Summer Reading Book Exchange
We also have a summer camp ebook available.
And now our Virtual Book Club Summer Camp Series is Available for families!
So when you combine all of these fun things we have mail coming from all over that relates to my daughter. Plus you know junk mail arrives all the time that we can track. I love the idea to record and graph where all of the mail comes from.
Plus she's included a printable to create your very own stamps.
I foresee hours and hours of fun at our house this summer! Another great thing I like about this program is that you can take it with you easily as you travel throughout the summer. It would work well for activities on an airplane, long car ride, waiting at a restaurant or at Grandparents house.
The supplies needed are simple things and you can easily print out a theme and bring it with you without having to carry a large book.
Check out these Reviews from Moms & Bloggers we Trust!
Crayon Freckles Smiling Like Sunshine
SUMMER Bridge Program: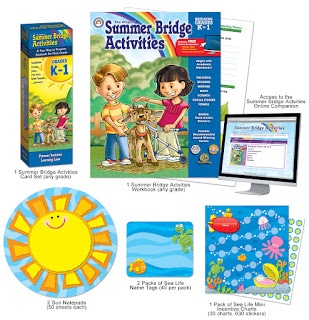 The publishing company Carson-Dellosa also puts out a summer program that has been a favorite of mine as a teacher for many years.  (They sent us this amazing package to try out with our kindergartners in return for sharing this information with you. All thoughts and opinions in this review are our own!)
One of the main components is a workbook for kids, but don't worry – not all worksheets are bad.
In fact, a little each day can keep skills up to speed. I really like that the book is set up into 3 different months with one page (front and back) of mixed skills for the kids to do. My daughter was ecstatic about the entire thing and begged to start right away. I explained that she was only allowed to do one page every day and this limitation has made it all the more exciting (gotta love 5 year olds!).
Every morning she has woken up and completed her page during breakfast.  Because she is a reader and likes a challenge, I ordered the 1st grade going into 2nd package.  This right at her independent level, meaning that she can read 95-100% of the words independently.  
It is important to know if your child would benefit more for the current grade, a grade higher (enrichment) or a grade lower (extra support).  If you are not sure, you could always ask their current teacher for a recommendation!
This morning, she did a little work with time, long vowel sounds, reading comprehension (matching a sentence to the correct picture) and read a fact about how long glass takes to decompose. This led into a discussion about composting and recycling. Other days there are little fitness challenges that encourage kids to complete a fitness task.
I really like how the workbook is visually easy to read, colorful, and highly motivating. It isn't overwhelming, but also covers a vast amount of academic content.
As a parent, I also appreciate the addition of character development. Although we talk about it as a family, it is important to highlight special words like flexibility and what it means in our house. Our children have very limited screen time, but an online companion also comes with the purchase of each book.
The second main part to this program is a set of 2 activity card bundles. In the past 5 days, I have spent over 7 hours listening to her read jokes and facts out loud to me. One of these packs will be traveling with us on the airplane. These flip cards would also be great entertainment for when the family goes out to restaurants!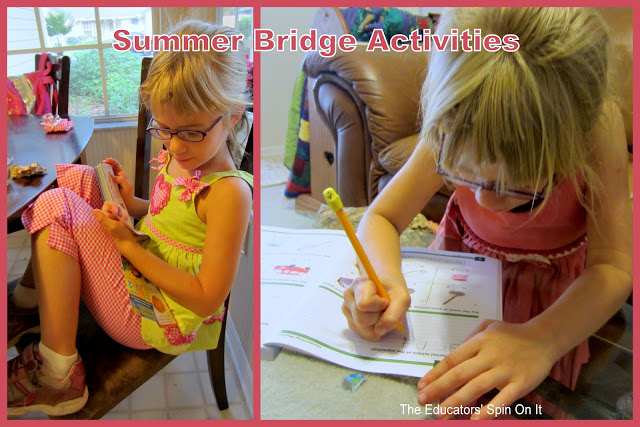 The Summer Learning Bridge group has really done a superb job making a summer academic review program that is easy and affordable for us parents to use!
SPECTRUM Workbook Series:
Although both my daughter and I really enjoy the summer bridge program, I really want her to have more practice reading for an academic purpose. She usually reads books of her choice at least 1 hour every day and is becoming quite a well versed, fluent reader. A trip to the local teacher store (these are great for parents too) led me to the Spectrum set of workbooks. The picture is a link to the same one I purchased on Amazon, they have all the grade levels available there too.  (I just like shopping locally when I can!) 
I went in looking for first grade reading material that was organized in a visually clear manner. I mainly was looking for a reading specific book so that we could focus on reading comprehension, phonics, and fluency in on-grade level text. 
Although I went in for one book, I ended up getting three; the Reading, Language Arts, and Math one as well. 
The writing book used dotted lines in both red and blue which is very visually overwhelming for my daughter who struggles to see well daily, so I didn't purchase that one! These are very basic and not as "fun" looking, but exactly what I was looking for. 
(I went through 10 different companies' books cover to cover to find this one!)
Summer Pinterest Activities:
Here's are our favorite Summer Reading and Writing Activity Boards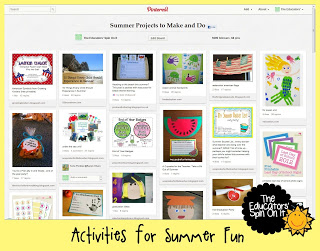 Plus we're always looking for great ideas for Summer Activities.
Follow us all Summer Long as we PIN Summer Activities
How do you plan to help your children learn over the summer? Do you know of any other great resources? If so, please tell us about them!