Looking for a way to thank summer volunteers from your child's vacation bible school or summer camp? Try these gift ideas for VBS Volunteers.
The power of Volunteers!
I hadn't planned to share about our week at VBS on The Educators' Spin On It but after watching all 4 of our children attend Vacation Bible School I can't help but not to share. For the past few years, my daughter has enjoyed attending Vacation Bible school. This year my youngest got to join the group too.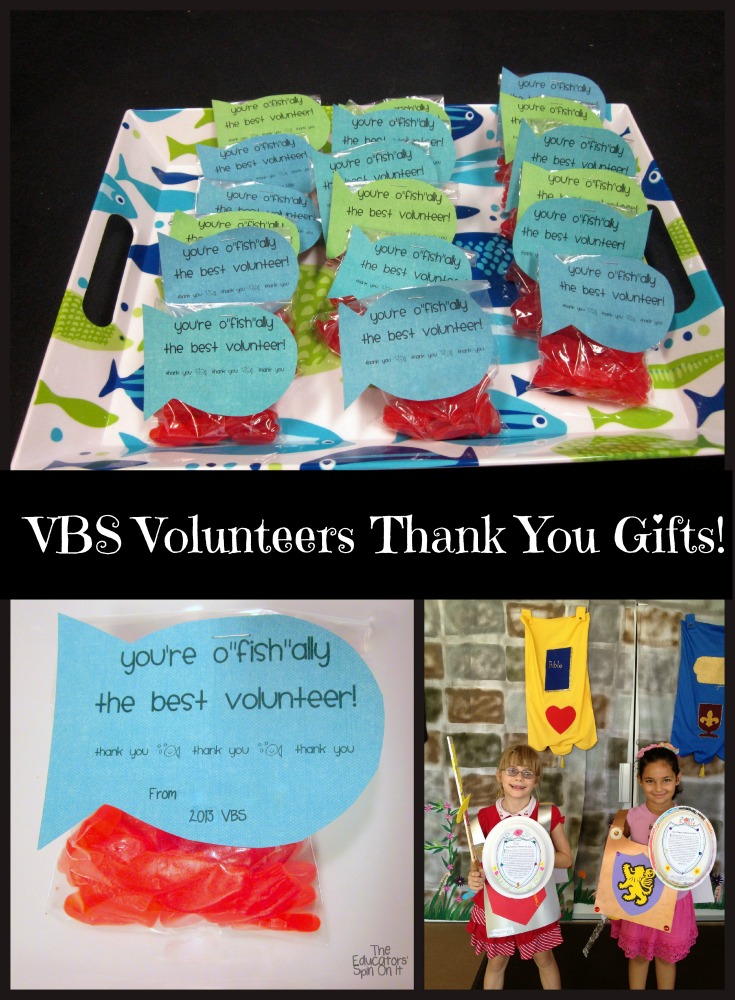 Thank You Gift Ideas for VBS Volunteers
I'm amazed year after year how in one week you can pull so many people into volunteering to make it happen. It's exhausting I'll admit being there day after day teaching so many kids but the payoff is AMAZING!
This year's theme was Kingdom Chronicles. Truthfully it's so much fun year after year to see what the new theme will be. I volunteered to do crafts this year with 60 + preschoolers. We spent the week making a belt, breastplate, shield, sword, and a castle all based on the verse Ephesians 6:10-18. We "Put on the whole armor of God" !
It was really fun themed for the kids to participate in and visualize the verse.
I believe the final count was somewhere around 80 adult and youth volunteers that participated. I'm sure in locations all over there are tons of volunteers doing the same thing all summer long. I'd love to encourage you as a parent to volunteer, really they can't do it without you. I also would love to encourage you to show your gratitude to their service. It really takes quite a bit to put your life on hold for a week. PLUS the amount of preparation is HUGE.
Here's a fun way to tell someone thank you for volunteering with your child this summer.
Many of us get our children involved with fun adventures over the summer with people we don't usually see. From Swimming lessons, Special Classes, Summer Camps, and Vacation Bible School…We tend to plug our school aged children into fun programs. 
At the end of the week or camp it's always fun to give a big thanks to the teachers and volunteers. They are out there doing this for your children and I really do suggest you give them a big thanks. We have many ideas for thank you gifts for teacher that would work well for this too.
I promise even the simplest thing, like a handwritten note or picture from your child is perfect!
Grab a little treat and put it in a bag to give!
Here are two little gift ideas we've use that are easy to make!
You are o "fish" ally the Best Volunteer!
For a treat idea you can include Swedish Fish
You are "Beary" Special!
For a sweet treat you can include Teddy Grahams or Gummy Bears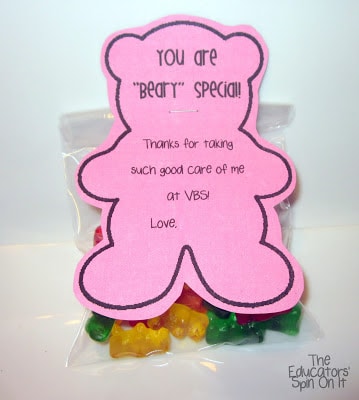 Teaching your children to appreciate and notice others and to show their gratitude is such a big lesson in life.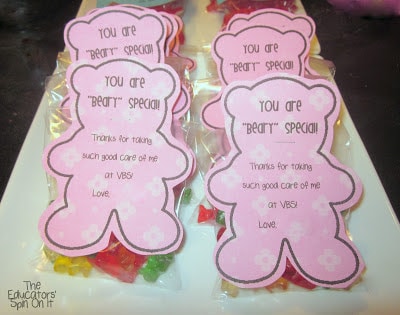 After teaching 60+ Kids this week at VBS for 5 days my sweet dear friend, Amanda, showed up one afternoon with a BIG Sweet Tea… trust me it meant a lot and it was JUST what a needed! It's the little things you never forget!
More Gift Ideas for Summer Volunteers and Teachers
Best Gift for Summer Camp Teachers
Thank you teacher for helping me bloom.
Teacher appreciation gift ideas