The ULTIMATE Guide to choosing the right puzzle for your child! They are one of the best learning toys that every child should have.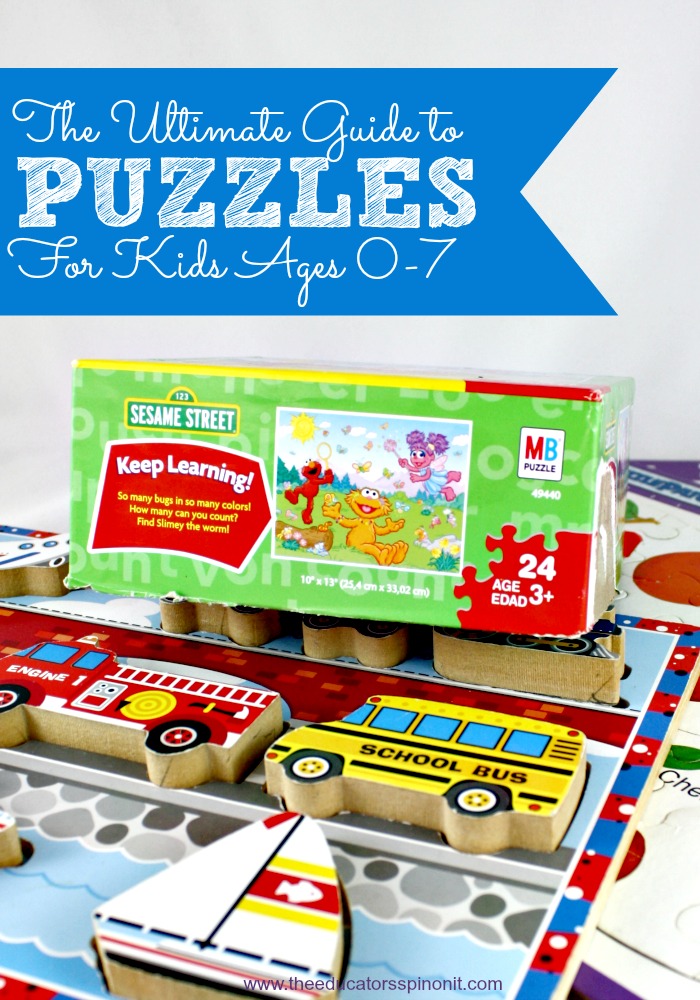 What is YOUR child's favorite puzzle?
What Are the Benefits of Playing With Puzzles?
Puzzles help develop hand-eye coordination.
Pam Myers, BSEd
  explains this connection, "When children flip, turn, remove, etc. pieces of the puzzle, they are learning the connection between their hands and their eyes." – Child Development Institute

Puzzles help children develop problem solving strategies. Dump a puzzle and then look at the pile of colors and different shapes.  Children need to figure out a way to re-build it.  Through this process, they develop problem solving strategies that best work for them. "Either the puzzle piece fits or it does not. Your child uses critical thinking skills to solve the puzzle and, best of all, you can't cheat a puzzle!" – Teach Make a Difference

Puzzles help reach a variety of different learning styles.  Janice Davis discusses the use of letter and number puzzles to teach academic content in a different way.  She states that "All children learn differently and puzzles may be their medium for grasping an understanding of certain themes such as alphabet letters." – Learning 4 Kids
Choosing the Right Puzzle for Your Child
Choosing the right puzzle can be overwhelming. The good news is that you really can't go wrong. Even if you buy a puzzle that is too advanced for your child at their current developmental level, then you can put it away in a closet and save it for some time in the future.  

For Babies and Toddlers: I like to have 1 wooden puzzle and one plastic puzzle to start with.

For Preschoolers – I personally thing that they need a minimum of 5 different puzzles to rotate between.  I like to have 3+ wooden puzzles and 2 learning puzzles minimum for each child. Of course, having more can help keep puzzles exciting and new. Try rotating puzzles.  Keep 2-3 in a closet and 2-3 out for use.

For Grade Schoolers- I recommend having 5, 100+ piece puzzles available for children to build. Choose more challenging colors and patterns for advanced learners. Use puzzles to help kids wind down before bedtime, while connecting with family members.

If you can – find a friend that is willing to trade puzzles with you.  That way, if they have five and you have five, those ten puzzles can rotate between houses, keeping the kids engaged and excited about puzzles when their own come back.

To build your puzzle collection on a budget: Look at garage sales, consignment shops, and thrift stores for discounted puzzles still in good condition. I'm linking the puzzles in this article to Amazon using my affiliate links for ease of purchase.

Puzzles make great timeless gifts for birthday's and holidays as well.  Read on for my top puzzle picks in each age category.
Puzzles for Babies and Toddlers:
Wooden 3 Piece Puzzles:

I personally like the basic 3-4 piece wooden puzzles with large knobs for my babies.  All three of my children started off with the Melissa & Doug Pets Jumbo
 puzzle at around 6 months old.  My last baby just turned two, so we passed on our wooden knob puzzle to a friend with a baby.

At 6 months old, my babies could not place the pieces in correctly, but they could take them out!
Gradually, with practice, they started to be able to put the pieces back in.  We often played peek-a-boo with the pieces and pretended to make the animal sounds when we played.

Melissa & Doug Deluxe Fish Bowl Jumbo Knob Puzzle

Melissa & Doug First Shapes Jumbo

Melissa & Doug Pets Jumbo
Plastic 5 Piece Puzzles

We have also had the Fisher-Price Brilliant Basics Activity Puzzle
.  My 3rd child LOVED being able to open and close the door, crinkle the birds winds and squeek the dog collar.  The extras made it a little more of an interactive toy during the first stages. I tend to limit puzzles that make a lot of noises in our household.


Fisher-Price Silly Sounds Puzzle

Fisher-Price Brilliant Basics Activity Puzzle

Fisher-Price Laugh & Learn™ Magnetic Cookie Puzzle
Wooden 9-12 Piece Peg and Chunky Puzzles.
My 2 year old is a master of puzzles and can put these together in just a few minutes.  We take two out at a time and mix the pieces together in a pile so that he has the opportunity to sort the pieces out to the correct puzzle. This adds one more beginning math skill to the activity. Some of these puzzles have pegs and some just have chunky pieces.  Both are easy for little hands to manipulate.  We are slowly trying to introduce the 12 piece wooden preschool puzzles, (see the next section) but he gets frustrated with them.
Chunky Shape Puzzles

Big Chunky Pieces are easy for toddlers and preschoolers to grasp.  Fewer pieces and simple shapes make for a great transition from the easier 3 piece puzzles.
Primary Puzzle – Robot

Primary Puzzle – Airplane

Guidecraft G2022 
Primary Puzzle, Car

Primary Puzzle – House
The 12 Piece Puzzles
My kids have traditionally moved from the 3 piece puzzles to the 12 piece wooden puzzles in the preschool age range.

Playful Pets Jigsaw (12 pc)

On The Road Jigsaw Puzzle (12-Piece)

Best Friends Jigsaw Puzzle (12-Piece)
About this time, we also received a few magnetic puzzles as gifts.  The car one is actually crazy hard since all of the pieces are similar in size and shape. Don't be fooled by simplicity- these puzzles add a little extra hand-eye coordination challenge and sneak in a little science too.
The transition from the shape puzzles to these 9 piece puzzles can be difficult for little ones.  Provide parental support and teach them problem solving strategies for completing the puzzle.
Can you find the corner pieces?
Let's put all the puzzle pieces with a little bit of blue in one pile.
Can you find all the pieces to make the dog?
Can we find all the edge pieces and put them together first?
16 Piece Frame Puzzles

I think that the transition between the 12 and 16 piece puzzles happens around the same time.  We purchased on 12 piece puzzle and 4 16 piece frame puzzles and rotated between them.  Typically the cardboard frame puzzles are a bit less money and take up less storage space (win- win!) These puzzles often come in a variety of popular characters. 


Disney Frozen Elsa 16 Piece Puzzle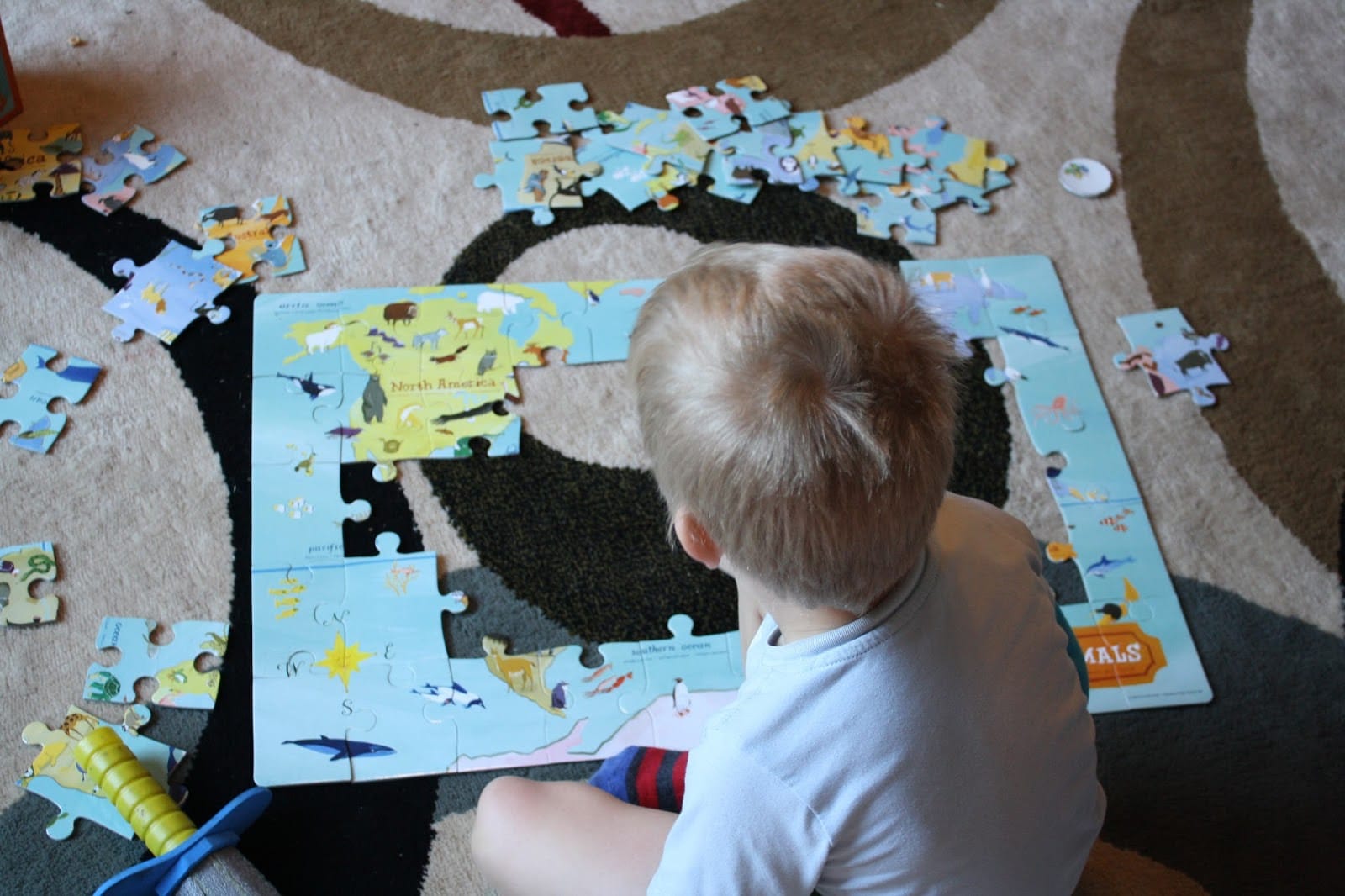 20-30 

Piece

 Floor Puzzles
Around the same time that frame puzzles are of high interest to children, so are giant floor puzzles!  These puzzles often take on a unique shape and can be several feet long in length.  The pieces are large, making it easy for young children to put together. Since these puzzles are larger, they do take up more storage space.  We purchased a few, put them together a couple times and then passed them on to my son's school as we just don't have the storage space.
Doc McStuffins Floor Puzzle – 46 Piece
24-30 Piece JigSaw Puzzles
Preschoolers begin to navigate the world of jigsaw puzzles starting with 30 pieces. These puzzles continue to be used through 1st grade, so stocking up on a few isn't a bad idea.  Each puzzle is usually less than $10 and can take children any where from 5-20 minutes to complete depending on their skill level and the complexity of the puzzle. If you are like me and have kids of both genders: choose puzzles that will appeal to all children, so that they can be used for many years.
I had to search on Amazon to find these.  Look for terms such as: Disney 24 piece puzzles or Animal 30 piece puzzles.
Preschool Puzzles that Teach 
I also like to include a few puzzles that teach academic concepts to children in a fun and playful way.  Our ABC puzzle is great for building problem solving skills AND when I'm there to put it together with my preschooler, we talk about the letter names and sounds. The pieces themselves can even be used as math and reading manipulatives in other learning activities as well.
Puzzles that Teach ABC's and Beginning Sounds
Puzzles that Teach Numbers
Puzzles that Teach Shapes and Colors
Lift and Learn Colors and Shapes Puzzle

Melissa & Doug Shapes Peg

Melissa & Doug Shape Sorting Clock
Puzzles for Grade Schoolers
60 Piece Jigsaw Puzzles. 
These puzzles are the perfect amount of pieces for most younger grade schoolers.  We like to set up a sturdy table out of the main traffic area and in a well lit area for puzzle assembly. These puzzles can be done all at once or put together over a couple of days. Growing up, we had a large board that puzzles could be build on. It slid right under a bed or sofa for easy storage. Select puzzles to extend your child's interests in science and social studies or just do them for fun.  
In the Galaxy – 60 Piece Puzzle
World Map Puzzle (60-Piece)
100 Piece Jigsaw Puzzles 
When the 60 piece puzzles are "too easy" it's time to try the 100 pieces.  Smaller and more difficult, these puzzles will help your child work on problem solving and spacial reasoning!
Wild Jungle – 100 Piece Puzzle
For Some ideas on ways to extend your puzzle play, you may enjoy these articles: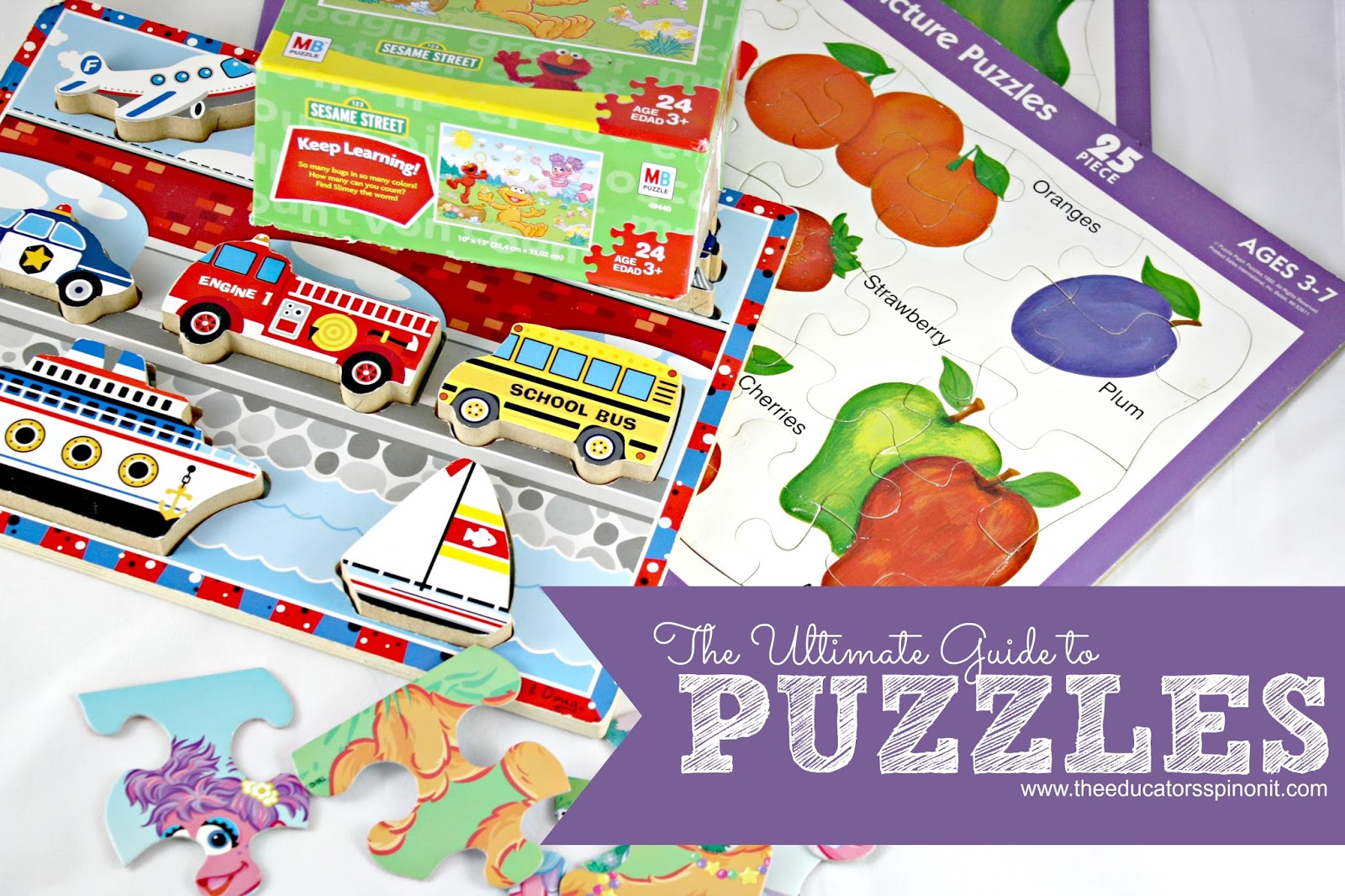 What is YOUR child's favorite puzzle?