Earth is an abstract science idea for most young children. They are very concrete and can relate best to what they can hold, touch, and see with their very own eyes. Earth, as a planet in the sky that we live on can be a difficult concept to grasp.
This solar system floor puzzle activity helps connect them with an image, introduces math concepts and can help enrich science vocabulary.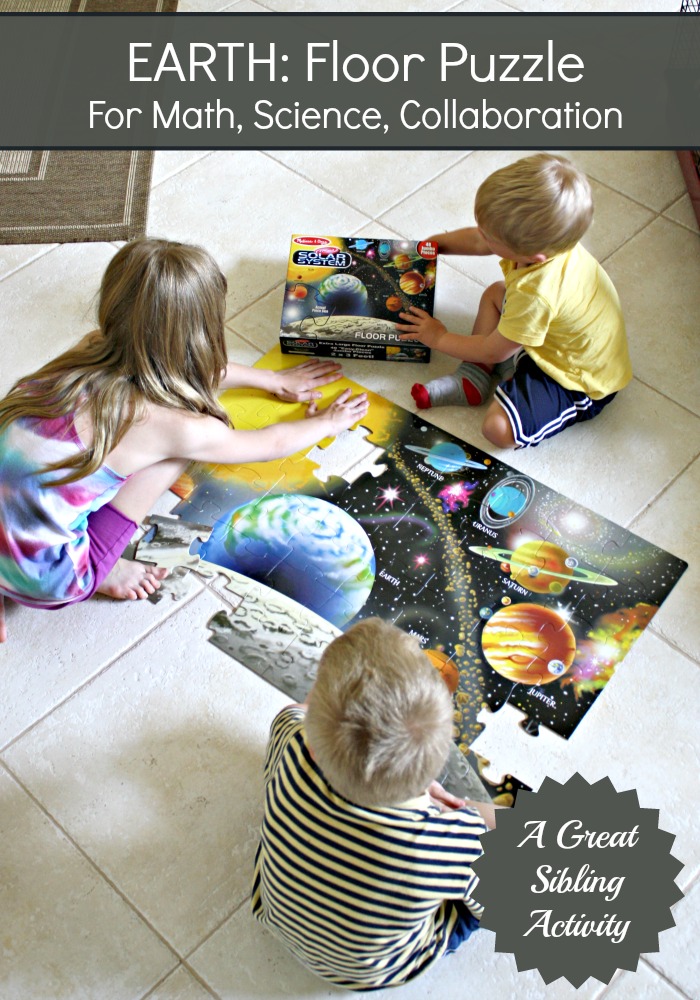 Amazon affiliate links
Learning about Earth Through Play
We have talked about earth with our globe, read books about the planet, and watched some NASA videos about earth, but our favorite way to play and learn has been with our giant solar system floor puzzle.
Learning about Earth with Math:
Earth is the third planet from the sun. This puzzle gives children a basic idea of the order, size, and colors of the planets. When putting the pieces together, they often discuss these attributes among each other. I try to encourage the used of ordinal numbers.
First, Second, Third, Fourth, Fifth, Sixth, Seventh.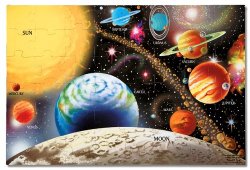 Learning about Earth with Science Vocabulary
So, the floor puzzle alone doesn't build science vocabulary, it is the conversations that take place before, during, and after building the puzzle that really strengthens and enriches children's understanding of earth.
Discussion Questions:
What can you learn about Earth by looking at this picture of the solar system?
In ancient times, most cultures believed that Earth was the center of the universe. How did this idea change over time?
Did you know that the surface of Earth is 70% water and 30% land? How is this represented in pictures of Earth?
Learning about Earth with Collaboration:
A floor puzzle is just the right size for a small group of 3-4 children to work on. They can can share and collaborate in completing the task. This task requires taking turns and most often leads to discussing science and math concepts. It can also be used to motivate students to learn more about planet Earth.
I always like to leave a few related books next to the puzzle, just in case, the children want to seek out more information on their own.
More Earth themed activities from the #PLAYfulPreschool Education Team:
Alphabet Activities: Compost Sensory Bin by Growing Book by Book
Alphabet Activities: Compost Sensory Bin by Growing Book by Book
Wormery Journaling by Rainy Day Mum
Earth Sensory Table Small World by Mom Inspired Life
Learning about Earth Through Puzzle Play by The Educators' Spin On It
On Planet Earth There are Five Oceans – Children's Song by Capri +3
Earth Day Preschool Math and Sensory Play by Fun-A-Day!
Layers of the Earth Felt Puzzle by Powerful Mothering
No Mess Painting Earth in a Bag by Still Playing School
Building Language Skills for Preschoolers: Earth Theme by Live Over C's
Here are some activities to help get the kids excited about and learning more about our planet Earth here at The Educators' Spin On It