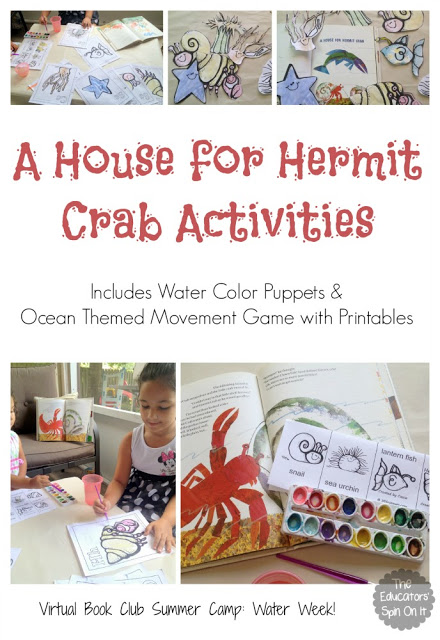 A Summer is not complete without some fun in the Ocean!  One of our favorite books to read about the ocean is
A House for Hermit Crab
by Eric Carle.  I love the various sea creatures that it introduces to children.  Let's have some fun with these special Ocean Animals from the book!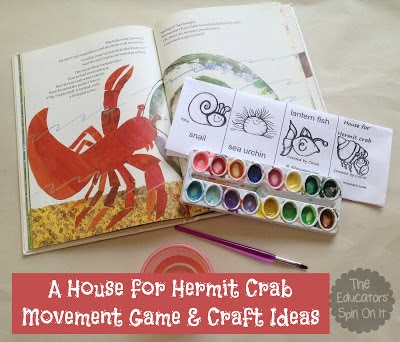 This post contains affiliate links to Amazon.  Click here to view our full disclosure. 
A House for Hermit Crab Puppet & Movement Activity

Directions for A  House for Hermit Crab Puppet Activity 
Let's start with our water colors.  If your child has never painted with water colors before allow them to experiment a little bit before you use the printables.  One suggestion is to encourage them to create the ocean for all of the ocean animals to swim in.  Discuss the water colors and also the types of things that would be at the bottom of the ocean.  This story has some great illustration to look at for inspiration.
Have your camper paint each of the images on the page as creatively as they want to.  For bigger kids you can print out separate pages for each.  For  younger children you can just made them all on one page to keep their attention.  I love this activity because it works for so many ages!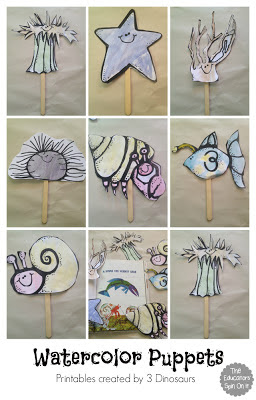 Then once they are dry you can cut out the images.  If you want to attach them to popsicle sticks to create puppets to retell the story.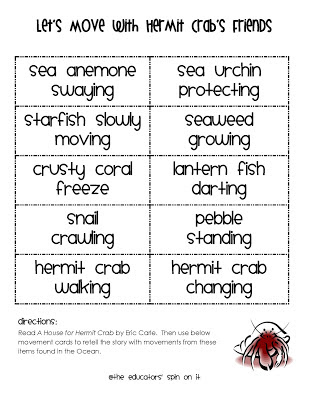 Directions for A House for Hermit Crab Movement Game 
Let's get moving!  Using inspiration from our little sea creatures let's retell the story on a big scale level with our bodies.  Have your child act out the animals as they are drawn form the pile.

Print your own Movement Cards  
Print Your Own Beach Inspired Kids Yoga Poses from Kids Yoga Stories Too!
Build Literacy into this Activity
Have your child match the cards to the puppets!  You could also introduce beginning letter sounds or word cards too.  3 Dinosaurs has some great printables to go with this idea!
Make it a Science Lesson
Here's a quick video of a hermit crab changing shells! Take a visit to your local pet shop for a up closer tour too!  Or better yet be on the look out on your beach trip this summer!
Follow Up Activities with A House for Hermit Crab 
3 Dinosaurs has created several
Printable Packets for a House for Hermit Crab
. They consists of a number varying packets for specific ages, trust me PRINT NOW! I promise you'll use it this summer with your kids!  Thank you so much Cassie for making this special
Coloring Pages
just for the Virtual Book Club for Kids Summer Camp!
Buy Now: A House for Hermit Crab by Eric Carle