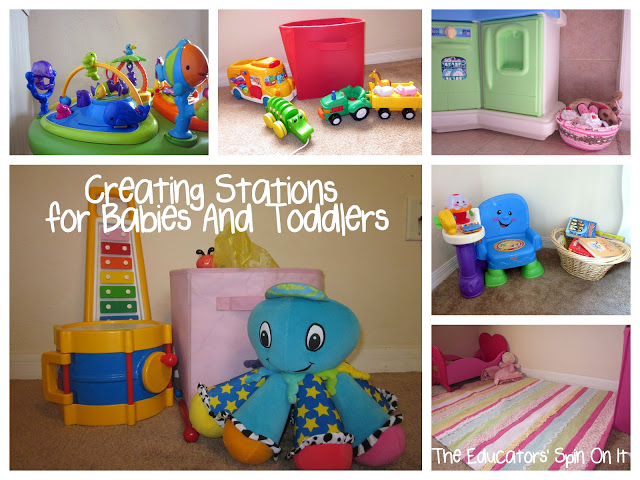 When I made the decision to stay home with my children it was a big step from teaching in the classroom with many children to just one. I couldn't help but think how am I going to keep my baby entertained and engaged during the day just by myself. I think one of the biggest tips I can give you as a Mom and as a teacher is to set up stations. It's really helpful to create toy stations around the house for your baby and toddler to explore during playtime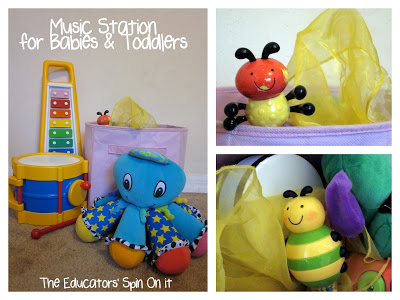 This post contains affiliate links
Tips for Creating Toy Stations
For our house we have a family room with a few areas that easily made toy stations or corners. What I did was create some zones around the room for her to discover as she played. We also did the same thing in her bedroom too so we would have two areas during the daytime to play with. I've always found if I can create something visual for her she tends to stay in that area a little bit longer and engage with the toys for a longer period of time. Sometimes I even set up rugs or a foam mat too, under the toy storage to encourage the length of time spent in an area and also visually it just seems more attractive. I like to set up a fine motor station, a gross motor station, a pretend play area and a book station .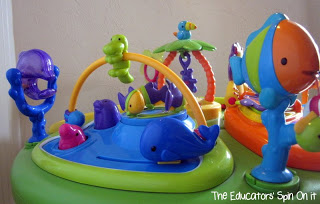 As I set up the stations I try to keep a theme so that she will start to learn how to group things together that are similar. I don't put out everything we have for her to play with. We rotate toys frequently in our house. I keep the others stored in her closet and the toys by groups there too. I find that my children really enjoy discovering new things but it's not necessary to keep buying new ones, just rotate frequently. I usually keep a group of toys out for about 3 weeks and then it's time to switch. Even if it's too a new area of our house. One tip I learned very early on is to also share toys with our close friends. When friends come over for a play date and find a toy they love love love… we file it into the back of our heads and the next time it's time to switch we'll switch some favorites that our little ones are not playing with currently. It's worked out really well and is budget friendly, eco friendly, plus it builds responsibility and friendship with others.
Creating Logical Groupings for Kids
There's a bonus to group things into containers too. Creating Themes also makes Cleanup time a lot easier when you know where they go. Especially for visitors on play dates and also for family members who are busy at work and school during the daytime. As my little one gets older I will also start to label the containers for environmental print to help her learn to read.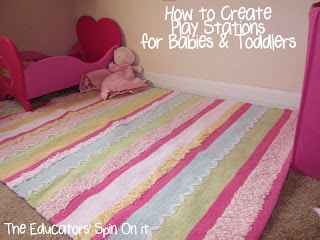 I love this post
How to Rotate Toys
from
Kim Rowe
at
Little Stories
who's site is about Early Speech and Language Development but truthfully I think it's a great blog for parenting and raising successful children. She suggests dividing toys into 3 categories. I'll have to say she read my mind because that's what we've been doing too at our house. The recommended categories are Thinking Toys, Moving Toys, Pretend Toys, and
SCLAN
…shapes, colors, letters and Numbers…told you you'd love her ideas.
Ideas for Storage Containers for Toy Stations
There are so many containers out there to store toys. I thought I'd share with you some of the things that have been successful at our house. We really like using the fabric boxes to store things in. They are pretty sturdy but don't hurt when you run into them as a crawler or beginning walker. Plus they easily transition to bigger kids and even to college, mine just took a few of his boxes to his dorm room. We also like using baskets for toys and books. Whenever I'm at the Dollar Tree or Dollar Spot at Target I keep my eye out. Here's are some ways we use our baskets.
Fabric Storage Containers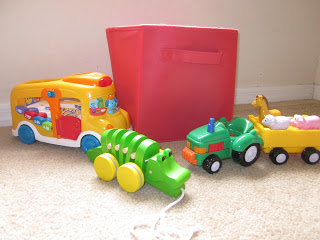 We use Plastic Baskets and Containers that can easily store items in a hurry, including our bath toys.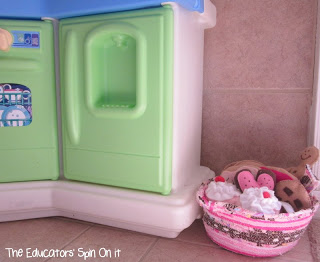 We love our
Fabric Bowl
that Amanda made for my daughter.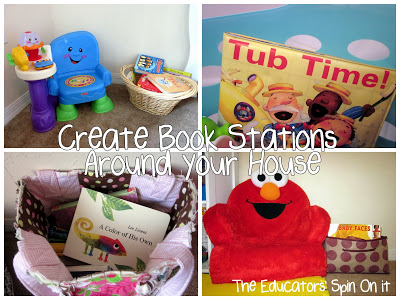 We use Baskets, Plastic Baskets, Boxes and even Handmade Bags for storing Toys and BOOKS! Hope your little one enjoys the stations you set up and they provide many hours of engaging playtime and development! And help you keep you keep organized! Children thrive on structure.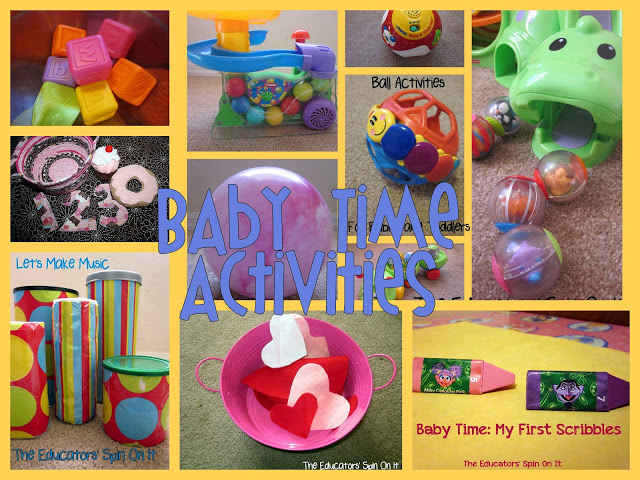 Have a Toddler? Amanda just posted about how she Organizes Toys for Tot School.
Here are a few storage options and toys that are similar on Amazon.
Just click and it will take you there.