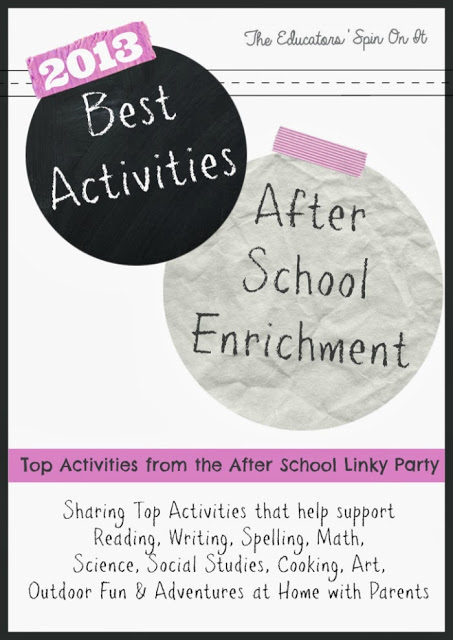 I'm excited to share with you our TOP CHOICES of Activities to do with your elementary aged child selected by the After School Team.  Thank you so much for visiting our sites every week to discover After School Activities and to share your own activities in our Weekly After School Linky Party.  
We're doing something a little different this week and celebrating the end of 2013 with our Favorite After School Activities from our hosts.
I'm amazed that week after week our hosts share activities in a variety of subject areas to help you support your child's learning at home. In the 2013 Roundup of After School Activities, we're sharing our favorite activities for Reading, Writing, Spelling, Math, Science, Social Studies, Arts and Crafts, Cooking with kids and even Outdoor Fun and Adventures.
I encourage you to take a moment to visit each our our After School Hosts and see what top activities they've selected to share with you in each area. What a fun way to engage in your child's learning in 2014.
Top Learning Activities for After School
Arts and Crafts at Mama Smiles by MaryAnn
Cooking at Little Wonders' Days by Kelly
Math at Boy Mama Teacher Mama by  Stephanie Whittle
Outdoor Fun at The Educators' Spin On It by Kim Vij 
Reading at This Reading Mama by Becky Spence
Science at What Do We Do All Day by Erica
Social Studies at Relentlessly Fun, Deceptively Educational
Spelling at The Measured Mom by Anna Geiger
Writing at After School for Smarty Pants by Natalie
Click on the image for each subject to discover their Best Activities!
Thank you & Happy Holidays from the After School Linky Party Hosts
The Educators' Spin On It, After School for Smarty Pants, Boy Mama Teacher Mama, Little Wonders' Days, Mama Smiles, The Measured Mom, Relentlessly Fun  Deceptively Educational,  This Reading Mama, What Do We Do All Day?
Are you ready to join us each week in the After School Party?
After School Activities for Kids
Here are a few tips to get you started in 2014 with After School Activities for your child.
Thank you so much for joining us in 2013. It's been so much fun to see our After School Linky Party grow week after week. We'd love to get your feedback on what you're looking for each week to help support your learner at home.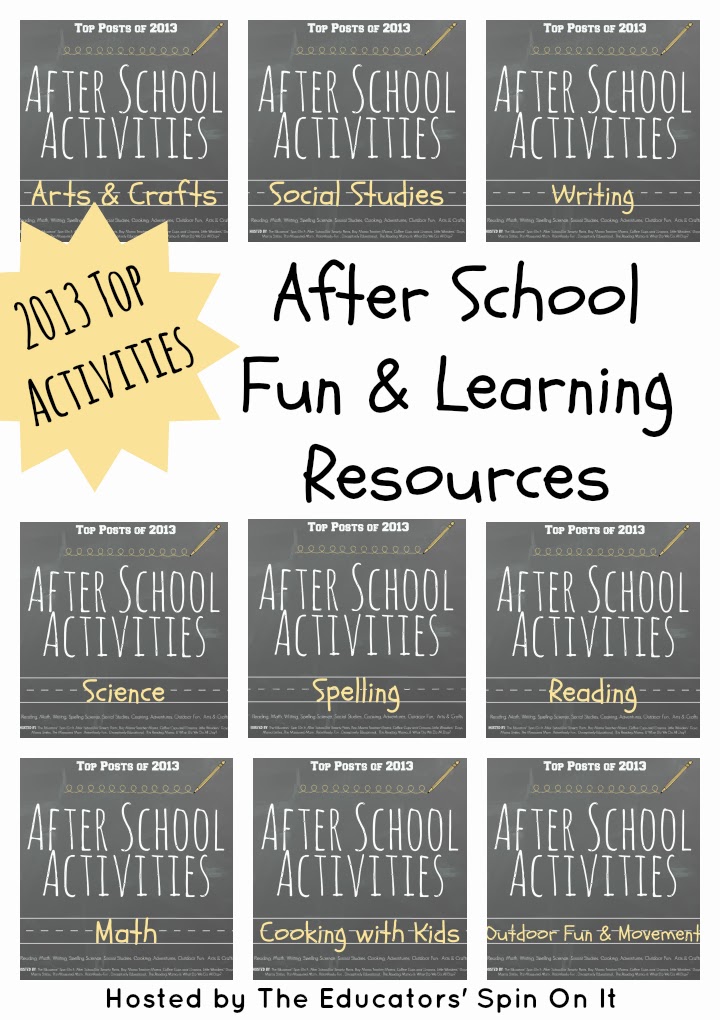 Share with us and leave a comment below…
What was your favorite activity from the After School Linky in 2013 ?
What subject area do you want more activities for in 2014?
What grade is your child in?
New for 2014 – The Educators' Spin On It Newsletter – Sign Up Here!