Get creative this February with open ended heart art projects designed to let little ones explore a variety of art mediums.
When the Heart Art for Preschool are complete, assemble to create a DIY book for children to read and share with their families. An easy homemade valentine!
Art + Literacy = AWESOME!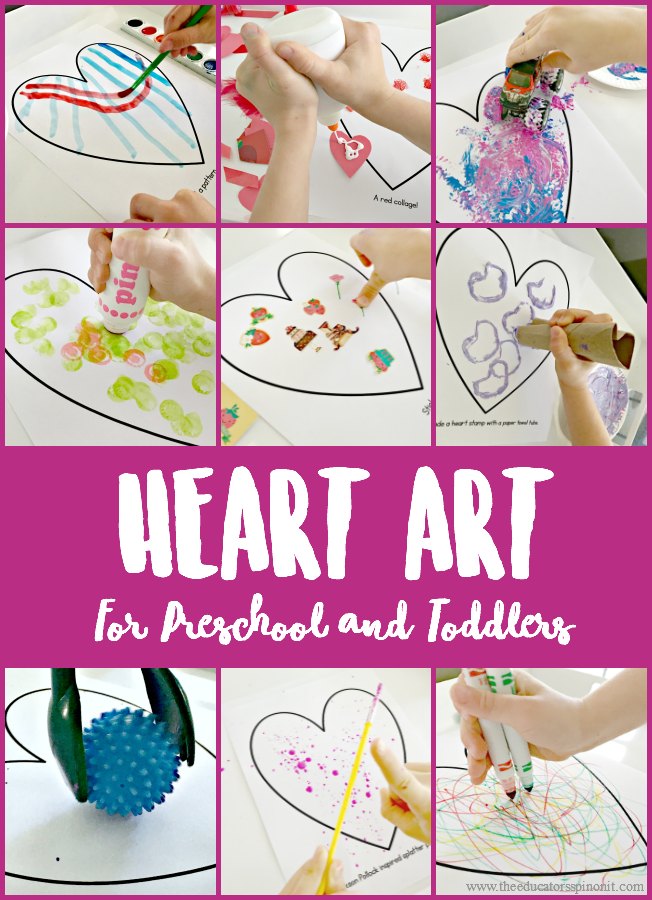 Heart Art for Preschool and Toddlers
From splatter painting to sticker fun, let little ones explore art materials in a way that is open-ended AND gives families a fun end project to enjoy.
Getting started with heart art projects:
Select one or two heart art projects to do each day.
Gather the materials ahead of time. Make enough copies of the selected Heart Art projects for each child.
Allow the child to explore with the art medium.
Set the project aside to dry. At the end of the week, gather all completed projects by the child.
Let the children decorate the cover page with their favorite art medium.
Stack the completed heart art pages and place the Heart Art cover page on top.
Staple on the left side to make a book for children to take home and share with their families.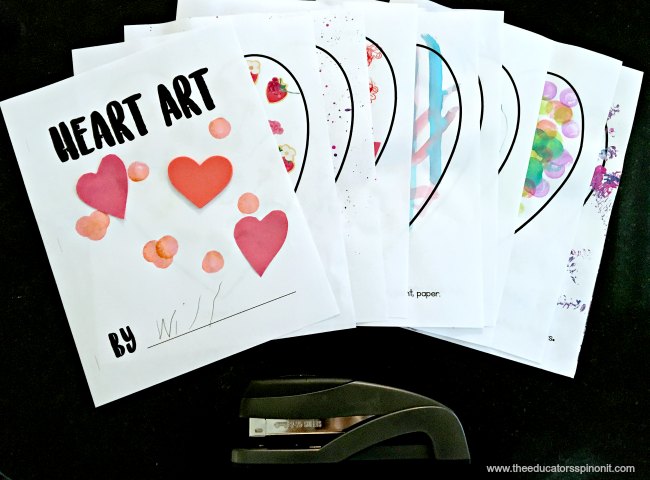 Materials Needed for Heart Art for Preschool and Toddlers
Copy paper
Variety of art mediums. See each individual direction for specific projects.
Printer
Heart art template. Print yours ——>here.
Heart Art for Preschool and Toddlers Notes:
Omit any projects you feel would not be a good fit with the children in your care.
I like to set my projects up on trays. This seems to contain the supplies and the mess, giving little ones a defined area for crafting. This is a white tray purchased from Target many years ago. The white makes it a good contrast to the colored art mediums. We've prevented staining by washing promptly after crafting.
Here's a picture of how I set up some of the heart art for preschool and toddlers. From L-R, collage art, water color , splatter paint, tube stamping, dot markers, car zooming , stickers, and ball painting.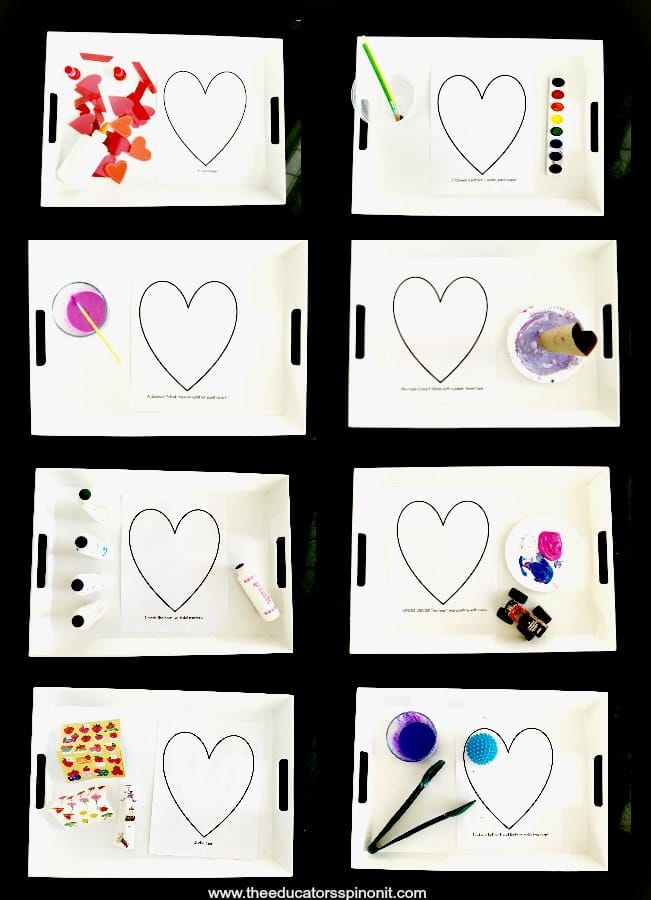 Some teachers like to pre-write the children's name on each page and call them over to explore the art medium during free choice time. Other teachers let children explore the art and then write the name on the page as they are working.
Chose the method that works for your classroom, just remember to label each project with the child's name.
Always keep safety in mind. Small parts, such as lids can be considered a choking hazard for young children. As with all art materials, use safety and store art supplies out of children's reach.
Adult supervision is recommended for all art projects included in this e-book.
CLICK HERE FOR MORE HOMEMADE VALENTINE CARD IDEAS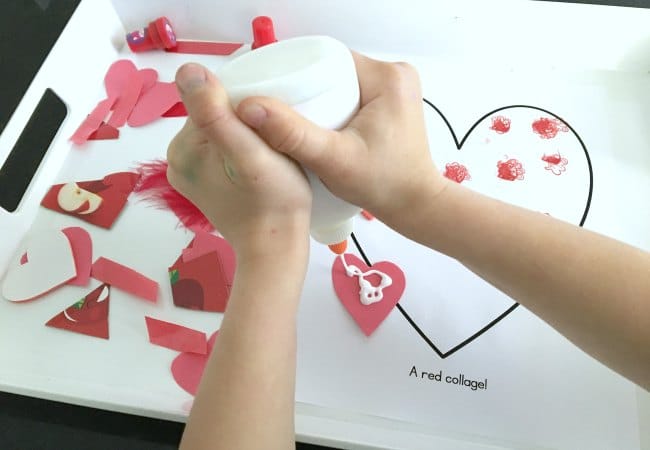 Sample open ended heart art for preschool and toddlers
Collage Heart
Materials needed
Red items (stamps, feathers, stickers, papers, ribbons)
Washable school glue
First, explain to children what a collage is.
A collage is collection or combination of items.
Then, allow children time to create their own collage using the available red items.
Encourage small amounts of glue to be used. Some teachers place the glue on a plate and have children dip craft sticks into the glue to conserve on glue. We have found glue sticks to be ineffective for collages.
Lastly, set flat to dry.
Click here for all 10 heart art projects for preschool and toddlers.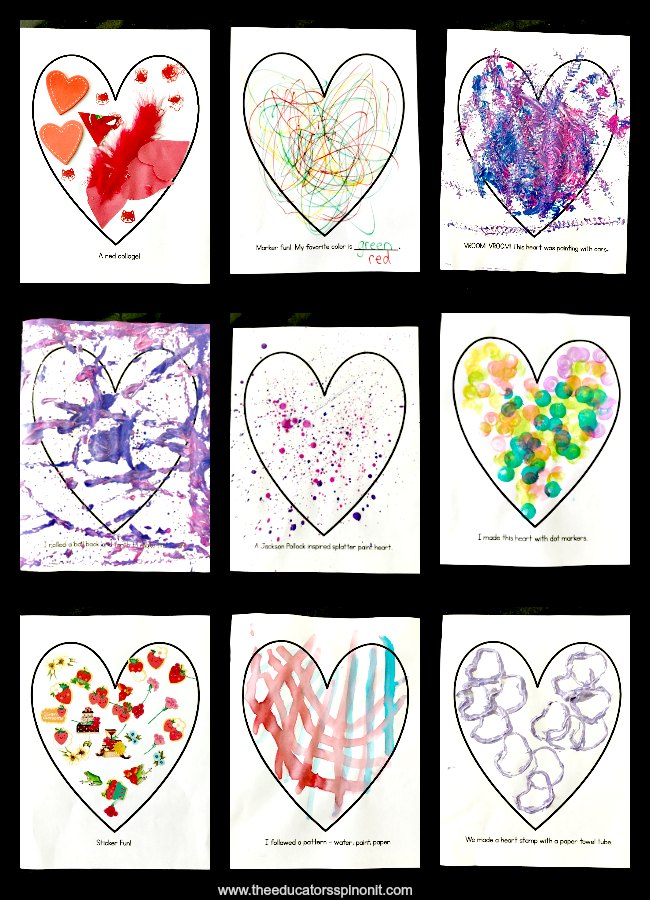 If you are in a HEART themed mood, you may also enjoy:
Heart Themed Sensory Bins for Preschoolers
Easy Valentine's Day Crafts for Preschoolers
Valentine's Day activities for Babies
Learn-to-read color words with heart activities