Gardening with kids can be a learning AND sensory experience.  Children learn best with they activate their sense of sight, touch, smell, sound, and taste.  Adding an herb garden can be the easiest way to start gardening with your kids.
I am excited to introduce you to Victoria a talented mom with education schooling and experience in organizing local mom groups.  She shares her parenting journey and kid-activities at Squiggles and Bubbles.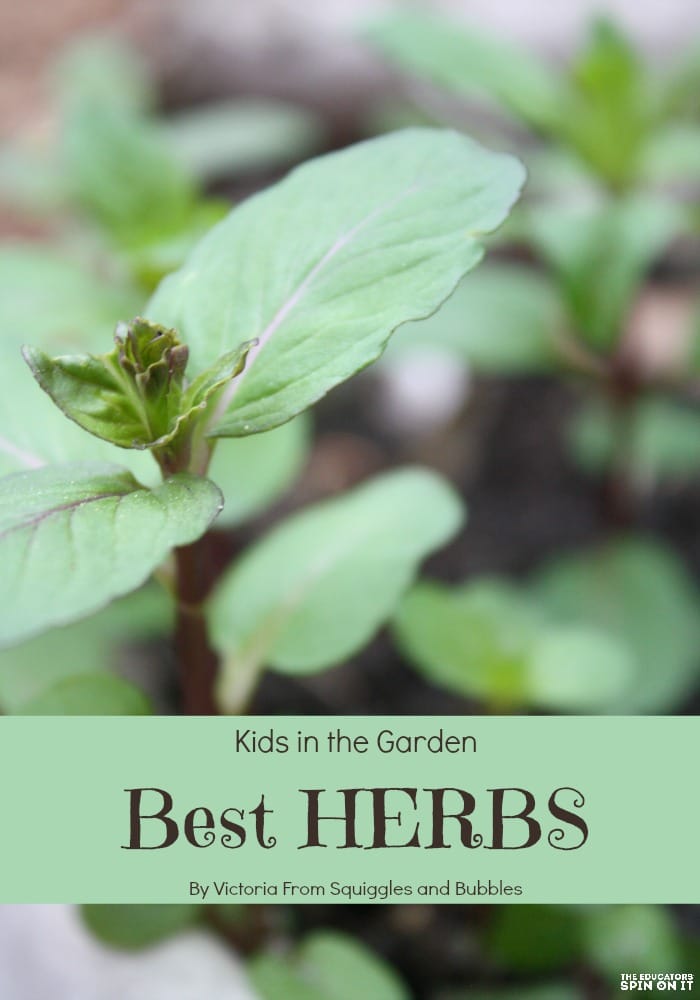 The Best Herbs to Grow with Children
By Victoria
I'm so excited to be a part of the Educators' Spin on It's
Kids in The Garden
project-we absolutely love gardening as it's such a fantastic sensory experience for both Bubbles and Squiggles!Every time I visit my parents' place I
love
going outside and wandering through mum's veggie patch. It's not only a source of food but an amazing sensory garden with all it's overgrown herbs. I wish we had the room at home to make a similar one as I can just imagine all the fun the girls would get up to in it; unfortunately our backyard is quite small and made up of concrete and wood.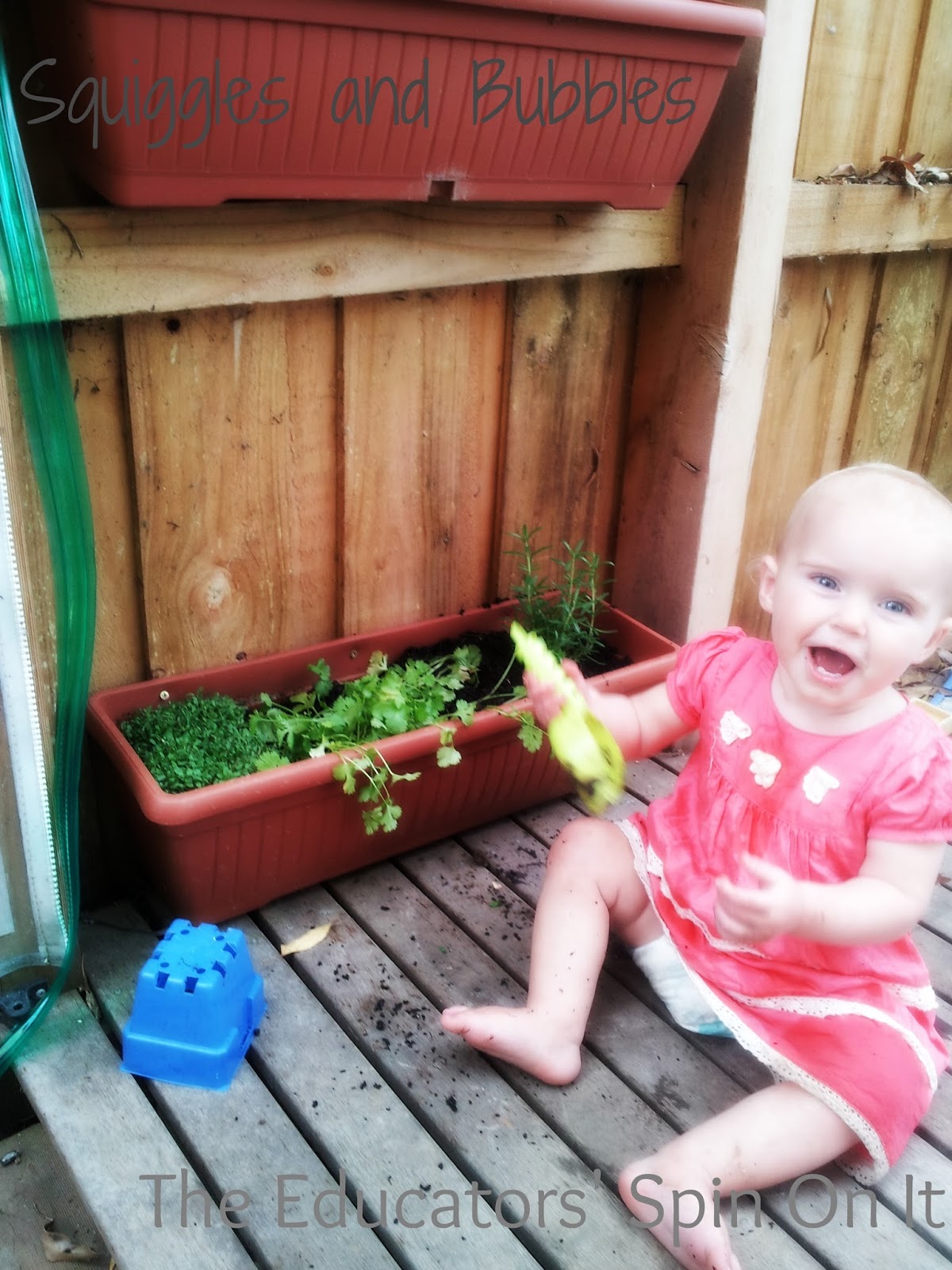 Make an Herb Container Garden
Having a small space doesn't mean we can't have an incredible, sensory garden though! Our local garden center has all sorts of wall gardens suitable for both permanent fixture and temporary ones- I'm sure if you look you'll find some at your local garden center too. My husband and I opted to make our own using supplies we already had in the garage.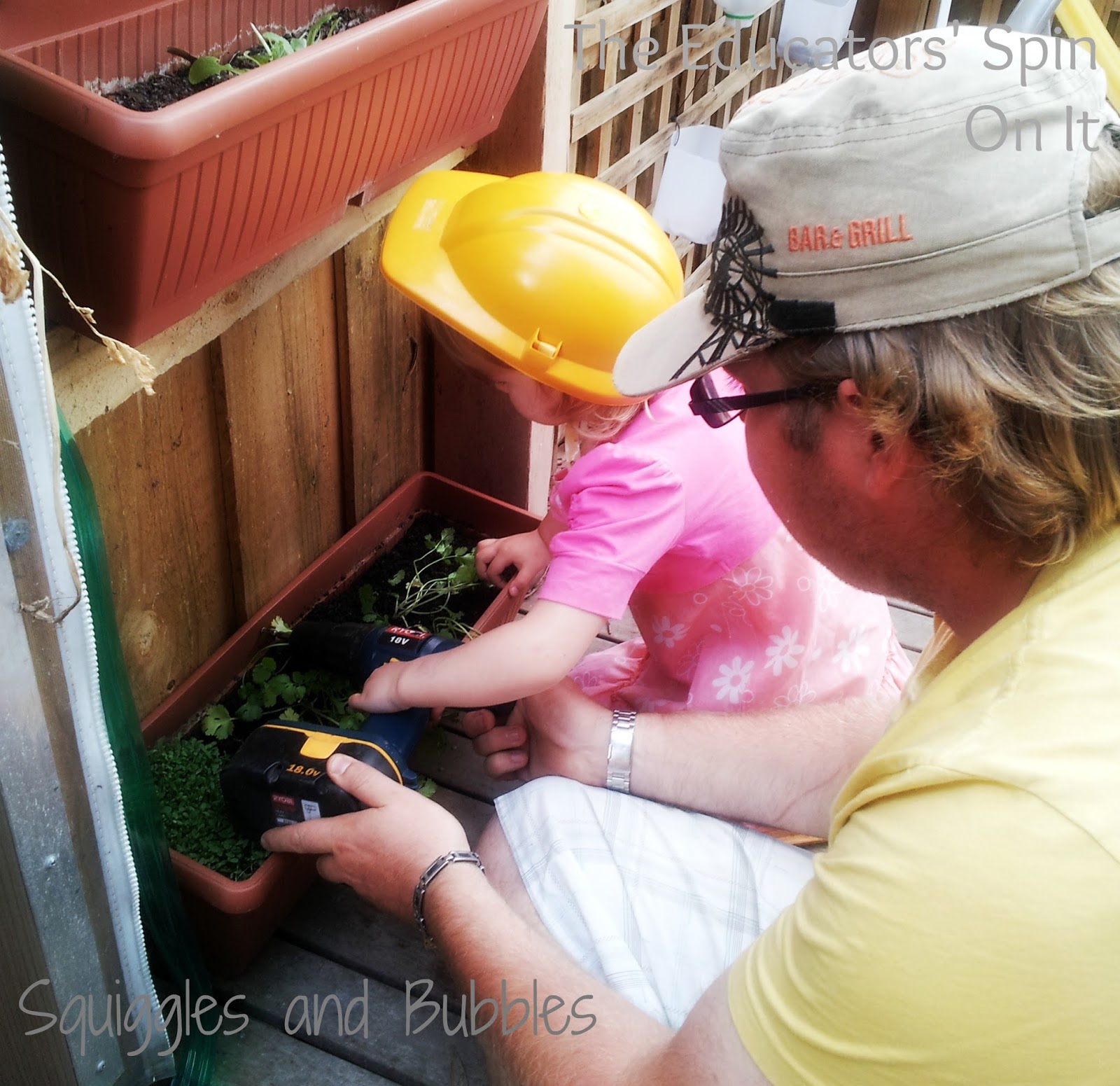 To make our sensory garden we simply took three rectangular planting pots and screwed them on to our wooden fence. (One of them already had herbs growing in it and the other two had potting soil in them.)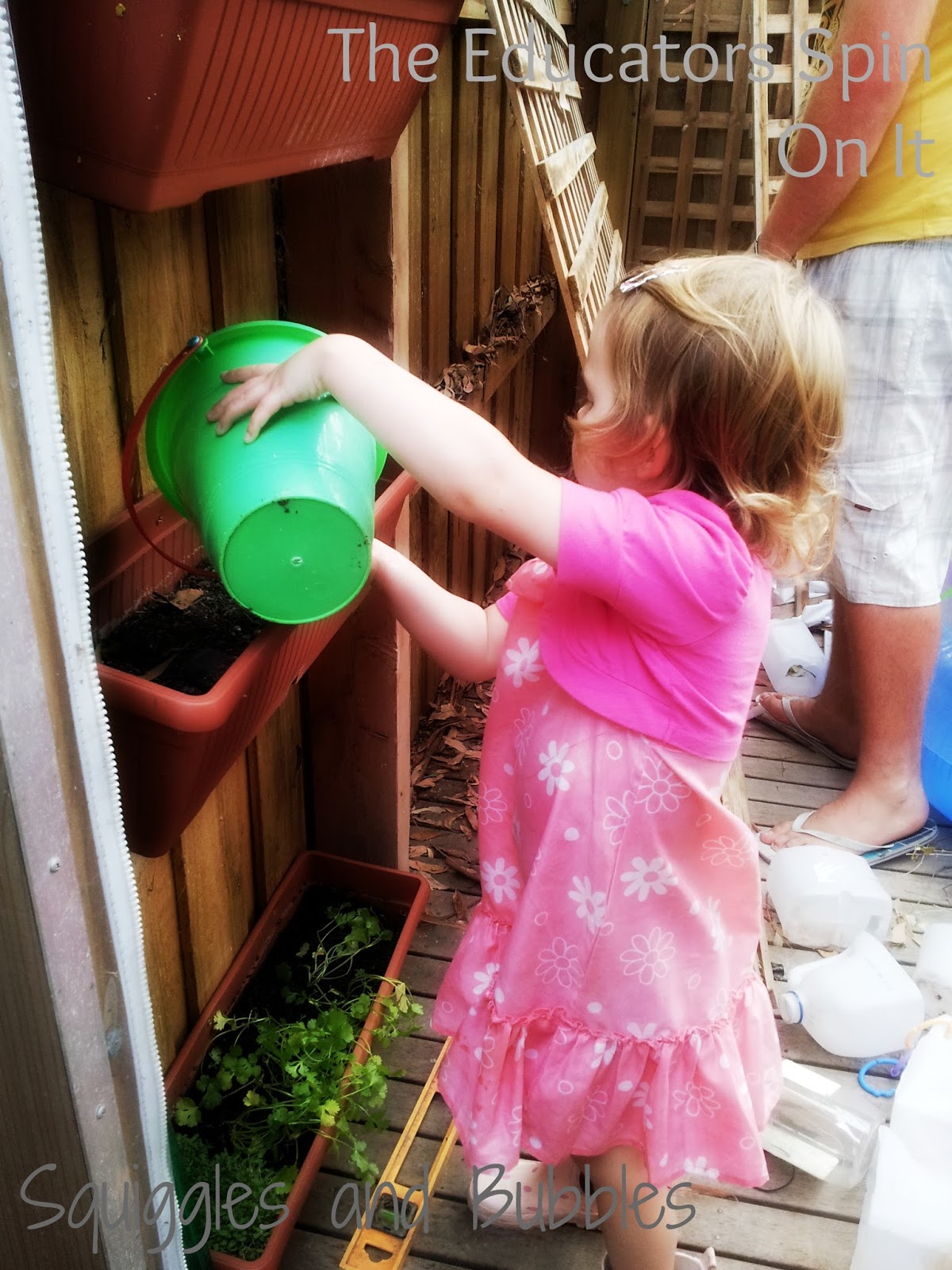 Bubbles then filled up the pots with dirt from our veggie planter box, making sure to transfer some friendly worms at the same time. Once they were three quarters full, she took great delight in mixing the dirt with the potting soil so that we could begin the real fun and PLANT (or in Squiggles' case, un- plant) our herbs!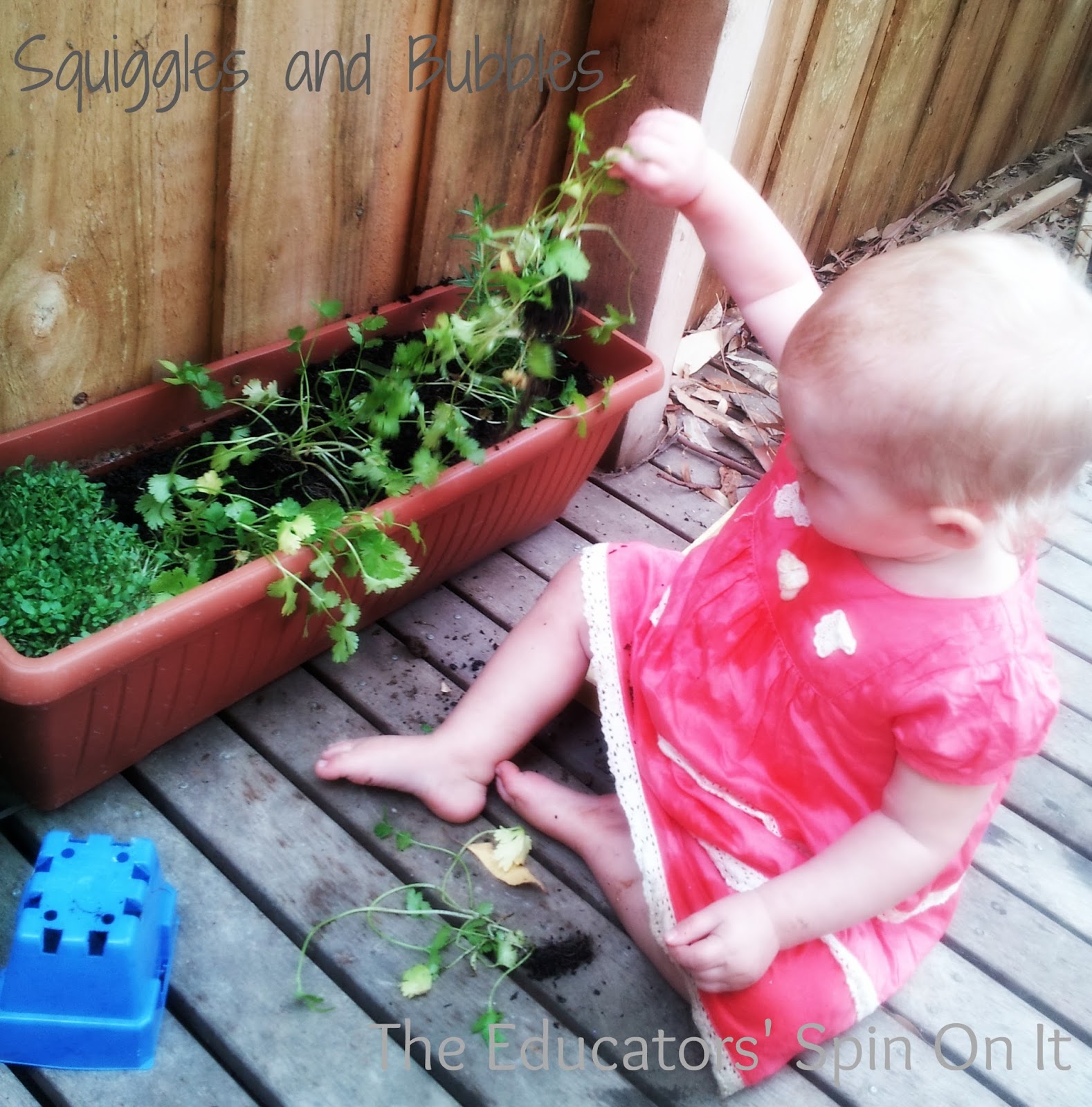 The Best Herbs to Grow with Children
Our herbs are still growing but from previous experience these herbs are our absolute favourites to plant from seed as they grow almost like weeds and can take most of the 'love' Squiggles and Bubbles dish out:
Alfalfa
Basil
Mint
Parsley
Rosemary
Thyme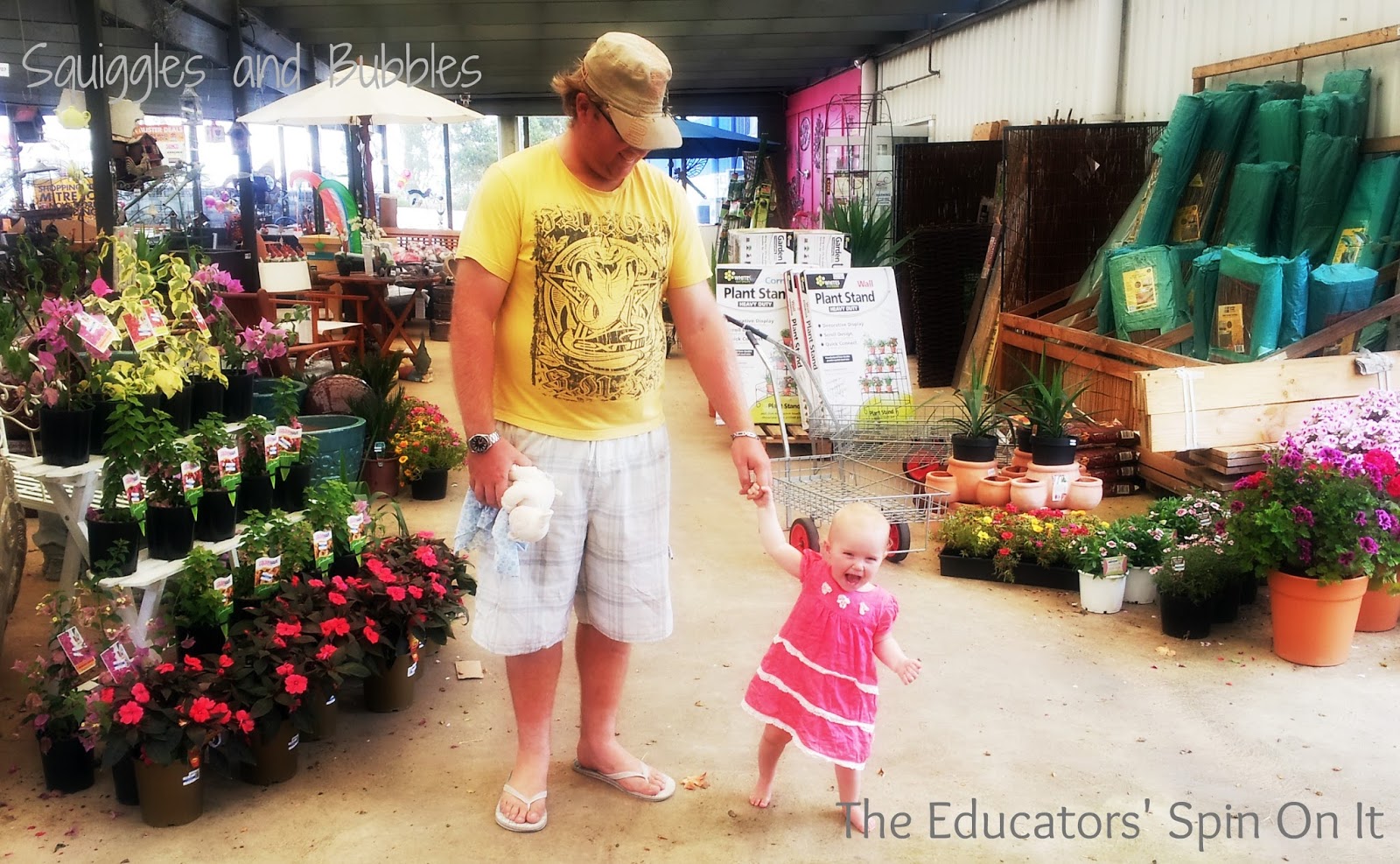 What You Can Do
Why not take a trip to your local garden centre this week and choose some herbs to plant with your kids on March 31?
For more gardening with kids articles and information visit our Kids in The Garden post with over 50+ ideas and activities to do with children.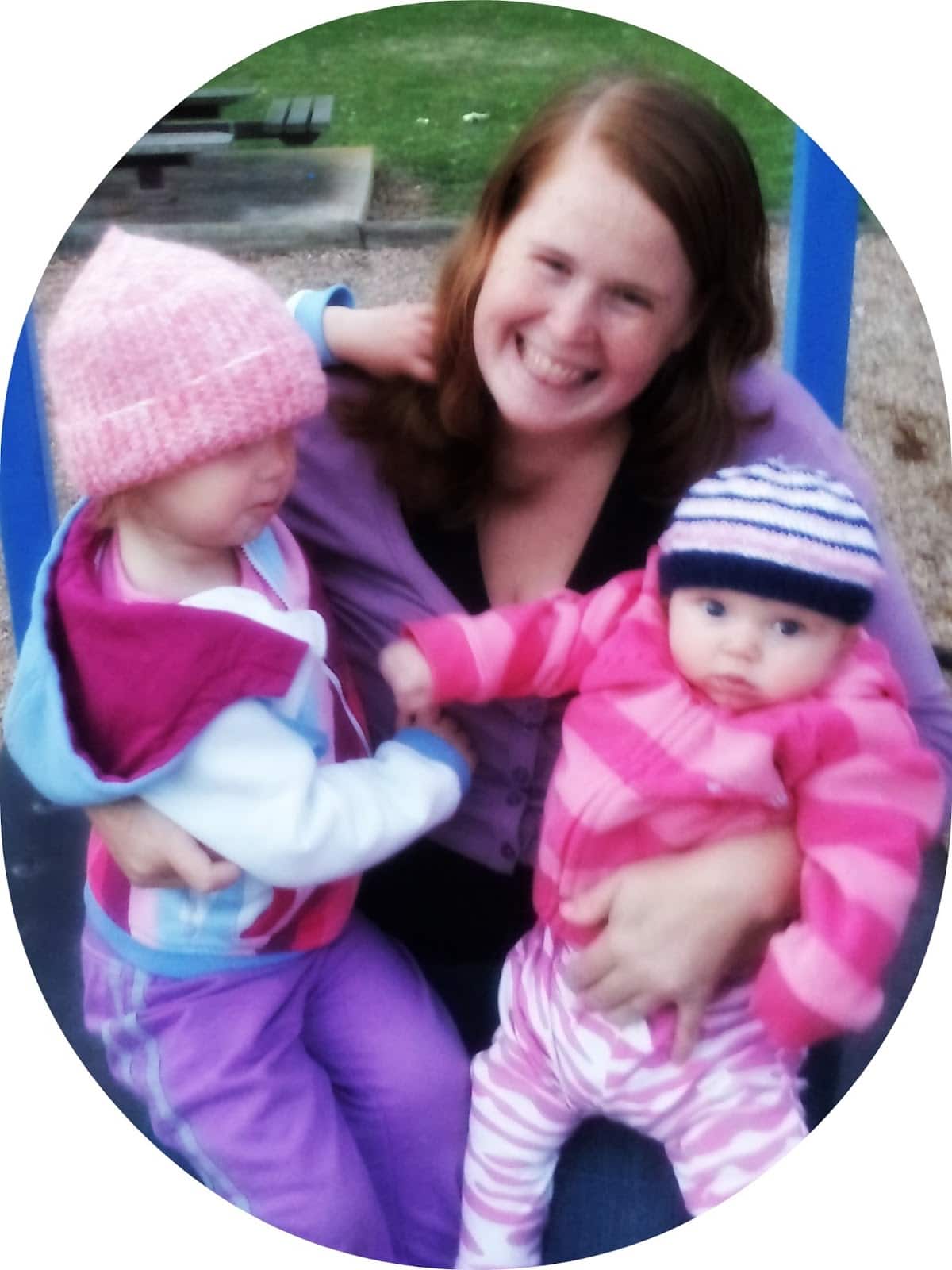 Victoria is a stay-at-home-mum of two beautiful girls (3 years and 13months). She is also the voice of the blog, Squiggles and Bubbles where she shares all the fun they get up to during the day.
Connect with her on all of your favorite social media:
You may also like these posts from Squiggles and Bubbles:
What is your favorite herb to grow with kids?