Each year I challenge our family to choose a new vegetable to plant in our garden.  Someone recommended that I try Growing Texas 40 Peas. Knowing NOTHING about them, I planted a short row.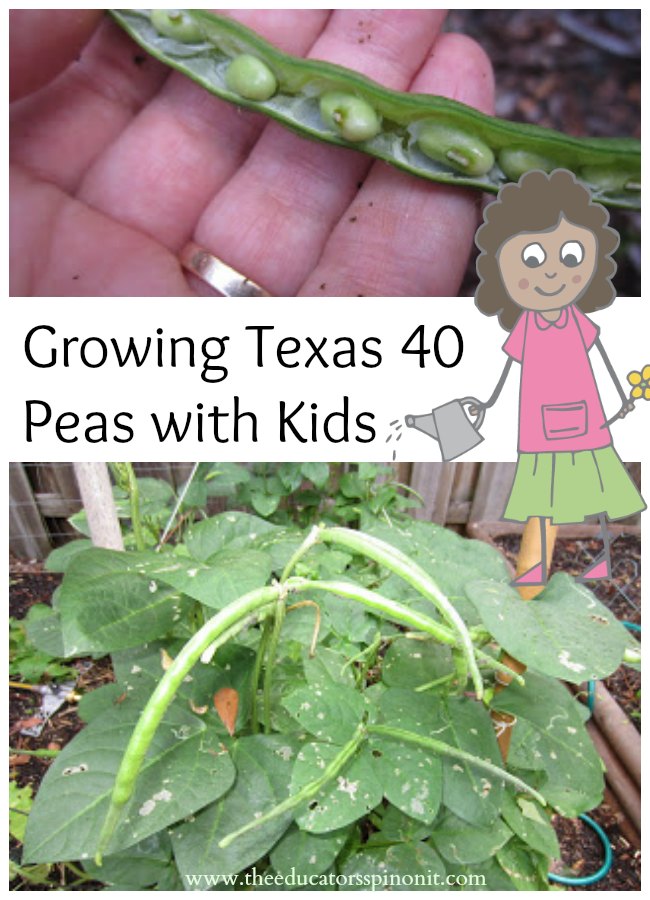 Disclosure: There are Amazon Affiliate links included in this post.
How did Growing Texas 40 Peas go?
This Southern Style Cowpea only does well in warm weather and is drought tolerant – so if I don't get to watering, all is still good. They grew well, so tall in fact, that I needed to add some string support.
Then, the aphids came in droves. I don't use sprays on anything except fire ants, so had to resort to wiping the aphids off with a washcloth (yuck)  I don't think a soapy water bath would have done anything at all. It reminded me a bit like wiping dirty diapers – was I really doing this for peas??? 
Then the ladybugs came to the rescue and life was better.
Benefits of growing Texas 40 Peas…
grows in warm weather
drought tolerant
insects loved them
Ready to harvest in 2 1/2 months
Fun for kids to open and eat
Sweet enough to eat raw.
2 ½ months after planting, they had some peas ready to harvest and they were totally worth it! What fun it was to open them up and eat the peas! They are a light green color, mild, even sweet pea.
Even my 1 year old was eating them and begging for more! Gardening has been such a great influence on my children's eating habits.
I also have a greater appreciation for all the hard work and time it takes to fill a bag of shelled southern peas. No wonder they are so expensive at the farmer's markets!
Click for more kids in the garden ideas: