Looking for summer ideas? Kick off the summer with this fun collection of June activities for kids. Plus we've included a free June activity calendar!
Let's have some fun this summer… a sneak in a little learning too.
The kids are getting out of school and ready to head into their summer break from school.
The common questions I see parents ask are:
what to do with my kids during the summer
how to avoid hearing "I'm bored" this summer
what are fun ways to "sneak in" learning during summer vacation
The good news is that I've put together a large collection of summer activities for you and your child to pick and choose form below in this June Activities Guide.
Plus you can download a free June Activity Calendar.
Are you ready for summer break? Let's get started with these fun and easy summer activities.
June Activities for Kids
Get started by exploring these Summer Virtual Field Trips for Kids! Explore the ocean, amusement parks, outdoor adventures, watermelon farms, and more with these kid friendly summer virtual tours.
Ocean Activities for Kids
The first thing that comes to mind for summer fun is heading to the Ocean.
Seashell Activities
Summer STEM Activities
Water Activities for Kids
As summer kicks off here's a quick reminder about why we believe that every child should take swim lessons.
Father's Day Crafts
Outdoor Summer Activities for Kids
Summer Learning Ideas
Summer Activity Ideas for Kids
Disclosure: As an Amazon Associate I earn from qualifying purchases.
June Books for Kids
My Awesome Summer by P. Mantis by Paul Meisel
And Then Comes Summer by Tom Brenner
The Night Before Summer Vacation by Natasha Wing
Summer Is for Cousins by Rajani LaRocca
Summer Vacation, Here I Come! by D.J. Steinberg
Mouse's First Summer by Lauren Thompson
How to Catch a Daddysaurus by Alice Walstead
Girl Dad by Sean Williams
My Dad Is Amazing! by Sabrina Moyle
Dad by My Side by Soosh
Made for Me by Zack Bush
My Dad Loves Me! by Marianne Richmond
Curious George Goes Swimming by H. A. Rey
Dino-Swimming by Lisa Wheeler
Jabari Jumps by Gaia Cornwall
Rosie the Dragon and Charlie Make Waves by Lauren H. Kerstein
1, 2, 3, Jump! by Lisl H. Detlefsen
Cannonball by Sacha Cotter
Over and Under the Waves by Kate Messner
Commotion in the Ocean by Giles Andreae
Ocean! Waves for All by Stacy McAnulty
Swashby and the Sea by Beth Ferry
A House for Hermit Crab by Eric Carle
Shark Lady by Jess Keating
The Juneteenth Story: Celebrating the End of Slavery in the United States by Alliah L. Agostini
The History of Juneteenth by Arlisha Norwood PhD
Juneteenth: A Children's Story by Opal Lee
Want more book suggestions? Explore our ultimate list of summer books for kids!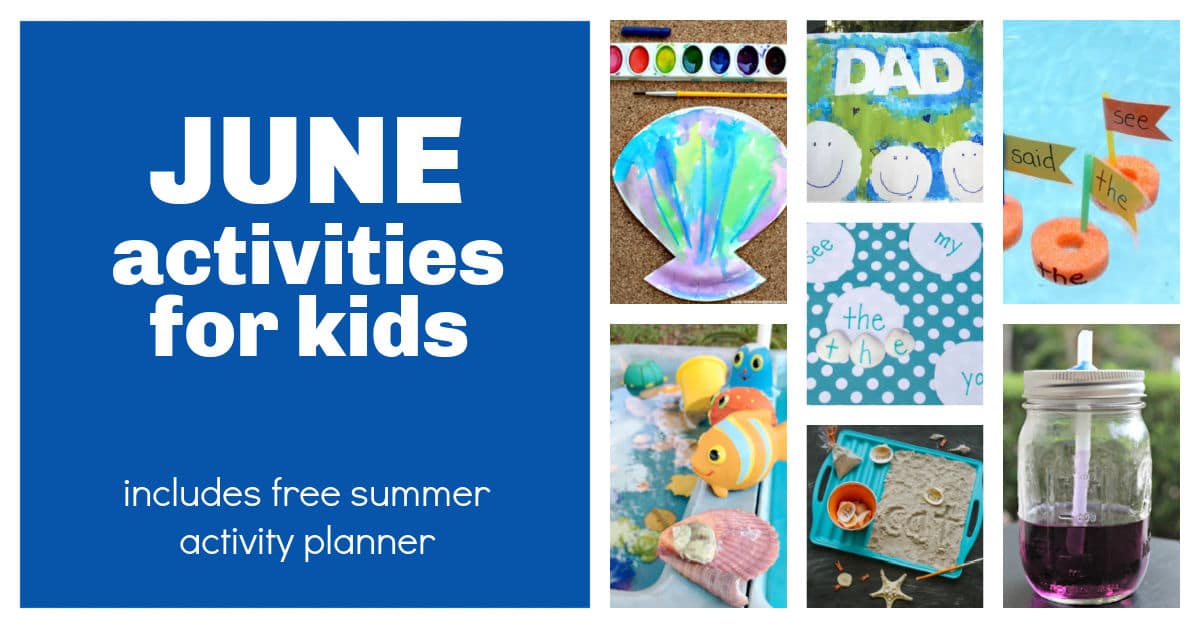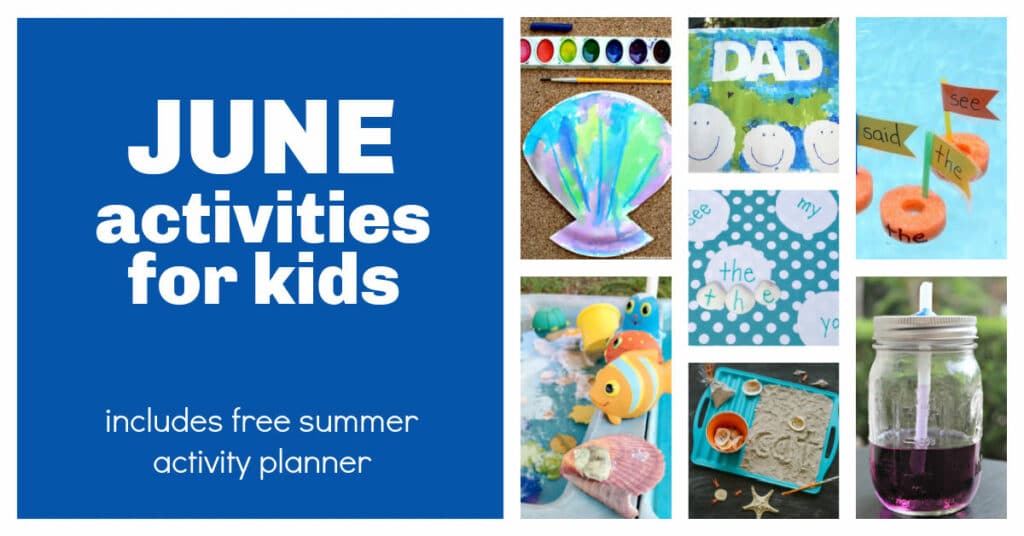 Activities to do with Kids in June
You've made it to summer break with your child! We've done the planning for you so you can enjoy this time together. It's been quite a school year and now it's time to kick back and just enjoy the simplicity of childhood.
These June Activities will keep your child from getting bored and will help them make special summer memories with you. Which summer activity will you do first?
Download our June Activity Calendar
Did you see our Ultimate Summer Activity Bundle? Grab it here.