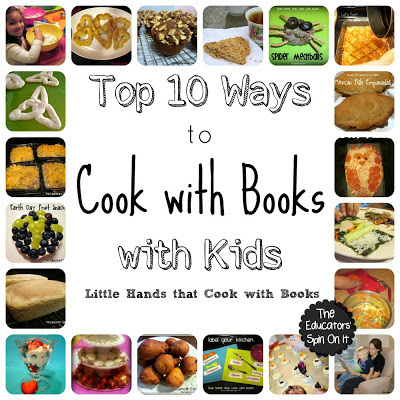 One of my favorite things to do is to bring my kids into the kitchen for some fun with cooking, especially when we're on a break from school!  We work together to make all sorts of things from baked goods to even main dishes.  I love watching how it builds their confidence and their love for a variety of food.  There are so many benefits to cooking with your kids.  Reading, Math, Science, Healthy Eating Habits and even Geography are all happening in the kitchen while you're cooking.  It's even more fun when you include books to your plans that inspire you to make recipes together that bring books to life!
Here are my "Top 10 Ways We Cook with Books"!
1. Growing in the Garden
Encouraging your kids eat vegetables and fruits from your own garden is the easiest way to get them to try new things. Find books that are themed around growing vegetables and fruit!
2. Discovering Animals  
Choosing to create a recipe about character from a book can be tons of fun!
3. Traveling the World
We've written an entire series called Around the World in 12 Dishes that you could spend the whole summer doing!  Each country we select books to read about the country and then choice which dish we'll create.  Here are some of our favorites.  Keep following along all summer as we add a few more!
4. Celebrating Holidays
Any time there is a special occasion we turn to books to learn about it and to see if we can make something special for the holiday.  You'd be surprized how creative your kids can get!
5. Planning a Party
Getting your child involved in party planning can make your special occasion so much more meaningful and memorable.  Cakes, snacks, beverages, there are lots of ways to include them.  They could even write out the menu and shopping list to build literacy in the experience.
6. Learning the Basics in Cooking
There are a few tasks that every child should experience in the kitchen.  Baking a cake, cookies and bread are my top picks.
Learn to Bake a Cake using Five Little Monkeys Bake a Cake 
Learn to Bake a Pie using I Know An Old Lady Who Swallowed a Pie by Alison Jackson
Baking Bread using a version of The Little Red Hen 
Making Cookies using If You Give a Mouse a Cookie by Laura Numeroff
7. Learning About Food Groups & Nutrition
We've shared an entire series on the Food Groups that we'd love for you to use during your summer!  Each food group has a list of books to use and learn with.
8. Let's Make a Snack
Books can inspired snacktime with the ingredients you choose or the shape you make them in. A ball can become a beach ball or a sun a coffee cake can become a Grufflo crumble, you never know.  A few sliced apples or cucumbers can make wings or a bird or a sun on a plate. Smoothies can combine all sorts of ingredients for a special magical potion,  you get the idea the ideas are endless.
9. Learning to Read in the Kitchen
One of my biggest tips is to label things in your kitchen!  Whether it's a menu, a recipe card or even the tools and foods you're using.  You can always have them reuse the labels in their play kitchen too.  Have your child surrounded by print will be confident readers and awareness that print has purpose.
10. Making a Main Dish
Once your child has mastered the basic levels of assistance in the kitchen it's time to encourage them to create a Main Dish.  Look for recipes with minimal ingredients and procedures precooking.  Casserole and Crock pot recipes work well for this.  Then it's off to read a chapter book while it's cooking.
Where to start?
The first author I would start with is Laura Numeroff! Cupcakes, Cookies, Pancakes and Muffins are all pretty basic items to make with your kids and even come in boxes forms so you can focus more on following directions.
Need more inspiration for Cooking with Kids in the Kitchen?
BONUS! We share ideas we find on our Cooking with Kids Pinterest Boards by The Educators' Spin On It
Plus we have a few other favorite Pinterest Boards for Cooking with Kids we'd like to share with you to follow!
Cooking with Kids a Collaborative Board hosted by Productive Parenting
There you have it, My Top 10 Ways to Cook with Books this Summer! Truthfully anytime during the year they are easy to use too but now you have more than 10 Recipes and Books to use EACH WEEK during Summer Vacation for your very own Cooking Camp!
What are you going to Cook with a Book?
Share your ideas and links below and inspire all of use, plus I'll pin it to my Cooking with Kids Pinterest Board!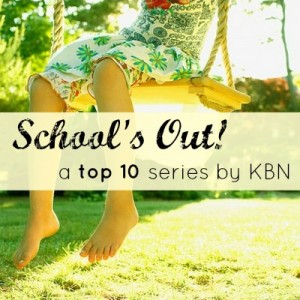 We're excited be be participating in the
School's Out: A Top 10 Series by KBN
!  We've teamed up with over 20 Kid Bloggers in the KBN to share with you our Top 10 Ideas to do with your children over your School Break!  Here's the Schedule of what's coming this week, we invite you to check them out and share!
Sunday ~ This Reading Mama | The Educators' Spin on It | Kitchen Counter Chronicle | Rainbows within Reach | Monday ~ Train Up a Child Learn as We Go | Housing a Forest | Royal Baloo | Living Montessori Now | Tuesday ~ Toddler Approved | Play Trains! | 3 Dinosaurs | Wednesday ~ The Outlaw Mom | Teach Beside Me | Hands On as We Grow | iGame Mom | Thursday ~ JDaniel 4′s Mom | All Done Monkey | Fantastic Fun & Learning | KC Edventures | Playing with Words 365 | Friday ~ Teach Mama | The Usual Mayhem | Nature and Play | True Aim Education | Saturday ~ Creative World of Varya | Craftoart | My Buddies and I
This post contains affiliate links to Amazon, we've already done the work for you for easy shopping!