Plan your PLAYFUL PRESCHOOL learning week with the amazing ideas from our fellow kids activity bloggers. I know my preschooler is going to love delivering mail to family members with a DIY post office. He will also like making painted rock turtles and counting with a ladybug counting stick!
These articles were shared with us on the Educators' Spin On It Facebook Sharing Days.
Stop by our
Facebook Page
every Wednesday and click to view posts to page on our wall. I know I am always inspired!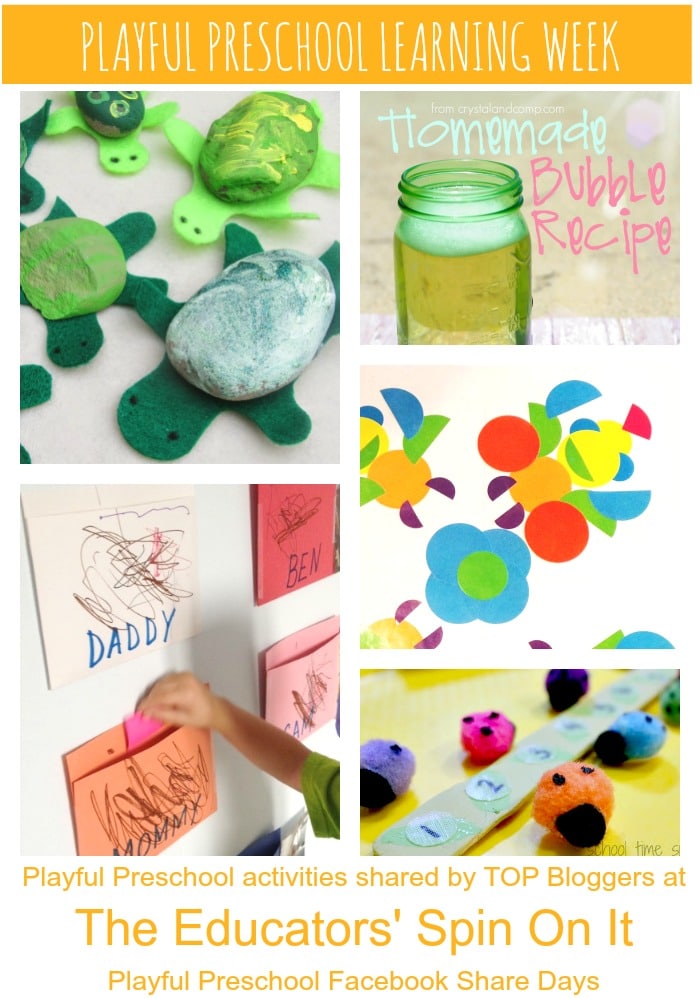 * Articles pictured in the above collage are starred with *
Thank you to all the bloggers who generously share with parents and teachers their ideas!
Playful Preschool Activities
We moved into a new house and it seems like everything we own is in a box – somewhere. It is a combination of chaos and Christmas with all of the unwrapping. I did find our paint box right away and so we have been having a 30 minute free painting with the kids every day. All the rest of our supplies are still hidden, so we are making do with what we can find. Luckily, there are some inspiring ideas out there to keep ME and YOU busy, interacting with our children in a playful and meaningful way!
Teach on MOMS (and Dad, and Grandparents, and Aunties, and Teachers!)

Science:

Reading:
Sensory:
Social Studies:
Math:
Cooking with Kids:
Use the hashtag #playfulpreschool to connect with other like-minded parents and teachers.