Tips for blueberry picking with kids. PLUS 30 Blueberry Recipes to get your little ones into the kitchen for some blueberry fun.

A fun twist with Blueberries for our Little Hands that Cook with Books Series!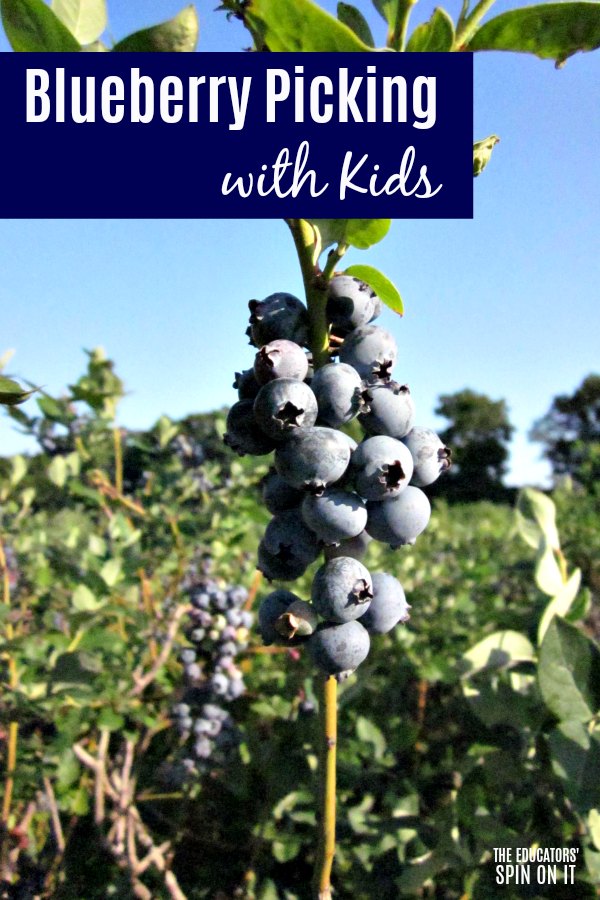 We had so much fun blueberry picking with our families on Mother's Day weekend. The weather was beautiful and the kids were having so much fun as we went on an adventure in a local blueberry farm.
Some of my most fondest memories with my children are watching them experience picking food from the earth and the smiles on their faces.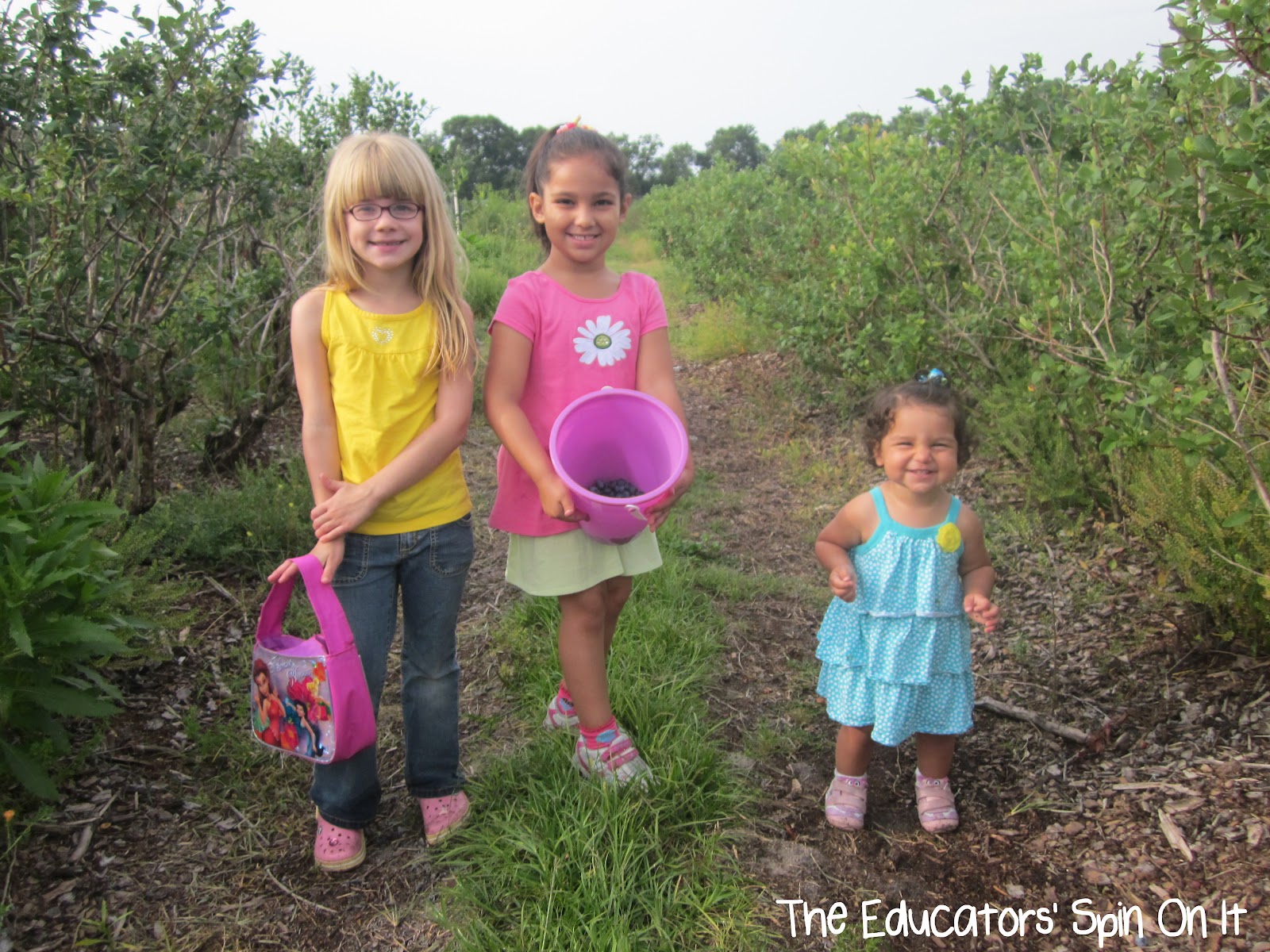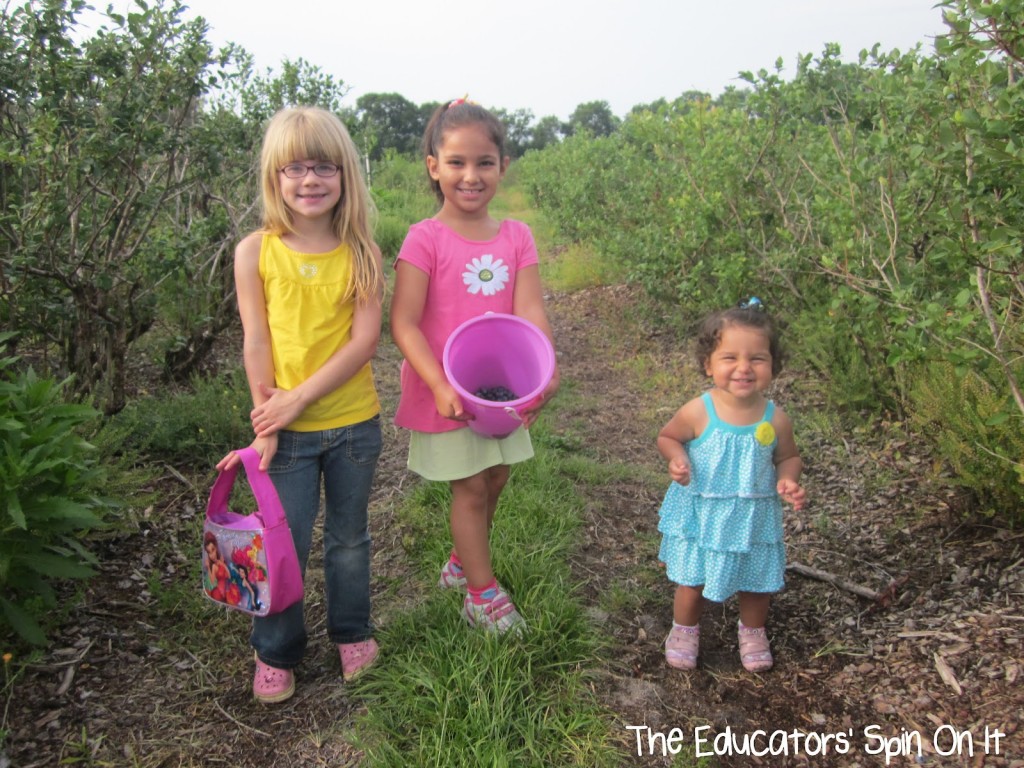 We have used blueberries a few times before on The Educator's Spin On It with Little Hands that Cook with Books. We included them with our Teaching Kids Nutrition Series, Earth Day Fun Series & Around the World in 12 Dishes Series.
We did a whole lesson on Peter in Blueberry Land too.
There are many benefits to eating blueberries with your family. Here are some blueberry facts for kids to learn! We enjoy adding them to our homemade baby food too for that little extra sweetness and health benefits. Here's how-Blueberry Puree for Making Baby Food.
I will admit that blueberries can be a little costly if you're buying out of season so we always head to the local farms and pick as much as we can. When we get home we eat LOTS of the fresh ones and then we freeze the rest for when we want to use them in our smoothies and cooking.
Here are some tips for Cleaning and Storing your blueberries.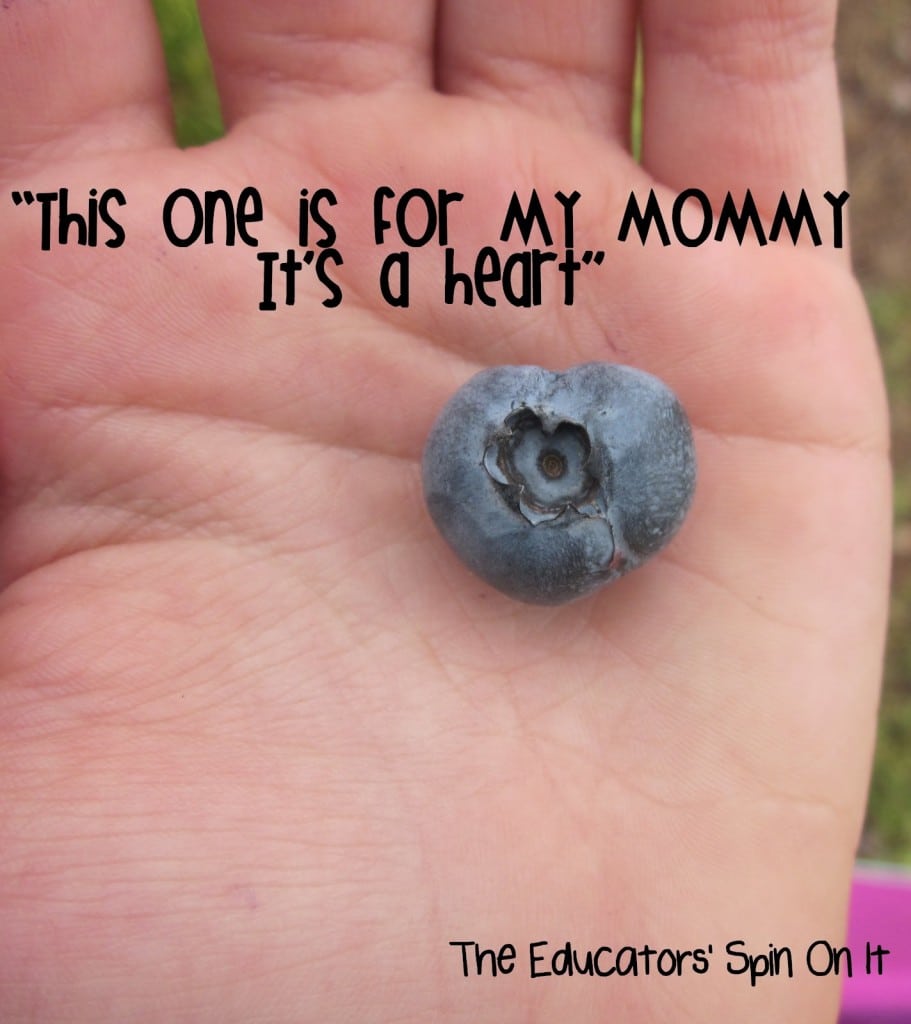 Blueberry Themed Books
Since share about Little Hands that Cook with Books, when we got home from picking my daughter also wanted to blueberry books. So we went to the library and picked out a few blueberry books to read this week too!
Here are a few I found for you on Amazon that I linked to my referral link.
Learning with Blueberries
Counting, Sorting, Math Facts all can be done with blueberries or pretend blueberries.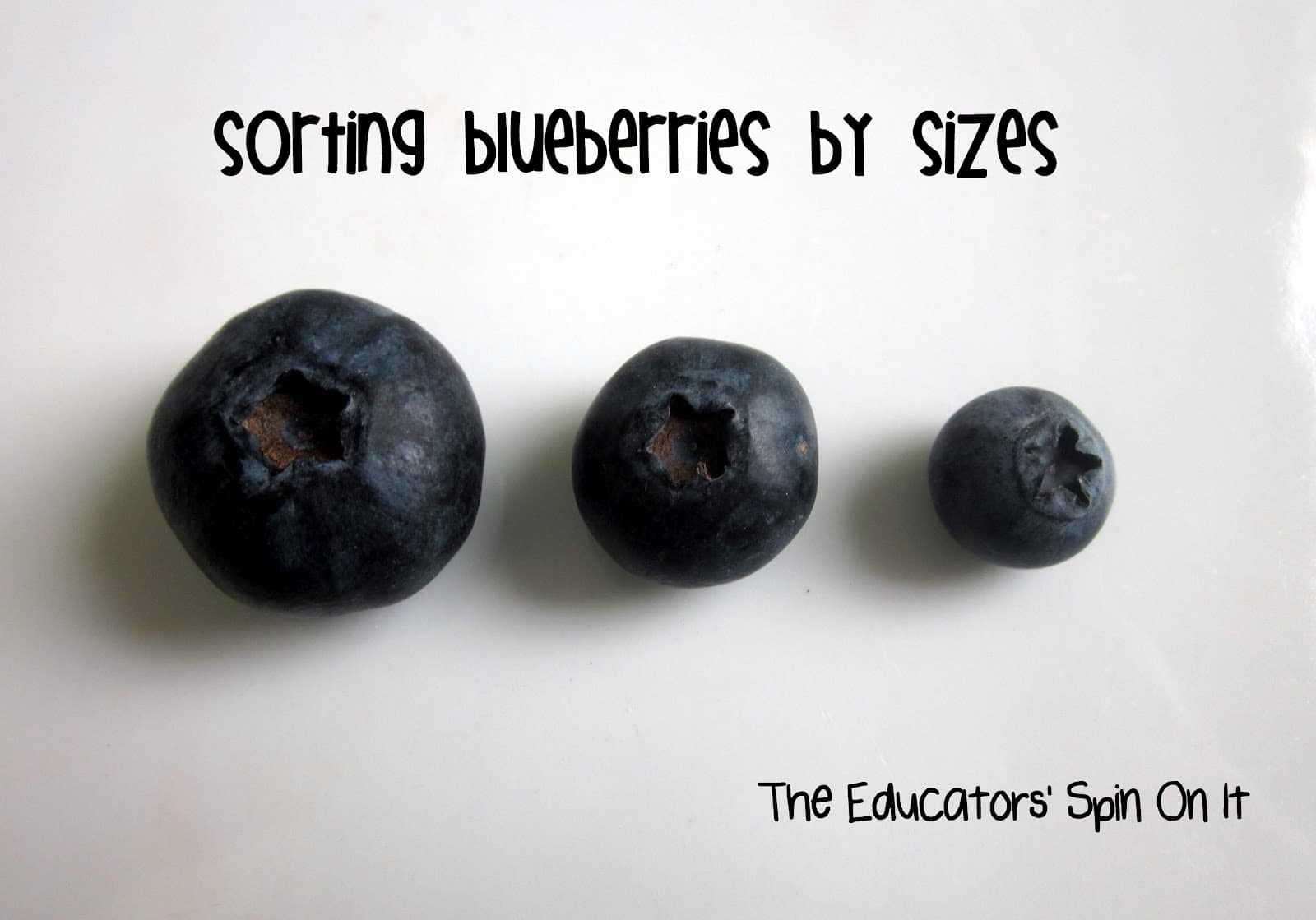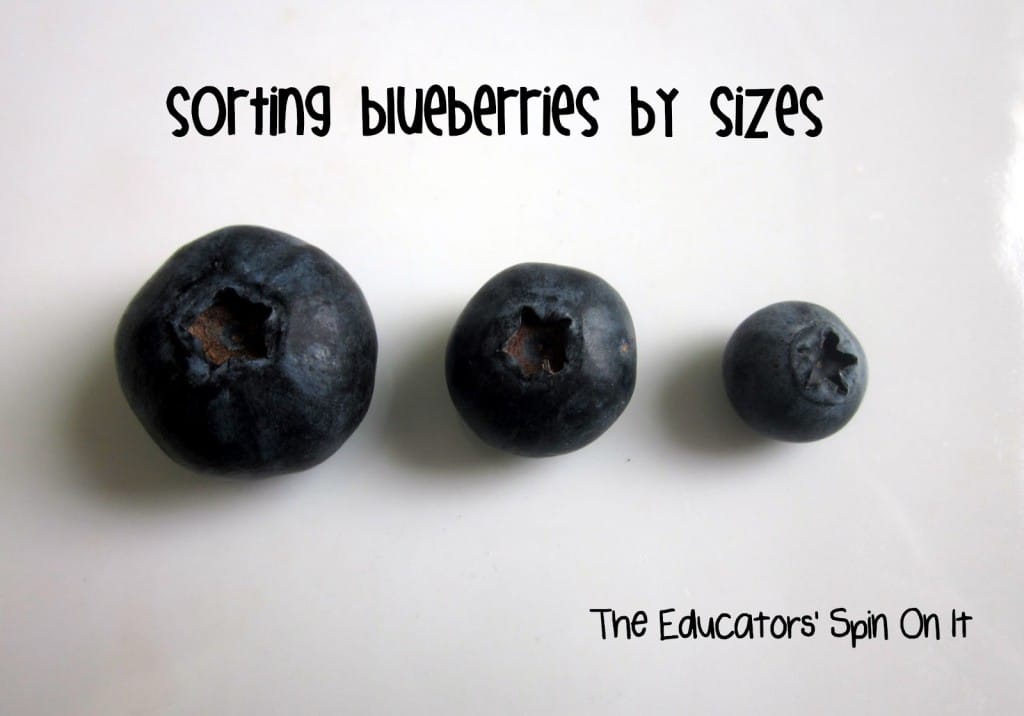 Blueberry for Sal Activities
Printables from Home School Creations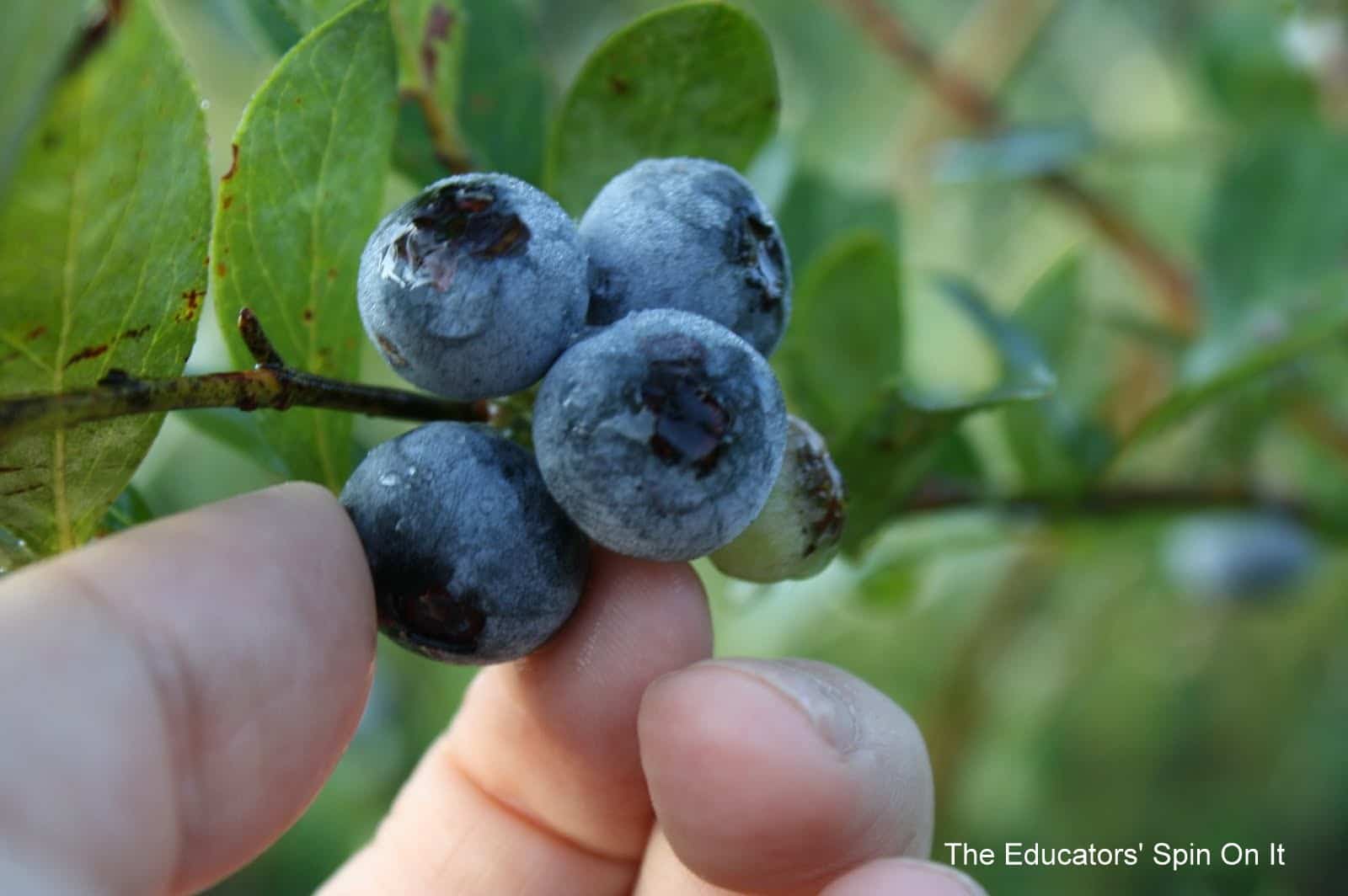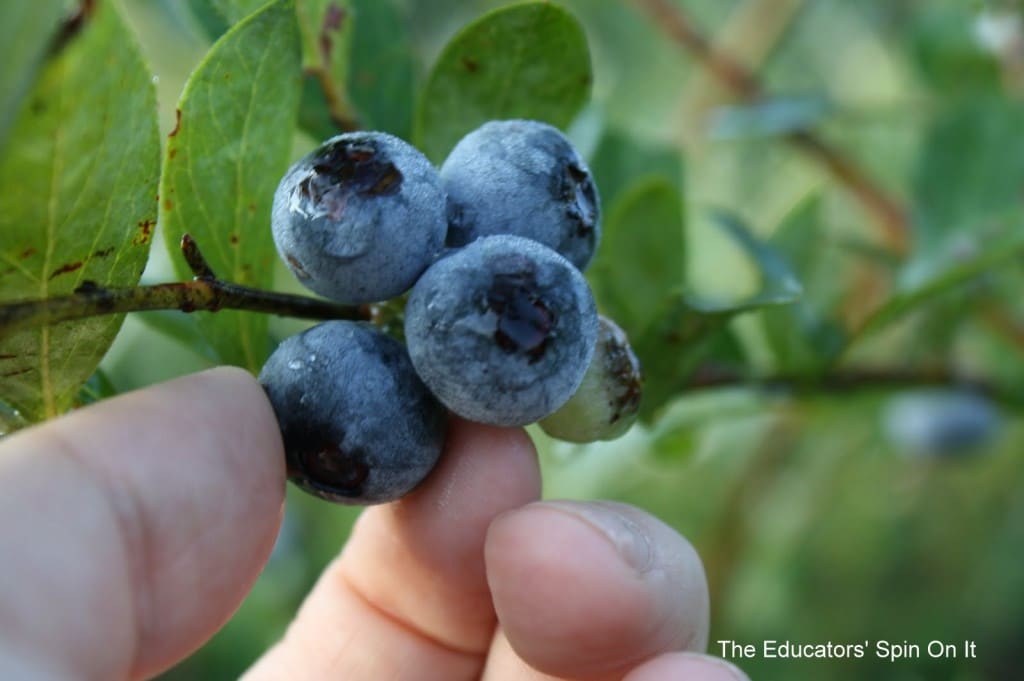 Blueberry Songs
As we were picking blueberries the girls came up with an adorable song about picking on the bushes. I wish I would have recorded it, it was so cute. I love this age as they start to create their own songs and enjoying talking in song version.
The song had to do with who picks in the middle and bottom and Mommy get's the top.
Here are a few blueberry songs that we followed up with at home.
Song : Blueberry Pancakes
Let's make pancakes, yum, yum, yum.
And drop on blueberries, one by one.
Turn the pancakes, now their done.
Blueberry pancakes, let's have some!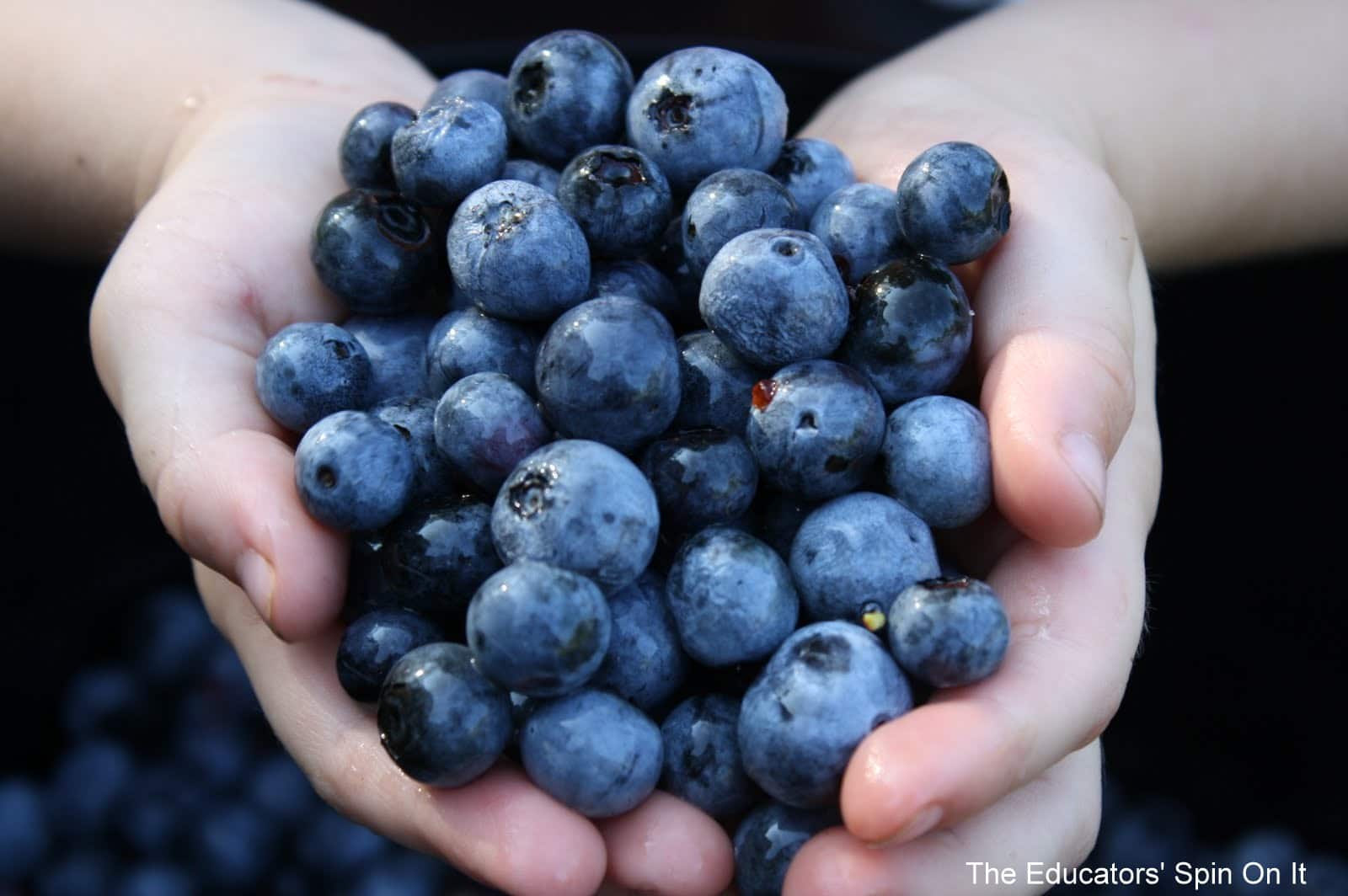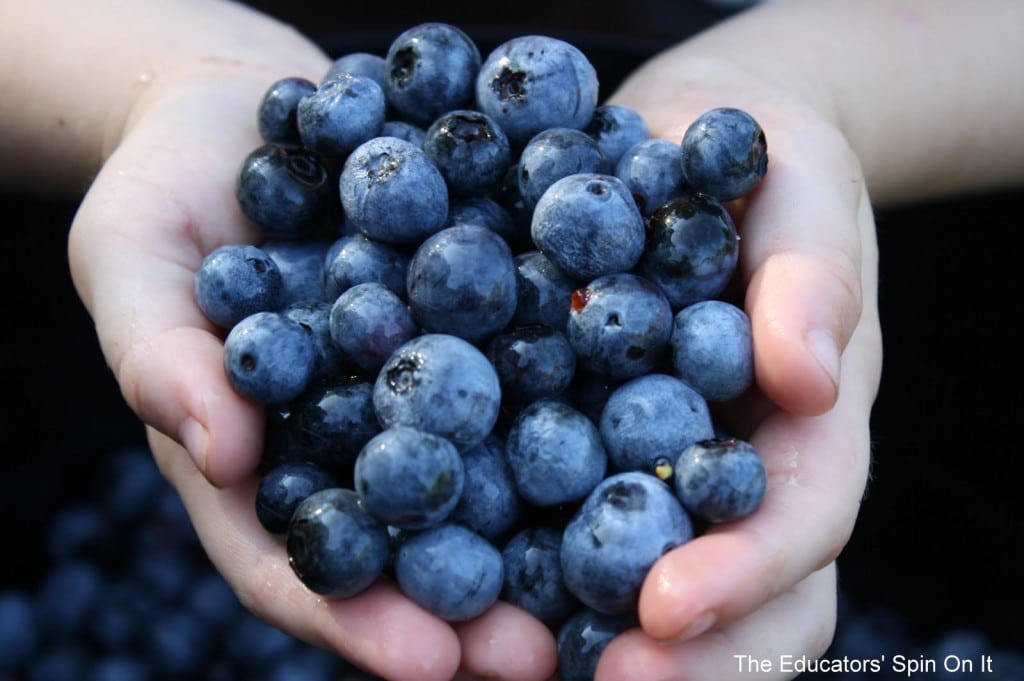 SONG: The Blueberry Bush
(Tune: "The Mulberry Bush")
The blueberry bush, the blueberry bush.
Here we go round the blueberry bush,
So early in the morning.
Pick the blueberries small and round,
Small and round, small and round.
Pick the blueberries small and round,
So early in the morning.
(Taste the blueberries, ripe and sweet.)
Healthy Preschoolers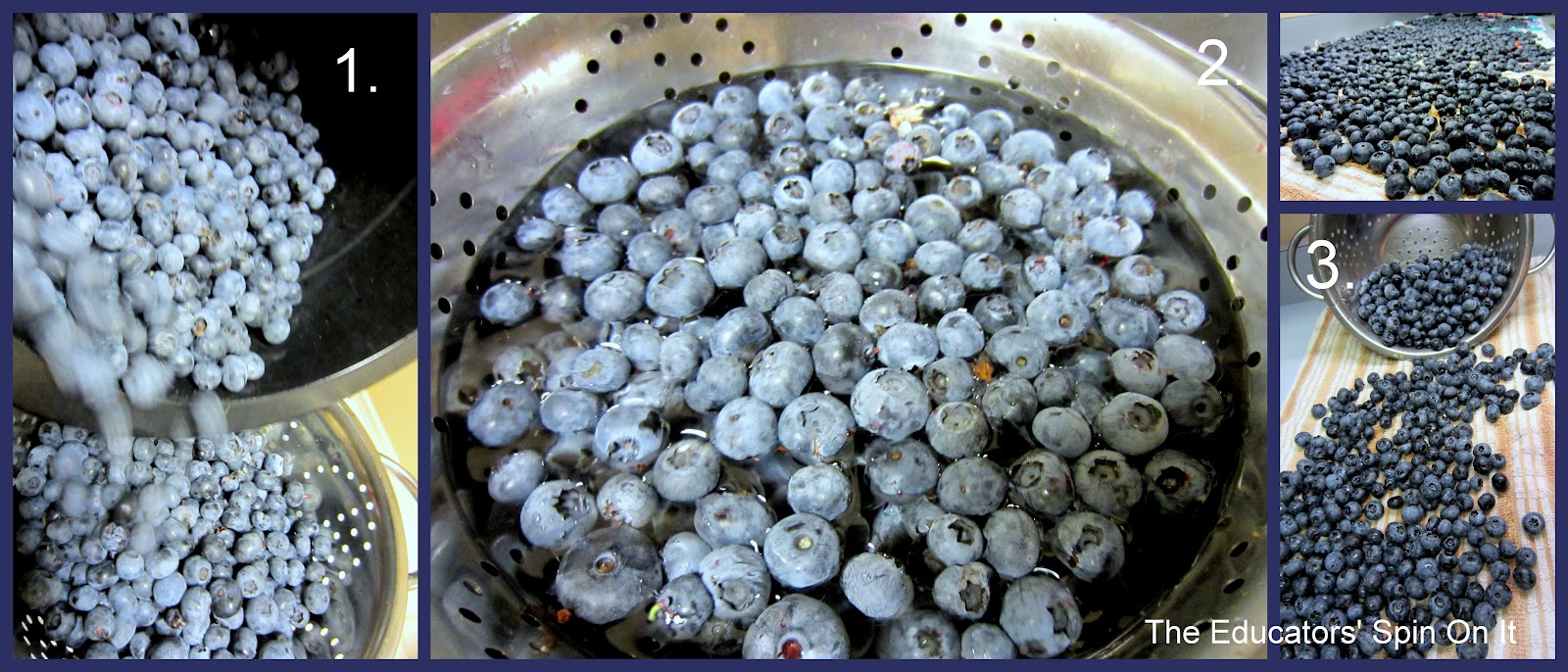 Preparing the Blueberries
Picking blueberries is the fun part! When we get home, I make sure that all the blueberries are clean before eating, baking or freezing them. This part is not as much fun and can be time consuming depending on the amount of blueberries you have picked.
My mom taught me this "trick" to get the blueberries the cleanest with out damaging them.
Pour a small amount into your colander.
Set the colander in a clean bowl of water. Bring the colander up and down. While the blueberries are floating, run your hands through them to pick out all the stems and bad blueberries. Rinse.
Gently spread the wet blueberries on a towel in a single layer.
Let them dry completely.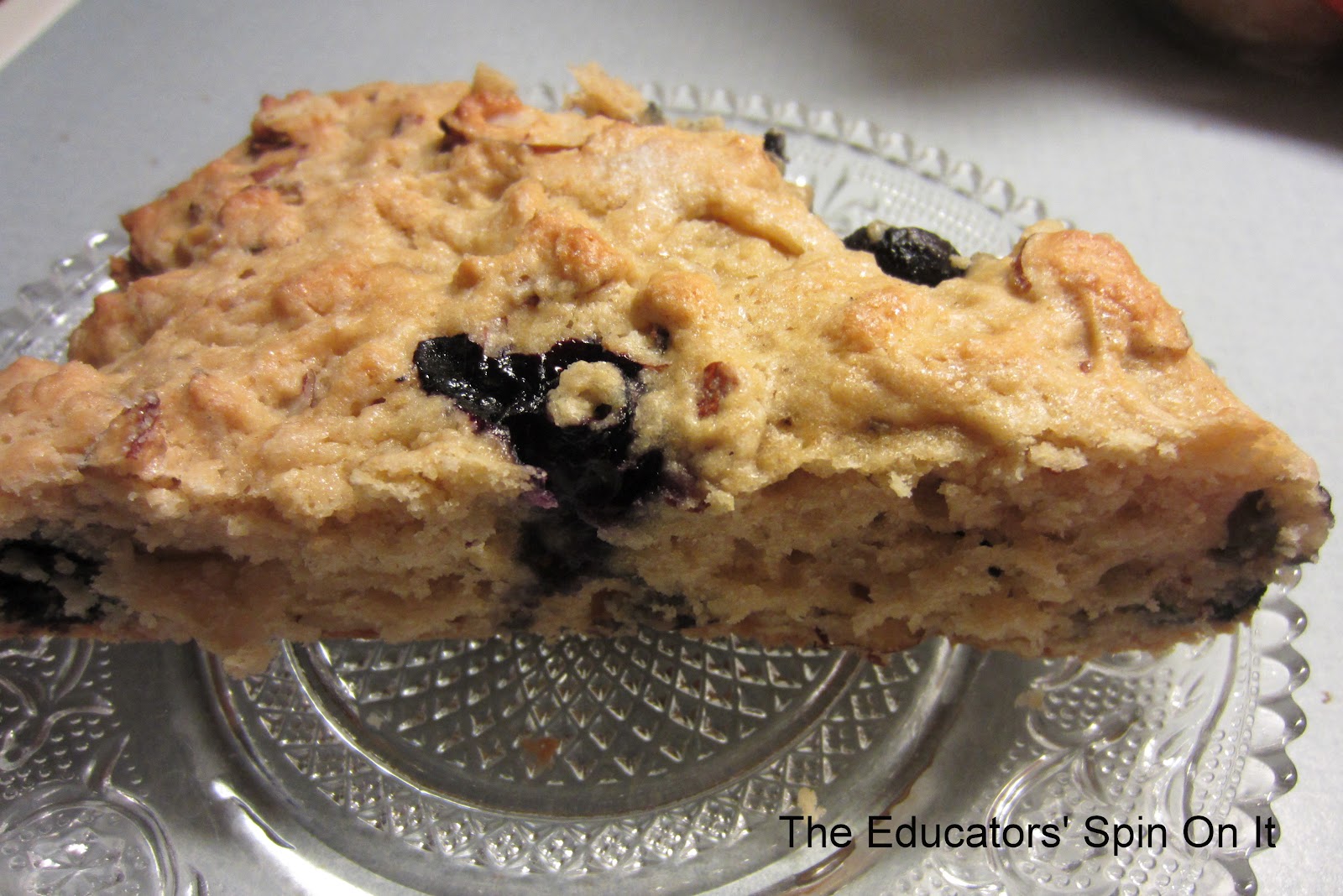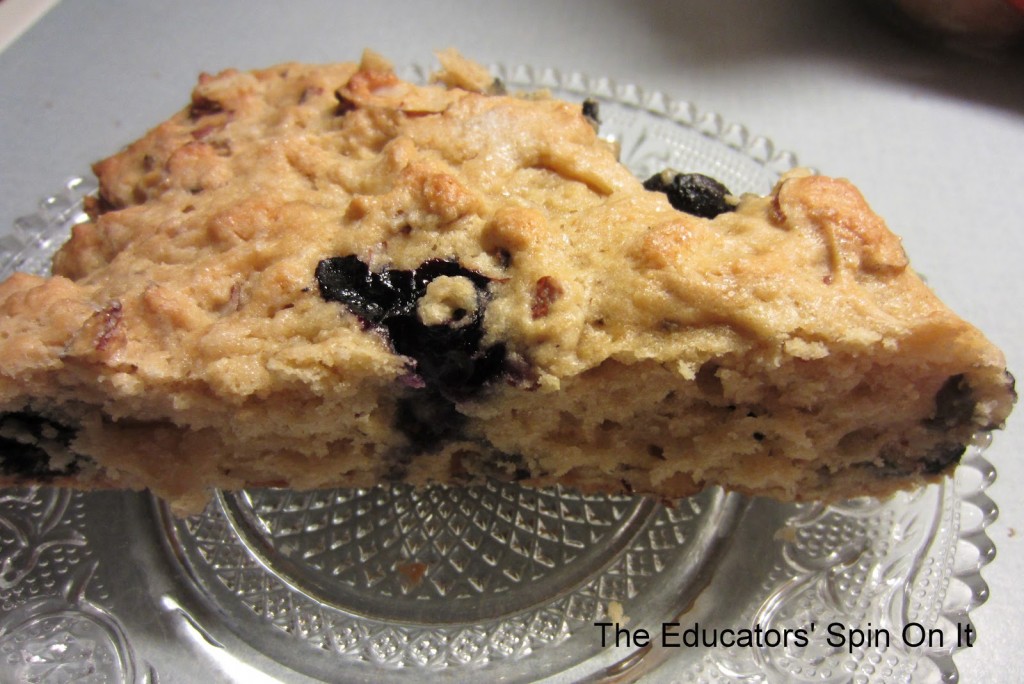 Now it's time for some Blueberry Fun! I've gathered 30 Blueberry Recipes just for you! When we got home with baskets full of blueberries I thought to myself what am I going to make with all of these berries. I've done the searching for you, saved you some time, and here's what we can make!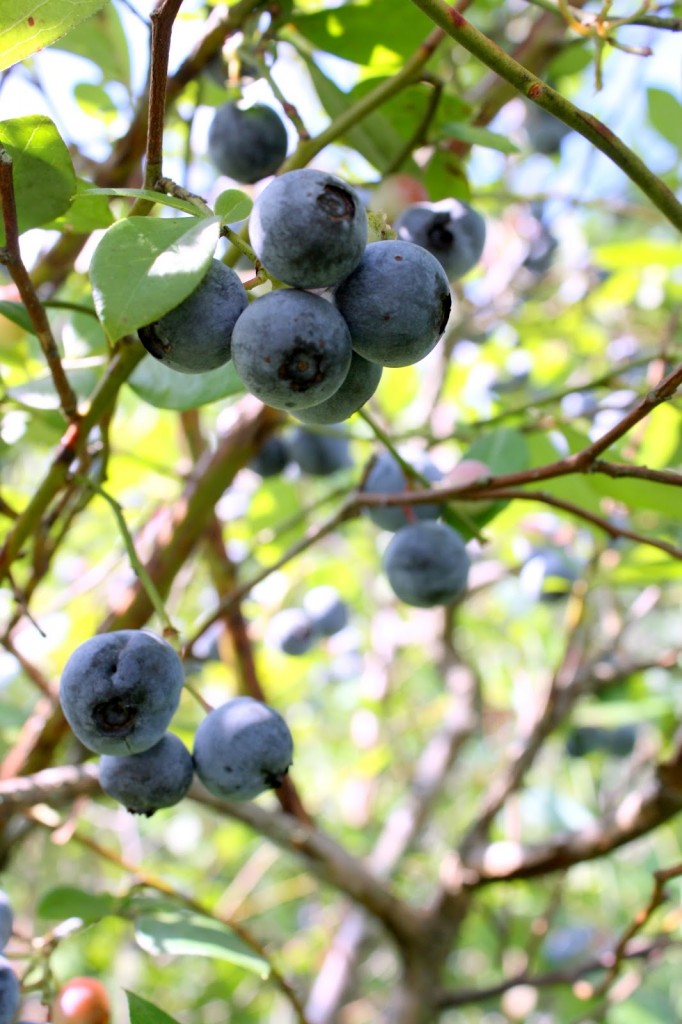 You could go a whole month eating blueberries and never eat the same thing twice. Some of the recipes are just plain fun and others are pretty healthy. I'll let you be the chef and decide which one you want to try out with your family. The key element is to involve your child in the kitchen.
There are many roles in the kitchen for any age from washing the blueberries, measuring the ingredients, or mixing the bowl.
Grab a kid friendly stool, wash your hands and let's get started in the kitchen!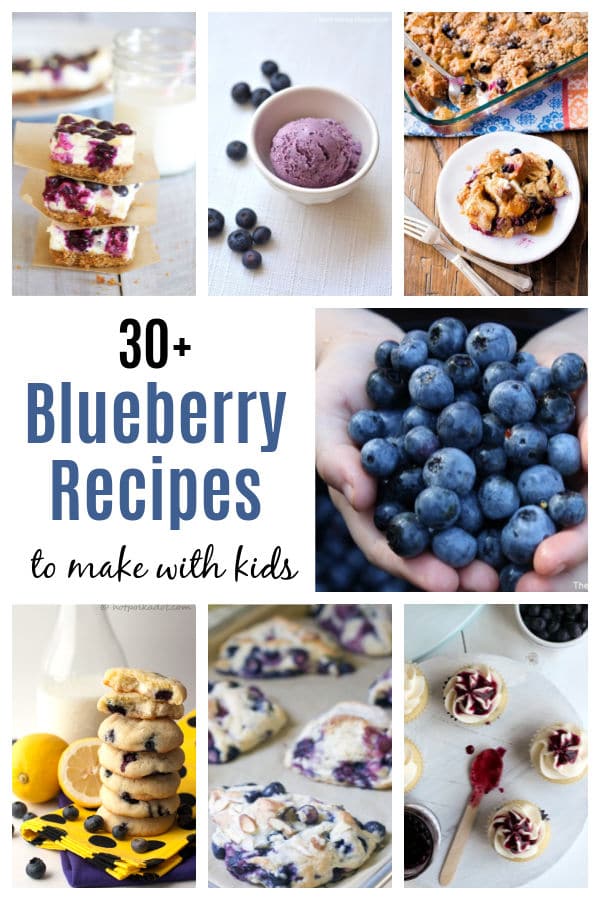 30 Blueberry Recipes for Kids to Make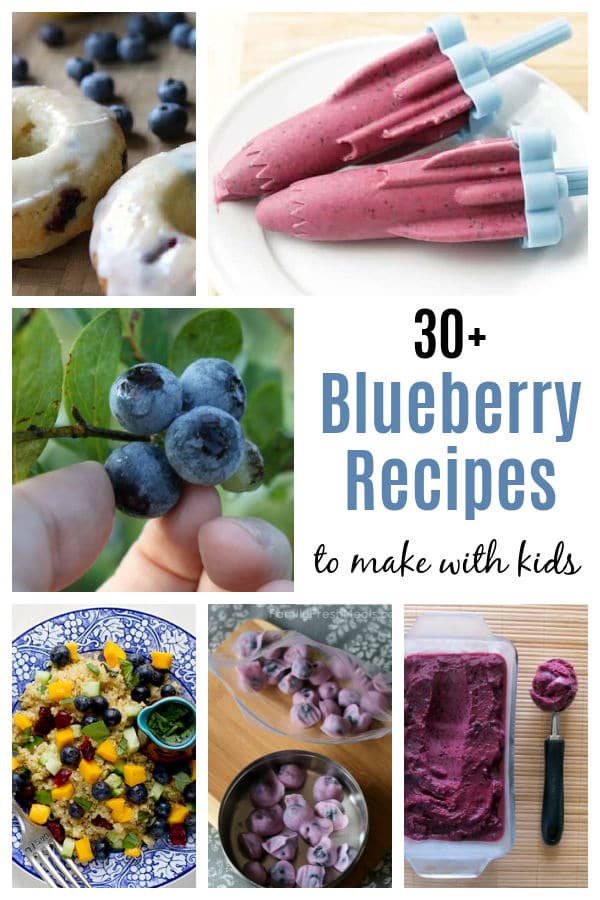 There are so many fun ways to enjoy blueberries with your child this season.
Which Blueberry Recipe is your favorite?