When I first saw the kindness elves tradition at the Imagination Tree, I just knew that we had found our new family tradition for the holiday season. The tradition focuses on what we believe is important life lessons, loving others and being kind, and our family belief that it is our job as parents to model and encourage these character traits. The kindness elves tradition is also a delightfully fun way to sneak a little writing and reading into our holiday as well! Here are the Educators' Spin On It, we like to turn everyday activities into learning opportunities.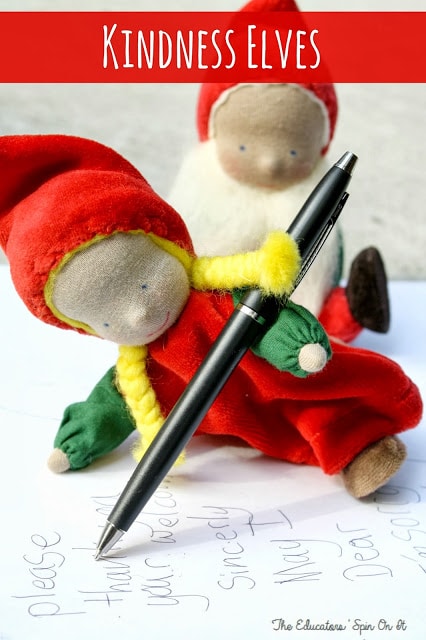 Affiliate Links
 
What is a Kindness Elf or Kindness Fairy?
A kindness elf or fairy is a made-up character that will visit our children for a couple of weeks. They are created to help children keep generous, loving hearts towards others this holiday season. They may be used in place of or in addition to the popular elf-on-the-shelf tradition.

Our kindness elves will

1. Arrive every morning in a new and sometimes surprising place.
2. Bring with them a special note and a suggestion of a way to spread love and joy this holiday season.
2. Encourage the use good manors, kind words, and grateful hearts.
The Kindness Elves or Fairies are spin of the "Elf on the Shelf"tradition that has been around for many years, but recently made popular with marketing. I have several friends who have done the "Elf on the Shelf" with their children and I enjoy seeing on social media their little antics. It is wonderful that they are making connections with their kids and interacting with them. This tradition, however, just wasn't for our family. My own 3 little ones make enough mischief on their own that I didn't need to give them any more idea. We also don't subscribe to the fact that someone is "watching" you to see if you are behaving, rather than children must choose. And, I just wasn't a big fan on how the marketed elf looks. I guess I'm picky – but that is what's great about parenting. We, as parents, get to choose what we want to do with our kids.
Many parents and teachers have already merged the idea and have their Elf on the Shelf doing kind things like baking cookies for a neighbor. A friend of mine had another amazing suggestion for combining the two – and that is Twinkle (her kindness elf) would teach her Elf on the Shelf how to SPREAD KINDNESS AND LOVE. So creative =) I love how we as parents can create our own stories and traditions!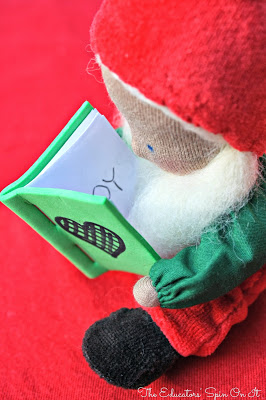 Both Kim and I blog here at The Educators' Spin On It to help our fellow parents and teachers, collecting the best playful learning and ideas here at The Educators' Spin On It to save you time, so that you may have more moments interacting with the little people in your life who are oh so important. The fun little antics and cute letters from Kindness Elves do take time and creativity.
If you are in the mood for a little kindness elves in your lives and would like to give this a try, we have tried to make it as easy for you as possible. Here is a set of
Free Downloadable Kindness Elves Letters. Since I am terrible and doing something for an entire month, we are only going to do 12 days. You could do 5 if you wanted – NO PRESSURES. I wrote the messages out HERE in case you wanted to make your own cards too!
Download your FREE copy of 14 Kindness Elves Messages
This set is addressed "Good Morning Dear Children,"
This set is addressed "Good Morning,"Kindness Elf Messages and Activity Ideas (to make your own cards)
See the Elves in action


#kindnesselves encourage kids to look through books and give some to a friend

A photo posted by Amanda Boyarshinov (@aboyarshinov) on


Teacher Tips:

When Kindness Elves send notes and children read them and write back, this is authentic learning. The notes from the elves are great for getting beginning readers and reluctant readers motivated about reading and writing.
When answering questions about the "reality" of the elves, I always say, "The story says…" With this tradition, you get to make it up!
There are no wrong answers with this story – it is yours to make.
Allowing your children to name their Elves gives them ownership as well. Even if it is a silly name, resist the urge to change it to what you want.
Affiliate Links to Products
Where to find a Kindness Elf of Fairy?
Finding Elves: Our Elves are Christmas Gnomes from Nova Natural. In the spirit of Christmas, they sent us a pair so that we could share their adventures with you. I adore that they are handmade from a woman's cooperative in Brazil and are of extremely high quality so that our elves will be able to visit us for many years to come.
I have seen others use sweater ski ornaments from Target (they take off the skis) or just add little felt hats to small dolls you already own. Remember, this is your family tradition – you get to decide what your elves look like.My only suggestion would be, is to
choose a higher quality, well made elf so that it will last for many years to come. If you end up purchasing a inexpensive one, I recommend buying a second one to store for another year when they fall apart, because cheap stuff will look cute for a short while, but will most likely not last.
For
more Holiday Craft and Learning Activity ideas, don't forget to check out
101+ Reindeer Crafts and Learning Activities and
50+ Gingerbread Activities for Kids
Snowman Candy Bars
50+ Christmas Activities
The Educators' Spin On It Newsletter –Sign Up Here!
My happy and sad moment of the kindness elves: When my daughter decided they were not REAL, but that each of us get to choose to embody the Christmas spirit. <TEAR>

When I woke up this morning our kindness elves were moved by a certain 7yr old… It seems that 1.I'm found out and 2. That she realizes we all get to choose to embrace the Christmas Spirit. #elfontheshelf #kindnesselves


A photo posted by Amanda Boyarshinov (@aboyarshinov) on

Remember to use #kindnesselves to share your kindness elves adventures with other like minded parents and teachers. Let us all spread a little kindness this holiday season!