Do you enjoy picking apples in the fall? This apple stem activity for preschoolers will give you hours of fun with this Fall STEM Challenge for your child. Plus you don't even have to drive anywhere!
You just need a few inventor materials like recycled cardboard, magnets and a small round object.
Let's get started!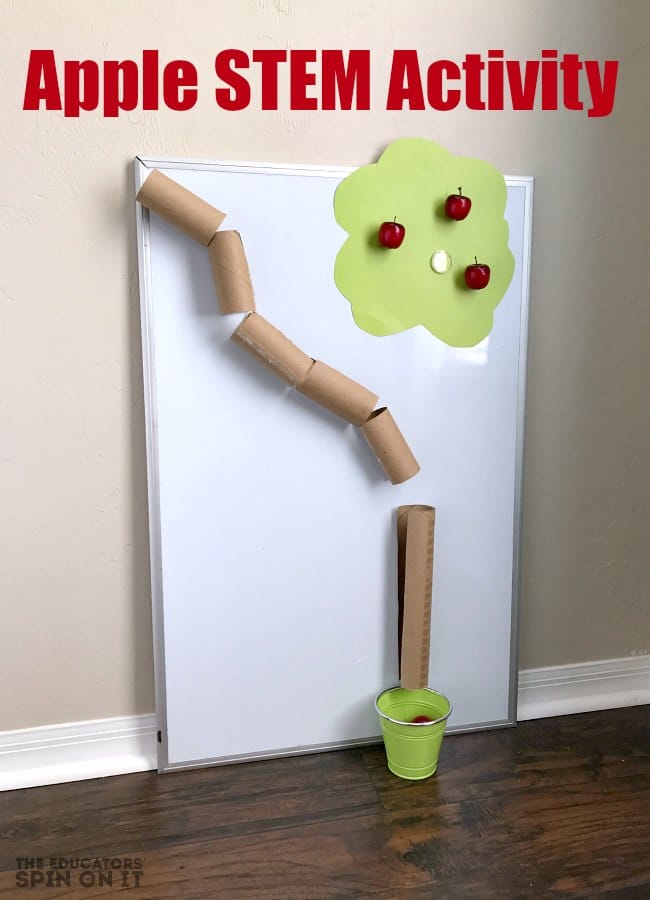 Disclosure: Affiliate links used in this post
Apple STEM Activity
This apple STEM Activity is going to be one of your child's favorite this fall as they create a special maze for the apples to travel down from the apple tree to the apple basket. It will give them a chance for lots of trail and error and problem solving to make it work. Apples are one of our favorite themes with preschoolers. Click here for more Apple Themed Activities
We're featuring an Apple Theme for our Weekly Virtual Book Club for Kids! That means at the bottom you'll fun 20+ apple activities for your preschooler to do this week!
The book we're featuring is Ten Red Apples by Pat Hutchins. Grab here on Amazon.
Here's a peek at more APPLE THEMED BOOKS!
Ten Red Apples by Pat Hutchins
Click here to see the other fall books we're using for the Weekly Virtual Book Club for Kids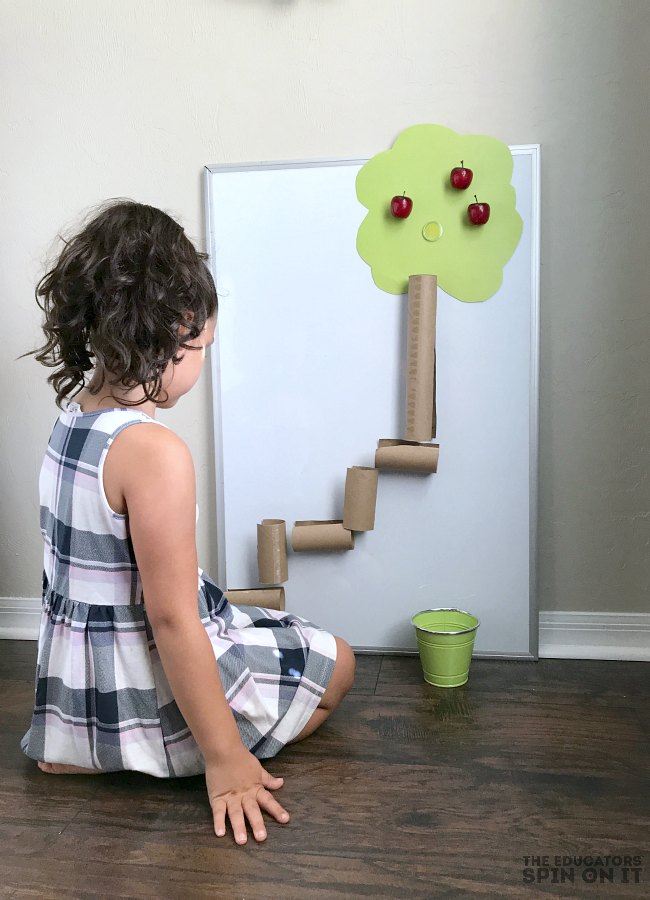 Materials for Apple STEM Activity
Recycled Cardboard Tubes
Scissors
Green Paper
Small Container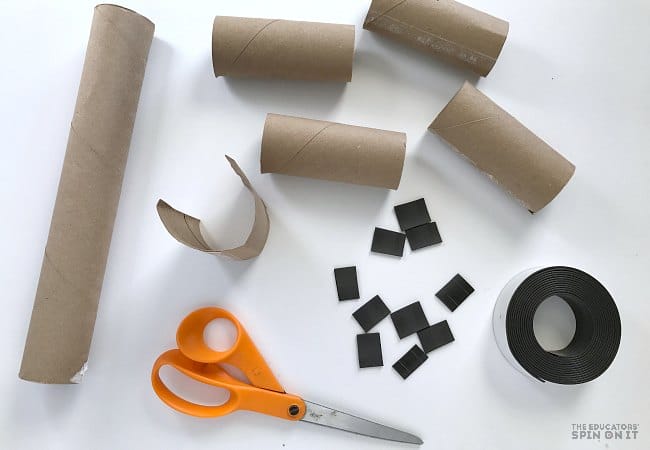 Directions for Apple STEM Activity
1. Work on your preschooler's cutting skills by having them cut a link through the cardboard tube to make it a half-circle shape.
If they are still working on these skills they can do it with you. It's a study surface which makes it a little bit easier to hold than paper. You could even draw a line for them to follow to make it easier.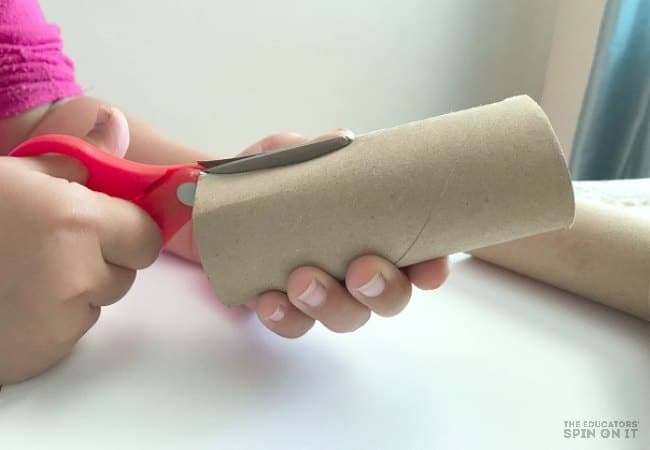 2. Once you've cut the recycled cardboard tube you can attach the magnets to it! This is an adult activity. We bought the magnetic tape that had a sticky side but we couldn't get it to stick to the recycled cardboard.
I just grabbed my glue gun and attached the pieces to that. So that my little one felt involved I had her take the white sticker paper off the backs of the magnets for me while I glued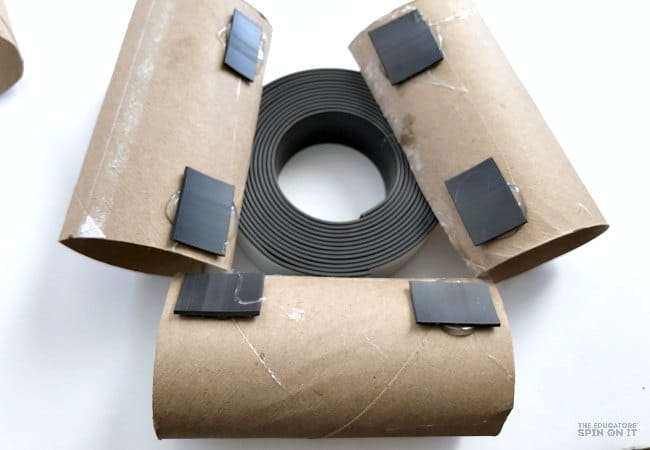 3. Set up the magnetic board on the wall or you can use your side of your refrigerator or filing cabinet, any large magnetic surface works for this apple stem activity!
4. Cut an apple tree out of green construction paper. We also had some magnetic apples left from our Magnetic Apple Math Game. We attached the green apple leaf outline with magnets to the board but you could use tape too
Now it's time to take the APPLE STEM CHALLENGE!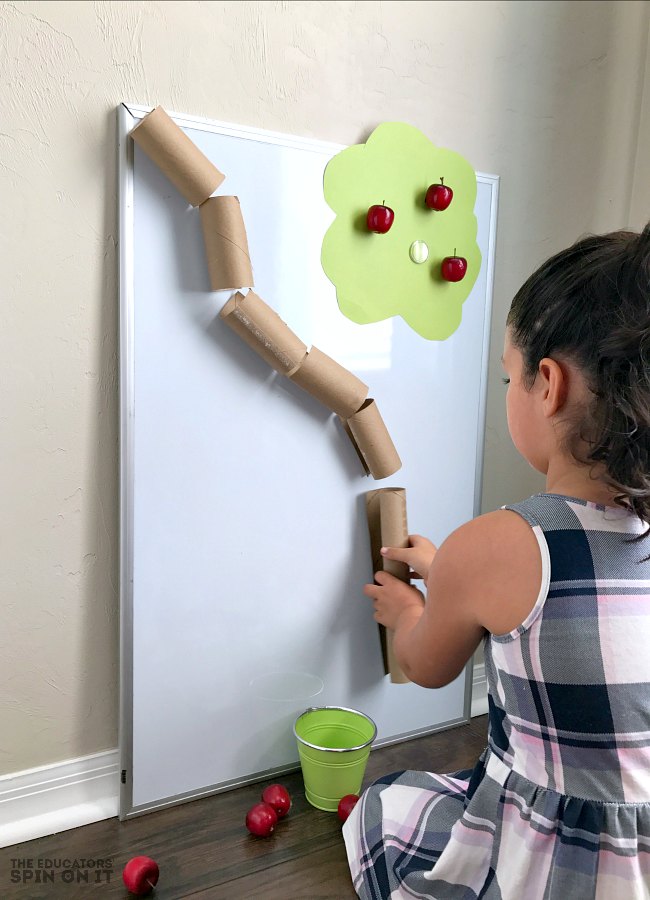 5. Give your preschooler the magnetic cardboard tubes and give them this STEM Challenge.
TASK: Make the apples go into the basket from the tree using the Magnetic Tubes
You could ask them a thinking question like…
Can you pick the apples from the apple tree using these tubes to make them go into the basket?
This is a problem-solving game that incorporates science and a little bit of math since the book is 10 red apples. Your child will have so much fun with this simple STEM Activity!
Share with us how your child created their Apple STEM Activity in our VBC Facebook group! Join now!
Plus be inspired by all the other apple themed activities shared in the Facebook Group by parents, grandparents, teachers and our VBC Cohosts!
Try this stacking apples STEM Challenge or you can visit more Apple Themed Activities at The Educators' Spin On It or you can take a look below and be inspired by the 20+ Apple Themed Activities from our Virtual Book Club for Kids CoHosts!

Join our Weekly Virtual Book Club for Kids Facebook Group
Apple Themed Activities for Preschool
Apple Tree Alphabet Letter Match – Still Playing School
Apple Piece Names – Preschool Powol Packets
Apple Addition within 5 Dough Strips – Sea of Knowledge
Fingerprint Apple Counting Activity – Messy Little Monster
Apple Math: Counting & Fractions Teach Beside Me
Red apple number bonds to 10 – Rainy Day Mum
Apple picking sticky wall – Views from a Step stool
Apple Stack Game and Snack- Toddler Approved
Jumping Apple Seeds- JDaniel4's Mom
Glitter Apple Stamping – My Bored Toddler
Apple Tree Tracing Page- Mama Smiles
Apple Farm Song with Movement – My Storytime Corner
Ten Red Apples: Number Words Activities- Growing Book by Book
Apple Tree Gross Motor Game – Inspiration Laboratories
Apple Sewing – CrArty KidsVisual Perception Apple Activity – The OT Toolbox
Click here to see which books we're reading together with you and your preschooler!