Did you know READING and WRITING start with IMAGINATION?

It's watching a child holding a wooden block to their ear as a toddler and pretending to talk on the phone or using a big lego as a camera. It's taking a box and making it into a house, monster, castle or dragon. It's making a cake from mud or popcorn from pompoms or mulch. It's building a tower, a car a rocket or a stage out of pieces of wood. It's gathering sticks to create a camp fire and camp out beside it. It's climbing on a tree and pretending it will take flight to another world.

It's CREATING something NEW from something OLD that builds IMAGINATION!
READING

is just that, taking LETTERS to create SOUNDS and then joining them together for form a WORD that represents a REAL object.

In order for your child to read and write they need an active imagination and life experiences.

The best way to create a great reader and writer is to BUILD their IMAGINATION from the very beginning your CHILD'S life.
One really fun way to build your child's imagination is by creating a Natural Playscape Playground in your Back Yard.

You can also spend time at local parks and plan to encourage imaginary play while you're there.

Here are some fun ideas that you can do outdoors for hours and hours of imaginary play.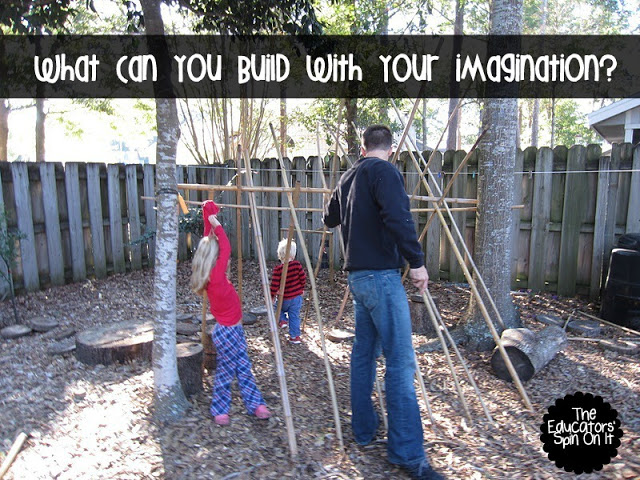 Ideas for Creating a Natural Playscape Playground
Create a stage from an old tree that needed to be cut down.

Use the rest of the tree to create circles to be used for a variety of purposes and just the right size for little hands to use.

Add some bamboo sticks to build all sorts of creations with.

Hang a few bells in the bushes for some magical musical fun

Add some reused containers and water for an outdoor kitchen

Visit a Local Park and bring props for play, especially if you're limited on space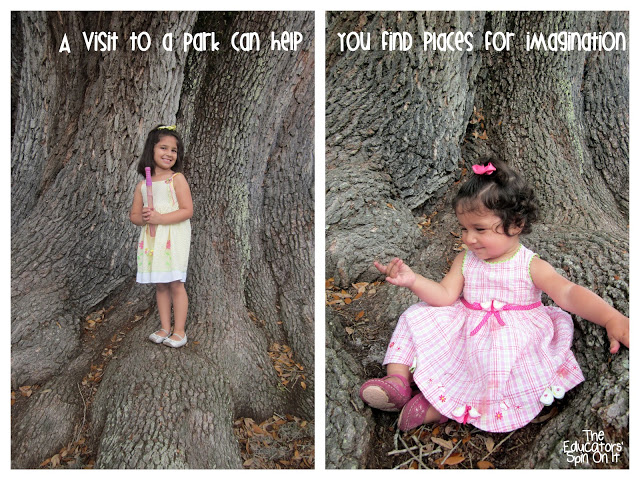 Here's part of Amand'a Natural Playscape that she shared on The Educators' Spin On It. Here's a quick video of her Music Bush. Check out where we get our inspirations from, Our Pinterest NATURAL PLAYSCAPES PLAYGROUND BOARD.

What is your child's favorite place to imagine outdoors?