Create an adorable spring art project with this bunny stamp paint activity inspired by our featured book Peter Rabbit. A classic book for your preschooler to read with you. Learn how to quickly create your own bunny stamp with a pipe cleaner with this spring activity for preschoolers.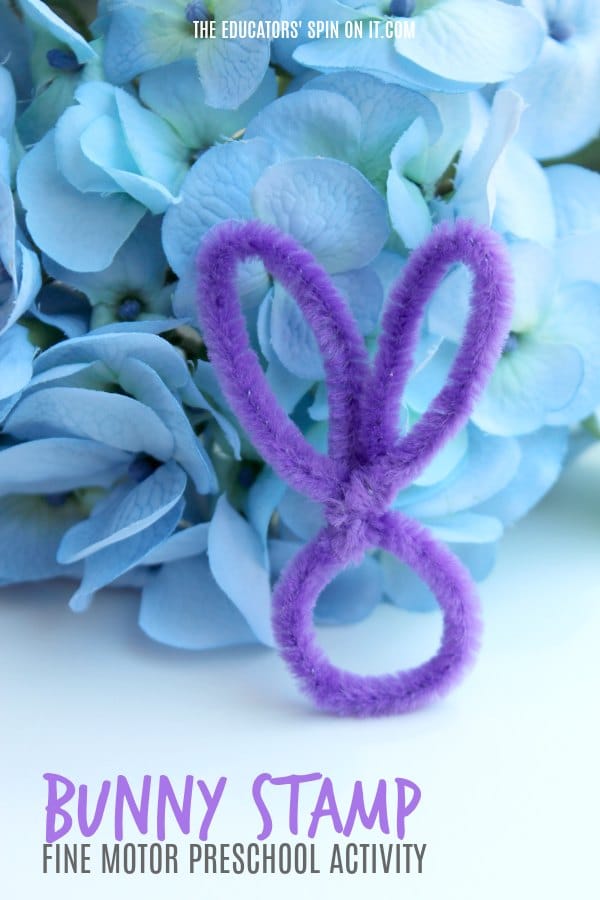 This week's featured book for the Weekly Virtual Book Club for Kids is The Tale of Peter Rabbit by Beatrix Potter.
Do you remember reading the story with Mr. McGregor and his garden as a child? This classic tale of shares about the naughty Peter Rabbit as he squeezes under the gate into Mr. McGregor's garden and finds himself in all kinds of trouble!
Disclosure: This post contains affiliate links to amazon

The Tale of Peter Rabbit
by Beatrix Potter
There are several versions of The Tale of Peter Rabbit avaiable in book stores and at the library. It's actually pretty fun to compare them with your child. If you're curious, this version is my favorite for preschoolers with the bold pictures. For older kids this Treasury of Peter Rabbit is perfect to learn to read with.
Bunny Stamp Paint Activity
Here's a quick preschool activity to go along with the story of The Tale of Peter Rabbit. It's a fun fine motor skill to just highlight bunnies. Peter Rabbit has brothers and sisters too in the story which you could choose to label in the art project when you're done. It's really just about the experience of creating your very own rabbits while painting, let your preschool have fun with this as they create many rabbits on their paper. When you're all done you can use it to send off as an easter greeting card to a loved one too.
Materials for Bunny Stamp Paint Activity
Directions for Bunny Stamp Paint Activity
1. Start with making a bunny using the pipe cleaner. To form the bunny create the ears first from each end. Then connect the ears and twist the pipe cleaner to form the circle for the head of the rabbit stamp.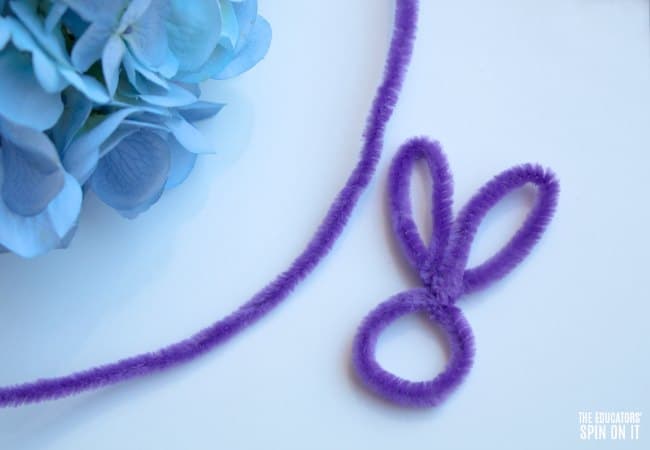 Make sure that all parts are flat on the bunny stamp of your pipe clean. This step is important so that the stamp will work during this bunny art project.
2. Pick a paint color to make your bunnies out of or a few colors, it's really up to the artiest and the mess you want to have on your hands. I keep a paint tray for these types of activities and we tend to head to our front porch. You can also set up some recycled newspaper to keep your table paint free. My daughter picked a hot pink for her bunny stamps.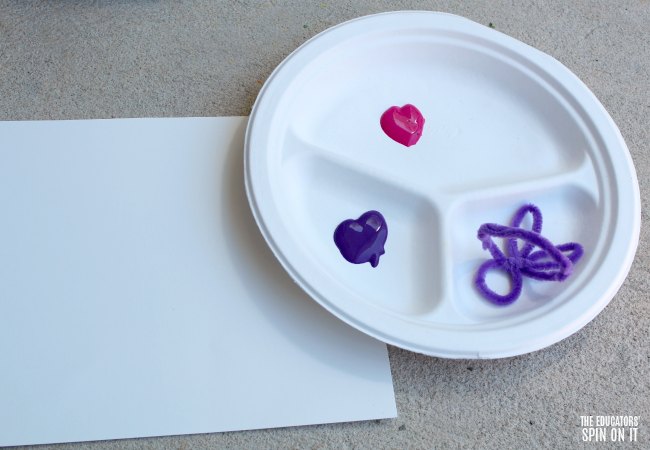 3. Encourage your child to use the pipe cleaner bunny stamp to create bunnies all over the large sheet of cardstock paper. You can switch paper colors if you want to or create multiple pipe cleaner bunny stamps.
4. Allow the bunny stamps to dry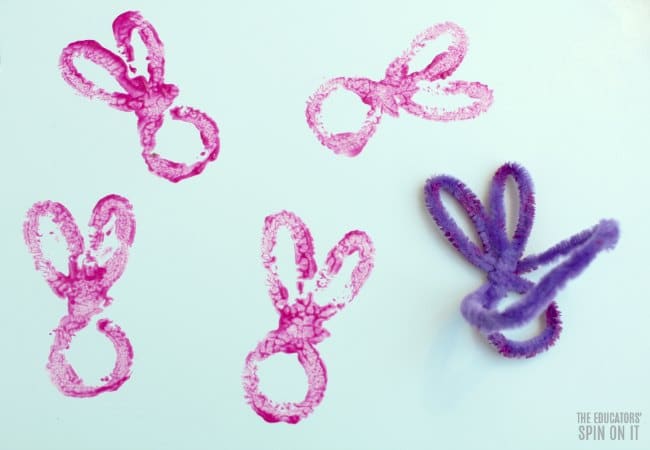 5. Now it's time to add faces to all of your bunnies that were created. Using a black marker or crayon have your child draw a bunny face with eyes, nose, mouth and whiskers.
Once you're all done you can also add green grass or flower stamps or even little carrots around all of the bunny stamps to recreate Mr.McGregor's garden from the story The Tale of Peter Rabbit

Bunny Themed Activities for Preschooler at The Educators' Spin On It
Be sure to check out below all of the featured activities from our Virtual book Club for Kids The Tale of Peter Rabbit featured activities.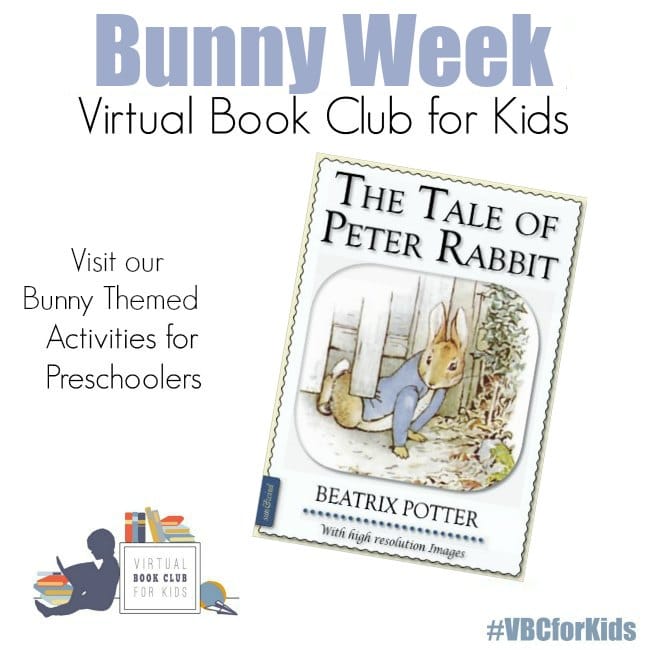 Peter Rabbit Themed Activities for Preschoolers
Also stop by the Virtual Book Club for Kids Facebook group to see what others are sharing for Bunny Week!
Want more Easter Ideas? Visit our 40+ EASTER ACTIVITIES FOR KIDS.