Beatrix Potter is a popular classic series of books for kids. One of my favorites is The Tale of Peter Rabbit. Here's a super easy easter craft idea for kids that they'll love and learn to write the letters of their name too!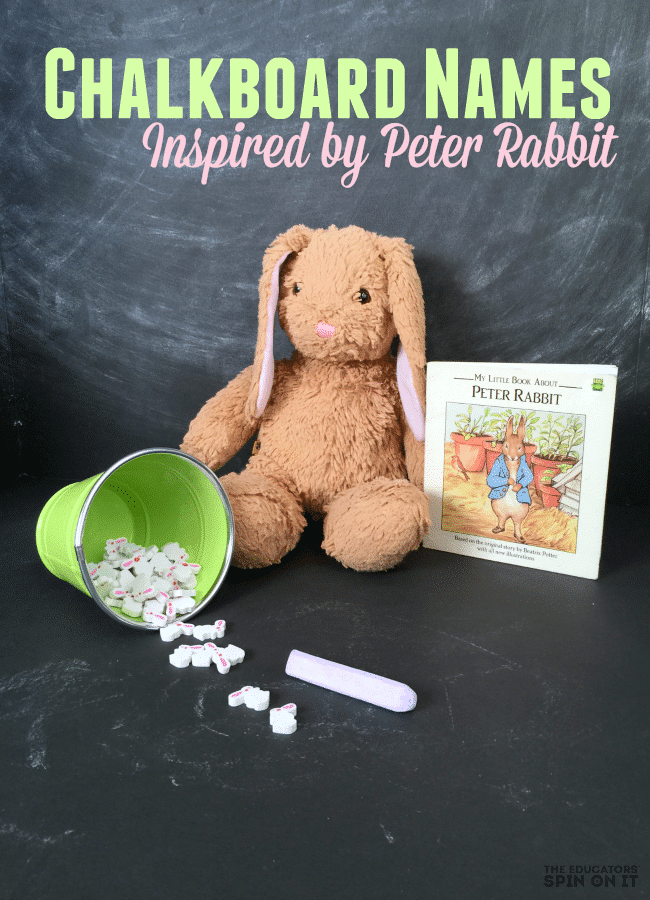 Finding fun Easter crafts for preschoolers in one of the things I love to do. My daughter is beginning to form her letters of the alphabet pretty well but we can always use more practice as she prepares for Kindergarten. Especially when it comes to name writing practice keeping her lower case and upper case letters in all the right spots!
This month for Virtual Book Club for Kids is featuring The Tale of Peter Rabbit as one of our books to read.
This post contains affiliate links to amazon.
Name Tracing Rabbit Game
One of the most popular names in literature are the four names of the rabbits Flopsy, Mopsy, Cotton-tail and Peter. Featured in Beatrix Potter Books are these adorable rabbits and Mr. McGregor's garden in the Tale of Peter Rabbit. Grab this classic book this spring and let's have some fun with names!
The Tale of Peter Rabbit
by Beatrix Potter
Materials Needed:
Having a special friend that helps you with writing can sometimes help little ones to be encouraged to keep at it a little bit longer. This activity was created to help foster that connection. Search around the house to find a special bunny to join the fun or grab a new stuffed Peter Rabbit online.
You canlisten to a readingof The Tale of Peter Rabbit on youtube too.
Directions for Rabbit Name Game:
1. Encourage your child to place bunny erasers into container and set up your special rabbit friend to join the writing fun.
2. Using chalk have your child write the letters of their name. Be sure that their first letter starts with an uppercase letter and the rest of their name uses lowercase letters.
3. After they write their name with the chalk on theChalkboard,encourage your child to take theRabbit Erasersandtrace the letters in their name by placing the rabbits along the lines.
TIP: Younger children might need a little extra help by writing the name first and then the child copies their name onto the chalkboard. We use this mini chalkboard/dry erase board for projects like this. Another way to help them along is to write a list of family names that they can copy the letters and play this Easter Themed game with rabbits.
TIP: Be sure to encourage your child to form letters the proper way as they are name tracing. One way to do that is to also encourage them to trace the alphabet letters with the rabbit erasers in the same order they would write them starting from Top to Bottom, left to right etc.
Additional Bunny Activities for Kids from The Educators' Spin On It
Be sure to get a special book & stuffed friend to add to your child's easter basket this year.
Classic Beatrix Potter Peter Rabbit Stuffed Animal Plush, 6.5-Inch
The Tale of Peter Rabbit Story Board Book
The Tale of Peter Rabbit Activities from The Virtual Book Club for Kids
The Virtual Book Club for Kids are featuring in March activities to go along with The Tale of Peter Rabbit. They include not only book ideas but also Easter craft ideas for kids too!
Will you join us by sharing your ideas on the Virtual Book Club for Kids Facebook page?
Next month we're featuring Corduroy by Don Freeman for the Virtual Book Club for Kids