Happy Holidays from all of us at The Educators' Spin On It!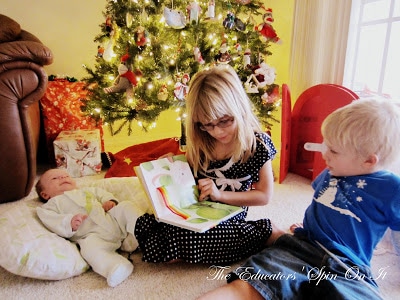 In an effort to stay true to why we started The Educators' Spin On It (to learn and play with OUR kids and inspire others) we will be taking a 2 week break over the holidays. We will be posting the top 12 posts of 2012 after Christmas but there won't be any new posts from December 22th – January 1st.  We hope you will stay awhile and browse all the fun and inspiring posts we have written previously!  Here are just a few from this month to get your brains spinning with ways to parent with purpose this holiday season.
As we start to plan for blogging in the new year, if there is any topic you are interested in hearing our spin on or an age group you would like to see more of, we would love to hear from you.  Feel free to comment on this post or e-mail us at the educatorsspinonit at gmail.com.  We value your thoughts and opinions!!!