Read and Build with this awesome learning activity LEGO inspired story retelling of The Very Hungry Caterpillar. Inspired by Eric Carle see how to work on reading comprehension with your child.
My kids love building and reading. In fact, much of our days are spent doing both! I am a strong believer that children need opportunities to PLAY and interact with literature in a positive and meaningful way.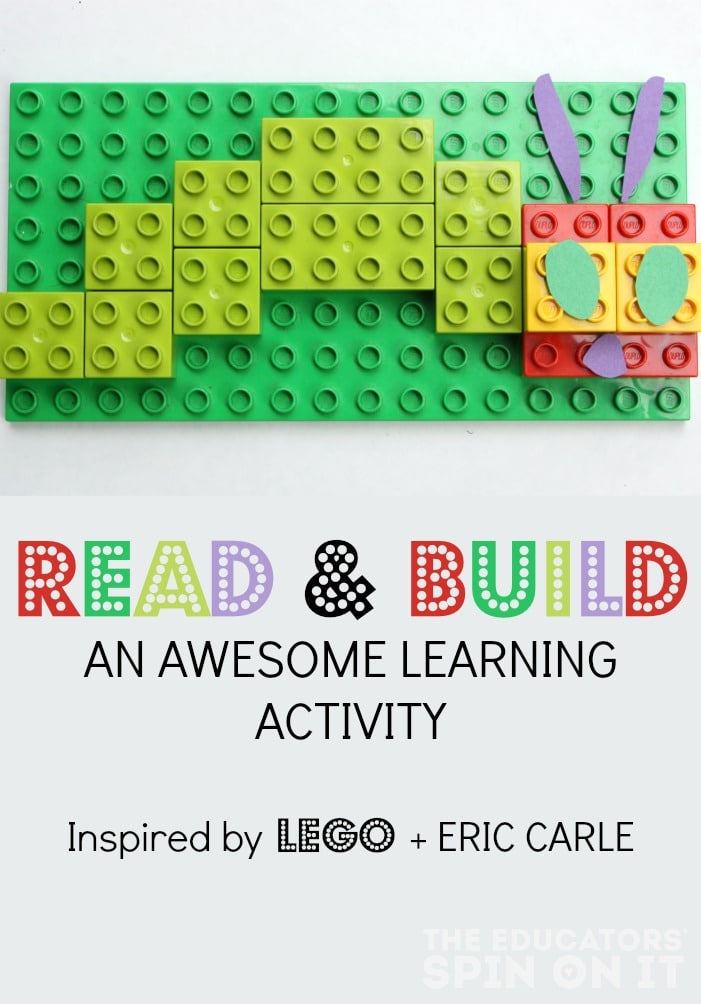 Disclosure: This post contains amazon affliate links.
Building Reading Comprehension Skills
Storytelling helps boost reading comprehension and we know that reading comprehension is VERY important to our little learners. Retelling gives children a chance to tell the story again in their own words.
It is, in essence, a summary of the most important parts.
This activity not only gives them repeated exposure to vocabulary, but a chance to interact with the text in another way – BUILDING!
Read and Build was created for my 4 year old as a way to keep him excited and motivated about reading! Although the activity was designed to be used for ages 3-5, but can be adapted for younger and older if needed!
LEGO inspired Story Retelling: Read and Build
The read and build concept works well with ANY book! The activity is just that; read and build
Read the story with your child.
Then, build scenes of the book with your building LEGO DUPLO bricks. We used a larger platform piece as our "stage" or paper. Encourage your child to "tell" the story in their own words as they build the scenes.
The Very Hungry Caterpillar by Eric Carle
Eric Carle
I chose to feature Eric Carle's The Very Hungry Caterpillar because it is a great book for preschoolers, is repetitious, sneaks in a little math, and most of us have this book in our closet – so that you too could snuggle in with your child to do this activity without any trip to the library or bookstore!
Caterpillar to Butterfly Science Activity with Balloons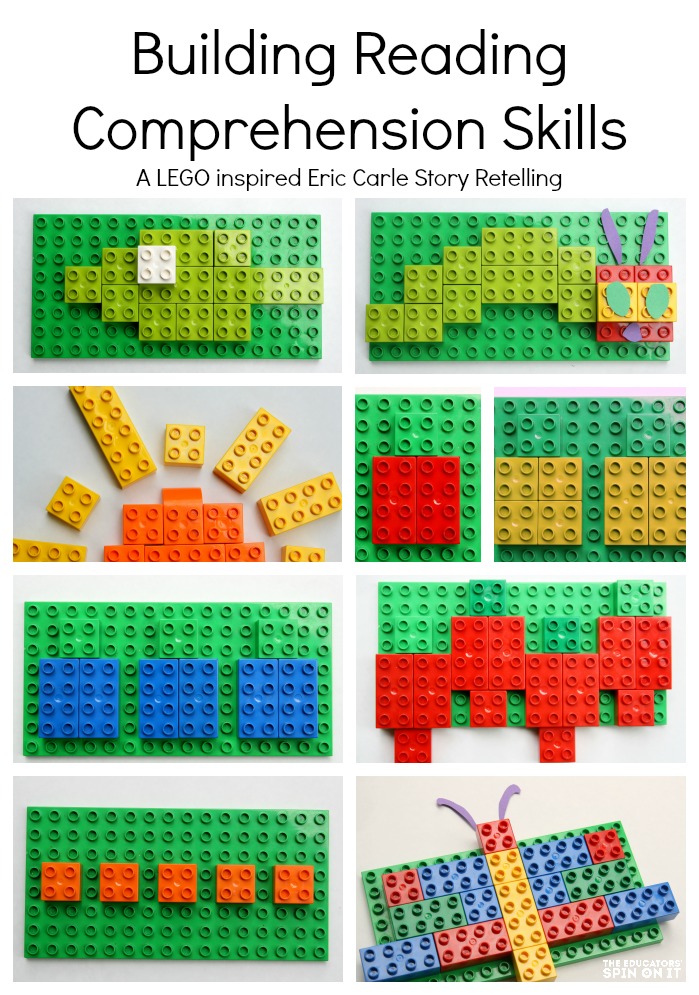 Don't forget to head over to the LEGO Week series page to check out all of the other great posts using LEGO bricks from our blogging friends this week.
Buying LEGO Duplos:
When purchasing your LEGO Duplo Bricks, all you really need is a large container of bricks. We have found just one 31 piece set is not enough bricks for one child to build with (and I have three!)
We bought a large set and 2 extra boxes to extend the play. Most Duplo's are recommended for children ages 1 1/2 – 5. To keep costs low, watch for them at garage sales, thrift stores, and even your local for-sale-or-trade groups. We were able to double are collection at a fraction of the cost.
For more LEGO ideas here at The Educators' Spin On It, we recommend: