A collection of fruit food group activities, books and recipes for kids to explore learning all about fruit.
Fruit Food Group Activities, Books and Recipe for Kids
Many of us take advantage of welcoming the New Year to cherish our family and friends and to also reflect on our lives and see how we can improve them. I want to take some time this year to work with my family on healthy food choices.
There are so many things made readily available in our stories, roads and in our homes for our children that it's hard to really teach your children what is a better choice when they all seem so attractive and delicious.
Balanced Eating Lesson for Kids: Fruit Group
I wanted to start with really teaching my 5 year old daughter what Balanced Eating looks like.
She already loves to cook with me and grocery shop with me and I felt she was ready. Although I've tried to model it all along I haven't given her the specific vocabulary and made a big deal out of it. Thus far we've been using the phrases "healthy foods" and "sometimes foods" as we describe our foods with her.
We've spent some time on learning food groups but not on how much we need of each. So to help her out we made an activity to play that will help her to sort out the various food groups and then we used this plate to distribute them accordingly to how many each meal should have.
Something even as an adult I need reminding of how many serving I need of those fruits and vegetables each day.
This post contains affiliate links to amazon
Food Group Printables
First we completed the following Food Group Printables and hung up them up on our fridge
5 a Day Plate

To help us visualize what should be on our plates
Food Group Sorting from The First Grade Sweet Life to help us identify food groups
Berries Coloring Sheet from Free My Plate
The Very Hungry Caterpillar Coloring Sheet from Eric Carle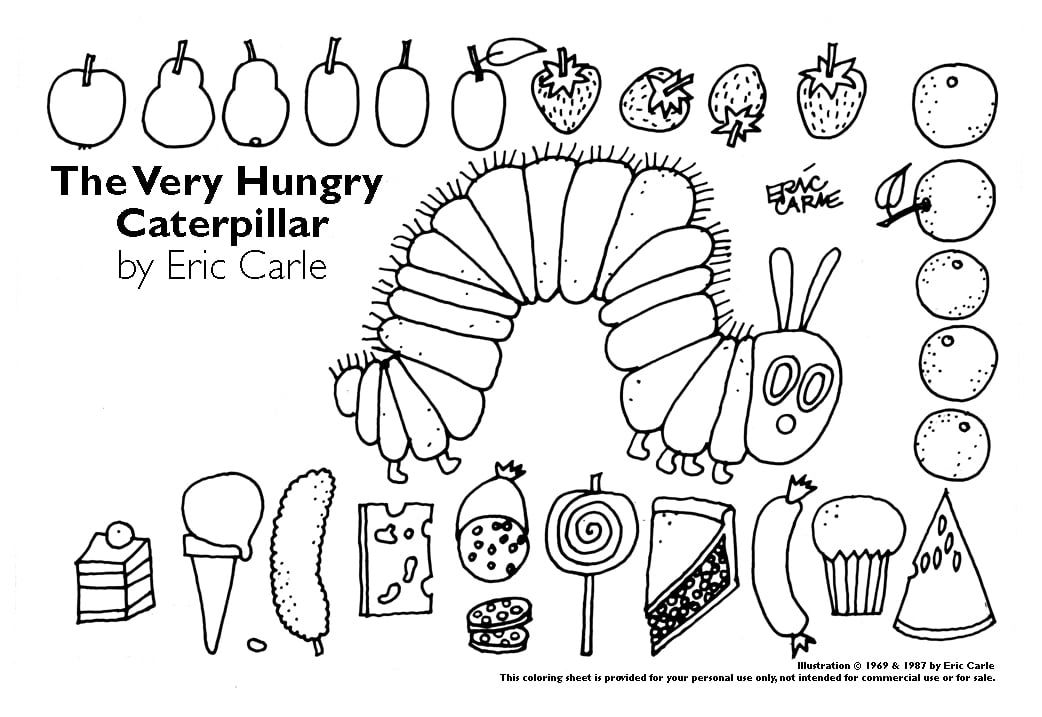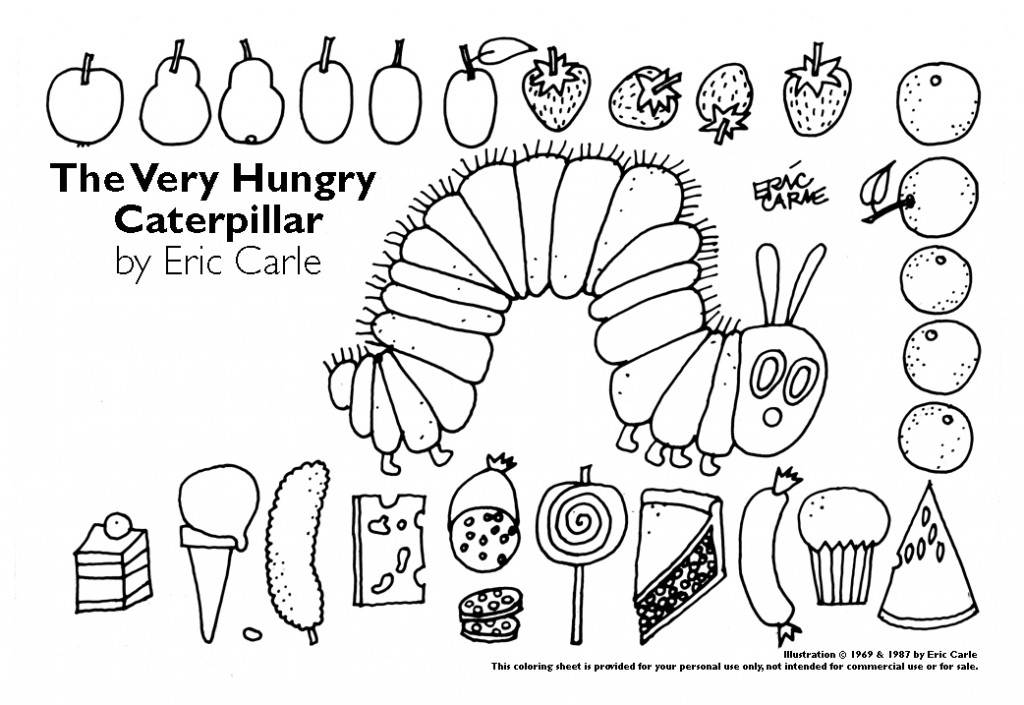 DOWNALOD AND PRINT at Eric Carle.com
Check out ideas from our Very Hungry Caterpillar Party too!
Books about Fruit
We read the following books to help prepare us for our Fruit Lesson.
The Very Hungry Caterpillar by Eric Carle
I Like Fruit by Lorena Siminovich
Fruit by Sara Anderson
Eating The Alphabet by Lois Ehlert
Oliver's Fruit Salad by Vivian French
Fruit Bowl by Mark Hoffmann
We're starting our Balanced Eating Fun with the Fruit Group for our Cooking Lesson
I created a word list of all the fruits we had and we sat and sorted the words to the fruits. We used real fruit and our play fruit and even some pictures of fruit to create groups of fruits. As we were sorting the fruit and words we discussed where they came from and how she thought they tasted. Always trying to build vocabulary and background information 🙂
Then we created a Fruit Kebabs with our fruit to work on our fine motor skills and patterning skills.
Fruit Kebabs Recipe for Kids
Ingredients
Watermelon
Cantaloupe
Pineapple
Grapes
Strawberries
Skewer Sticks
The lesson in cooking class was to learn how to wash, cut and assemble fruit kebabs. We talked about food safety and how you had to wash your fruit before you can eat it. I had them cut each fruit up into bite size pieces using a butter knife. We discussed knife safety. Then we created her own Fruit Kebabs by placing the fruit onto the fancy sticks. We called them Princess Wands for our Princess Tea Party. You can always attach something special to the end of the stick to make it unique for your little one.
We moved through the Food Groups with fun activities that help your child become more aware of food, food groups and how they fuel our body with ENERGY and help us GROW.
See the rest of our Princess Tea Party

Serving Sizes for Kids Ages 2-6
SOURCE http://www.healthy-eating-made-easy.com/fruit-and-vegetable-servings.html
FRUIT SERVINGS Sizes for Children
Apple, dried 4 rings
Apple, fresh 1 medium
Apricots, dried 3 whole
Banana 1 medium
Blackberries Handful
Clementines 2
Cherries, fresh 14
Dried fruits, mixed 1 tbsp (1/4 cup)
Figs, fresh 2
Fruit and vegetable juices 250ml (1 cup) glass
Fruit salad, fresh or canned 3 heaped tbsp, (1/2 cup)
Kiwi 2
Grapefruit Half
Grapes Handful
Lychees, fresh or canned 6
Mango 2 slices
Melon 1 large slice
Passion fruit 6
Peach, canned 2 halves
Peach, fresh 1 medium
Pear 1 medium
Pineapple, canned 2 rings
Pineapple, fresh 1 large slice
Plums 2 medium
Prunes, canned 6
Nectarine 1 medium
Raisins 1 tbsp (1/4 cup)
Raspberries 2 handfuls
Rhubarb, cooked 2 heaped tbsp (1/3 cup)
Satsumas 2
Strawberries 7
Check out ALL the
Balanced Eating Fun Series with Little Hands that Cook with Books!
Make your Own
GRAB a fruit set for your pretend play from AMAZON
Learning Resources New Sprouts Fresh Fruit Salad Set
Melissa & Doug Cutting Fruit Set
Life Sized Bag of Fruits Play Food Playset for Kids
We'd love to hear what your child's favorite fruit recipes are!