Have a little fun with these Dr. Seuss inspired Snack Ideas for your child!
We're joining to celebrate Dr. Seuss's Birthday and NEA's Read Across America Day! Here are some of our favorites from Dr. Suess that we'll be including in our Little Hands that Cook with Books and Dr. Seuss this week.
The Cat in the Hat and Green Eggs and Ham by Dr. Seuss is one of the first BIG books that your child will be able to read all by themselves as they become emergent readers. It's a special moment when they realize they've read it ALL by themselves.
What a great way to celebrate than with a special Dr. Seuss inspired Snack.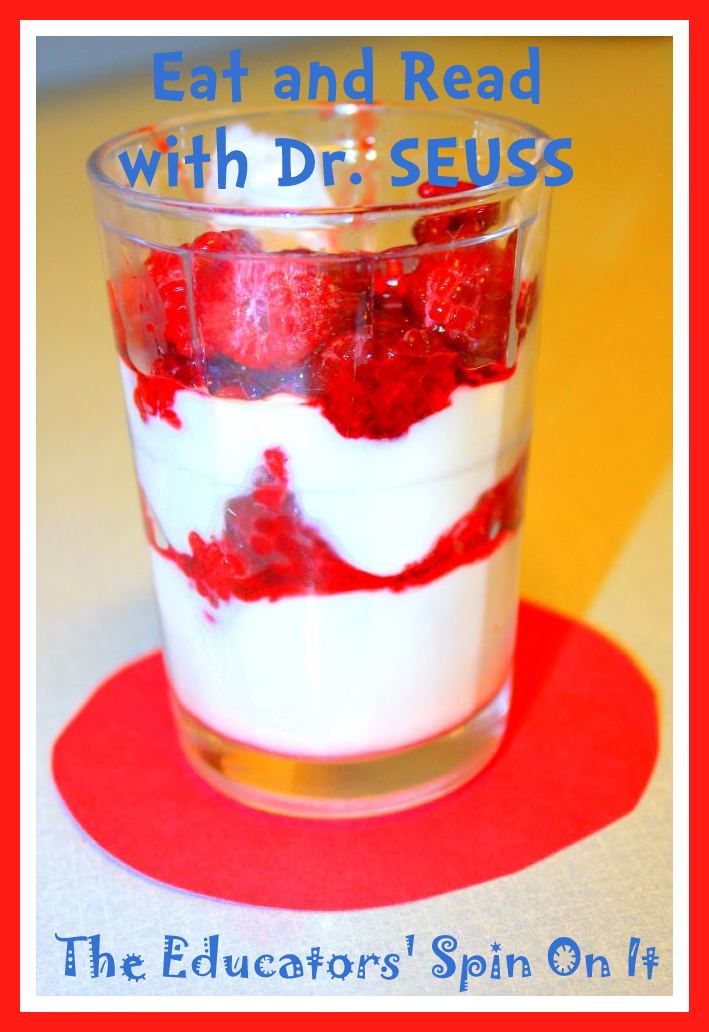 Dr. Seuss Snack Ideas for Kids
Here are a few suggestions for Dr. Seuss Themed Snacks
Fish Bowl: Make blue frosting and add cracker fish to the top
One Fish Two Fish Jello:  Make Blue jello and add gummy fish to them
Make your Own Fish Crackers: Make fish crackers and create your own Seuss Inspired story
The Cat and the Hat Hat: Attach red lifesaver gummies with white frosting to a round cookie or a rice cake with strawberry slices and cucumber slices or pattern bananas and strawberries to create a hat!
Lorax Trees:  Attach cheese to pretzels sticks
There are so many resources for finding ideas for Dr. Seuss activities for your child. I've done searching for you to find some excellent resources for your child. I've included Snack Ideas and Activity Ideas for your little ones. Hope you enjoy and inspire them to become great thinkers and doers!
Dr. Seuss Snack Ideas
Dr. Seuss Virtual Book Club for Kids
Dr. Seuss Activities and Resources
Dr. Seuss Red Picture Frame Idea
We had so much fun with each of our children creating a Dr. Suess Moment with the red frame. I encourage you to do this at home or school too. The best part is you can use the frame for other holidays too including Valentine's Day, Christmas, Fourth of July or Back to School.
For more Dr. Seuss Activities visit the Dr. Seuss Virtual Book Club for Kids
Disclosure: This post contains affiliate links to amazon
"Today you are You, that is truer than true.
There is no one alive who is Youer than You."
Dr. Seuss